How does the power of a scope affect accuracy?
by Tom Gaylord, a.k.a. B.B. Pelletier
Today's report is a guest blog from duskwight, our blog reader in Moscow. It's a report of a test to determine if changing the power of a variable scope affects the potential for accuracy
If you'd like to write a guest post for this blog, please email me.
Over to you, duskwight.
How scope power affects accuracy
by duskwight
Hello, my airgunning friends! This is a report of a small test I performed recently to see if changing the power of a rifle scope affects the accuracy potential in any way. I guess the thing I'm testing is if you need to see the target as large as possible for aiming precision, or if you can be just as accurate when it appears smaller, because the crosshairs of your scope will still be in the same place.
B.B. tested this for me last week and reported it in the most recent test of the TX200. He shot two 10-shot groups at 50 yards with the scope set on 4x and 2 more with it set on 16x. In the first set of targets, he admitted that he wasn't holding the rifle as good as he could and the 16x group was smaller than the one shot on 4x. But in the second set of targets, when he said he tried his best, the 4x group was smaller than the 16x group.
B.B.'s test was shot outdoors with a recoiling spring rifle. I decided to shoot mine indoors with a modified Gamo CF-X spring rifle I built.  I call my rifle the Shillelagh, and I've taken a picture so you can see what it looks like.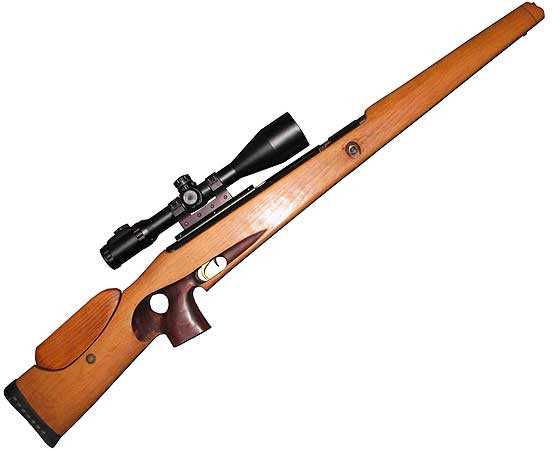 My Shillelagh (Gamo CF-X) was used for this test.
The scope is a Leapers 4-16X56 variable. As you can see, I mounted it with a one-piece mount. I'm shooting JSB Exact pellets with 4.52mm heads. The average velocity is 265 m.p.s. or 869 f.p.s.
I'm shooting indoors, so wind isn't a factor. The air is dry and the temperature is 20 degrees C, or 68 F. I am shooting off a soft rest like B.B. used with the TX200. The distance is 50 meters, and my targets are made of 2 black circles, the inner one 1/2″ in diameter and the outer one 1-1/2″ in diameter. I'm measuring the groups from the outsides of the pellet holes farthest apart, and my groups each contain 10 shots.
I decided to select the power settings 6 and 12 magnifications for this test. I shot 2 groups on each magnification. In one set of targets, I concentrated on the hold very much; and on the other set, I went faster, with less concentration. Let's take a look at the results.
Extreme concentration
The first group that was fired on 6x with extreme concentration measured 0.906″ across the outside of the group at the widest point. If we use a nominal .177 inches for the pellet diameter, that group would then measure 0.7295″ between centers.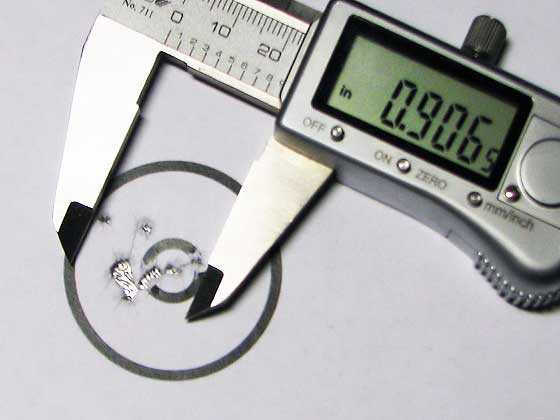 This 10-shot group came with the scope set at 6xr and using extreme concentration. The outside measurement in 0.9065″; and using 0.177″ as the pellet diameter, the center-to-center measurement is 0.7295″. Nice to know my Shillelagh can shoot!
The first group shot with the scope set at 12x and using extreme concentration measured 1.4455″ across and 1.2685″ between centers. That's quite a bit larger than the 6x group!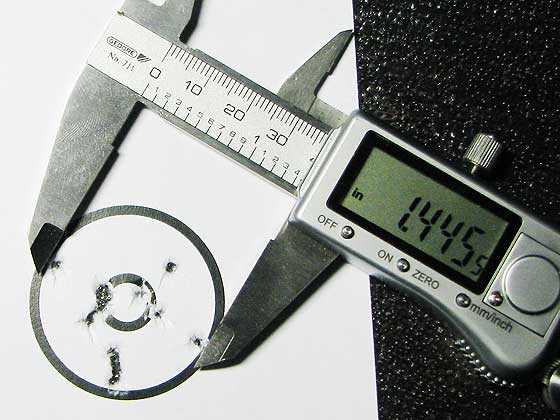 This 10-shot group was made with the scope set at 12x and using extreme concentration. The outside measurement in 1.4455″ across; and, using 0.177″ as the pellet diameter, the center-to-center measurement is 1.2685″. Quite a difference from the 6x group.
More relaxed shooting
Now, it was time to shoot groups from a more relaxed rest. I tried just as hard, but things went faster this time. The first group was shot at 6x and measured 1.003″s across the outside. The C-T-C measurement is 0.826″. Also not too shabby!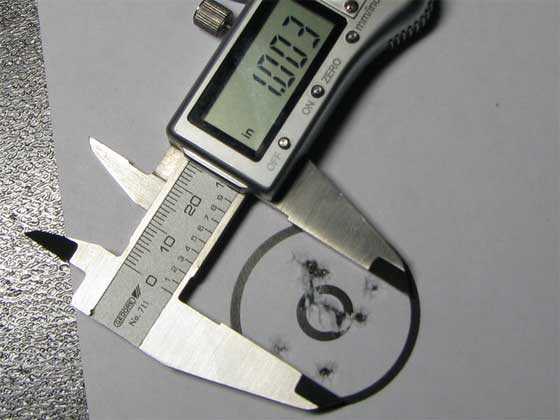 Here are 10 shots with the scope set at 6x with a more relaxed shooting style. The outside measurement is 1.003″ across, and the C-T-C measurement is 0.826″.
Next, I shot another 10-shot group in the more relaxed style with the scope set on 12x. This group measured 1.7325″ across, which gives us a measurement of 1.5555″ between centers. This is the largest group of the test and more than double the size of the first group shot on 6x.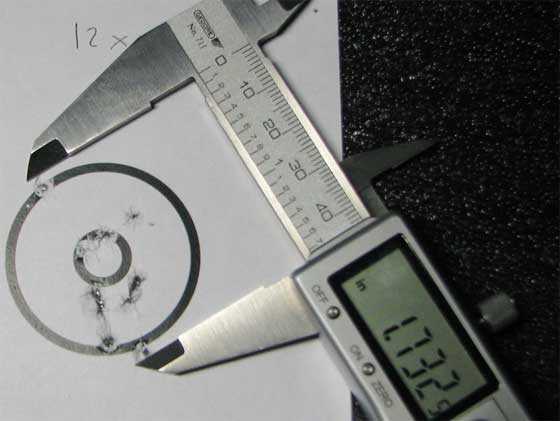 Ten shots with the scope set at 12x with a more relaxed shooting style measured 1.7325″ across, and the C-T-C measurement is 1.5555″. This is the largest group of the test.
Summary
It's clear to me that lower magnification isn't any hinderance to accuracy, as long as you can see the target clearly. In fact, I think lower magnification is the way to go.
Editor's note
I made a huge mistake when I edited this text for duskwight. I assumed that his Shillelagh is his recoiless rifle project, when in fact, it's a highly modified Gamo CF-X. The rifle seen in this test is that Gamo CF-X. I apologize for the confusion this has caused. — B.B.
Some of our newer readers probably don't know the story of how duskwight built a recoiless spring rifle from scratch. Like you he was a reader of this blog and he was also an airgunner before finding this blog. He knew about the famous Whiscombe rifles, but they were hard to come by — even when John Whiscombe was still making them. Adding the extra difficulty of getting one all the way to Russia made him think about building his own rifle. When he first told us his plans, I thought it would never happen; and he shared all his struggles with unreliable machine shops and companies that could not meet his specifications. It seemed as though it wasn't meant to be.
But he persisted, and finally, he had a working prototype. It took years of effort…and I don't want to know how much money. But he did it. Then he sat down and whittled out a stock from a raw wood blank.
This Gamo CF-X, which he calls the Shillelagh, is just one example of his expertise building custom airguns. I think the accuracy he got with it is quite stunning!
Duskwight is Russia's airgun answer to New Zealander Bert Munro, who took a 1920 Indian motorcycle and modified it into a 200 m.p.h. streamliner in the 1960s! People like this are in extremely short supply, and it's our honor to know this one!
Tom Gaylord is known as The Godfather of Airguns™ and has been an airgunner for over a half-century, but it was the 
Beeman
 company in the 1970s that awoke a serious interest in airguns. Until then, all he knew were the inexpensive American airguns. Through the pages of the Beeman catalog, he learned about adult airguns for the first time. In 1994, Tom started
The Airgun Letter
 with his wife, Edith. This monthly newsletter was designed to bring serious reports about airguns to the American public. The newsletter and
Airgun Revue
, a sister magazine about collectible airguns, was published from 1994 until 2002, when Tom started
Airgun Illustrated
-- the first American newsstand magazine about airguns. Tom worked for three years as technical director at
AirForce Airguns
, the makers of the 
Talon, Condor, and Escape
 precharged air rifles. Today, he writes about airguns and firearms for various publications and websites. He also makes videos, and you'll find short clips embedded in some of his artices on Pyramyd Air's website. Tom is a consultant to Pyramyd Air and writes under the name of B.B. Pelletier.