by Tom Gaylord, a.k.a. B.B. Pelletier
Part 1
Part 2
Part 3
Part 4
Part 5
Part 6
Part 7
Part 8
Part 9
Part 10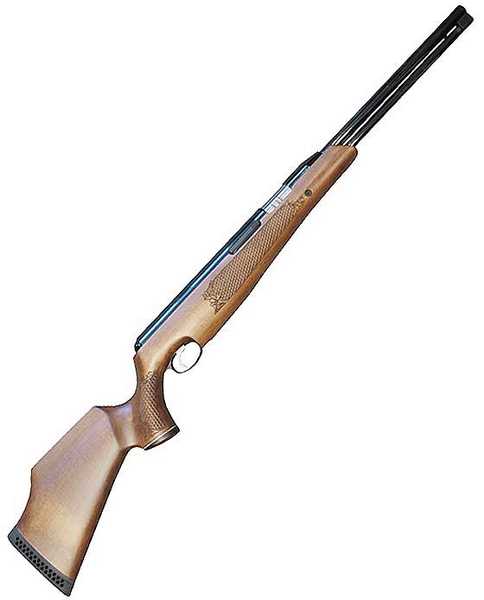 Brand new TX200 Mark III. It's very similar to my TX; but the checkering is different, and the line of the forearm is more scalloped.
Today, we'll look at the accuracy of the Air Arms TX200 Mark III at 50 yards. I can tell you that I learned a lot from this test. But that will all be summarized as we go. Let's get started!
I shot the new TX directly off the same sandbag that was used at 25 yards. As you remember, I showed (after much coaxing from you readers!) that the TX shoots as well or better when rested directly on sandbags as it does with an artillery hold. The bag was crossways to the rifle, so the contact with the stock was minimized.
The day was perfect for the test. Not a breath of wind the entire time I was on the line!
The rifle is mounted with the AirForce 4-16X50 scope, which was selected so I could conduct another test for reader Duskwight after the regular test was completed. This scope is clear and sharp; and at 50 yards, I was able to bisect the small bullseyes with the reticle.
Sight-in
The rifle was still zeroed for 25 yards, so it had to be adjusted for 50 yards before anything else could happen. The first shot landed 3-1/4 inches low and 1-1/2 inches to the left. It then took another 2 shots before I was reasonable on the target. Then, I fired the first group with H&N Baracuda Match pellets. Ten landed in a group measuring 1.562 inches. It's a fairly round group, but not as small as I would like from this rifle. So, I switched pellets.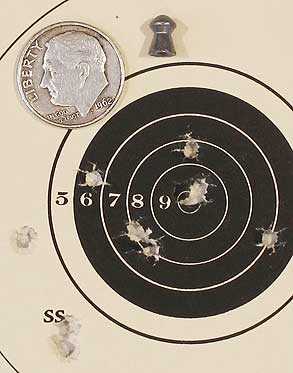 Ten H&N Baracuda Match pellets made this 1.562-inch group. It's a bit large for a TX200.
JSB Exact Monsters
Next I tried some JSB Exact Monsters, which weigh 13.4 grains in .177 caliber. They went all over the place. When I went dowrange to retrieve the target, I saw that they were tumbling or yawing. They must be too heavy for the velocity the TX is able to generate.
Crosman Premier heavy
The third pellet I tried was the Crosman Premier heavy. I meant to bring Crosman Premier lites, but I grabbed the wrong box when loading up for the range. Fortunately, the heavy pellet was wonderful! Ten of them gave me a group that measured 0.658 inches between centers — or about as good as a top-flight PCP can do at the same distance! This is phenomenal accuracy for any air rifle at 50 yards!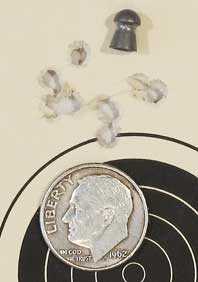 Ten Crosman Premier heavies went into a tight 0.658-inch group at 50 yards. This one is a screamer!
First lesson learned
The new TX200 Mark III is every bit as accurate as my TX that's well broken-in. No accuracy has been lost over the years, and the rifle can shoot this well right out of the box!
With lesson one under my belt, I adjusted the scope to lower the point of impact and moved to the next bull. The first shot landed where the last group was, then the pellets moved to the new sight adjustment.
Second lesson learned
Some scopes have stiction. After adjusting them, it's best to shoot a couple shots to vibrate the reticle to its new location. I knew that, but made the mistake anyway. So, I've included the first shot, along with the group, to show you what it looks like. If this group had been as small as the one before, that first shot would really stand out. But I lost my concentration on this one and wasn't holding the rifle as softly as I might have. This group of 10 measures 1.435 inches between centers, which isn't that far from the first group of H&N Baracudas!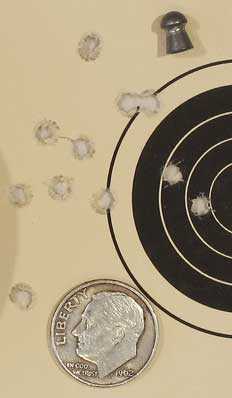 The second group of Premier heavies opened to 1.435 inches. That's more than double the size of the first group! Top hole to the left of the pellet was the first shot, which I disregarded, after the scope was adjusted.
Third lesson learned
While a rifle may be capable of shooting 10-shot 50-yard groups smaller than one inch, it may not do it every time! That small group may represent what the rifle is capable of, but not what it will always do.
Special test
Duskwight, our blog reader from Moscow, asked me to test the difference between a rifle shot with a low-power scope and the same rifle shot with a high-power scope. In other words, does magnification improve a rifle's ability to group?
Well, common sense tells us that it does. Right? I mean, surely, if you're able to parse the target to a finer degree, you must be able to group your shots closer together. Right? That's what this test will determine.
That's why I used a 4-16x scope on this rifle. I'd been shooting with 16x to this point, so now I dialed the power back to 4x and shot another group.
Wow! At 4x, the intersection of the crosshairs almost completely covers the small bullseye at 50 yards. As I shoot, I'm almost certain how this test is going to turn out. And it does. Ten shots on 4x with the same Premier heavy pellets landed in 2.208 inches. Looks like I was right about what low magnification would do.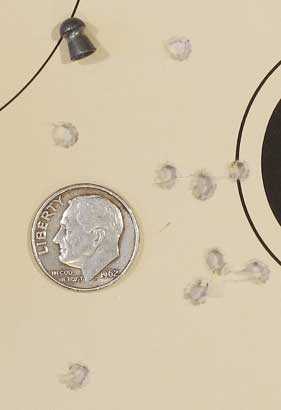 The third group of Premier heavies — shot with the scope set to 4x — was 2.208 inches between centers at 50 yards. That's quite a difference from the previous group, even though that group was already admittedly large.
But something nagged me about this group. I knew in my heart that I'd not given the rifle my best. I knew this group was going to be bigger than the last one while I was shooting it, so I was even sloppier with my hold.
It probably sounds like I need medication to suppress my dual personalities while at the range, but I assure you I'm not talking to myself — at least not loud enough for others to hear. What I'm doing is a little soul searching while I'm still out at the range and have the time to do something about it.
I adjusted the scope back to 16x and shot another 50-yard group. This time, I did everything the way I should have. The hold was completely relaxed. I fully expected to be rewarded with another of those sub-inch groups, but that didn't happen. This time, I shot a 10-shot group measuring 1.935 inches between centers. Oh, well! I was probably tiring out from all the concentration.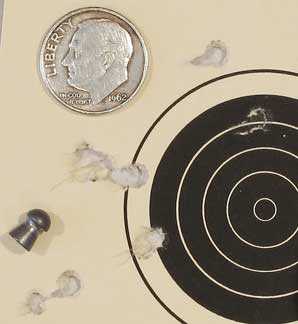 Ten shots at 50 yards with the scope set to 16x netted this 1.935-inch group.
Fourth lesson learned
Sometimes, you just can't will the results to happen the way you would like. I put my whole heart into this group, and this is what I got. Maybe that's what it feels like to be 66, dried-out and ready for the old-folks home!
Fifth lesson learned
I called that first great group of Premiers a screamer. Now you see why that is.
Nevertheless, I owed it to Duskwight to try the rifle on low scope magnification one more time, and this time to do my very best. So I did. This time, 10 pellets went into a group that measures 1.481 inches between centers. That's right, it's SMALLER than the group shot on 16 power! I noticed that the bull was just visible behind the crosshairs; and if I really tried, I could hold on the target in exactly the same way every time. Apparently, I did, because this group fired on 4x is smaller than the previous group that was fired on 16x.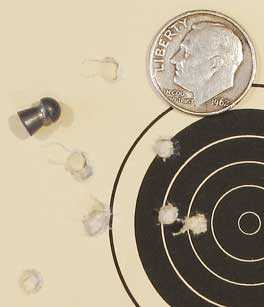 Ten shots at 50 yards with the scope set to 4x made this 1.481-inch group.
Sixth lesson learned
Although it isn't conclusive, it looks like you can shoot just as accurately on low scope magnification as you can on high magnification if you take the time to do things right.
Seventh lesson learned
Looking at both groups fired on 16x and both groups fired on 4x, it sure looks like the point of impact never changed! Some of you have asked about that in the past. The design of the scope determines whether the impact point will move when the scope's power is changed, but these days a lot of variable scopes stay right where they were when the power's adjusted.
Eighth lesson learned
Of the five groups fired with Premier heavy pellets on this day, only one is smaller than one inch. And it's significantly smaller! When you see those great groups in the future, you must ask yourselves what the rest of the groups look like.
Ninth lesson learned
I may be old and dried-out, but I can still shoot — a little. I get tired as the shot count increases, so that needs to be factored in to my tests from now on.
Summary
I'm very pleased with what this new TX200 Mark III has done so far. I think the rumors that the TX quality may have slipped are just that — rumors! Individual guns may have problems; but overall, the TX200 is one fine air rifle. Next, I plan on mounting a red dot sight and testing it for accuracy, again, to see what the differences are.