by Tom Gaylord, a.k.a. B.B. Pelletier
This blog was requested by blog reader Joe, who wanted to know if choked airgun barrels are more accurate, and why. A number of other readers seconded his request. So, we know there's interest in the subject.
What is a choke?
A choked barrel is one in which there's a reduction in the diameter of the bore near the muzzle. Someone likened it to the FX Smooth Twist barrel that's rifled only at the end of the barrel, but it isn't the same. The Smooth Twist barrel has a constriction — the rising of the rifled lands. But in a choked barrel, the entire bore gets smaller. I don't know if the Smooth Twist barrel is also choked; but if it is, that's a separate thing.
Most shooters know that shotguns are choked, and they understand why. A choke keeps the shot from spreading as quickly as it would without a choke. Shotguns have several specific kinds of chokes that make the pattern they project contain a certain shot density at a given distance from the muzzle. Hitting something at 25 yards with an improved cylinder choke is virtually the same as hitting it at 40 yards with a full choke. But that's not what a choke does for a rifle barrel.
A choked rifle barrel squeezes the bullet or pellet slightly just before it leaves the muzzle. This is only an analogy, but it's like pulling hard on a dog's leash — it gets his attention and focuses him. In the case of the bullet and pellet, it stops any minute fluttering that may be happening inside the bore.
In my experience, it does work. Here's what I know. First, the great barrel maker, Harry Pope, always choked his barrels. He first drilled the holes in the barrel blank undersized, then reamed the bore to get a choke of half a thousandth of an inch (0.0005-inches or 0.0127mm). His choke was an even taper down the full length of the barrel; and for the life of me, I can't comprehend how he did it. Most barrel makers have a transition point where the bore tapers more or less abruptly from one size to the smaller size. This transition is very smooth, and the choke is seldom more than a thousandth of an inch, so it doesn't disturb the bullet or pellet that much.
Pope's barrels are legendary. One of them put ten lead bullets into 0.20 inches at 200 yards! And a great many of them will put 10 shots into a half inch at 200 yards, although Pope never guaranteed that level of accuracy.
But what about today's barrels? Are they choked and does it help? Yes and yes are the answers. But not all barrels are choked — and even those that are choked may not be so intentionally.
Here's a true story. When AirForce Airguns was switching over to Lothar Walther barrels in the early days, they tried barrels with and without chokes. Lothar Walther was capable of making barrels without chokes; but in their conversations with AirForce, they asked why they wanted unchoked barrels. After testing, AirForce decided it was well worth the additional cost to have all their barrels choked.
In the three years that I worked at AirForce, I tested every rifle that was returned to the company for inaccuracy. That must have been 20-30 rifles, in all. Every time one came in with such a complaint, the first thing I did was clean the barrel with J-B Non-Embedding Bore Cleaning Compound, and the next thing I did was shoot a group with the clean barrel. In all that time, I only had to shoot a single group with each barrel to produce a 5-shot group that ranged between 0.25 inches and 0.375 inches at 23 yards (which was the longest straight distance I had inside the old factory). Then, the rifle was packed with the target that I signed and dated and returned to the customer. Case closed.
Only once in three years did I find a barrel that I couldn't get to shoot. It was an 18-inch .22-caliber Talon barrel that I'd cleaned several times. It just would not group better than 0.75 inches at 23 yards. It stumped me until I pushed a pellet through the bore with a cleaning rod, starting at the breech. There was no choke! Somehow, this barrel had slipped through the Lothar Walther manufacturing process without getting a choke, and it would not shoot.
Unintentional chokes
So far, I've been talking about chokes that are intentionally put into the barrels, but there are the unintentional kind, as well. Certain spring rifles such as the HW 80 and older versions of the Beeman R1 used to come with sights. The barrels of those rifles had dovetail grooves for the front sight swaged into the front of the barrel. When the swage upset the outside of the barrel to make these grooves, the metal inside the bore was distorted just a little at the same time. If you push a pellet through these barrels, you'll feel it pause when it gets to where the dovetails begin. This isn't a real choke, but it does feel like one when you test for it this way. Shooters have referred to these as choked barrels for decades.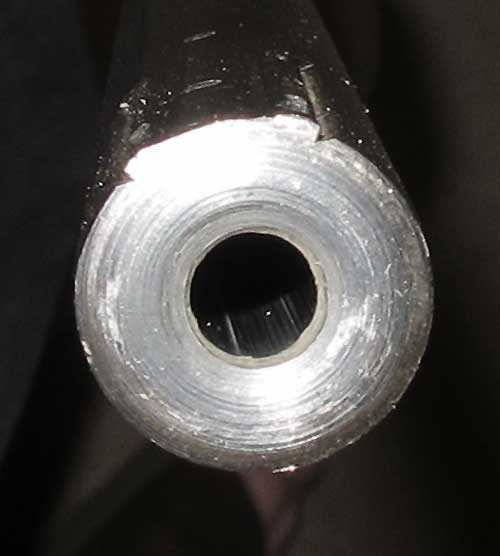 You're looking at the end of the dovetail grooves (those small v-shaped nicks on both sides of the top of the barrel) that were swaged into this R1 barrel to attach the front sight. When this is done, the force of the swaging process upsets metal inside the bore, making it feel like a choke — but it really isn't.
Spring guns probably don't need to be choked. When they fire the intense blast of air they generate, it irons the pellet's skirt out into the bore. As long as the barrel remains uniform throughout its length (and not all barrels do), the pellet is fit to the bore by this action. But a pneumatic or a gas gun releases its compressed air or gas more gradually and doesn't distort the pellet. So, a choked barrel is the way to make all pellets uniform before they leave the muzzle of these airguns.
How are barrels choked?
Years ago, chokes were put into barrels with reamers just before they were rifled. In other words, the choke was cut directly into the metal of the bore. But with the advent of button- and broach-rifling, it's easier to rifle the barrel first and then squeeze it down afterwards.
I read with interest where one of our readers was advising someone that a barrel had to be annealed before choking it by the squeezing method, and then hardened afterward. Actually, air rifle and rimfire barrels are made from dead soft steel, or steel that is nearly dead soft. They are not hardened in any way and can be distorted very easily. You could choke a barrel by tapping the outside with a ball peen hammer — though it won't be uniform, and I certainly don't recommend trying it.
Chokes can be rolled into barrels with hardened steel rollers set in fixtures that apply force gradually. Someone asked if a tubing cutter would work for this, and I have the answer. No, it won't work. It will crimp the barrel, but it's too sloppy and difficult to control a hand tool like a tubing cutter. I know this because I had Dennis Quackenbush convert a tubing cutter for me several years ago, and I attempted to choke barrels this way. But a precision jig that applies equal force to precision rollers that are similar to the function of  a tubing cutter is certainly one good way to choke a rifle barrel.
Another way is to run the barrel straight into a tapered die and swage in the choke — similar to resizing a cartridge during reloading, only a lot more force is required. To do it that way requires that the outside of the barrel be held to very close tolerances, so it's less desirable than the tapered roller method.
A third way to choke a barrel is to squeeze it together from the outside, using a die made in two pieces. The pieces come together, compressing the barrel between them. Like the other method that uses a die, this method also requires a barrel of a given outside diameter.
If you hammer-forge the barrel (cold-forming the barrel around a hardened mandrel that has the rifling pattern in reverse), the choking can be done when the mandrel is made. Simply make the mandrel with a taper, and the barrel that's ironed around it will also be tapered.
Companies select the method of choking that suits their barrel manufacturing methods. In other words, if they make hammer-forged barrels, that's the most convenient time to put in the choke. But if they sell only one choked barrel for every thousand barrels they make, rolling in the choke probably makes more sense.
Quick and dirty
Here are some facts from this report.
1. Choked barrels do seem to shoot more accurately — all other things being equal (meaning the barrels are of equally high quality).
2. Not all rifled barrels are choked.
3. Spring gun barrels may have chokes that are unintentional.
4. There are several different ways of choking a barrel.
5. Companies select the most cost-effective way to choke the barrels they make.
Summary
While you may feel compelled right now to run out and find a way to choke every rifled barrel you own, remember this — it may not be necessary. Some barrels that are not choked do just fine the way they are.
However, having written this report, I find that I am now thinking about choking the barrel on my BSA Meteor to see if that helps with the mediocre accuracy.