by Tom Gaylord, a.k.a. B.B. Pelletier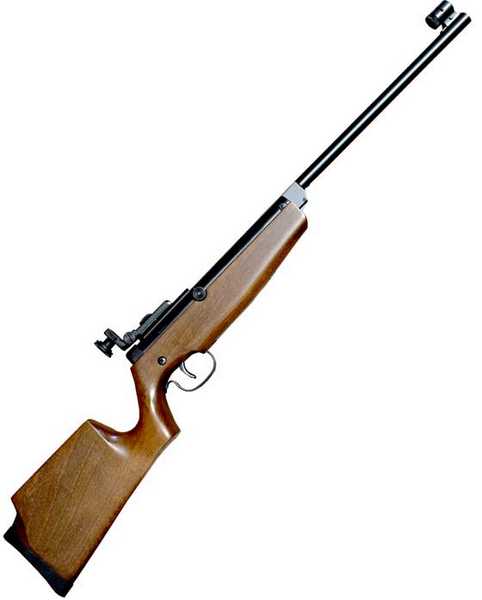 Diana 72 is a youth target rifle from the late 20th century.
This report addresses:
• Cocking effort
• Velocity
• Velocity and consistency comparisons, depending on how the pellet is loaded
• Firing behavior and cocking behavior after oiling
• Trigger-pull
• Impressions so far
Some topics resonate with more readers than others, and this is one of them. I heard from many Diana model 70 and 72 owners when Part 1 was published, and I hope to hear from more with this installment. New blog reader Harryholic from the UK had just received a new-old-stock model 72 when Part 1 was published. Searching for information on his new rifle, he stumbled across our blog.
His new rifle is one that hadn't ever been fired, apparently. It was still in the original Diana packaging based the pictures he published online. Unfortunately, that means it has the old Diana piston seals that dry rot with age. His new gun heeded a resealing before he could even fire the first shot. While he's arranging to have that done, I'll test our 72 that was resealed last year. It should have pretty close to new-gun performance.
Cocking effort
This rifle is a converted air pistol — we learned that in the last report. I recall my Diana model 10 target pistol needing about 35 lbs. of force to cock. The old Air Rifle Headquarters reported the velocity of a broken-in model 10 as close to 500 f,.p.s. with lighter lead pellets. I will presume they mean something like RWS Hobbys.
A model 10 has the same poweplant as the model 6 pistol that on which this rifle is based, so I'll use the cocking effort and velocity for the model 6, as well. I believe a model 6 in good shape should launch a Hobby pellet around 475 f.p.s. That would also be my guess for the model 72 rifle. We shall see.
As for the cocking effort, we learned last time that the 72 has a longer barrel shroud (13-3/4 inches, compared to the 7-inch barrel on the pistol) that extends the lever used to cock the rifle, so I expected the cocking effort to drop off to about 20 lbs. When I measured it on my bathroom scale, it was more like 16 lbs., though some stiffness in the cocking linkage did make the needle spike up to 20 at times. I think this will smooth out as the rifle wears in.
Velocity
I think I learn as much when I chronograph an airgun as I do when shooting it for accuracy. The things I learn aren't always what I expect, though, and today's test demonstrates that.
RWS Hobby
I started the test shooting the 7-grain RWS Hobby wadcutter pellet. I like using Hobbys because not only are they very light and give high velocity numbers, but they're also well-made and often quite accurate.
On the first string, I noticed something remarkable. I'm going to print the string here, so you can see what I saw:
Shot Vel
1     438
2    406
3    391
4    387
5    377
6    366
7    362
8    349
After shot 8, I stopped to evaluate the gun's performance. Each shot was going slower than the last. The 72 is a spring-piston rifle, and it honked a bit when cocked. So, I deduced the piston seal was dry. I oiled the seal with a few drops of RWS Chamber Lube and then returned to the string.
9    414
10    399
The average for this string is 389 f.p.s., but a lot of the reason for that is because of the velocity loss. This rifle was just rebuilt. It came back to my friend Mac just a few weeks before he passed away, so he never shot it. Therefore, I'm the first person to shoot it since it was rebuilt. I'm breaking it in.
After the first string, I oiled the chamber, again, with about twice as much oil as I used before. This time, I shot 10 Hobbys at an average 427 f.p.s. The spread was from 399 to 449, so 50 f.p.s. Obviously, the rifle needed to be oiled. And notice that my original estimate of the expected velocity was too high.
Next, I tried deep-seating the pellets with the Air Venturi Pellet Pen and Pellet Seater. This gave an average velocity of 424 f.p.s. The spread went from 401 to 461, so a total of 60 f.p.s. From this, I have to deduce that deep-seating Hobby pellets does not accomplish anything.
H&N Finale Match Pistol
Next, I tested the rifle with H&N Finale Match Pistol pellets. Seated deep, these averaged 393 f.p.s. The spread went from 376 to 405, so 29 f.p.s. That's a lot tighter than the Hobbys.
I tried these same pellets seated flush. This time they averaged 456 f.p.s. The spread went from 450 to 462, so just 12 f.p.s. They're both faster and more consistent when seated flush with the breech (not pushed into the barrel by a pellet seater).
RWS R10 Match Pistol
The last pellet I tried was the RWS R10 Match Pistol pellets. These weigh 7 grains, just like the Hobbys. Seated deep, they averaged 395 f.p.s., with a spread from 365 to 414. A max spread of 49 f.p.s. Seated flush, they averaged 429 f.p.s., and the spread went from 404 to 446. That's a total of 42 f.p.s. Again, the pellet went faster and the spread was tighter when it was seated flush with the breech.
Note the velocities
A couple days ago, someone asked me if I ever experienced a heavier pellet going faster and with more consistency than a lighter pellet in the same gun. This test demonstrates that phenomenon. The 7-grain Hobbys went an average 424-427 f.p.s., while the 7.56-grain H&N Finale Match Pistol pellets averaged 393-456 f.p.s. When seated flush, these were the fastest pellets in this test, as well as the heaviest pellets.
Firing behavior and cocking effort revisited
I told you the rifle squeaked when cocked. At the end of the test, it still squeaked — but less than before. Also, the cocking effort seems to have smoothed out a bit. I measured it, again, and this time the needle deflected from 16 lbs. up to between 18 and 19 lbs., but it was so close I can't tell if there has been a real reduction or not.
The rifle fires dead-calm regardless of which pellet is loaded or how it's loaded. But flush seating seems to be best, so that's what I'll do.
Trigger-pull
The 72 trigger is 2-stage, but not as crisp as I remember the trigger of my model 10 pistol. Stage 1 stops at stage 2, but then stage 2 has movement that can be felt. The net feeling is a trigger that has no second stage, though I know this one does and can feel it if I really try. The trigger breaks at 33 oz. consistently.
There's a good reason for this trigger to be mushy. The linkage is very long because this is a pistol in a rifle stock. I looked for trigger adjustment instructions on the internet and couldn't find any, so in the next report I'll show you the trigger and describe how to adjust it in detail.
Impressions so far
I like the little rifle — not quite as much as I thought I would, but perhaps I'm objecting to the stiffness of the rebuild that just needs to be broken in. Once I get the trigger where I want it — if that's possible, I may warm to it some more.