by Tom Gaylord, a.k.a. B.B. Pelletier
Today's report is Part 2 of the guest blog from Tyler Patner, a Pyramyd Air customer sales and service representative and enthusiastic field target shooter. He's finishing his report of a BSA Scorpion SE, and today's blog is all about accuracy.
If you'd like to write a guest post for this blog, please email me.
Over to you, Tyler.
by Tyler Patner
This report covers:
• Accuracy at 20 yards
• Accuracy at 40 yards
• Trigger and safety
• How loud is it?
• Final thoughts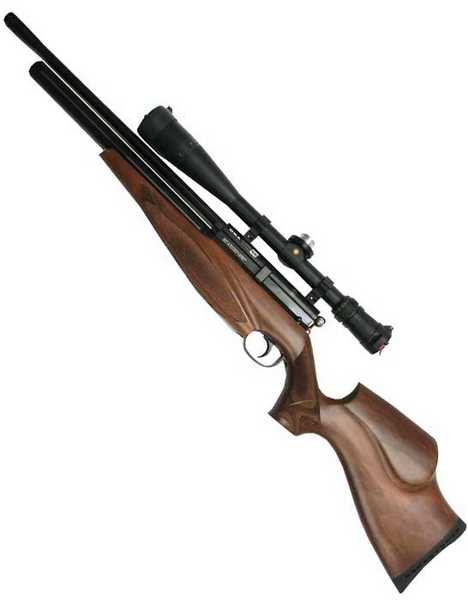 BSA Scorpion with beech stock.
In the first report, we used a chronograph to measure the velocity of the .25-caliber BSA Scorpion SE. Just looking at the chrony numbers, I would guess that .22 caliber is really optimal for the Scorpion SE. I'd bet a rifle in that caliber could put out the same energy as the .25 and maintain the same or better shot count. But don't discount the .25-caliber Scorpion SE. While clearly underpowered, today's accuracy testing will show just why the this rifle should be on your short list.
Accuracy testing was done at 20 and 40 yards. Normally, I would do 25 and 50 yards, but my current range has a max of 40 yards. The Bushnell Elite 8-32X40 scope was set on 16X, and the shooting began. I should note, I was using only a front bag rest and shooting off a very wobbly plastic table, but even those hindrances could not keep the Scorpion SE from impressing me! A .25-caliber hole is a bit bigger than I'm used to seeing. I shot 3 groups to warm up and then refilled for the 20-yard test.
Accuracy at 20 yards
The first pellet shot at 20 yards was the JSB King. They stacked 5 into a tight 0.43-inch group, starting things out nicely.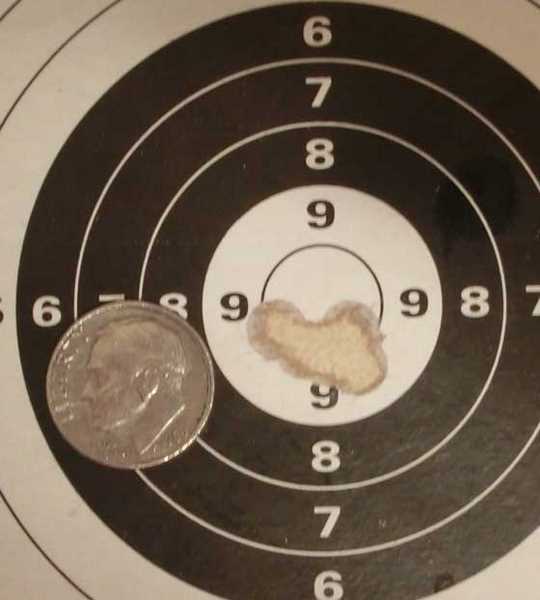 Five JSB Kings went into this 0.43-inch group at 20 yards. This is a good start.
Next was the Benjamin Destroyer pellet at 27.8 grains. This is shaped similarly to their Destroyer in .177 and .22 calibers. Four shots went into a 1.30-inch group, with the fifth shot flying high about 2 inches. The overall size came to 2.60 inches for 5 shots, which is beyond poor. The Benjamins were not included in the 40-yard test for that reason.

Five Benjamin Destroyers went into 2.60 inches at 20 yards, with 4 in 1.30 inches. This isn't the pellet for this rifle.
The Predator Polymags did surprise me a bit. Not only did they just barely squeeze into the magazine, but they actually grouped pretty well. A 0.54-inch group of 5 at 20 yards made a nice-sized hole that would certainly be adequate for small game. The Polymags have proven, time and time again, that they're the premier hunting-specific pellet and can smack small game with devastating results.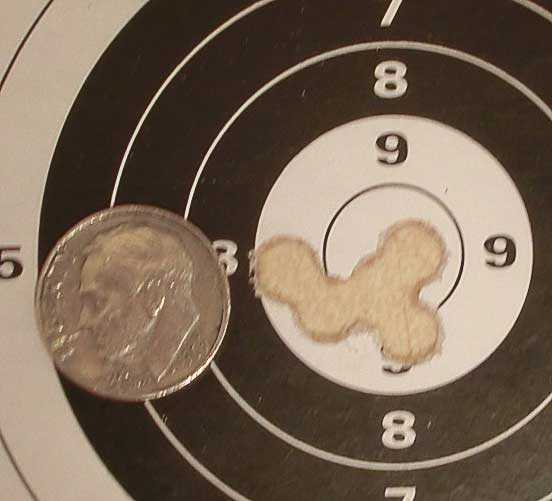 Five Predator Polymags went into 0.54 inches at 20 yards. This is another good pellet for the Scorpion SE.
The lighter-weight H&N Field Target Trophy grouped decently, with 5 in 0.79 inches. I pulled the fourth shot a bit, as my wobbly table wasn't quite stable. I did shoot them at 40 yards, as well, but the results were not worthy of showing here.

Five H&N Field Target Trophys went into 0.79 inches at 20 yards. This is another good pellet for the Scorpion SE.
The pellet that surprised me the most was the H&N Baracuda Hunter Extreme. With a cross cut on the head of the pellet, it's certainly eye-catching, with major accuracy to back it up! A 0.35-inch, 5-shot group (basically one single hole) was more than enough to get my attention. Twenty yards is not a long distance for PCP guns; but when you lace 5 shots in a row through a single hole, it immediately gets your attention!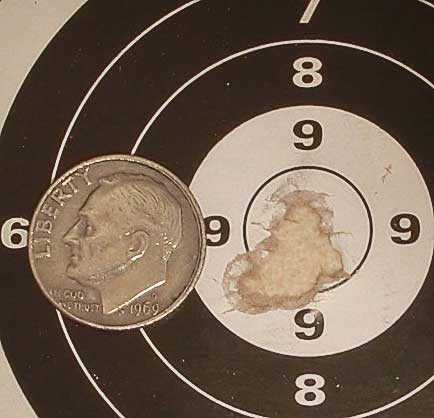 This is what I wanted to see — 5 H&N Baracuda Hunter Extremes went into 0.30 inches at 20 yards.
Next up were the Beeman Kodiaks. Being made by H&N, I was pretty confident they'd group similarly to the Baracuda Hunter Extremes, and they did. A 0.32-inch group of 5 bettered the mark set by the Hunter Extremes at 20 yards. The two pellets are very similar in terms of shape; and aside from the cut out in the head of the Hunter Extreme, they showed little difference in accuracy at 20 yards.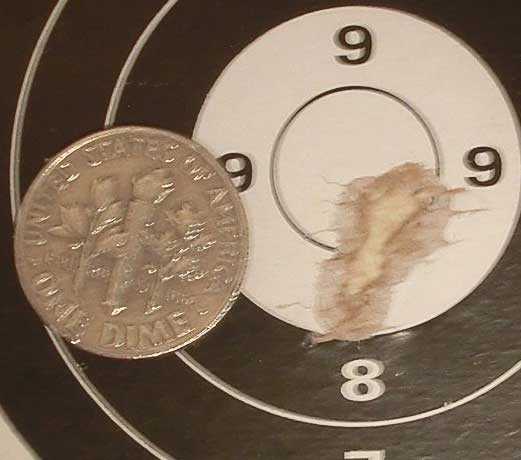 Beeman Kodiak pellets put 5 into 0.32 inches at 20 yards.
Accuracy at 40 yards
I chose to go with the Kodiaks, Hunter Extremes, Predator Polymags and JSB Kings for 40-yard testing. The results were all very good, which shows the versatility of the BSA barrel. This is something I've come to appreciate about the BSA guns I've owned. They all seem to be very even-tempered in terms of pellet selection. All too often, I test guns that will shoot only one pellet, and everything else groups horribly. That's all well and good, but only if the pellet the barrel likes is accessible, consistent from die to die and not too far on either side of the weight spectrum so your trajectory is reasonable. For testing at 40 yards, I shot two groups just to try to remove the potential for human error because we all know the gun is rarely the problem. It's the jerk behind the trigger!
First up were the Beeman Kodiaks, and they did not disappoint — giving a 0.50-inch group. Bear in mind the pellet is half the size of the group, so you are looking at two holes at the end of the day.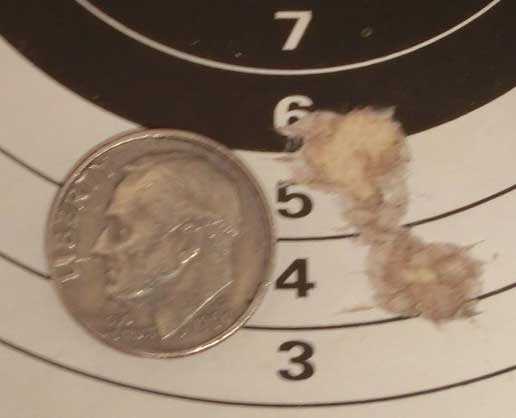 At 40 yards, 5 Beeman Kodiaks went into 0.50 inches.
The Predator Polymags at 26 grains grouped very well at 40 yards, making a 5-shot group that measured 0.65 inches. I would be very confident with a magazine of these in the Scorpion SE if I was going out after squirrels or pest birds. Raccoons and opossums would also be well within the Scorpion SE's game menu. Accuracy like this will pretty much assure you of a clean head shot or vital organ shot if you do your part. The extra bit of expansion the Predators offer would also come in handy.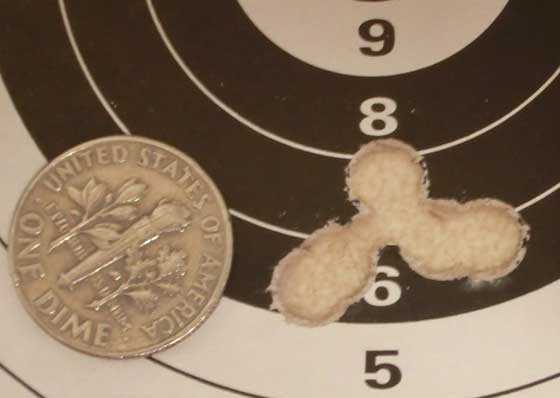 Five Predator Polymags went into 0.65 inches at 40 yards.
The overall best group of the day (and not just at 40 yards) was made with JSB Kings. After looking like the H&N/Beeman pellets would run away with the accuracy testing, the Kings came back in a big way. I managed to put 5 shots into a single hole measuring 0.27 inches. Basically, that's the size of the pellet. The next group opened up ever so slightly, but it was clear that the Kings are the way to go.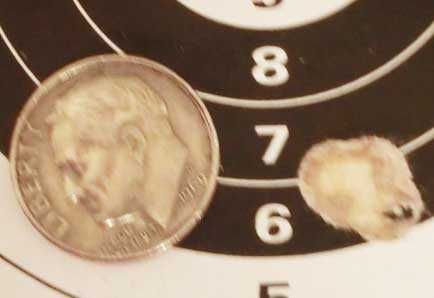 JSB Exact Kings made the best group of the day, with 5 in just 0.27 inches! This is great for 40-yard accuracy.
The Baracuda Hunter Extreme was the last pellet tested at 40 yards, and they grouped well also at 0.42 inches for 5. That was the best I could manage; and if the expansion of the Hunter Extremes is better than the average domed pellet, then I would say they're the most accurate hollowpoint I've ever shot in any gun past 10 yards. Generally, hollowpoints suffer a bit in the accuracy department; but I think that because the Hunter Extremes are not a complete hollowpoint, they fly just a bit better. Either way, these pellets work well, so H&N has a definite winner with them.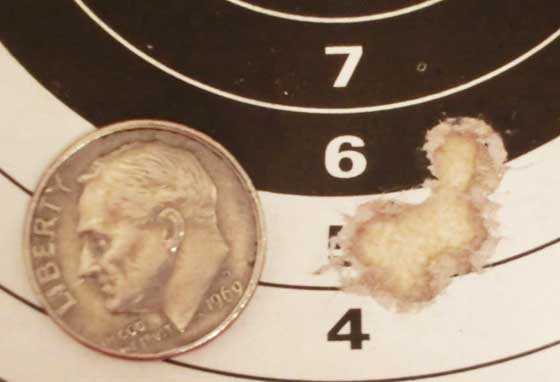 Five H&N Baracuda Hunter Extremes made the best group of the day for hollowpoints, with 5 in just 0.42 inches!
Trigger and safety
The trigger on the BSA Scorpion SE was unadjusted since it came out of the box crisp and relatively light for a hunting trigger. It measures an average of 2 lbs., 2 oz. over five pulls. I know the trigger can be adjusted much lighter than this; but for the hunting crowd, that won't be necessary.
The manual hunter-style safety is located on the left side of the action. I've seen the triggers adjusted so light that an engaged safety won't stop the gun from firing when the trigger's pulled. So, be careful when adjusting this trigger — or any trigger for that matter. Test it before you load the gun and make sure the safety still stops the gun from firing after adjustments are made.
How loud is it?
On the subject of noise, the Scorpion SE is pretty loud. It's not backyard friendly, and I would rate it a 7 out of 10 (10 being the loudest). If this were a 45-50 foot-pound gun, then the noise would be up in the 9-10 range; but at 30 foot-pounds, it's fairly tame for an unshrouded gun. That said, the air stripper on the muzzle also doubles as a thread protector covering the 1/2-inch UNF threading that could accept a more useful air stripper or muzzlebrake if you choose to add one.  [Editor's note: Silencers are subject to federal legislation. If an airgun silencer can be attached to a firearm and quiet the report, it must be licensed.]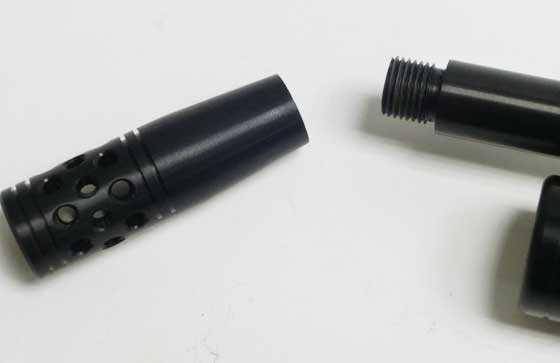 The air stripper/muzzlebrake covers 1/2X20 threads.
Final Thoughts
The Scorpion SE represents a step forward for BSA airguns. The new features like the redesigned magazine and gauge show that they're listening to what their customers want and need. All the while, they're not changing the things they know are proven to work. Their barrels are still some of the best out there, and their overall quality and precision shines through.
There are a lot of options in the mid-priced PCP realm, and the BSA may be overlooked because of its relatively low power level; but if you're looking for a precision shooter with adequate power for small game, then I would highly recommend taking a look at the BSA Scorpion SE. My experience with BSA products has been stellar over the course of many years, and I'm confident you'll come to the same conclusion after just a few shots behind the trigger of their PCP works of art!