by Tom Gaylord, a.k.a. B.B. Pelletier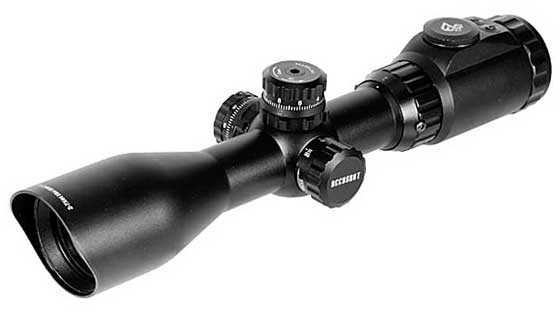 Leapers UTG Accushot 2-7X44 Scout Scope is a remarkable sight!
This report covers:
• What is a scout scope?
• Magnification
• Bright!
• The test
It's been a long time since we looked at this UTG 2-7X44 Scout SWAT scope, and I want you to know that it isn't because the scope isn't interesting. It's very interesting. But other questions and products always seemed to get in the way of this third report. Today that ends, as we'll take another look at this great scout scope.
What is a scout scope?
Scout scopes are scopes that have very long eye relief. Where a normal long eye relief scope might allow you to position the eyepiece 4-5 inches from your eye, a scout scope lets you get back 9-11 inches. This scope we're looking at today has an eye relief of 9.5 to 11 inches, so it spans almost the entire length that all scout scopes provide.
You use scout scopes when there's a reason. Either the rifle's action has parts that get in the way of a scope being mounted in the normal place — such as the Mosin Nagant bolt-action rifle family whose straight bolt handles rise 90 degrees when the bolt is opened, or there needs to be some clearance for cartridge ejection — such as with the M1 Garand and Winchester model 94 rifles. While there are other ways of mounting scopes on these guns, with the left side mounts being the most popular, a scout scope allows you to look straight ahead, so there will never be a problem adjusting the side angle of the scope's optical axis to coincide with the bore.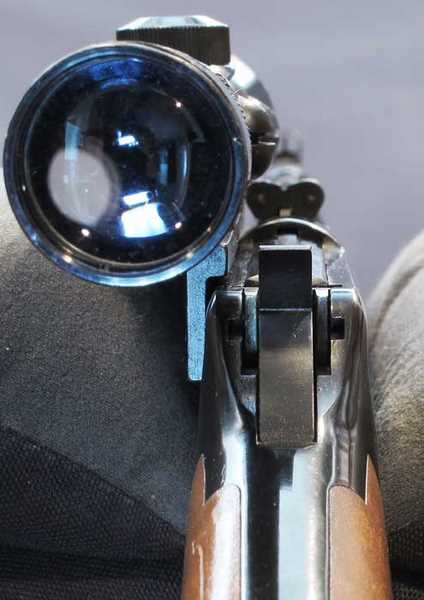 If the scope can't be mounted above the receiver, such as on this Winchester model 94 lever-action rifle that ejects straight up, a side-mounted scope has been the traditional solution. The scout scope puts the scope above and in line with the bore, making alignment issues less critical.
Magnification
Scout scopes typically don't have much magnification. That's their weak spot. I guess it's technically difficult to provide such a long eye relief and also magnify the target image, or perhaps they don't do it because of how much the field of view diminishes as the scope goes out farther from the eye. What I do know is that Leapers gives us 2-7 magnifications with this UTG scope, which puts it at the top end of today's scout scopes.
Bright!
A second big plus with this scope is its brightness. I was able to see the target clearly and make fine aiming adjustments at 7-power. That comes in very handy when you're putting the thin mil-dot reticle on the target. This Leapers scope has reticle lines fine enough to shave with.
On top of that, this reticle is illuminated; so if the black lines are hidden by the target, they can be lit. All things considered, this is one fine hunting scope. I'll say more about that in a bit, but let's now test it at 25 yards.
The test
The scope is mounted on a Crosman MK-177 Tactical multi-pump pneumatic rifle. While that rifle doesn't need a scout scope, it's one of the few airguns that has a Picatinny rail long enough to mount such a scope at the correct distance from the eye.
I learned in the last test at 10 meters that this rifle does well with Air Arms Falcon pellets, so I used them exclusively in this test. Since I was shooting from 25 yards, I decided to begin with 6 pumps per shot. That should give a muzzle velocity of about 600 f.p.s. With multi-pumps, I've found that 5 or 6 pumps are sufficient for good accuracy at 25 yards indoors.
The first group was shot with the scope as it was left adjusted after the 10-meter test in April. The pellets landed high and to the right, with the group's center being 2 inches high and .75 inches to the right. The first 10 pellets went into a group that measures 0.837 inches between centers. While that isn't a wonderful group for most air rifles, it's pretty good for an inexpensive multi-pump like the MK-177.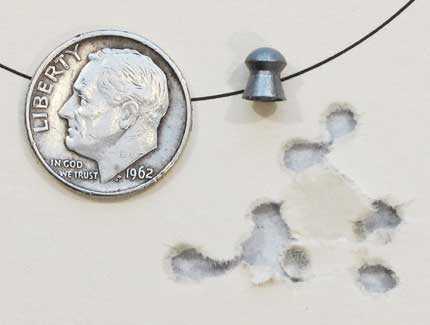 The first group of 10 Falcons went into 0.837 inches at 25 yards.
Following this group, I adjusted the scope 6 clicks to the left 6 and 14 clicks down for the second group. This was also shot with 6 pump strokes per shot. Ten pellets went into 1.063 inches. Again, not the best group but still pretty good for one of these rifles. Note that the pellets did hit lower on the target following the adjustment.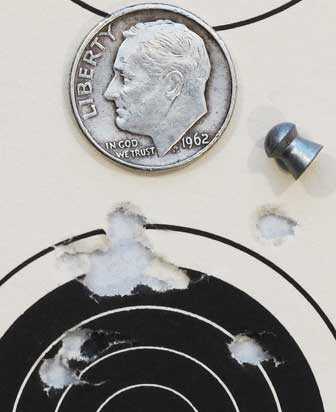 Following a scope adjustment, group 2 put 10 Falcon pellets into 1.063 inches at 25 yards.
I adjusted the scope down 6 more clicks and shot the next and final group. This time, I decided to pump the rifle 8 times for each shot — just to see what difference it might make, if any. Ten more shots went into 0.958 inches. The group was lower but also moved to the left. I must not have the scope leveled on the rifle. And that also makes me wonder if a scope level would help decrease the size of the groups. Several times, I found myself wondering if the gun was canted. The MK-177 doesn't have the clues that a conventional rifle stock would have. It's like holding a plank in your arms.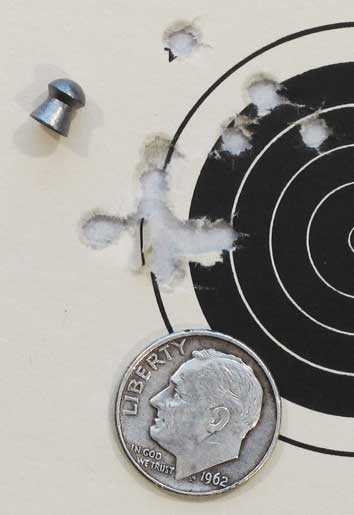 For the third group, I adjusted the scope again and also pumped the rifle 8 times for each shot. It put 10 into 0.958 inches at 25 yards.
Okay, that's today's test. Remember, I was really testing the scope and not the rifle. I found it to be clear, sharp and very easy to use. The adjustments moved the reticle positively every time. Maybe a scope level could help accuracy, but that remains to be seen. I don't think I've done this wonderful scope justice, yet.
I will now look into mounting this same scope on one of my firearms, so we can continue to look at it. This scope can take some of the budget-priced firearms like the Mosins and SKS/AKs and turn them into useful hunting arms for a fraction of the cost of a new rifle. If you're in the market for a good scout scope, I think you better look at this one!