by Tom Gaylord, a.k.a. B.B. Pelletier
This report covers:
• Ruger Air Hawk velocity retest
• RWS Hobby pellets
• JSB Exact Heavy pellets
• RWS HyperMAX pellets
• New Arlington field target club
• Beautiful course!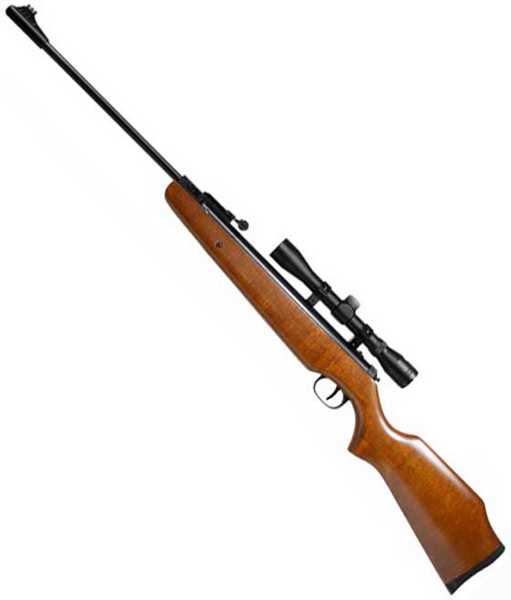 Ruger Air Hawk combo
Ruger Air Hawk velocity retest
I hadn't planned to do this test, but the velocity numbers in the previous blog post were so far off expectations that I felt compelled to try it, again. I was curious about the poor velocity performance of the Ruger Air Hawk combo. Someone suggested the breech seal might be too low and others agreed, so I shimmed the seal. It appears to be ever so slight higher now, but the velocity is definitely higher.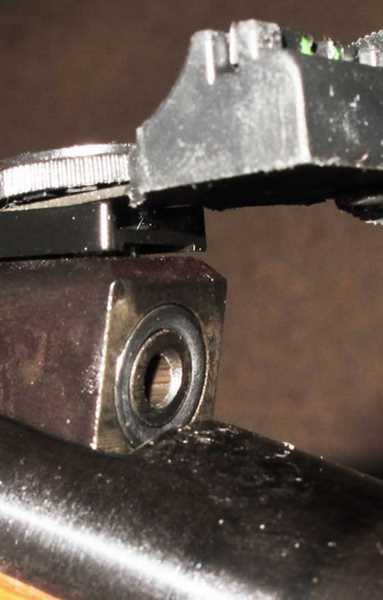 Before the shim the breech seal was low and flat.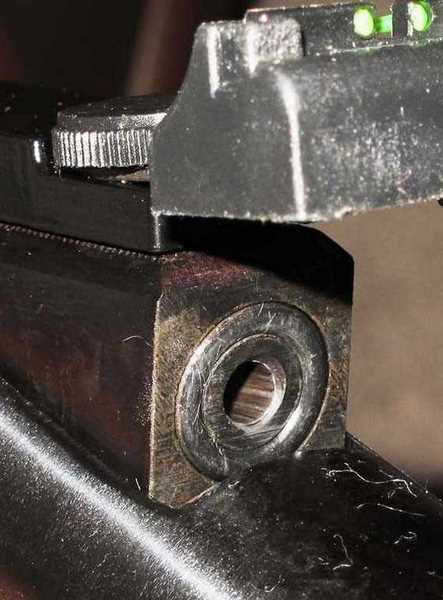 The shim raised the breech seal slightly.
RWS Hobby pellets
In the first test, RWS Hobby pellets settled into a range of 750 to 810 f.p.s. I didn't give averages because the gun seemed to be detonating too much.
This time, the range went from 1014 to 1088 f.p.s. Two shots registered 649 and 761 f.p.s., respectively. My gut feeling is that the velocity has increased, but the rifle's still detonating too much to know anything for sure.
JSB Exact Heavy pellets
The second pellet was the JSB Exact Heavy that weighs 10.34 grains. In the last test, these ranged between 534 and 757 f.p.s. In this test they ranged between 572 and 893 f.p.s., with all but two shots above 623 f.p.s. There's a definite velocity increase this time; but, again, I can't be precise.
RWS HyperMAX pellets
The last pellet tested was the 5.2-grain RWS HyperMAX lead-free pellets. Previously, these ranged between 817 and 970 f.p.s. In this test, they ranged from 906 to 1203, with only one not going above 1180 f.p.s.
I think it's clear that the breech seal was too low during the first test. Raising it with a shim did boost velocity, though the gun is still burning too much oil to tell for sure how much velocity has been gained. When it stabilizes, we'll have a better idea — but it does seem the gun is on the numbers now.
My next test will be for accuracy at 10 meters, using the open sights.
And, now, for something completely different!
New Arlington field target club
We have a new field target club in North Central Texas. The Arlington Sportsman's Club has started a field target club, which held their second trial match last Saturday on 10 of the club's 35 3D archery lanes. These lanes are carved into a wooded section of the club's property and are ideal for field target matches.
This is the second FT match I've attended in the past few years, and I have to comment that the sport is now more popular than ever! When I competed in the 1990s, field target was run by a rigid set of rules that put older and less mobile shooters at a disadvantage. And there were some clubs that enforced offhand-only shooting to the extent that the sport just wasn't attractive to many shooters.
Today, I see relaxed rules that allow seating and bipods for the rifles, changing everything! The shooter doesn't have to get into a seated position on the ground and hold the rifle so nothing touches the ground. Now, it's fun! And I can tell that the shooters are 10-20 years older than they were when I competed in the 1990s. That still puts them at my age — only, now, they're having fun.
Beautiful course!
The Arlington match director, Chris Simmons, showed me around the course, which was the finest FT course I've ever visited. Of course, having those lanes premade by the 3D archers made all the difference.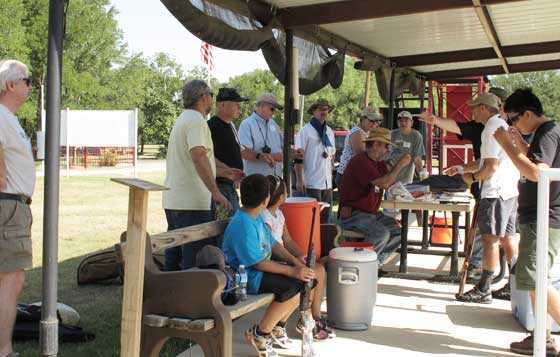 The match director's briefing started early, so the match started right on time.
Chris allowed one point for every target that fell, which is the common way of scoring a match. The Pecan Plantation club I visited some months back allowed 2 points for a target fall and one point for just hitting the target. Either way works fine, but seeing the target fall is what the sport's all about.
Chris left all the kill-zone reducers off for this match, so every kill zone was 1.5 inches. In the future, that will change. I know these targets seemed easier to kill, but when they have half-inch kill zones and are 25 yards distant, that will change.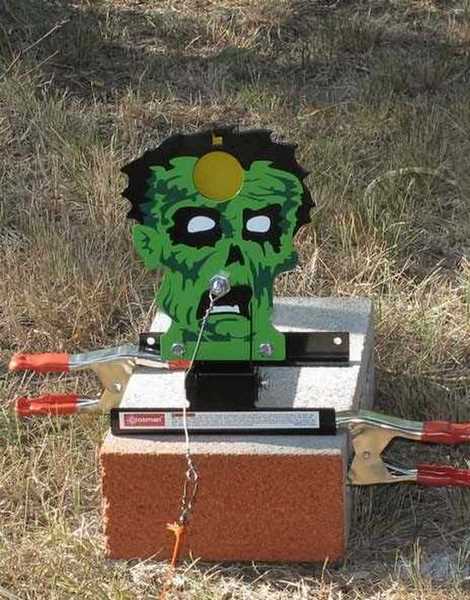 The kill-zone reducers were left off all targets for this match.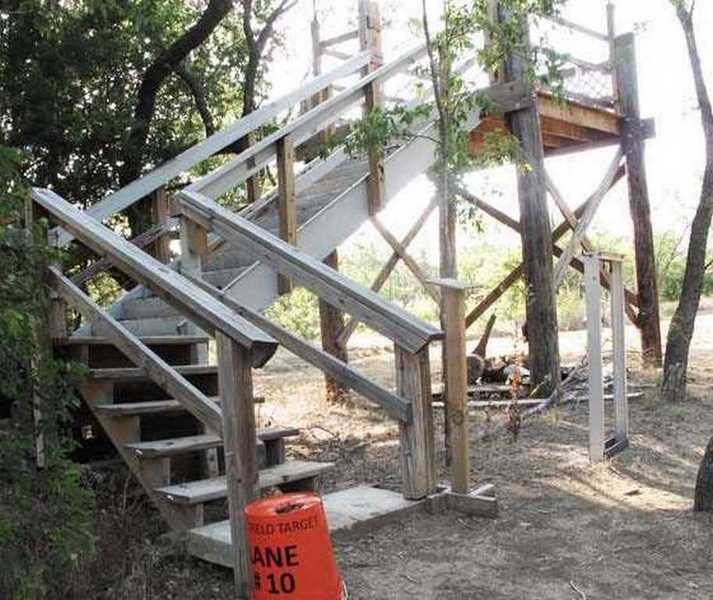 The match used archery facilities like this tower, which was designated for offhand shots, only. We never had features like this when I was a match director!
You might think that because this is a startup club all the shooters were duffers, but that was not the case. I saw many shooters who obviously knew exactly what they were doing. One man was shooting a Whiscombe JW 70, which is rare at any FT match. And another shot an Air Arms Pro-Sport he received only the night before the match. He got zeroed before the match started and did very well shooting from the offhand position.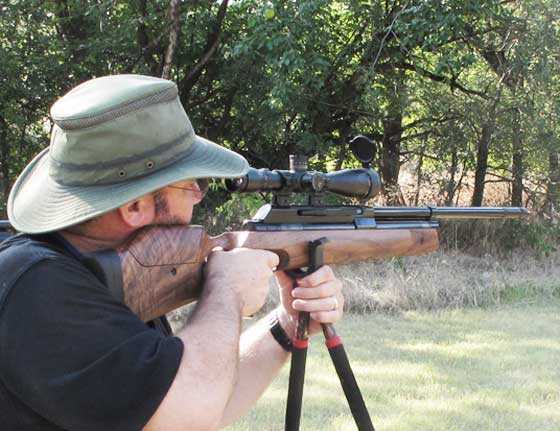 Here is a Whiscombe JW 70! How many of these have you seen?
The shooters from the Dallas FT club weren't able to make this match because they were working on a new venue for their club on the same day. But they'll attend matches in the future. And I think I may blow the dead bees out of my Air Arms TX200 and shoot a few matches, myself. It's been over 15 years since I competed; but the way things are run today, this looks like fun!