Dan Wesson 8-inch CO2 pellet revolver: Part 3
by Tom Gaylord, The Godfather of Airguns™
Writing as B.B. Pelletier
This report covers:
• Update on the Ft. Worth airgun show
• Single-action testing
• H&N Finale Match Pistol pellets
• JSB Exact RS pellets
• Air Arms Falcon pellets
• RWS R10 Pistol pellets
• Double-action
• Final impression
Update on the Ft. Worth airgun show
The Ft. Worth airgun show is approaching fast. September 6 is now just over a week away!
A number of people are bringing airguns to sell at the show. Some of these people are gun dealers and others who never knew how or where to sell their airguns. I have a lead on an FWB 124 without a stock for $50. And I know there will be dozens (if not hundreds) of airguns brought by the club members who are putting on the show. I know of a Crosman 99 lever-action rifle coming from one of them; and as the word spreads among the 1500 club members where the show is being held, airguns are coming out of the woodwork. So, bring cash!
There will also be a new big-bore bullet maker at this show. This company has full production equipment to make over 10,000 bullets each hour, and they're keen to line up some airgunners as customers, as well as some airgun manufacturers.
Now, let's move on to today's report. It's accuracy day for the Dan Wesson pellet revolver. I'll tell you right now, I was surprised by the accuracy of this air pistol. Read on to learn how accurate.
Single-action testing
I said in the last report that because the revolver shoots both faster and more consistently in the double-action mode, I was going to test it that way. But the bottom line is that double-action is never as precise as single-action. So, I tested it both ways. Single-action first.
H&N Finale Match Pistol pellets
The first pellet I tested was the H&N Finale Match Pistol pellet. I knew from the velocity test that this pellet fit the steel cartridge head pretty well when seated deep. The first shots landed low and left on the target, but I wasn't prepared for how close they were hitting. The first 2 shots went into the same hole, and all 6 shots went into 0.593 inches at 10 meters, rested. I adjusted the rear sight and thought the second group would be far enough away from the first to score separately; but as you'll see, it wasn't. The entire group of 12 shots was only 1.074 inches between centers — even with the sight adjustment!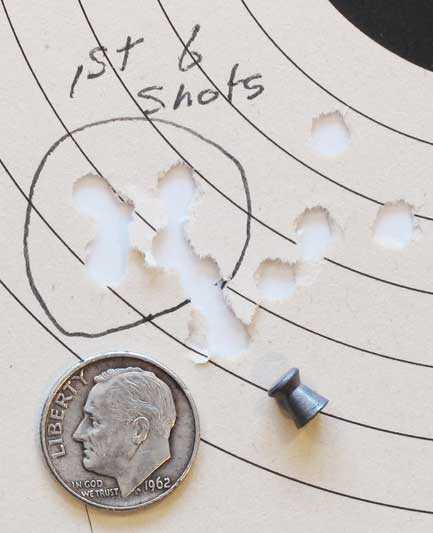 The first 6 pellets went into 0.593 inches at 10 meters and even after a sight adjustment the next 6 only opened it up to 1.074 inches.
JSB Exact RS pellets
Next, I tried 6 JSB Exact RS pellets. These spread out much more than the Finale Match. Six went into a group that measured 2.007 inches. Notice that this group is very vertical, so the velocity probably varied a lot. This isn't a pellet for this pistol.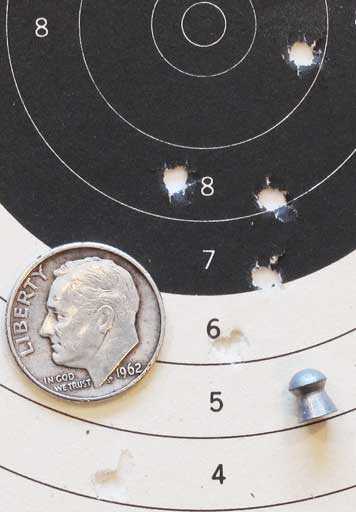 JSB Exact RS pellets strung out vertically into this 2.007-inch group that was the biggest of the session.
Air Arms Falcon pellets
Next, I tried Air Arms Falcon pellets. They often do well in lower-powered .177 airguns. In the Dan Wesson, they were certainly better than the JSB RS; but at 1.246 inches between centers, they aren't anything special.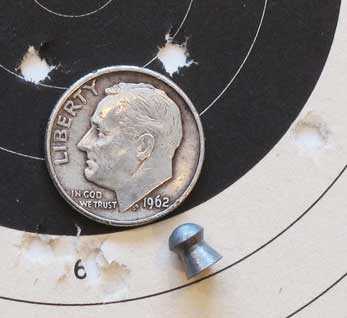 Falcon pellets grouped better, at 1.246 inches for 6 at 10 meters. But this isn't good enough.
RWS R10 Pistol pellets
Next up were RWS R10 Pistol pellets — another good target wadcutter. Six of them went into 0.916 inches, with 4 going into just 0.263 inches. This is clearly a good pellet in the Dan Wesson.

RWS R10 Pistol pellets grouped really well, at 0.916 inches for 6 and 0.263 inches for 4.
Next, I went back to the H&N Finale Match pellets that did so well at the start. I shot another group of 6 — all of them single-action. This time, 6 went into 0.811 inches.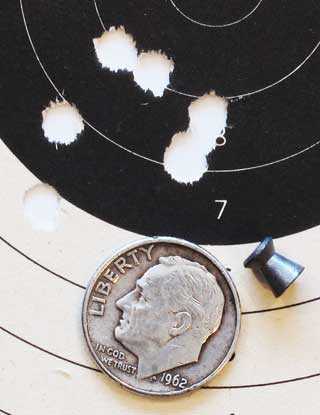 Six H&N Finale Match Pistol pellets went into this 0.811-inch group.
Double-action
After the last group of 6, I installed a fresh CO2 cartridge. The velocity test had demonstrated that 7 cylinders were all I could expect with stable velocities.
First up were 6 more H&N Finale Match Pistol pellets. I still rested the revolver and squeezed the trigger carefully; but instead of stacking at the end of the pull like a good Colt revolver trigger, the Dan Wesson trigger stacks, then releases and stacks again. It's unpredictable in double-action. Six pellets went into 1.974 inches, with 4 in 0.524 inches. I'm sure that if the trigger had been better, I could shoot better.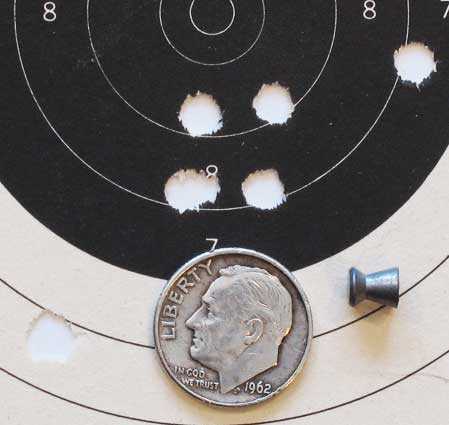 This double-action group of H&N Finale Match pellets is spread out sideways from the trigger action. It measures 1.974 inches between centers, with 4 in 0.524 inches.
Next, and the last pellet I tried, was a cylinder of RWS R10 pellets. I must have managed the trigger better this time because this group measured 0.908 inches between centers.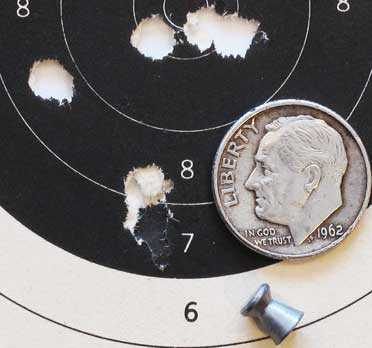 This double-action group of RWS R10 pellets is more like it. Six in 0.908 inches.
Final impression
This Dan Wesson pellet revolver is surprisingly accurate. It rivals the S&W 586, but for a lot less money. But loading the cartridges with pellets is time-consuming. I know it will bother impatient shooters.
The trigger and sights on this revolver work well for a target shooter. And the double-action trigger-pull is as light as I've ever seen. My recommendation is to get the Dan Wesson if you like hitting what you shoot at, but not if you like fast-action handguns.
Tom Gaylord is known as The Godfather of Airguns™ and has been an airgunner for over a half-century, but it was the 
Beeman
 company in the 1970s that awoke a serious interest in airguns. Until then, all he knew were the inexpensive American airguns. Through the pages of the Beeman catalog, he learned about adult airguns for the first time. In 1994, Tom started
The Airgun Letter
 with his wife, Edith. This monthly newsletter was designed to bring serious reports about airguns to the American public. The newsletter and
Airgun Revue
, a sister magazine about collectible airguns, was published from 1994 until 2002, when Tom started
Airgun Illustrated
-- the first American newsstand magazine about airguns. Tom worked for three years as technical director at
AirForce Airguns
, the makers of the 
Talon, Condor, and Escape
 precharged air rifles. Today, he writes about airguns and firearms for various publications and websites. He also makes videos, and you'll find short clips embedded in some of his artices on Pyramyd Air's website. Tom is a consultant to Pyramyd Air and writes under the name of B.B. Pelletier.