by Tom Gaylord, The Godfather of Airguns™
Writing as B.B. Pelletier
Part 1
Part 2
Part 3
Part 4
Part 5
Part 6
Part 7
Part 8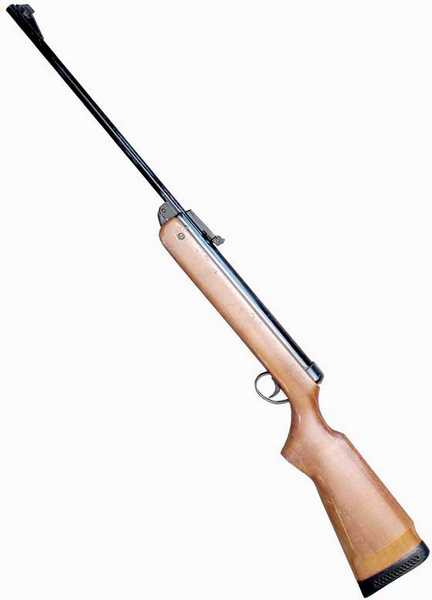 My rifle is actually a BSA Super Meteor.
This report covers:
• What we've learned so far
• Mounting the Tasco Pro-Point dot sight
• 10-meter accuracy RWS Hobby pellets
• JSB Match Diabolo pellets
• H&N Finale Match Pistol pellets
• RWS R 10 Pistol pellets
• The Meteor is good
What we've learned so far
I began the review of the BSA Super Meteor in October 2013 — almost a year ago. I acquired the rifle at the Roanoke airgun show (and, no, I don't know whether or not it will be held again this year) from Don Raitzer, because I'd always wanted to review the rifle. I commented that Meteors had always looked like cheap airguns to me; but after researching them, I discovered they went through the transition period when BSA went from being a world leader in airguns, through several attempts to make their guns less expensive to build and eventually to the point where the company was bought by Gamo.
So, Meteors exist in numerous variations, with Marks I and II being considered the best, and the cheapening started with the Mark III. My Super Meteor is a Mark IV and well down the road from the top quality they enjoyed at their height. But it still does show a lot of innovation in the design. I showed you all of that in the early parts of this report, as I rebuilt the powerplant and crowned the muzzle.
I got the velocity back up to standards, but for some reason the accuracy was never there. I lamented over this in the last few reviews, but it wasn't until the final part — Part 8 — that I discovered what might have been the problem. And then I guess I must have burned out, because I didn't return to the rifle until today.
It was Monday's look at the BSA Scorpion that caused me to look back at the reviews of the Meteor. That was where I discovered that I'd intended to try the rifle with a scope or dot sight but never did. Until today.
What I discovered is that the Meteor's rear sight is loose and tends to move when the rifle's shot. I wondered if an optical sight that stayed put might correct any sighting problems and let the rifle reach its true potential. Today, you'll see what that is, and you can use the links to the earlier parts, above, to see the contrast between the accuracy with open sights and the dot sight I chose for today's test.
Mounting the Tasco Pro Point dot sight
I mounted a 30mm Tasco Pro Point red dot sight that I've used in other tests. Mine is vintage and not at all like today's Tasco Pro Point. I would have used the Tech Force 90 dot sight, but that one's being used on another rifle we'll get to very soon.

I mounted a vintage Tasco Pro Point dot sight on the BSA Meteor.
Once mounted, the dot sight was very easy to sight-in for 10 meters. I saw tighter groupings at my 12-foot sight-in distance and began to hope I'd solved the problem. Let's now see how well the rifle did.
10-meter accuracy RWS Hobby pellets
The first pellet I tried was the RWS Hobby that had done best in the previous tests with open sights. Right away, there was a dramatic difference. Ten Hobbys now went into 1.033 inches, where they'd only previously made a best group that measured 1.361 inches with open sights. But inside the big group, 8 shots were in a tight cluster measuring 0.437 inches! This is what I was expecting from the Meteor all along!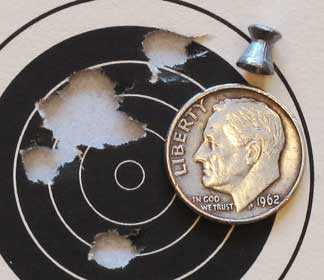 Maybe not the tightest 10-meter group, but 8 of these Hobbys went into 0.437 inches, giving me hope for the rifle.
JSB Match Diabolo pellets
Because no other pellet had done as well as Hobbys in previous testing, I decided to change my choices and concentrate on several target pellets. Next up was JSB Match Diabolo wadcutters. Ten of them went into 0.681 inches — with no fliers. Now we're getting some results!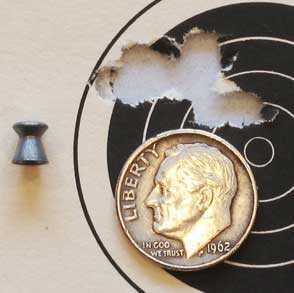 Now we're talking! Ten JSB Match pellets made this 0.618-inch group at 10 meters.
H&N Finale Match Pistol pellets
The next pellet I tried was the H&N Finale Match Pistol pellet. This one proved to be the most accurate of this test. Ten went into a 10-meter group that measures 0.456 inches between centers.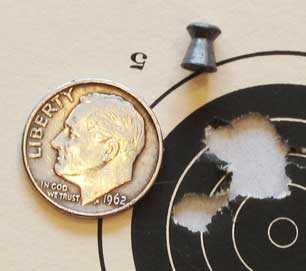 Ten H&N Finale Match Pistol pellets made this best group of the day. It measures 0.456 inches between centers.
RWS R 10 Pistol pellets
The last pellet I tested was the RWS R 10 Pistol pellet. This is another lightweight wadcutter that's often the most accurate in some airguns. Before shooting this pellet, I adjusted the dot sight 5 clicks to the right and 5 clicks down. Unlike scopes, dot sights don't seem to have the same problem with stiction (the reticle not moving after adjustment until the gun is fired several times). The dot moves with the adjustments and doesn't have to be bumped or vibrated into its new position by firing the gun. (If you'd like to read more about stiction, go to this blog on scope basics and scroll down to the Stiction subhead.)
Ten R 10s then went into 0.588 inches at 10 meters. This is the second-best group of this test, and it underscores the Meteor's accuracy potential very well.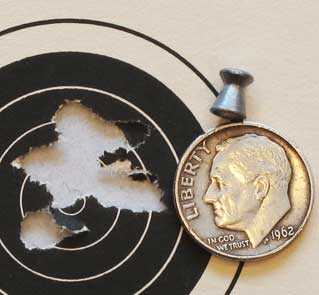 Ten RWS R 10 Pistol pellets went into 0.588 inches at 10-meters. The second-best group of the day.
The Meteor is good
When I began this series, I'd hoped to discover why so many shooters have a love affair with the Meteor. For many years I had thought it was a cheap-looking little rifle, but that was before I found out about all the changes over the years of production. Apparently, there are Meteors — and then there are Meteors; and it really makes a difference which variation you have. Also, in this instance, I started with what was essentially a junker.
It was an uphill battle because I had to rebuild my rifle, which included several major repairs like spot-welding the piston body and crowning the recessed muzzle (see Part 4). I have to thank my buddy Otho for the hard work he put into this project. He's the one who spot-welded the piston body and made the tool bit I used to crown the recessed muzzle (Part 8).
The action forks that were very loose when I got the rifle, and I had to tighten. This involved putting the forks into a vise and tightening the jaws to squeeze the forks together (Part 4). Assembly after this operation was a chore, but I got it done. This is where a pivot bolt comes in very handy, but the Meteor doesn't have one — just a plain pin.
I'd hoped the Meteor might perform like a Diana 27, but it doesn't. The Meteor is its own air rifle — very abrupt during the firing cycle — while the Diana is smooth. And the trigger, while adjustable, can never be as light and crisp as the Diana's ball-bearing sear. But don't hold that against the rifle. The Meteor is its own airgun, not a copy of anything else.
And it can shoot — as today's test demonstrates. I thought I might have to choke the barrel to get accuracy from the rifle, but it turned out the sights were the problem all along.
Doing this series has been educational and exasperating at times, but I learned a lot and got inspiration for many more blogs about vintage airguns.