Colt Single Action Army BB gun: Part 3
by Tom Gaylord
Writing as B.B. Pelletier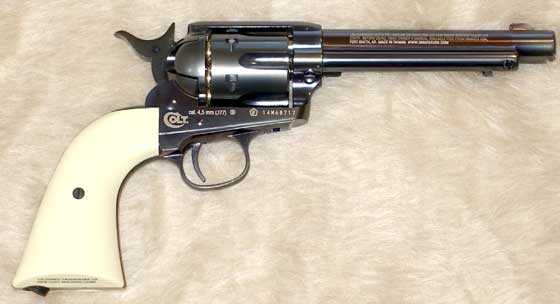 The new Colt Single Action Army BB revolver is gorgeous!
This report covers:
• Tin cans?
• On to accuracy
• Umarex BBs
• Daisy BBs
• Crosman Copperhead BBs
• Hornady Black Diamond BBs
• Avanti Precision Ground Shot
• 4.4mm lead balls
• Summary
Tin cans?
Today, we'll test the accuracy of the new Colt Single Action Army BB revolver. But before we get to that, there was a question from a blog reader named Claude about this revolver penetrating a steel food can. I said it couldn't, but I secretly promised myself to test it first thing. Well, I was wrong. Steel food cans are thinner today, and this revolver can indeed pass through both sides! I shot the can at about 18 inches.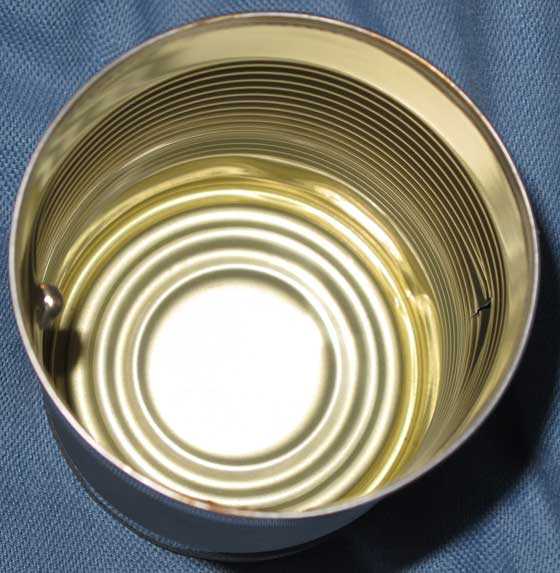 The BB went through both sides of the can!
Claude had seen an Umarex ad showing a shooter fanning the revolver and hitting 6 cans in a row at some distance (12-20 feet?). I still find that feat difficult to believe, but since all my fanning was with .45 Colt cartridges, I suppose it's possible that the BB gun that doesn't recoil might allow it. Anyway — Claude was right, and I was wrong.
On to accuracy
All shooting today was done from 5 meters. I shot 6 shots at each target, because that's what the revolver holds. I used a 6 o'clock hold on the bull and noted that the sights are easy to see, even though the rear notch is u-shaped instead of square.
I shot today's test from a rest. I used the UTG Monopod and I took a photo of the hold, so you could see how it looks.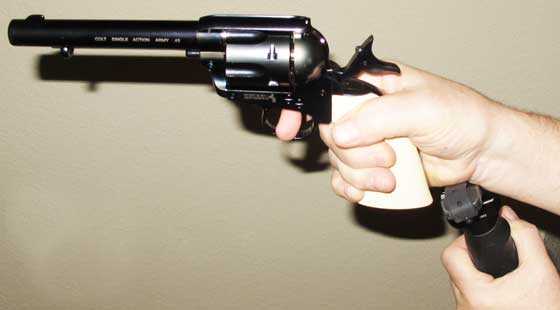 I moved my off hand away from the monopod, so you could see how I lay my wrist across the rubber strap. I would normally grasp the front of the grip with my other hand.
Umarex BBs
First to be tested were Umarex Precision Steel BBs. The first shot hit the top of the bull, then the next 5 were tightly grouped at the bottom in 0.378 inches. Add in shot No. 1, and the group grows to 1.167 inches.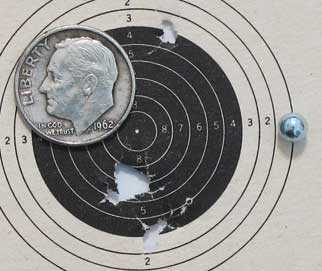 Six Umarex BBs in 1.167 inches, but the last 5 are in an incredible 0.378 inches at 5 meters.
Daisy BBs
Daisy Premium Grade BBs were the next to be loaded into the gun. Again, the first shot went to the top of the bull, but this group isn't as tight as the first one. Six BBs are in 1.30 inches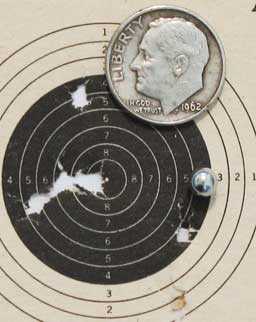 Daisy BBs made a more open group. Six went into 1.30 inches at 5 meters.
Crosman Copperhead BBs
The next BBs were 6 Crosman Copperheads. As with the first 2 BBs, these also put shots 1 and 2 at the top of the bull, but then they opened up. The group measures 1.541 inches between centers at 5 meters.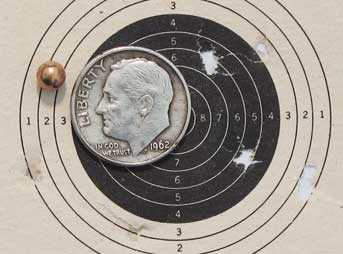 Six Crosman Copperhead BBs went into 1.541 inches at 5 meters. This was the largest group of the test.
Hornady Black Diamond BBs
Next, I tried a cylinder of those new Hornady Black Diamond BBs. They were the first BB to not put the first shot at the top of the bull. There was some lateral spreading of the group, but it measures 1.13 inches between centers at 5 meters.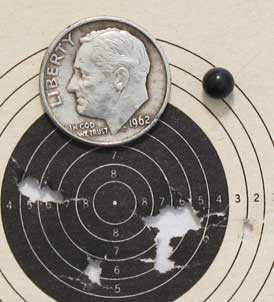 Six Hornady Black Diamond BBs spread out horizontally into this 1.13-inch group.
Avanti Precision Ground Shot
The next BB I tested was the Avanti Precision Ground Shot. These are a little larger than most BBs, and they sometimes shrink groups. In the Colt SAA, 6 of them went into a horizontal group that measures 0.926 inches between centers. While this is a good group, the extra cost of these BBs would not be worth it. I think the Umarex BBs are good enough in this gun.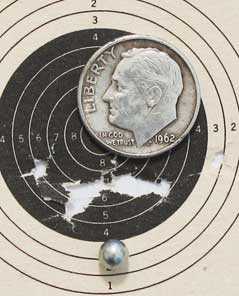 Six Avanti Precision Ground Shot made this horizontal group, which measures 0.926 inches between centers at 5 meters.
4.4mm lead balls
The last projectile I tried was a 4.4mm round lead ball. You can buy them if you search, but prepare to spend a lot more than even the Avanti shot. RWS sells Zimmerstutzen balls that can be used for this, but I bought 30,000 rounds from the Czech Republic many years ago for my Haenel 310 rifle.
Six of these lead balls went into 0.848 inches, which was the smallest 6-shot group of the session. I don't think the additional accuracy justifies the cost, though.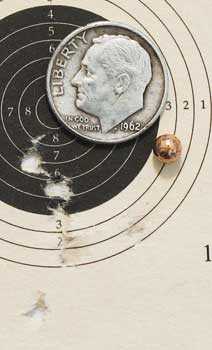 Six 4.4mm lead balls made this 0.848-inch group, which was the best of the day.
Summary
If you like a single-action revolver, get this one! It looks great and shoots great, too. While it isn't a target gun, it's more accurate than many other BB pistols. And it's certainly what you need to roll a can around the yard. A can that you will shoot through — I might add!
Tom Gaylord is known as The Godfather of Airguns™ and has been an airgunner for over a half-century, but it was the 
Beeman
 company in the 1970s that awoke a serious interest in airguns. Until then, all he knew were the inexpensive American airguns. Through the pages of the Beeman catalog, he learned about adult airguns for the first time. In 1994, Tom started
The Airgun Letter
 with his wife, Edith. This monthly newsletter was designed to bring serious reports about airguns to the American public. The newsletter and
Airgun Revue
, a sister magazine about collectible airguns, was published from 1994 until 2002, when Tom started
Airgun Illustrated
-- the first American newsstand magazine about airguns. Tom worked for three years as technical director at
AirForce Airguns
, the makers of the 
Talon, Condor, and Escape
 precharged air rifles. Today, he writes about airguns and firearms for various publications and websites. He also makes videos, and you'll find short clips embedded in some of his artices on Pyramyd Air's website. Tom is a consultant to Pyramyd Air and writes under the name of B.B. Pelletier.