by Tom Gaylord
Writing as B.B. Pelletier


BSF S54 Match air rifle
This report covers:
Cream of the crop
Description
Three versions
Sometimes, I go looking for things to write about for this blog. Other times, they find me. Today, I'll start a review on a gun that fits the latter category — the BSF S54 underlever. It began at the 2013 Roanoke airgun show — the last ever held in that location and the first show I attended without my late friend, Earl "Mac" McDonald. That was the show where I picked up the Benjamin Discovery that I reviewed for you in the Disco Double report. I also found the BSA Meteor Mark IV that I rebuilt extensively for you in another report. And, I found the Falke model 70 that I also reviewed for you. So, that show was pivotal for this blog.
I also saw another airgun at that show that I didn't act upon because — well, my gosh — I can't have them all! At least, that's what my wife, Edith, has trained me to say. That one was a beautiful BSF S54 underlever in .177 caliber. I won't say more about it because that's the subject gun.
It was on Larry Hannusch's table, like so many other beautiful airguns I wanted. Larry is a fellow Texan who makes most of the airgun shows, so it was no surprise when I saw the gun again the next year at the Findlay show. This time, I started wanting it so much that I offered Larry a trade. That offer continued when we met again at last year's Texas airgun show, and I started offering Larry certain trade items. He politely declined, telling me how much he had in the gun and that he was actually losing money by selling it as cheaply as he was.
Well, we met again at this year's 2015 Malvern airgun show, where I actually managed to sell some airguns. I raised enough money to pay Larry the extremely fair price he was asking, and the BSF S54 underlever became mine. Now, I'll show it to you.
Cream of the crop
BSF had a broad range of spring-piston air rifles, and I've owned many of them. I reported on the S55N several years ago, and followed that with a report on the S70. The S70 was also the rifle with which I ended the barrel-bending report.
What you don't know, however, is that I once owned a BSF S54 Match rifle. I covered it in The Airgun letter many years ago; but it was a tired .22 caliber that wasn't really suited to shooting at targets, and I eventually got tired of it and traded it away. This new S54 Match I'm reporting on today is in like-new condition. I even have the original hang tag that was on the gun when it was sold! Larry feels this gun was never actually sold; or, if it was, the owner never used it at all. I agree. Apart from one compression dent in the stock, the gun looks entirely new.
The S54 Match was the pinnacle of the guns BSF made. Though I didn't know it at the time, I lived for 3-1/2 years in the same town where their plant was located — Erlangen, Germany. And Germany was where I began my adult fascination with airguns. If that isn't ironic, I don't know what is.
Description
The S54 Match is a massive air rifle. It measures 45.50 inches overall with a 13.75-inch pull. The barrel is 19 inches long, and the rifle weighs 8.75 lbs. The walnut stock (yes, walnut on the Match model) is thick in all dimensions. There are two hand-checkered panels on the forearm and another two on the pistol grip. The butt has a Monte Carlo comb and a raised cheekpiece.
Three versions
There were at least 3 variations of the S54 — a Standard, a Bayern (which has an upgraded stock) and finally the Match model that I have. The Match model came with a huge rear aperture sight that has been removed on my gun. The aperture is in a metal disk that's roughly the size of a 1970s satellite dish. It looks very cool, though the accuracy of the rifle hardly warrants it. It also has an adjustable sporting rear sight, which mine still has. There are at least two variations of the aluminum buttplate. Mine is slightly curved with the company logo on the back, and there's also a Swiss hooked buttplate that's found on some Match models.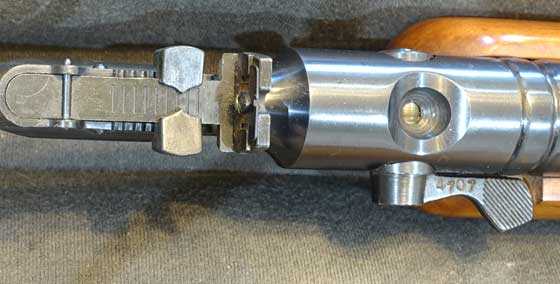 Rear-sight is a sporting sight BSF used on a lot of their guns.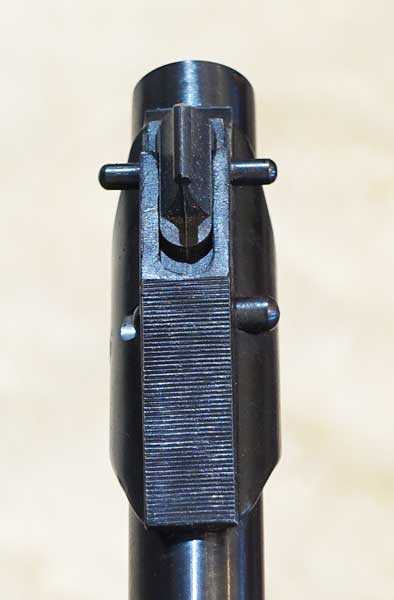 Front sight hood off.
It's an underlever that loads through a manual loading tap. After cocking the rifle and returning the lever, you open the tap and drop in a .177-caliber pellet head first. Then, close the tap and you're ready to fire.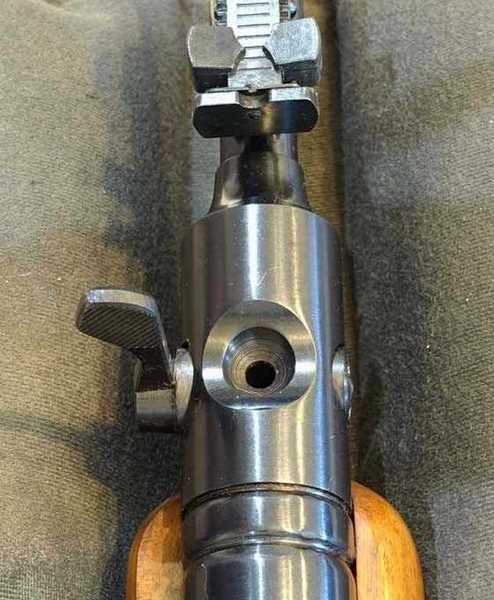 Loading tap.
The front sight has interchangeable inserts, but not the kind we're familiar with. These are three-dimension posts and other shapes that slide into a dovetail and lock from the front. A sheet metal hood covers the sight.
The trigger is adjustable for pull and has a reputation for breaking in. It gets so smooth after several thousand shots that it must be adjusted stiffer or it'll go off on its own. A hole in the ceiling of my office from my S55N attests to the truth of that!


Underlever down.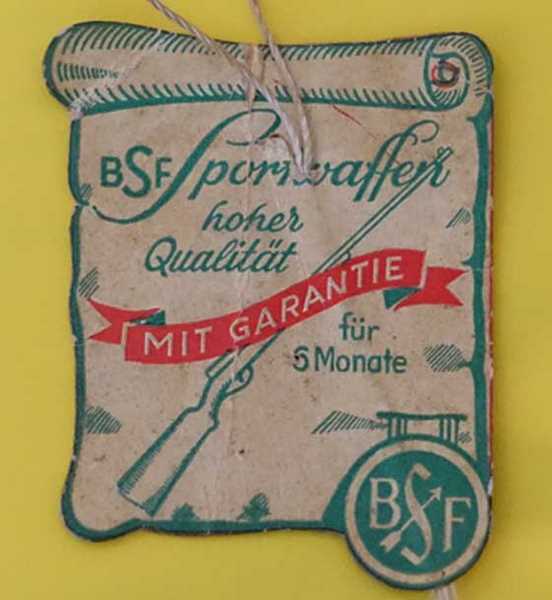 Hang tag.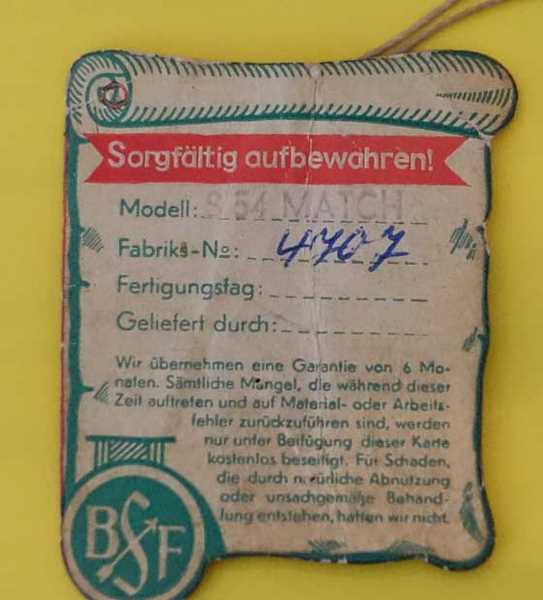 Hang tag with serial number.
That's all I'm going to say at this time. I'll go through the S54 Match very thoroughly for you, because I know many of you will be interested.