by Tom Gaylord
Writing as B.B. Pelletier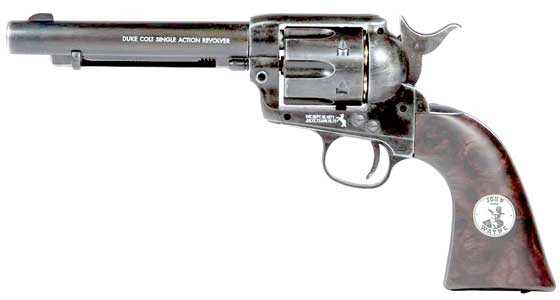 Colt Duke pellet revolver with weathered finish.
This report covers:
Website corrected
Installing a CO2 cartridge
The pellet cartridges
Velocity
Qiang Yuan Training pellets
RWS Hobby pellets
Air Arms Falcons
Shot count
Trigger pull
Evaluation
Happy Thanksgiving to all my U.S. readers. Hopefully you all have plenty to be thankful for.
Today we look at the velocity of the John Wayne Duke Single Action Army pellet revolver. In doing this test, I will start to get to know the gun, as well. I've heard a lot of comments about the accuracy and I am looking forward to finding out what's true.
Website corrected
Someone noticed that one search page on the Pyramyd Air website that points to the SAAs was calling some of them single shots instead of single actions. It was written correctly in the product descriptions, so it took us a couple days to find the error with the help of our readers. I think those pages are all correct now. These revolvers are six-shooters, not single shots. And they are single action, which means you have to cock the hammer manually to advance the cylinder and ready the trigger for the next shot.
Installing a CO2 cartridge
Like all the single actions made by Umarex, this one has the Allen wrench that tightens and pierces the CO2 cartridges built right into the left grip panel, so you're never without it. What a novel idea! If someone would give me a pile of money I would probably give large cash awards for innovations like this. Of course I might also just skip off to Rio, so maybe that's not such a good idea.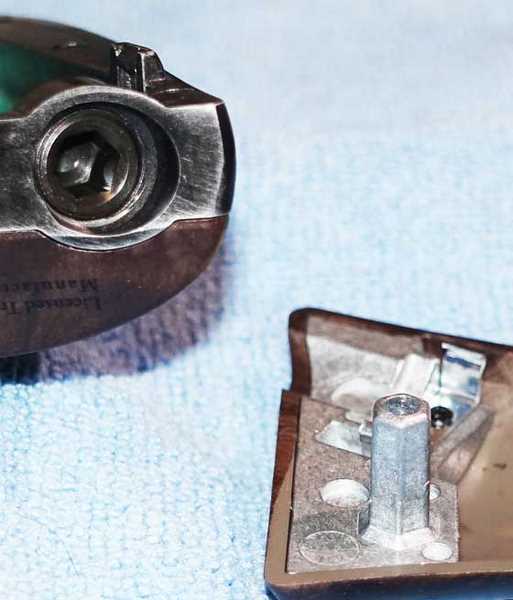 The Allen wrench that's needed to pierce the CO2 cartridge is permanently built into the left grip panel.
The pellet cartridges
I was asked several questions about the pellet cartridges this gun uses. Reader Jim M. asked me to measure them inside and out and compare them to the BB cartridges.
Both metal cartridges (pellet and BB) seem to measure an identical 1.587/1.588 inches long (40.34 mm) long. Each has a synthetic insert in its base that I believe to be about 0.24-inches long. It's not in a place that's easy for me to measure with the tools I have.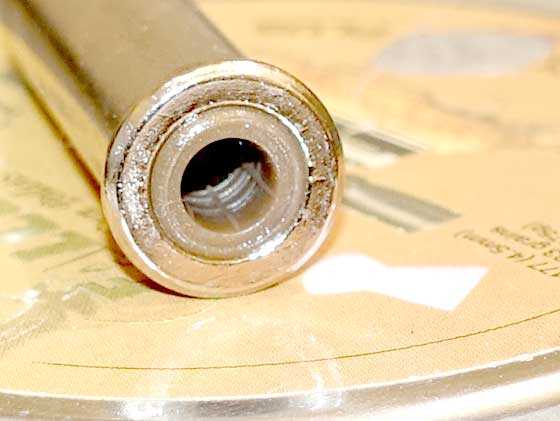 Each cartridge for both the pellet and BB cartridges has a synthetic insert in its base. The pellet insert seems to be larger on the inside.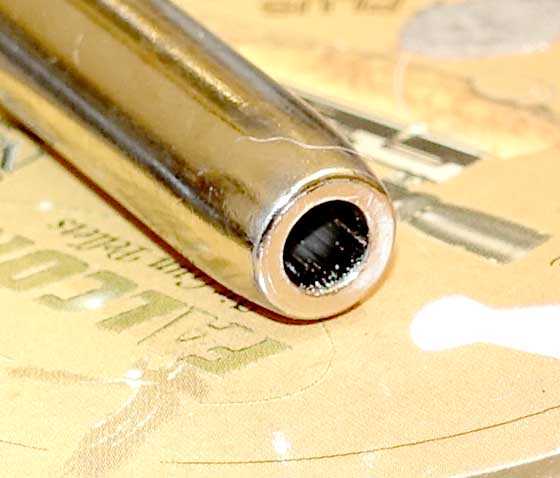 There is no synthetic insert at the mouth of the cartridge for either pellets or BBs.
Both inserts have 6 straight (RidgeRunner — that's for you) ridges along their entire inside edge. The pellet insert measures 0.187-inches ID and the BB insert measures 0.180-inches ID, but I would not bet money on either measurement. It is very difficult to measure the inside diameter of a soft synthetic, and I am not sure I did it correctly. It seems like the BB insert is smaller inside, which is what I would expect, but like I say — I wouldn't put money on it.
Velocity
I tested the velocity with a string of 6 shots. I waited at least 10 seconds between each shot to allow the gun parts to heat up again.
Qiang Yuan Training pellets
People have commented that the accuracy is lacking, so I'm going to give this revolver the best chance to do well. That means the best pellets. Therefore my first string of pellets was the Qiang Yuan Training pellet that has done so well in other accuracy tests. These pellets averaged 388 f.p.s. for 6 shots. The low was 383 f.p.s. and the high was 410 f.p.s., which is a spread of 27 f.p.s. The gun doesn't seem to cool down as fast as other CO2 pistols, which will be nice for action shooting.
RWS Hobby pellets
Next up were RWS Hobbys. Being lighter, I expected them to go faster and they didn't disappoint. They averaged 399 f.p.s. with a spread from 389 to 416 f.p.s. That's a spread of 27 f.p.s. — the same as the first pellets.
Air Arms Falcons
The last pellet I tested was the Air Arms Falcon. This domed pellet is lightweight, yet accurate on many airguns — both rifle and pistol. In the weathered Duke they averaged 389 f.p.s. The spread was only 11 f.p.s., going from a low of 385 f.p.s. to a high of 396 f.p.s. Maybe this pellet will do well in the accuracy test, too?
Shot count
Now it was time to find out how many shots we can expect from one CO2 cartridge. At 400 f.p.s. the gun is pretty hot, so I don't expect a lot of shots, but we'll see. Here are the velocities as the shot count increased.
Shot……………………Velocity (f.p.s.)
31……………………………387
52……………………………401
65……………………………385
78……………………………351
91……………………………304
I stopped shooting at 91 shots, though there was enough gas remaining for another 6 shots for sure. After that, though, you risk sticking a pellet in the barrel. Once the velocity starts to drop, like we see on shot 78, the gun is using up the last of the gas. All the liquid CO2 has evaporated by this time.
Trigger pull
I measured the trigger pull at 2 lbs. 2 oz. It varied between 2 lbs. and 2 lbs. 5 oz. It is is very light for a single action and it is also pretty crisp. I can feel a small amount of movement in stage 2, but not that much.
Evaluation
So far I am still impressed with the Duke pellet gun. It seems very well made and robust. It gave me more shots than I expected and the top velocity was right where Umarex advertises (410 f.p.s.). Umarex claims 100 shots per cartridge which is almost exactly what I found in my test. If this gun is on your short list, stick around. I will get to the accuracy next.