by Tom Gaylord
Writing as B.B. Pelletier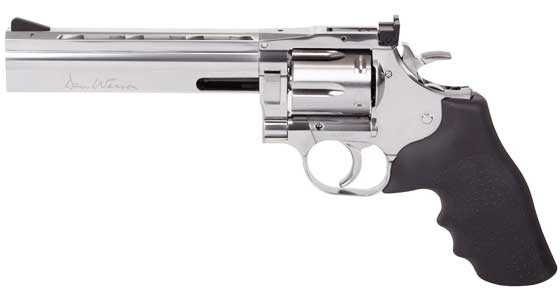 Dan Wesson nickel-plated BB revolver.
This report covers:
Hornady Black Diamond BBs
Sight adjustment
ASG Blaster BBs
The test
ASG Blaster BBs
H&N Smart Shot lead BBs
Summary
Not done yet
Sometimes I tell you the results before I write up the test. Today is such a time. This Dan Wesson nickel-plated BB revolver shot the tightest group of 6 shots I have ever shot with any BB gun, other than a Daisy Avanti Champion 499! This one's a winner, guys!
Hornady Black Diamond BBs
Let's get right to the test. I decided to shoot 6 shots at each target from 5 meters back. I used the UTG monopod to rest the gun. The first BBs tested were the Hornady Black Diamond BBs. The shots landed low on the target, below the 6 o'clock aim point by half an inch. As shot after shot went to exactly the same place I couldn't believe what I was seeing! Surely at least one shot had strayed up into the black bull and I just couldn't see it! But no. When I examined the target, what I saw were 6 BB holes clustered in 0.515-inches between centers. This is when having that dime next to the group pays off, because it gives you a sense of scale.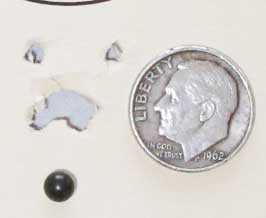 Six Hornady Black Diamond BBs went into a group that measures 0.515-inches between centers at 5 meters.
When I saw this group I was stunned. Stunned not only that this Dan Wesson revolver can shoot this well, but also that I can! This is reminiscent of my days shooting 10-meter competition, though this time I was at half the distance and was using a rest. At least my eyes can still see the sights.
Sight adjustment
I adjusted the rear sight up to bring the BBs into the bull and tested it with a second group of the Hornadys. The second time wasn't as good as the first, but I would be proud of any BB gun that did even that well. This time the 6 BBs landed in a group measuring 0.937-inches. Most of the shots are well-centered in the bull.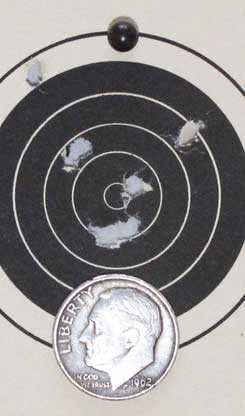 This time 6 Hornady Black Diamond BBs went into a group measuring 0.937-inches between centers at 5 meters. The sights are now adjusted perfectly.
ASG Blaster BBs
The second BB I tried in the revolver was ASG's own Blaster. In previous tests in other BB guns I have found Blasters to be equal to other premium BBs, so they should also be good in this one. Six of them went into 1.086-inches at 5 meters, and 5 of the 6 were well-centered in the bull. I feel they are just as accurate as the Hornadys.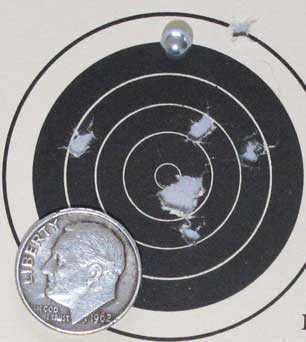 Six ASG Blaster BBs made this 1.086-inch group at 5 meters.
I noticed that my concentration was starting to flag at this point, so I extended my shooting hand as far as it would go and let the monopod rest my arm at full extension. That way the sights were much clearer and sharper.
H&N Smart Shot lead BBs
The last BB I tested was the H&N's Smart Shot copper-plated lead BB. This was done with my arm extended, and the sights were very clear again. This time 6 BBs went into 0.706-inches. This was the second-smallest group of the day, but I feel that any of the BBs I tested could have done as well. The hold was the secret.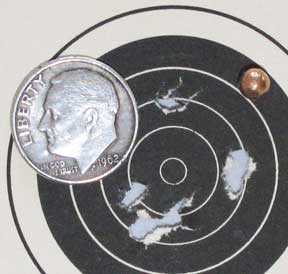 Six H&N Smart Shot lead BBs made this 0.706-inch group at 5 meters. It was the second best of the day.
Of course the Smart Shot BB is important because it doesn't bounce back when it hits a hard target. That opens the door for safer action air pistol competition. And now we know it's accurate in the new Dan Wesson 715 revolver.
Summary
When I started this series I was most interested in ASG's new Dan Wesson pellet revolver. I thought if it could equal the accuracy of the Smith & Wesson 586 pellet revolver for a hundred dollars less, shooters would finally have a real choice. But I never thought that a BB revolver would get me this excited.
Veteran readers will remember how excited I was (and still am) about the Umarex Makarov BB pistol. It is so accurate! Well, now there is a revolver that equals it, and maybe goes a little farther!
Not done yet
I'm not done with this revolver. ASG has sent me a speedloader pouch to try with the gun and they sent a special scope rail for the Dan Wesson 715 revolver so a dot sight can be used. The folks who are most interested in these types of BB guns want to see all those things, so there is one additional report to write.
Then ASG sent me the airsoft version of the Dan Wesson 715 revolver. They did so because several readers asked for it. And they also sent a bottle of their heavyweight 0.30-gram Blaster Devil Diamond Grade precision airsoft BBs. Several readers have been asking for an airsoft report, and I will use this opportunity to meet that request.