Swedish Excellent: Part 2
by Tom Gaylord
Writing as B.B. Pelletier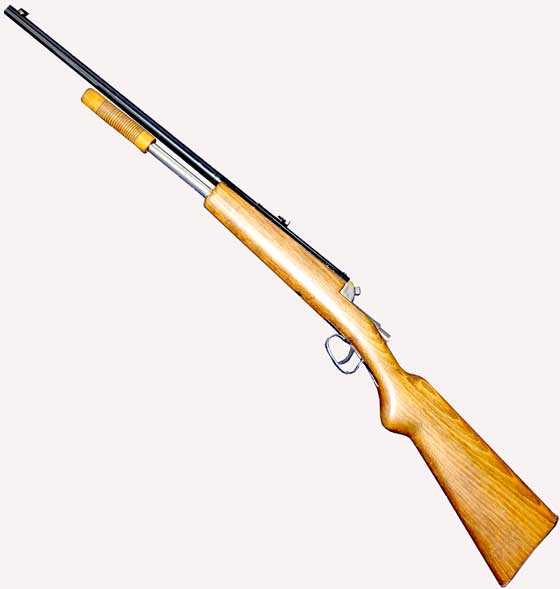 My Swedish Excellent CII rifle is a multi-pump pneumatic.
This report covers:
6 strokes are minimum
Slow or fast?
Why just 3 shots?
Interesting observation
8 pumps
10 pumps
Lobo 6 pumps
Lobo 8 pumps
Lobo 10 pumps
Summary
Today we look at the power of the Swedish Excellent multi-pump rifle I recently acquired. Remember that this rifle is an oddball caliber that shoots lead balls measuring 0.213-inches in diameter. I discovered that Argentinian lead balls branded Lobo measure 0.214-inches and will work in the rifle, too. Today I will test them both at differing numbers of pump strokes.
6 strokes are minimum
Right away I discovered that 6 pump strokes are the minimum necessary to shoot this rifle reliably. I stuck several balls on 4 pump strokes. But that was not the only discovery I made.
Slow or fast?
My experience with multi pumps has taught me that by allowing a little time after the pump piston head is fully extended, more air is drawn into the compression chamber, resulting in higher velocity. That does not hold true for the test rifle, though. When I pumped the rifle and allowed one second for air to rush into the compression chamber by pausing at the top of the pump stroke, I got the following results with Swedish Excellent balls.
Shot………..Velocity (f.p.s.)
1……………….220
2……………….263
3……………….187
That's an average of 223 f.p.s., but a spread of 76 f.p.s. for just three shots! However, when I pumped continuously without pausing, I got the following on the same 6 pump strokes.
Shot………..Velocity (f.p.s.)
1……………….258
2……………….284
3……………….228
The average is now 257 f.p.s. and the extreme spread is 56 f.p.s. From this it seems to me this rifle wants to be pumped continuously without pausing. So from this point on all pumping will be continuous.
Why just 3 shots?
I restricted the velocity test to just 3 shots for a few reasons. First, I have a limited supply of ammunition and I want to conserve it. Also, this rifle is hard to cock. My thumb was sore after this test and I don't think I could have gone the full ten shots like I normally do.
Interesting observation
One more thing I notice about the Excellent. The pump handle does not creep back up after the pumping stops. Older Benjamin multi-pumps are especially bad about the pump handle creeping back up or open after the pumping stops. That can be from a small amount of compressed air that did not go into the rifle on the last pump stroke, or there can be a leak in the inlet valve. Either way, the Excellent doesn't do it, and I think that has a lot to do with the design of the mechanism.
Also, for those who wondered, the trigger does not become harder to pull as the number of pumps increase. This design doesn't seem to affect the trigger pull.
8 pumps
Increasing the pumps to 8 boosted the average for 3 shots to 339 f.p.s. The spread went from 326 to 358 f.p.s., so a total of 32 f.p.s. Not great, but smaller than at 6 strokes.
Shot………..Velocity (f.p.s.)
1……………….331
2……………….358
3……………….326
10 pumps
With 10 pump strokes the average jumped to 372 f.p.s. with a low of 360 and a high of 382 f.p.s. The 22 f.p.s. spread was the smallest seen in the test with the Swedish Excellent ball. Now it was time to try the larger Lobo ball.
Shot………..Velocity (f.p.s.)
1……………….382
2……………….360
3……………….378
Lobo 6 pumps
The Lobo ball is larger, which the rifle does not like. My three shots registered like this.
Shot………..Velocity (f.p.s.)
1…………………66
2……………….149
3……………….174
That's an average of 130 f.p.s. and a huge 108 f.p.s. spread. Obviously 6 pump strokes are not enough.
Lobo 8 pumps
Eight pump strokes made the rifle settle down. My three shots registered this.
Shot………..Velocity (f.p.s.)
1……………….238
2……………….225
3……………….224
Interestingly the velocity dropped by 100 f.p.s. from that of the Swedish balls, but the spread of velocities also dropped to just 14 f.p.s. I might have to try the Lobo balls for accuracy, just based on this test. The average for these 3 shots was 229 f.p.s.
Lobo 10 pumps
I was thinking 10 pumps would be the best. Here's what I got.
Shot………..Velocity (f.p.s.)
1……………….269
2……………….268
3……………….213
Until the final shot I was ready to say 10 pumps was magic, but then the bottom dropped out on that final shot. I have no idea why (maybe a slightly larger ball?). The average is 250 f.p.s
Summary
Like most of you, this is my first experience with this airgun. I bet many of you never even heard of it until this report.
The Swedish Excellent is sort of the Stanley Steamer of multi-pump airguns. It's fun to look at and quirky to shoot, but it will never be anyone's everyday airgun.
Tom Gaylord is known as The Godfather of Airguns™ and has been an airgunner for over a half-century, but it was the 
Beeman
 company in the 1970s that awoke a serious interest in airguns. Until then, all he knew were the inexpensive American airguns. Through the pages of the Beeman catalog, he learned about adult airguns for the first time. In 1994, Tom started
The Airgun Letter
 with his wife, Edith. This monthly newsletter was designed to bring serious reports about airguns to the American public. The newsletter and
Airgun Revue
, a sister magazine about collectible airguns, was published from 1994 until 2002, when Tom started
Airgun Illustrated
-- the first American newsstand magazine about airguns. Tom worked for three years as technical director at
AirForce Airguns
, the makers of the 
Talon, Condor, and Escape
 precharged air rifles. Today, he writes about airguns and firearms for various publications and websites. He also makes videos, and you'll find short clips embedded in some of his artices on Pyramyd Air's website. Tom is a consultant to Pyramyd Air and writes under the name of B.B. Pelletier.