Webley Mark II Service: Part 4
by Tom Gaylord
Writing as B.B. Pelletier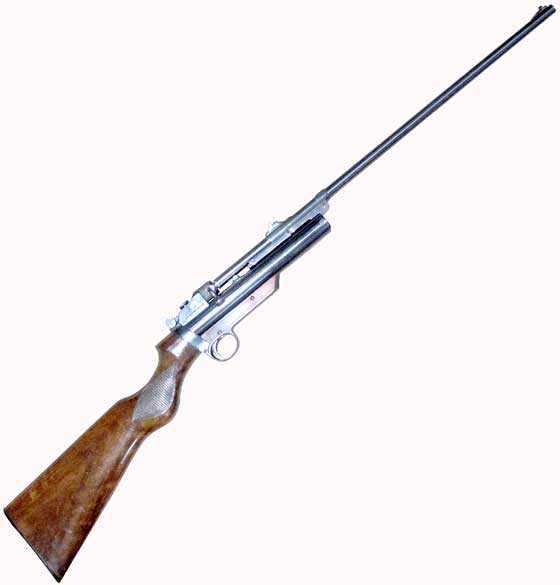 Webley Mark II Service air rifle.
This report covers:
Eley Wasps
JSB Exact RS
RWS Hobby
Observations
Today we see how successful my redneck breech seal fix was. I'm hoping for success, but even if it comes I won't leave the gun this way. I will size the new seal and install it, or I will accept reader Komitadjie's kind offer to make me a new seal of the correct size. Either way I will fix the rifle properly. This is just a chance to demonstrate a field fix that can be used in a pinch.
Eley Wasps
Let's get right to it. First up were the 5.6mm Eley Wasps. Ten of them averaged 371 f.p.s. That is an increase from 308 f.p.s. in Part 2, so the redneck breech seal appears to work.
The spread went from a low of 355 to a high of 395 f.p.s. That's a spread of 40 f.p.s. which is pretty broad. Based on that I think that, while the rifle may be doing better, it is perhaps not as good as it should be. Before we make up our minds, though, let's see what some other pellets do.
JSB Exact RS
JSB Exact RS pellets averaged 325 f.p.s. in the first test. Their spread was 24 f.p.s., from 315 to 329 f.p.s. Today 10 of them averaged 373 f.p.s., but there was one anomalous shot that only went 199 f.p.s. The other 9 pellets averaged 392 f.p.s. with a 18 f.p.s. spread that ranged from 382 to 400 f.p.s. That anomaly bothers me, because even at 10 meters I think that one pellet would not go where the others go. The redneck seal may be experiencing an intermittent problem. So, there is more to consider today.
RWS Hobby
RWS Hobbys were the last pellets I tested. I didn't test them before, but today they averaged 434 f.p.s. with a tight 13 f.p.s. spread from 427 to 440 f.p.s. That is very uniform performance. I think Hobbys may be a good pellet for this rifle.
Observations
First, there is now no detectable air loss at the breech upon firing like there was before. So the field fix seal I'm using at least works that well. You can put this fix into your airgunner's tool chest for the future.
Next, I had forgotten how nice this rifle's trigger pull is! This will be enjoyable to shoot, which I plan to do next.
Then there is the powerplant. I have no idea what it looks like inside, but when I ordered the breech seals I also ordered a piston ring. So I plan to open her up and take a look inside, after shooting for accuracy.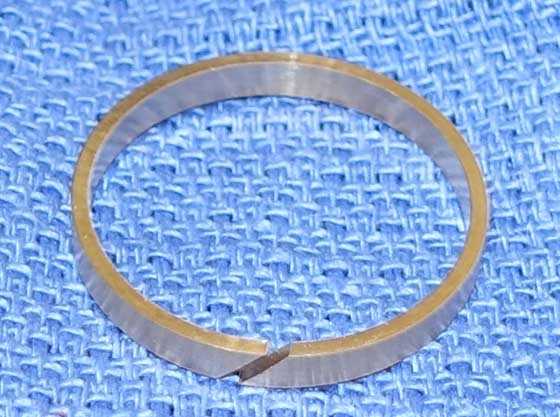 The Webley Mark II Service piston ring looks like any piston ring. The powerplant in my rifle may need a new one!
It occurs to me that closing the breech tightly against the seal is what flattens it. So I now store the rifle with the breech bolt rotated open, so there is no pressure on the seal.
I also discovered how the bolt works. I thought that the part that catches the rear of the barrel was somehow cut on an incline, and cammed the barrel back tight against the breech seal. But it doesn't work that way. Instead, the bolt is threaded and when you close it, the threads draw it back against the breech, bringing the captive barrel with it.
Finally, I must observe that the Mark II Service powerplant is really a large pistol powerplant instead of a rifle powerplant. The piston is small and its movement is short. That means the swept volume of the rifle is very low. So, it will never be a magnum. I had no idea of what to expect before this test, but we may already be at the rifle's peak performance.
We shall see.
Tom Gaylord is known as The Godfather of Airguns™ and has been an airgunner for over a half-century, but it was the 
Beeman
 company in the 1970s that awoke a serious interest in airguns. Until then, all he knew were the inexpensive American airguns. Through the pages of the Beeman catalog, he learned about adult airguns for the first time. In 1994, Tom started
The Airgun Letter
 with his wife, Edith. This monthly newsletter was designed to bring serious reports about airguns to the American public. The newsletter and
Airgun Revue
, a sister magazine about collectible airguns, was published from 1994 until 2002, when Tom started
Airgun Illustrated
-- the first American newsstand magazine about airguns. Tom worked for three years as technical director at
AirForce Airguns
, the makers of the 
Talon, Condor, and Escape
 precharged air rifles. Today, he writes about airguns and firearms for various publications and websites. He also makes videos, and you'll find short clips embedded in some of his artices on Pyramyd Air's website. Tom is a consultant to Pyramyd Air and writes under the name of B.B. Pelletier.