by Tom Gaylord
Writing as B.B. Pelletier
This report covers:
The test
Daisy BBs
Hornady Black Diamond BBs
H&N Smart Shot BBs
Baseline
Today we look at the accuracy of my vintage Daisy Red Ryder BB gun. I shot the gun with open sights today, to baseline it for the next test, which will be with an optical sight mounted.
The test
I shot the BB gun off a UTG monopod rest at 5 meters. I was seated while doing this. I used a 6 o'clock hold — resting the black bull on top of the front sight that was level with the top of the rear sight. The first BB tested was the Daisy Premium Grade BB.
Daisy BBs
You would expect Daisy BBs to do well in a BB gun made by them. Of course more than a half century separates their dates of manufacture, but today's BBs are far superior to the ones of the gun's period.
Ten Daisy BBs went into a group measuring 1.398-inches at 5 meters. They landed slightly left of center, but the elevation was good. I will say the Red Ryder's rear sight notch is a bit too wide for aiming precision.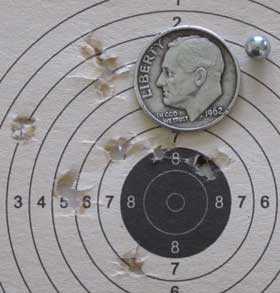 Ten Daisy Premium BBs went into 1.398-inches at 5 meters from the Red Ryder.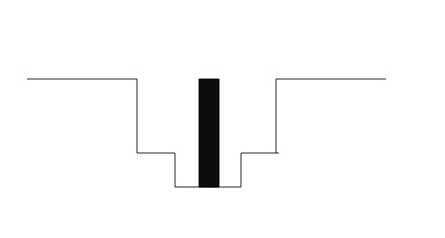 The rear notch is too wide at the top for precision.
I am pleased with this result. I don't remember ever testing this rifle in the past, but this is better accuracy than I remember from other vintage BB guns of the same period. Only No. 25 pump guns do better, and then it depends on both the age and design of the shot tube (made for lead or steel BBs?) and the ammo used.
Hornady Black Diamond BBs
The Hornady Black Diamond BB is pretty remarkable. It does well in most BB guns, regardless of their age. And it seems to be a trifle larger than other premium steel BBs, which may be a plus. The Red Ryder put 10 of them into 1.702-inches between centers at 5 meters. And notice they are a little more to the left of center.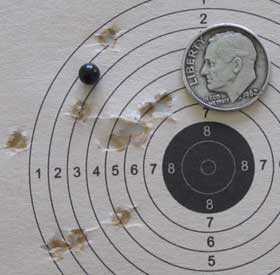 Ten Hornady Black Diamond BBs went into 1.702-inches at 5 meters. Notice they are more to the left of center than the Daisy BBs.
H&N Smart Shot BBs
One real advancement in the world of BB guns has been the new copper-plated lead BB from H&N called the Smart Shot. Lead was the material BBs were made of until the 1920s, when Daisy responded to the challenge from a ball bearing manufacturer by bringing out a line of steel BBs called the Bullseye brand. When I was a kid in the 1960s, Daisy called their copper-plated BBs Golden Bullseye BBs.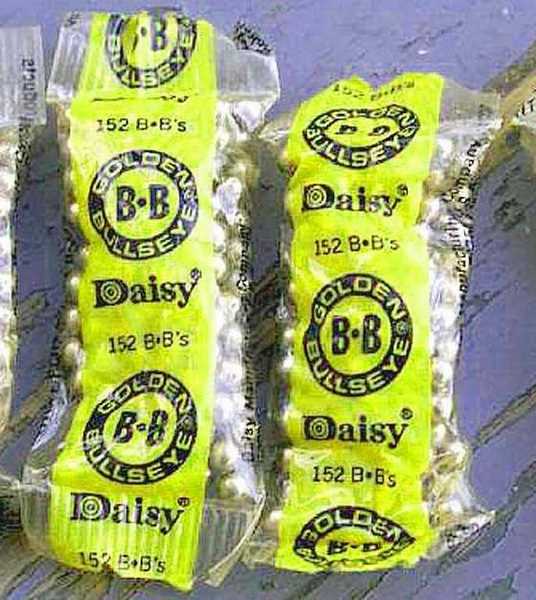 When I was a kid, this is one way Daisy Golden Bullseye BBs were packaged. These packs sold for a nickel when I bought them, but in earlier years some men remember them selling for a penny.
The Smart Shot BBs have now been tested by me several times,. They work well in all BB guns that do not require a magnetic BB for feeding. My vintage Red Ryder loves them! Ten went into a well-centered 5-meter group that measured 1.335-inches between centers. That's the smallest group of the day.

Ten Smart Shot lead BBs went into this well-centered group at 5 meters. It measures 1.338-inches between centers.
Baseline
Now, we have established the baseline of my vintage Red Ryder. Whatever happens next — this is what we will compare to.
I am very pleased by the Smart Shot group. Not only is it the smallest group, it is also nicely centered on the target. That's almost as important as the group size when you are dealing with fixed sights. As I noted, the width of the rear sight notch makes aiming less precise, which plays into the groups seen here. An optical sight might improve things, just because it is easier to be precise.
I'm leaning towards mounting a quality dot sight, rather than a scope. A Red Ryder will be a short-range gun no matter how accurate it is, and a dot sight should be more than capable of the level of accuracy it can deliver.