by Tom Gaylord
Writing as B.B. Pelletier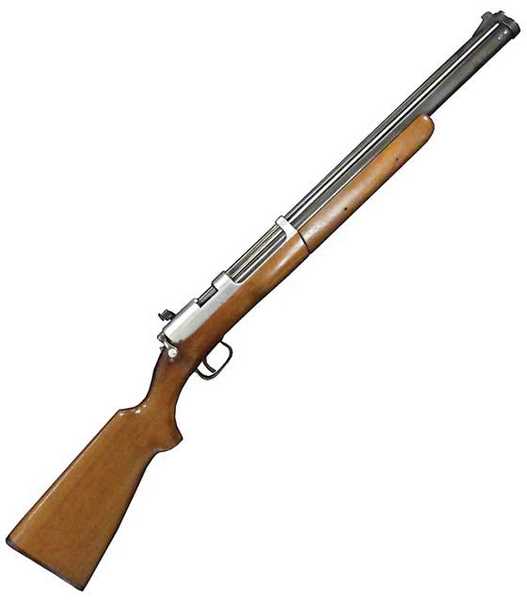 Sheridan model A, also called the Supergrade.
Sheridan Supergrade: Part 1
Sheridan Supergrade: Part 2
This report covers:
Crosman Premiers
Sheridan Cylindrical pellets
Now, for the interesting stuff!
Pelletgage
Too many variables!
Trigger
Results
I think today will open some eyes. I know it opened mine! Today is accuracy day with the Sheridan Supergrade I borrowed. I'll get right into it, because the surprises came during the test.
Crosman Premiers
Though no longer made, Crosman Premiers in .20 caliber are some of the most accurate pellets I've ever used. I started with them. It's 10 shots at 10 meters from a bag rest. I pumped the gun 5 times for each shot. The Supergrade has an adjustable rear peep sight that should be more precise than the open sights on my Sheridan Blue Streak.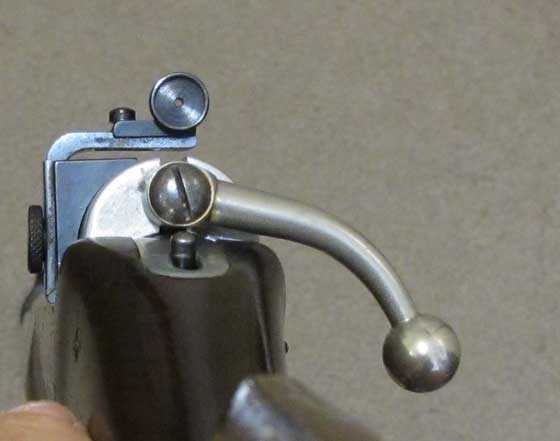 The Supergrade came standard with a rear peep sight. Note the long bolt handle that is found on the earlier Model As.
I used a 6 o'clock hold on a 10-meter pistol target. Ten Crosman Premier pellets went to exactly where I was aiming! Since this rifle is borrowed, I'm going to leave the sights where they are. Ten Premiers went into a group that measures 0.743-inches between centers. That's not too shabby, but not as good as my Blue Streak that shot the same pellet into 0.322-inches.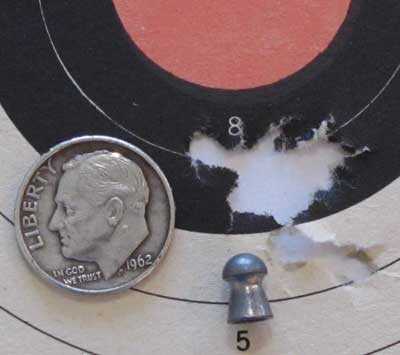 Ten Crosman Premier pellets went into 0.743-inches at 10 meters.
Hold your horses, though. There is something great coming!
Sheridan Cylindrical pellets
I tried the vintage Sheridan Cylindricals next. Ten of them went to almost the same place as the Premiers, but the group was larger. It measures 1.035-inches between centers and is vertical. Yes, I'm shooting with my bad right eye, but hold your judgement about that for now. My Blue Streak put 10 of these same pellets into a vertical group that measures 0.872-inches between centers.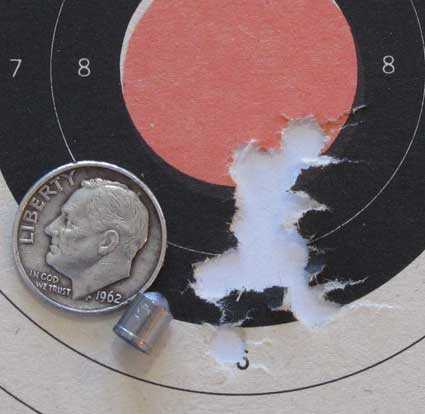 Ten vintage Sheridan Cylindrical pellets went into 1.035-inches at 10 meters.
Now, for the interesting stuff!
I noticed while shooting the first group that on one shot the very first pump stroke was hard — like the gun already had air inside. On the second group I checked for this and found that one time the gun was indeed holding air. It even popped once on its own! That lead me to plan my third target carefully.
Pelletgage
I have a .20 caliber Pelletgage, courtesy of reader Jerry Cupples. With that device, I sorted ten Crosman Premiers for the third test. I discovered that Premiers are remarkably consistent. It only took sorting 13 pellets to come up with ten that had heads of the same size. And they were large. My gage has 10 holes running from 5.02mm to 5.11mm and the 10 pellets I selected were all 5.11mm. The other three were 5.10mm.
But that wasn't all I planned to do. Since the gun was holding back some air from 5 pumps on some shots, I decided to shoot these pellets with 4 pumps instead. I further decided to cock and fire the rifle after every shot, just in case some air remained in the reservoir.
Too many variables!
You scientific types are going to lecture me because I introduced three variables into this final test. Well, here's why. I don't care whether it is the sorted pellets, the lower number of pumps or exhausting the air after every shot that works, because this isn't my airgun. I'm looking for results — not test data. Maybe it was a combination of all three things, or it's just as possible that only one of them mattered and the other two didn't. Let's now look at what this rifle did.
Ten Crosman Premiers went into a group that meassures 0.28-inches between centers! That is clearly the best group of either the Blue Streak or this Supergrade, and it tells me that the accuracy is there.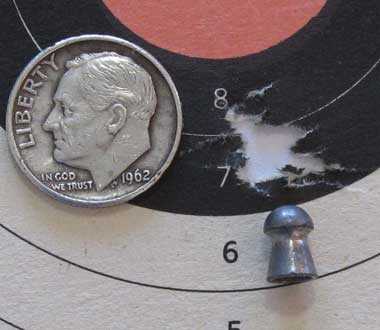 Ten Crosman Premier pellets with sorted heads went into 0.28-inches at 10 meters.
Trigger
A reader asked me whether the Supergrade trigger gets heavier with more pumps. It does not. It has am impact-type striker system that remains constant at all times. This two-stage trigger is not adjustable, and breaks at 2 lbs. 9 oz. The blade is wide, so the trigger finger has something solid to pull.
Results
I think this test demonstrates that the Sheridan Supergrade is capable of fantastic accuracy when the right pellets are used and when the gun is shooting at its best. The test rifle has some valve issues that can be overcome by certain operational means that I have shown.
But a Sheridan Supergrade is not a day-in-day-out airgun. It's a rifle to treasure and shoot occasionally. If you want a solid shooter, I recommend getting a Blue or Silver Streak with the rocker safety. That you can shoot to your heart's content.