by Tom Gaylord
Writing as B.B. Pelletier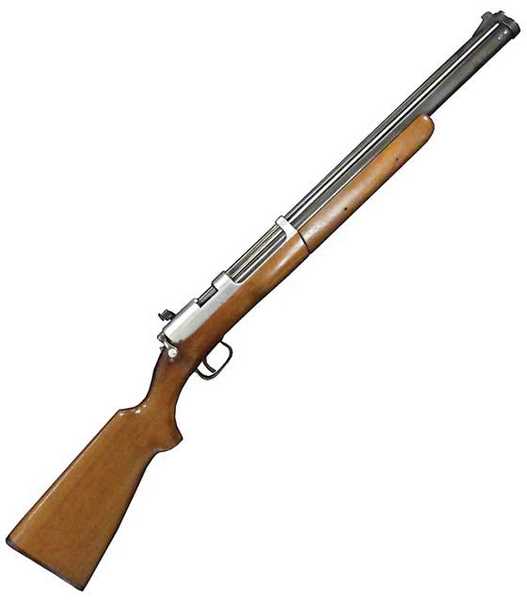 Sheridan model A, also called the Supergrade.
This report covers:
Test 1
Unscheduled test
Test 2
Test 4
Pump effort
Accuracy next
I was able to borrow a Supergrade Sheridan for today's test. Since we all compare this rifle to the Blue Streak anyway, I decided to run the same test that I did for my recently rebuilt Sheridan Blue Streak.
This rifle was made in 1948 and as far as we can tell, it has never been rebuilt. When the owner received it, the valve wasn't operating correctly. So he opened up the rifle and cleaned all the parts he could see. The valve was not disassembled. He also lubricated the gun, and it started shooting for him.
I have to tell you that I experienced the same thing with my Supergrade. They don't like to sit around. If you own one, it's best to shoot it often, just to keep it operational.
Test 1
This will be a test of the velocity when shooting Crosman Premier pellets on variable pumps.
Pumps……………….Velocity (f.p.s.)
3…………………………471
4…………………………513
5…………………………541
6…………………………609
7…………………………579
8…………………………602 (air left over)
This first test shows that this rifle is faster than my Blue Streak. My Blue Streak got 373 f.p.s. with this pellet on 3 pumps, where this one is almost 100 f.p.s. faster. But this rifle did top out on 6 pumps rather than 8, and the top velocity of 609 f.p.s. is identical to my rifle on 9 pumps. Mine had air remaining after 9 pump strokes, this Supergrade left air in the reservoir after 8 strokes. If this was my rifle I would stop at 6 pump strokes, because that's all that's needed.
Unscheduled test
I wondered about those 6 pump strokes, so I went back and did an additional test — one that I didn't do with the Blue Streak. How would this rifle do on 6 pumps all the time? These next shots were all with Premiers fired on 6 pump strokes.
Shot……………….Velocity (f.p.s.)
1…………………..…563
2……………………..623
3…………………..…564
4……………………..572
This tells us that the valve is still acting up a bit. Probably with more shooting it will settle down.
Test 2
For the second test I pumped the rifle 5 times and fired a string of 5 shots. Let's look at those velocities now. Remember — I'm running the same tests I ran with my Blue Streak.
Shot……………….Velocity (f.p.s.)
1…………………..…550
2……………………..551
3…………………..…552
4……………………..552
5……………………..558
The average for this string is 552 f.p.s. That's 40 f.p.s. faster than the average for my second test with the Blue Streak, but only 9 f.p.s. faster than the second string I ran with the Blue Streak on 5 pumps. I said in that report I thought the Blue Streak valve needed to be warmed up, but this Supergrade valve which is different doesn't appear to need that. Because it was up to speed already, I'm not going to run another test with 5 pumps. So, Test 3 of the Blue Streak will be skipped.
My Blue Streak varied by 19 f.p.s. for 5 shots on 5 pump strokes with Premiers. This Supergrade varied by only 8 f.p.s. That is so tight! It tells me that 5 pumps is what this rifle likes.
Test 4
I'm skipping Test 3, which is just a repeat of Test 2. Test 4 is the rifle shooting vintage Sheridan cylindrical pellets with variable pump strokes.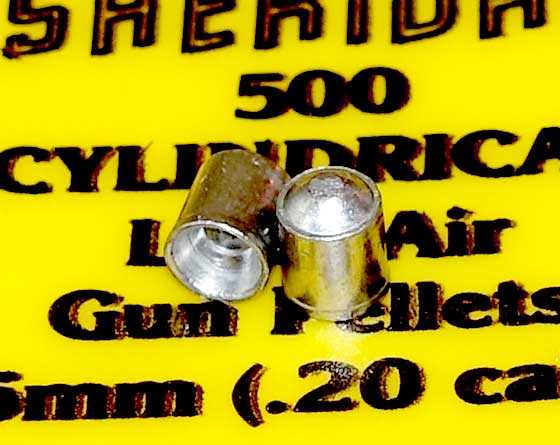 Vintage Sheridan Cylindrical pellets.
Pumps……………….Velocity (f.p.s.)
3…………………………459
4…………………………515
5…………………………550
6…………………………583
7…………………………582 (air left over)
This time the rifle performed strangely. It popped air out after three of the five shots. This happened without me doing anything. Apparently not all the air was exhausted with the shot, because it did this after the shots on 4 and 5 pump strokes, as well as after the shot on 6 pumps. When I set it aside after this test I filled it with 2 pumps and then uncocked the striker, and it popped air again about a minute later. It's like there is a bubble of air leaving the valve on its own.
On 7 pump strokes the rifle did not fire the first time. I cocked it again and it did fire the second time. But there was a good amount of air remaining in the reservoir after this shot.
Pump effort
Let's see what effort it takes to pump the Supergrade for these shots. I do this by placing the end of the pump arm on a bathroom scale and pressing down until the arm closes.
Pumps……………….Effort (lbs.)
3………………………31
4………………………35
5………………………39
6………………………42
7………………………44
If you compare this to the Blue Streak test, you'll see that the Steak pumps easier than this Supergrade.
Accuracy next
Now that we have baselined the Supergrade's performance, the next step is accuracy. The owner says the rifle is zeroed, so this should be fun!