by Tom Gaylord
Writing as B.B. Pelletier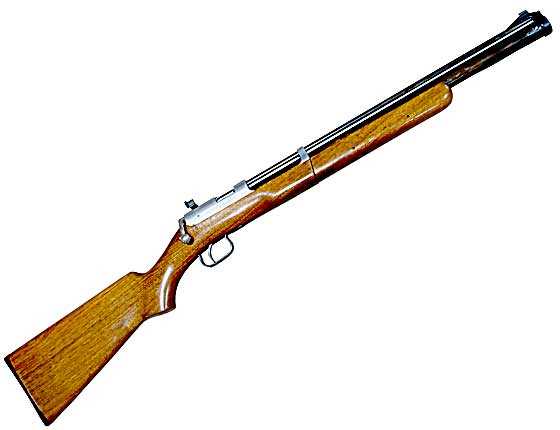 Like all Supergrades, my new rifle is graceful and attractive.
This report covers:
No front sight
The test
Beeman Silver Jets
Sheridan Cylindricals
Crosman Premiers
About the same
Velocity
Variable pumps with Crosman Premier pellets
Stability
Conclusion
Well, after the last session when the pump mechanism and valve seemed to be fixed I was all set to start testing the Sheridan Supergrade for accuracy. The first thing I did was hoist the rifle to my shoulder, to see whether I could see the front sight through the rear peep. Oh no! I couldn't see it! So I switched shoulders and looked with my left eye. Oh no! I couldn't even see it with that eye — the eye I have been calling my good eye. Was there even a front sight on the gun?
No front sight
No, there wasn't! How had this happened? Had I bought a Sheridan Supergrade without a front sight and just never noticed it until now? What a dope!
Later that same evening, as I was drifting off the sleep while wondering what I could put into the open slot where a front sight blade was supposed to go I suddenly wondered — had the sight blade somehow fallen out? One way to find out. Look at the pictures I took of the rifle on December 30, 2016 and enlarge them to see if there was a front sight blade.
I did that the next day and yes, the sight was there. So I grabbed a flashlight, turned around in my desk chair and looked on the carpeted floor where I stack the rifles being tested, looking for something that resembled a Sheridan Supergrade front sight blade. I found it in about 5 seconds! Five minutes later I had bonded it back in position and now I could verify that I can, in fact, see the it with my right eye. Yes, I can!
The test
I shot the rifle off a sandbag at 10 meters. I shot 5 shots per target because the pumping is tiring. I had a velocity test to run after this one. This accuracy test was run with 4 pumps per shot.
I don't have many different .20 caliber pellets, so I selected some Sheridan Cylindricals, some Beeman Silver Jets and some Crosman Premiers — all vintage pellets that are no longer available. I imagine JSB domes would be better, but I don't have any. I will order some with my next Pyramyd Air order.
I had never shot this rifle for accuracy, plus I just remounted the front sight blade, so I had no idea where the pellets would go. Fortunately the first shot was in the bull I aimed at. I accepted that and never adjusted the sights for the rest of the test.
Beeman Silver Jets
First up were some Silver Jets. As I mentioned the first shot was in the black. That was the last time I looked at the target through the spotting scope until the test was completed.
Five Silver Jets went into 0.419-inches at 10 meters. The group looks tighter than it is because of paper tearing.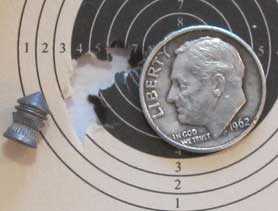 This 0.419-inch group of 5 Beeman Silver Jets at 10 meters looks smaller than it really is.
I will note that my right eye was seeing the front sight very clearly and of course the bull was a little fuzzy, as it is supposed to be.
Sheridan Cylindricals
Next up were the Sheridan Cylindrical pellets that were made for this rifle. They didn't so as well today. Five of them went into 2 different holes at 10 meters, making a group that measures 0.64-inches between centers.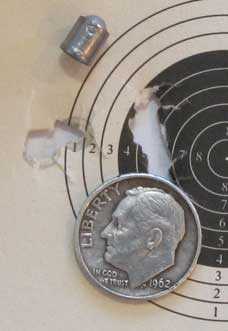 Not quite as good as the Silver Jets. Sheridan Cylindricals gave me a 0.64-inch group at 10 meters.
Crosman Premiers
The last pellet I tested was the .20-caliber Crosman Premier that was one of the finest .20 caliber pellets ever produced. Five of them went into 0.54-inches at 10 meters, which is in the middle of the other two pellets.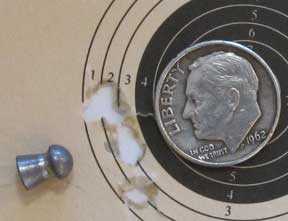 Five Crosman Premiers in 0.54-inches at 10 meters. Okay, but not the best.
About the same
It turns out that my Supergrade is just about as accurate as the other Supergrade I tested last year, though with that one I did shoot one phenomenal group. I expected these results, because I've never seen a Supergrade that would out-shoot a standard Blue Streak. But this test is not finished.
Velocity
Remember my "fix" with the ATF sealant? I apparently get a lot of criticism on the forums for touting that stuff, but each time I test it, it works. So, who cares what the naysayers say? If my Supergrade has held up in velocity for the past week, I would say this stuff has fixed it.
Variable pumps with Crosman Premier pellets
Before ATF sealant…….After ATF sealant…….One week later
Pumps….Vel…………………Vel……………………Vel.
3……….327…………………355……………………352
4……….416…………………445……………………435
5……….383/353….…………475……………………479
6……….473…………………577……………………525
7……….513…………………577……………………556
3……….522…………………606……………………586
I would call that result a success. I think the ATF sealant has done its job. I may need to use it again from time to time, but this is so much better than having to find someone to repair a Sheridan Supergrade valve!
Stability
This test is also with Premier pellets on 4 pumps per shot. Again I show the results before ATF sealant was applied, just after and today's results.
Before ATF sealant…….After ATF sealant…….One week later
Shot…….Vel…………………Vel……………………Vel.
1……….345…………………396……………………437
2……….401…………………397……………………426
3……….374…………………409……………………439
4……….435…………………423……………………424
5……….488…………………432……………………426
It appears the rifle is more stable today than just after the ATF sealant was first applied, but remember that I did the accuracy testing first today. So the pump parts were already warmed up. I will take this result!
Conclusion
It seems I now own a stable Sheridan Supergrade. Maybe it isn't quite what it once was, but I can live with that. At least is is stable and performing pretty well.
As I have now shown in several tests, the Sheridan Supergrade is no more powerful nor more accurate than a standard Blue Streak. That doesn't take anything away from its cachet as a rare and desirable airgun, but it tells those who can't ever own one exactly what they are missing.
Finally, my "fix" of oiling the pump with ATF sealant seems to be a wonderful cure for an old pneumatic valve. That, alone, is reason for celebrating this series.