by Tom Gaylord
Writing as B.B. Pelletier
This is the completion of our guest blog on the Apache multi-pump air rifle. Today Benji-don shares his experiences with the performance of the rifle, after it was made operable.
If you'd like to write a guest post for this blog, please email me. Over to you, Benji-don.
Apache-Fire-Ball-Texan: Part 2
by Benji-don
Apache-Fire-Ball-Texan multi-pump pneumatic air rifle.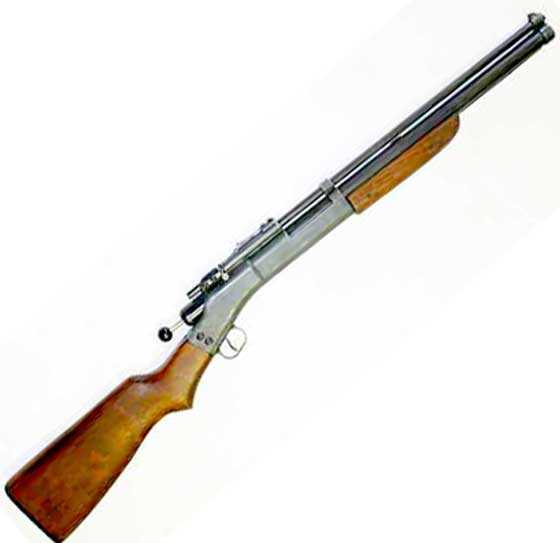 Apache-Fire-Ball-Texan multi-pump pneumatic air rifle.
This report covers:
Trigger pull
Pumping
Loudness
Test for velocity and energy
Number 4 buckshot velocity
Daisy BBs velocity
Accuracy tests
Accuracy with BBs
Buckshot
Accuracy with BBs
Measuring #4 buckshot
Accuracy with airsoft BBs
Accuracy with .25 caliber pellets
Conclusions
From B.B.
Trigger Pull
I measured the trigger pull with a fish-weighing spring scale. It was 1 lb. 1 oz. It is one-stage with a long and creepy release. As much as I have shot the Apache, I still do not know when it will fire. That really requires holding on the target while squeezing the trigger.
Pumping
Pumping the Apache air rifle is very similar to pumping a Benjamin 392. It starts off very easy and requires more effort as the number of pumps increase. The mechanism is very similar to those of the older Sheridan, Crosman and Benjamin multi-pumps. I measured the pumping force needed for the tenth pump at about 35 pounds. It seems to me to produce more muzzle energy for the pumping effort than other multi-pumps.
Loudness
I would rate the Apache rifle with 10 pumps at a loudness of 4-Medium-High with #4 buckshot and 3-Medium with steel BBs. As with all multi-pumps, fewer pumps will quiet it down significantly.
Test for velocity and energy
I started the velocity testing at four pumps. Pumps 1 through 3 did not generate much pressure and gave erratic results. I think one of the valves [inlet and exhaust. Ed.] needs at least four pumps to seal.
I tested both #4 buckshot and Daisy Premium Grade BBs from 4 to 12 pumps. The seals are old and stiff like me, so I set the gun in front of a heater until it was warm to the touch. That made a big difference in the uniformity of the progression of velocity per pump.
The #4 buckshot weighs 20.4 grains. The BBs are 5.1 grains. When cold the gun gives erratic results until it warms up from pumping, and that is a lot of work.
These tables show the velocity and energy of the buckshot and BBs, per pump.
Number 4 buckshot velocity
Pumps……..velocity…………..energy (ft. lbs)
4…………….347…………………..5.5
5…………….426…………………..8.2
6…………….460…………………..9.6
7…………….493…………………..11.0
8…………….522…………………..12.3
9…………….548…………………..13.6
10…..……….581…………………..15.3
11…..……….602…………………..16.4
12…..……….613…………………..17.0
Daisy BBs velocity
Pumps……..velocity…………..energy (ft. lbs)
4…………….494…………………..2.8
5…………….596…………………..4.0
6…………….623…………………..4.4
7…………….657…………………..4.9
8…………….689…………………..5.4
9…………….715…………………..5.8
10…..……….729…………………..6.0
11…..……….747…………………..6.3
12…..……….771…………………..6.7
The following chart gives a different view of the data.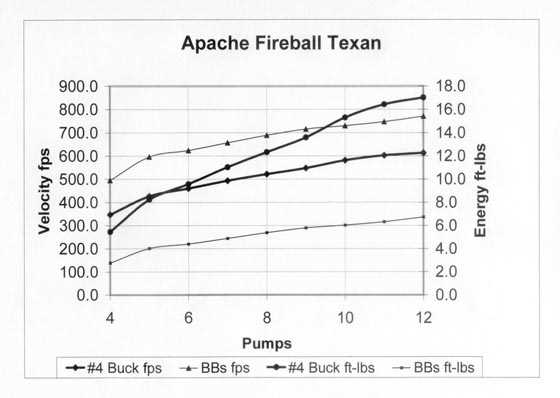 Accuracy tests
All shooting was from a bench with a rest using open sights. I am not the best shot with open sights, but I can tell you the following groups are the gun, not me. I used 5=shot groups because they won't get any better with 10 shots, and these are enough to show that it is not even a good plinker. It does pack a punch, though, if you hit what you are aiming at.
Buckshot
The shots with the buckshot were outdoors with the wind at my back at 4 miles per hour. The temperature was 56 degrees. The BBs were shot indoors.
Number 4 buckshot — 5 pumps at 10 yards
shot……………velocity
1…………………349
2…………………380
3…………………397
4…………………377
5…………………363
The velocity spread was 48 f.p.s. and the average velocity was 373 f.p.s. These five shots went into a group that measured 4.04-inches between centers.
Number 4 buckshot 10 pumps at 10 yards
shot……………velocity
1…………………557
2…………………510
3…………………497
4…………………524
5…………………534
The spread was 60 f.p.s. and the average velocity was 525 f.p.s. These five shots went into a group that measured 2.18-inches between centers.
Accuracy with BBs
I tried shooting BBs at 10 yards but they were off the paper. So, I went indoors at 3 yards.  Even at 3 yards a Red Ryder will shoot rings around the Apache. I know some of you are wondering what may happen with 3 or 4 pumps, as the BBs, with even 5 pumps, are going pretty fast. Well, the gun is not consistent in velocity with less pumps.  I tried 4 pumps at the beginning and they were no better.  The 10-pump groups are in a very neat string. I think it is just an anomaly as other 10-pump groups showed more of a scatter. These are the targets I set up for this report and I am using them the way they came out.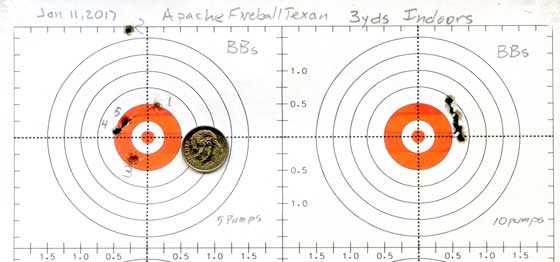 BBs shot at 3 yards. Left target 5 pumps 1.92-inches. Right target 10 pumps 0.58-inches.
For the BBs with 5 pumps, I kept track of each shot on the target so you could compare the locations with the velocities in the table above. I did not see any correlation.  The string of BBs with 10 pumps did not start at one end and proceed to the other. They somehow ended up in a string.
Measuring #4 buckshot
Buckshot are not made to be particularly uniform. They are made for a shotgun. Normally they are made by cold swaging. They not made under the same controlled conditions that pellets or round balls are made. The #4 buckshot is nominally .24 caliber.
I measured 10 random #4 buckshot. Here are the results. Measurements are in millimeters.
1.   6.10
2.   6.20 (6.11 to 6.24)
3.   6.10
4.   6.11
5.   6.12
6.   6.10
7.   6.14
8.   6.16
9.   6.12
10. 6.12
6.11mm equals 0.240 inches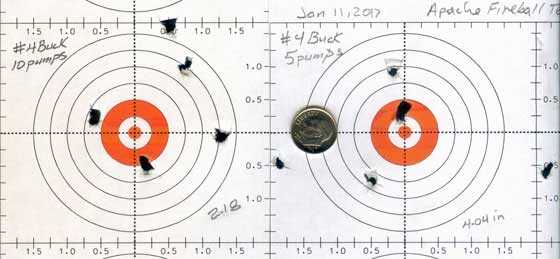 Buckshot groups at 10 yards. Left target 10 pumps, 2.18-inch group and right target 5 pumps 4.04-inch group.
Buckshot seemed to do okay, for the poor uniformity in their size and shape. If round balls of the optimum diameter could be found the rifle may be adequate for a plinker.
Accuracy with Airsoft BBs
I also tested some airsoft BBs as they are nominally 6mm or 0.24 caliber.  They actually measure more like 5.94 to 5.97mm, less than 6mm.  At 6mm they would be 0.236 inches.  The airsoft BBs were too small and did not provide any improvement in accuracy.  I made a threaded insert for the muzzle end of the barrel so it would have a flat surface and a diameter that would allow me to use a patch with the airsoft BBs. Using the same idea as a muzzle loaded rifle with round balls. I think the barrel end I made left a gap that caused the patch to get caught and not leave the barrel symmetrically. The airsoft BBs did not beat out the buckshot at 10 meters. They did do better than the BB gun steel BBs.
Accuracy with .25 caliber pellets
I did not originally plan to test pellets because they did not fit in the circular loading port on top of the breech. Both #4 buckshot and BBs are just dropped in with the bolt open, making loading as easy as it gets for a single shot. For the pellets I considered opening the loading port with a file or Dremel tool, but did not want to alter the gun in that way, especially since I did not know if they would even work.
I decided to remove the bolt and see if the .25 caliber pellets would fit. They fit with a little help tapping on the end of the bolt with a wooden mallet I use for my black powder muzzleloaders. It took less effort than I expected. With the bolt back in and the handle back on the bolt I was all set to test fire, when I looked at the bolt pointed at my face! I decided to put the screw cap back over the butt end of the bolt. The first shot sounded good so I decided to check the accuracy.
I did not expect much and did not have a target handy. I set up my pellet trap with a sheet of paper and a peel-and-stick bullseye at 10 yards. Wow! The first shot hit the edge of the bullseye at 10 o'clock. I shot 5 shots with 10 pumps each and was surprised to see a respectable group.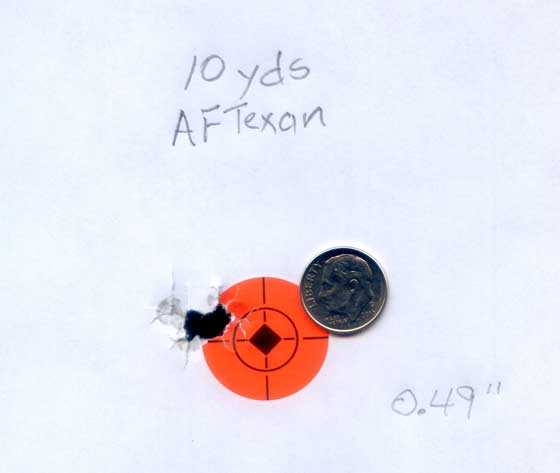 Pellets worked, too. This 5-shot group with .25 cal. Beeman Kodiak Tapered Dome pellets measures 0.49 inches.
The Beeman Kodiak pellets are 31.02 grains. They look the same as H&N Baracuda .25 Cal. round nose pellets that weigh 31.02 Grains. I shot one pellet over the chronograph giving 525.2 fps and 19 foot-pounds of energy. This was a major improvement in all respects over the #4 buckshot.
I gathered three of the pellets from my pellet trap. They were all smashed on one side of the dome. I figured it must be from the trap based on the accuracy but just to be sure, I pushed a pellet through from the breech and checked it out.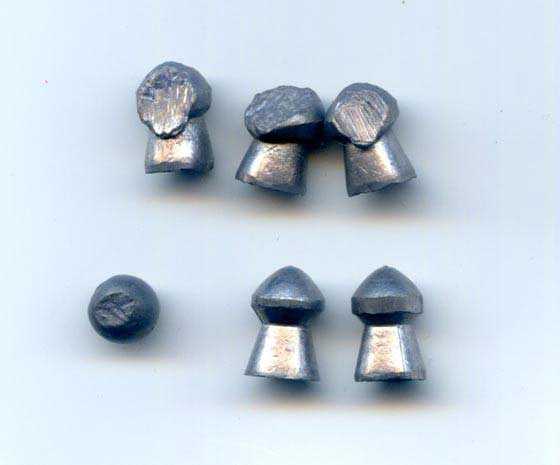 The three pellets on the top and the #4 buckshot on the bottom left are from the pellet trap. The single pellet in the middle bottom is straight from the tin.  The pellet on the bottom right was pushed through the barrel with a cleaning rod.
Conclusions:
The Apache – Fire-Ball – Texan is a solid gun that developed a fair amount of power for a multi-pump from 1948. The gun has a few features that I like such as the half-cock safety. The cone in the pump seal is also a good idea, it comes close to that of a flat top pump head in reducing the air remaining in the pump tube on the compression stroke. If converted to shoot pellets this rifle would be a good plinker.
I do not know how many of these rifles are still around, they show up for sale once in a while. I would not recommend one for a shooter. For me the enjoyment was seeing how it worked and getting it to shoot again. I will pass it back to my son.
From B.B.
First, thanks to Benji-don for an excellent report. He showed us the inside of an air rifle that few even knew existed.
He slugged the bore of his rifle and found the diameter to be 0.249-0.250-inches. He tells me he's read conflicting information about the caliber of the Apaches being .22, .24 and .25. My guess is some of that is people guessing at the caliber without knowing, biut there might be several different calibers out there, as well. If anyone knows the answer, please enlighten us.
Finally, I promised to show you an Apache pistol. This one is in very nice condition, but the box you see it in is not original.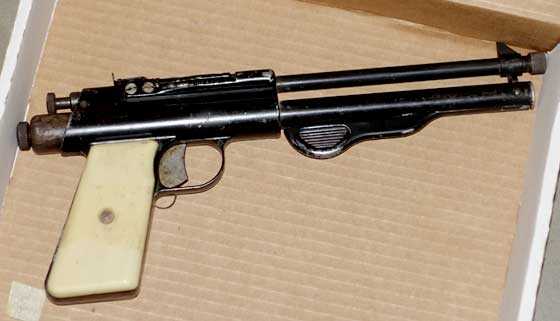 This nice Apache pistol is in the collection of a lucky airgun collector.