by Tom Gaylord
Writing as B.B. Pelletier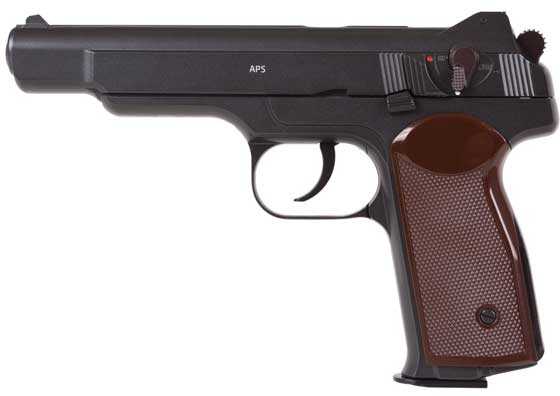 Gletcher's Stechkin blowback BB pistol.
This report covers:
Velocity day
Piercing pin
Daisy BBs
Slide stays back after the last shot
Air Venturi Copper-Plated BBs
Umarex BBs
Shot count
Don't count on the brand of CO2 cartridge!
Recoil from the blowback
Trigger pull
Summary
Velocity day
We learned a lot about the Soviet Stechkin select-fire pistol in Part 1, or at least I did, when researching it. Today we discover how powerful this Gletcher Stechkin APS BB pistol is. I will also comment on the trigger and the blowback feel.
Piercing pin
The pistol is rated to shoot at 410 f.p.s., so let's see what this one will do. Before we dive in, though, let me give you a peek at the piercing pin and corresponding CO2 cartridge seal.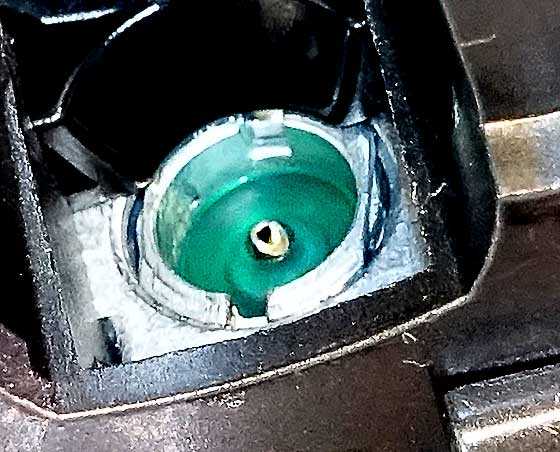 The piercing pin is hard to see because it's slightly out of focus. It's a hollow tube that's ground on an angle on one side to have a pointed tip on the other side. The green around it is the seal material that the face of the cartridge pushes into.
I show you that seal and piercing pin because of some questions readers have had in recent times about piercing pins and their seals. This flexible seal presses against the steel face of the CO2 cartridge to prevent and gas from escaping. The hollow piercing pin gives the gas a way to escape, so the seal isn't under that much strain.
Often, when a cartridge is pierced it seals instantly, but the Stechkin took a couple seconds to seal. I probably screwed the piercing screw in another 3/4-turn before gas stopped flowing. And, as always, there was a drop of Crosman Pellgunoil on the tip of the new cartridge.
Okay, let's get started!
Daisy BBs
First up were 10 Daisy Premium Grade BBs. They averaged 421 f.p.s., with a spread from 412 to 439 f.p.s. That's 27 f.p.s. The Stechkin does slow down with every shot from the cooling of the gas, so you have to give it time to warm back up. I was allowing 10-30 seconds between shots, and the longer the better.
Slide stays back after the last shot
When the last BB is fired the slide stays open. That way you never fire a blank shot unless you want to. You can always push the slide release down to close the slide for a single shot. But if the magazine is empty or out of the gun, the slide will stay back after every shot.
Air Venturi Copper-Plated BBs
Next up were 10 Air Venturi Copper-Plated BBs (I had to link to the zinc-plated BBs because the copper-plated ones are no longer showing). These averaged 418 f.p.s. with a spread going from 411 to 431 f.p.s. This spread was 20 f.p.s.
Umarex BBs
Many of the shots were not registering on the chronograph. At the end of the second string I had fired the pistol 27 times to get 20 recorded shots. I'm telling you that because the Stechkin did not make it all the way through the third string before the velocity fell off.
I shot 10 Umarex Steel BBs for the third string.in the middle of that string, which was after 33 full-power shots had been fired since the CO2 cartridge was installed, which was also the 6th shot in this string (406 f.p.s.), I set the pistol aside for several minutes. I was answering emails and could not get back to the gun for more than two minutes. I mention that because shot number 34 (shot 7 in this string) went out at 393 f.p.s. Until this point these Umarex BBs had been between 406 and 431 f.p.s. The liquid CO2 had now all flashed to gas and the gun was firing on residual gas, alone.
I kept firing and recording the velocities that now dropped with each new shot. Shot 41 went out at 362 f.p.s. and shot 45 was 341 f.p.s. I could continue to shoot the pistol, but the shots were not full power any longer.
Before I leave the Umarex BB I will say that it's probably right where the other two BBs are for velocity, when the gas pressure is at the maximum. I'm not going to retest it that way because I don't think there is anything to be gained.
Shot count
The Stechkin started to run out of gas after shot 33. That is a very low number of shots on a cartridge, but it will vary from cartridge to cartridge. All CO2 cartridges have small differences in their fill. Since this shot count is quite low, and maybe some of the gas escaped when I pierced the cartridge, I installed a new CO2 cartridge and fired it blank 33 times. Then I set it aside for 20 minutes to warm up. Then I recorded the velocities of Umarex BBs, starting with shot 34. At least we should see the cartridge variability I just mentioned. I will show you each velocity.
Shot…………Velocity
34………………393
35………………DNR (did not register)
36………………418
37………………410
38………………407
A 2-minute pause
39………………369
40………………407
41………………400
42………………405
43………………401
44………………402
45………………411
46………………401
47………………DNR
48………………394
49………………392
50………………387
51………………DNR
52………………378
53………………372
54………………367
55………………360
56………………DNR
57………………DNR
58………………348
59………………333
60………………335
This cartridge had a few more full-power shots in it. I see the velocity definitely start to fall around shot 47. That's still a small number of full-power shots for a CO2 cartridge, but as you can see, the shots that remain still have enough velocity to safely exit the muzzle. Based on the results of these two tests I would say with confidence that 50 shots are possible from this gun with no worries of a jam. With some cartridges, that number will be even larger.
Don't count on the brand of CO2 cartridge!
Don't fall into the trap of thinking that one brand of cartridge has more CO2 than another. That might be true for two small samples, but the huge machines that fill CO2 cartridges and then weld them shut are always being adjusted, so this will change unexpectedly. Just know that all manufacturers weigh their filled cartridges and exclude light ones from their sales volume. In a 24-hour day (these machines run day and night) that amounts to a barrel full of rejects, which is several thousand. Those get sent to the engineers and to the repair centers for testing guns, so nothing is wasted.
Recoil from the blowback
The Stechkin recoils and the slide does come back pretty far, but the large grip absorbs a lot of the felt impact. This is not the hardest-recoiling CO2 gun I have tested. I would put it somewhere in the middle — ahead of all the short-blowback guns but behind those whose recoil I have remarked on in past reports.
Trigger pull
The Stechkin trigger operates in both the single and double action modes, but since it has a hammer, once the gun is fired the slide cocks the hammer for the next shot. From that time on the trigger is single action only. The double action pull is 10 lbs., 7 oz., which is on the light side. In single action it's a two-stage trigger with a very long first stage that definitely stops at stage two. Stage two breaks cleanly at 7 lbs. 15 oz., but the break is so crisp I guessed it was around 5 lbs. In my opinion it's a good trigger, but I'll know more after the accuracy test.
Summary
There it is. The Stechkin BB pistol has a good trigger and decent blowback. The gun stops firing when the BBs are gone. But it does seem to use CO2 pretty fast.
If the Stechkin is accurate it will be a great BB gun to get. I say that based on the sights, the trigger and the overall realism. But it's got to shoot well.