by Tom Gaylord
Writing as B.B. Pelletier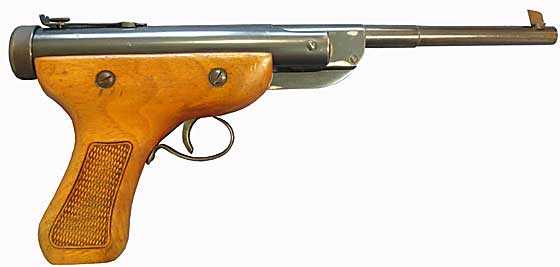 Diana model 5V pellet pistol.
This report covers:
Guest blog
Mine is .177
Rifled
Condition
Trademark
Grip/Stock
General description
Sights
Trigger
Summary
Today we start looking at a Diana 5V pellet pistol that was made before World War II. While it uses the number five in the model name, it is completely different from the Diana model 5 air pistol that was made after the war. I wrote about that one in a three-part report published in March of this year.
Guest blog
We had a guest blog by Fred, formerly of the People's Republic of New Jersey back in 2010. That one was titled Finding a Diana 5V air pistol, and it was a one-part all-inclusive report. Fred's pistol was a .22, and as he noted, the Blue Book of Airguns only mentions the gun in .177. That's a reminder to you collectors that the Blue Book is not the final authority. It's good, but it doesn't address everything.
Mine is .177
The pistol I bought at the Findlay show earlier this year is a .177. So, between Fred's report and mine we get to see both calibers perform.
Rifled
Like Fred's pistol mine is rifled. I tell you that because they can also be smoothbore. The Blue Books says they were made from 1931 to 1940, which seems reasonable, since production in Germany was put on a wartime footing around that time.
Condition
My gun is in good condition and is only missing a locking screw that holds the pivot bolt in place and a small screw in the end cap. It's 13.25 inches long and nearly 7 inches of that is the barrel, which is round and has 2 diameters. The pistol sits very high in the hand, as many pistols from this time did.
Trademark
The gun is made of steel parts in a one-piece walnut grip/stock. The metal parts are polished and blued. According to the Blue Book this pistol may be the only model Diana that has the trademark of the letter D inside a circle with an arrow passing through. Fred showed that in his report and I will, too.


The Blue Book says the 5V pistol may be the only Diana to carry this trademark.
Grip/Stock
The grip/stock appears to be held to the action by 4 screws. There are 2 on either side. I may try to remove the grip to have a look inside the action, without taking it apart.
General description
The 5V is a breakbarrel that cocks and loads just like a rifle. There is no sight protector for your hand, so you have to choke up on the barrel to not drive the German korn-type front sight into the flesh of your hand.
The pistol weighs 2 lbs. 5 oz. which puts it in the same size/weight category as the BSF S20 pistol. I tested an S20 in 2016 but discovered that it was tired, so instead I'm linking you to an earlier test I did on the BSF S20 Match. That pistol averaged 436 f.p.s. with .177-caliber RWS Hobby pellets. I don't expect this Diana 5V to be that fast for several reasons. First, it is a pre-war air pistol and few of them other than Webleys shot very fast. And second, this one looks a little tired. We will see, of course. I'm just not going to get my hopes up.
Sights
This pistol has German Kimme und Korn (notch and bead) open sights. I always though Korn, being the German word for corn, meant the front sight shape resembled a kernel of corn. It probably does, but the Germans have adopted the word Korn to mean sight, as well. So it's not only descriptive, it's generic.
The rear sight adjusts for elevation via a small thumbwheel through the rear leaf. If you want windage you must drift both sights to the side.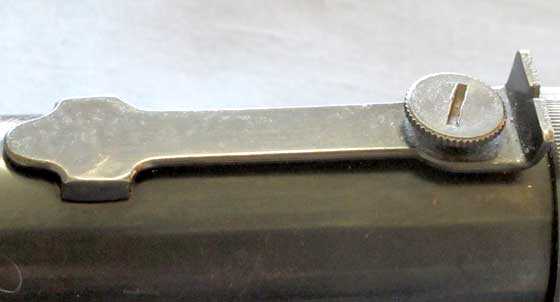 Rear sight adjusts for elevation only.
Trigger
The trigger is not adjustable. It's one-stage and releases with over 10 lbs. of pull. I would guess that it's over 14 lbs. It's so heavy my trigger-pull gauges cannot measure it.
Summary
That's the pistol we are about to examine. I will test velocity in the normal way and accuracy at 10 meters. With this trigger pull as heavy as it is, I may even consider popping it out of the stock for a look at the mechanism. Maybe I can spread some moly on it without having to diosassemble the action. So this report might just be a little different than most.