by Tom Gaylord
Writing as B.B. Pelletier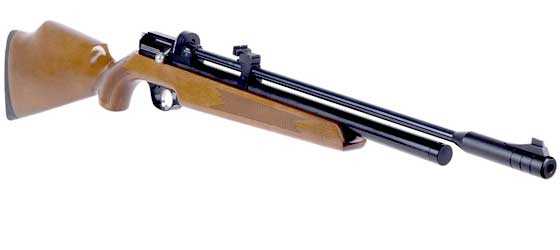 Diana Stormrider precharged pneumatic air rifle.
This report covers:
The test
Sight-in
RWS Superdome
Experience pays off
JSB Exact Jumbo
The trigger
Next — the shocker!
Aiming error
Magazine
Final group
Summary
Today we begin looking at the accuracy of the .22-caliber Diana Stormrider PCP. I know that many of you are eagerly awaiting these tests to make an important decision. Let's jump right in.
The test
I shot using open sights from 25 yards off a rest today for several reasons. First, the Stormrider comes with open sights and, while a scope has to be sighted-in which can take some time to do, a gun's native sights should be pretty much on all the time. The second reason I trusted the sights is the rifle I'm testing is one Pyramyd Air put through many tests already. Surely they have shaken it down before sending it to me.
I aired up the rifle for the first two groups, then again for the final two. As I shot, the discharge went from relatively quiet for the first 5-6 shots, then increasingly louder until the final shot.
Sight-in
Well, never assume too much, I guess, because the first shot landed 6 inches below the aim point and almost missed the target trap. I had to crank in considerable elevation on the rear sight. Fortunately, it's there to adjust. Shot two was below but close to the bull, so I started the group.
RWS Superdome
The first pellet to be tested was the RWS Superdome. Diana airguns have always favored RWS pellets — but of course the Stormrider is only a Diana in name. It was made by Snow Peak of China. Does it share Diana's DNA?
Apparently not. The Superdomes all loaded very hard into the breech. It felt like they were being shaved off by a sharp air transfer port edge as the bolt pushed them past. After verifying that the first shot for record landed just under the bull, the remaining 9 were fired without looking again. When I walked downrange to change targets I was shocked by what I saw!
Ten Superdomes had made a 3.053-inch "group." It's more of a shotgun pattern than a group.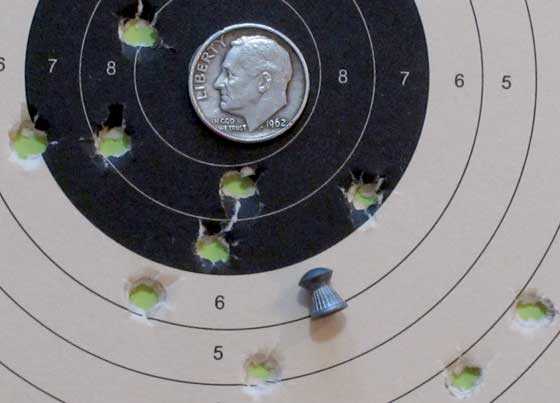 Wow! Ten RWS Superdomes in 3.053-inches. I am not the best shot, but I don't think I'm this bad!
Experience pays off
This is where it helps for have done this a few times before. I know I shoot better than this, plus I felt the tight fit of the pellet as it entered the breech. That group wasn't me — it was the pellet. I was shocked until I remembered that Diana didn't really make the Stormrider, so it doesn't have to perform like their other airguns.
JSB Exact Jumbo
Next I tried 10 JSB Exact Jumbo pellets. These loaded so much easier that I knew they were going to shoot better. And they did! Ten pellets made a nice round group that measures 1.013-inches between centers. While that's not as small as I would like, it does tell me the Stormrider is accurate. I will tell you why in just a bit.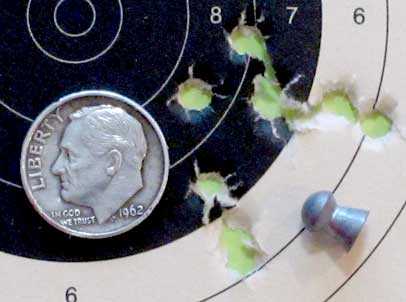 Ten JSB Exact Jumbos went into 1.013-inches at 25 yards. This is more like it.
The trigger
Ridgerunner — the trigger is single stage with a long easy pull. I like it a lot for a single-stage trigger.
Next — the shocker!
Next up were 10 Crosman Premiers. They made a 1.935-inch vertical group, but notice that five pellets are in one hole that measures 0.107-inches between centers. That's phenomenal! Is it an accident, or is it what happens when I shoot correctly? I don't know. What I do know is all the other pellets that are not in that group are either higher or lower. That strongly suggests an aiming error. Now I will tell you why I think the Stormrider is accurate.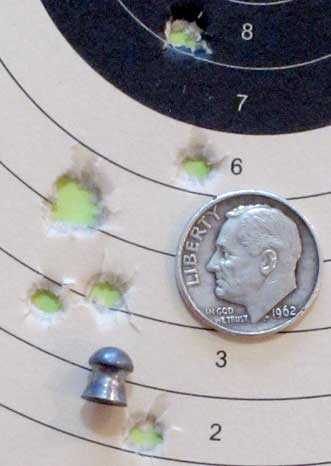 Ten Crosman Premiers went into 1.935-inches at 25 yards, but 5 are in just 0.107-inches. What a tease! You can bet I'm going to try these pellets again.
Aiming error
I wore the low-correction reading glasses and used the eye drops that some readers suggested the other day, and the front sight was as sharp as it could be. The bullseye was blurry, but it's supposed to be. However, I could not see the rear sight notch clearly enough to know whether the front sight was level with the top of the rear notch or not. I'm suspecting my eyesight was at fault in this test. This is the first time in my life when I can't trust open sights explicitly. Therefore, this is also the first time when I think a scope test will show us much better results. At least we will be able to trust those results.
Magazine
I tried the magazine because the Stormrider is a repeater, after all. I found the mag stiff and hard to load and it failed to fire the last pellet. It feels like something that will smooth out with use.
Final group
The last pellet I tried was the 18.1-grain JSB Exact Jumbo Heavy. Ten went into 1.191-inches. That's just a little bigger than the first group of JSBs.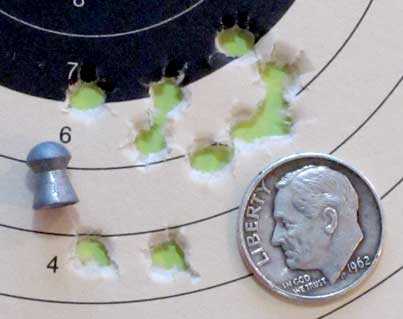 Ten of these heavier JSB Exact Jumbo Heavy pellets made a 1.191-inches group at 25 yards.
Summary
I believe the Diana Stormrider is a very accurate rifle. For the reasons mentioned, I believe I am the cause of the larger groups today. At the very least I can't say that I'm not.
Next I will scope the rifle and we will get to see what it really can do.