by Tom Gaylord
Writing as B.B. Pelletier


Hatsan Bullmaster semiautomatic bullpup PCP.
This report covers:
The test
H&N Baracuda
Trigger
Field Target Trophy
H&N Sniper Light
JSB Exact Jumbo Heavy
Bug Buster performance
Summary
Happy Thanksgiving to my U.S. readers! I hope all of you have lots to be thankful for!
Today we complete the first accuracy test of the Hatsan Bullmaster. Let's get right to it.
The test
I told you how I sighted in in Part 3. Today I set up at 25 yards and started shooting with the H&N Baracuda pellets that were used to sight in. The first round landed on paper, and 3 rounds later I was sighted in. I normally don't like to hit the center of the bull because it destroys the aim point, but the reticle in the UTG 3-12X32 AO Bug Buster scope is so clear and sharp that I could guesstimate exactly where the center of the bull was.
I shot off a sandbag rest. And you need to know one other thing. We learned  in Part 2 that the BullMaster has a lot of shots on a fill, so I shot this whole test on one fill. Couple that with the semiautomatic action and you have a fast-firing and accurate rifle, as you will soon learn.
H&N Baracuda
Hatsan sent the BullMaster and the Sortie pistol with three different H&N pellets. I figured they might be the best in the gun, so I tried all three. The Baracudas were best in the Sortie, so it was no surprise to see them do well in the rifle. Ten grouped in 0.702-inches at 25 yards, but as the picture shows, 9 of them are in 0.42-inches between centers. That qualifies as a screamer. The dime will give you the proportions very accurately.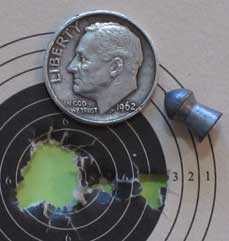 Ten H&N Baracudas are in 0.702-inches, with 9 in 0.42-inches. Yes, that includes the hole to the right of the main group.
Trigger
What a start! I figured it was all smooth sailing fpr the rest of this test. I will comment that the trigger feels too heavy, now that I'm concentrating on the target. But not one time in this test did the trigger pull me off target. I would just like it to break at half the weight.
Field Target Trophy
Next up were 10 H&N Field Target Trophys with a 5.53mm head. These have never done well in any of my tests, but the BullMaster seems to like them. Ten went into 0.758-inches at 25 yards. They will get tested at 50 yards, too.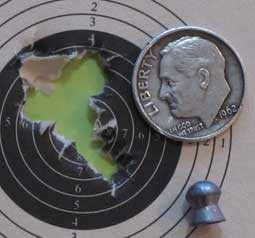 Ten Field Target Trophy pellets went into 0.758-inches at 25 yards.
H&N Sniper Light
The only pellet sent by Hatsan that made no sense to me was the H&N Sniper Light with a 5.50mm head. They didn't group well in the Sortie and they didn't group well in the BullMaster. Maybe Hatsan has a relationship with H&N that compels them to use their pellets, but this is not one I would chose for this rifle. Ten went into a scattered 0.997-inch group at 25 yards.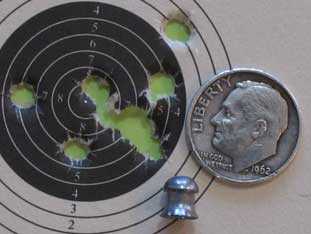 Ten Sniper Light pellets went into an open 0.997-inch group at 25 yards.
JSB Exact Jumbo Heavy
The beauty of being independent is I can test an airgun with anything I want. Looking at the BullMaster's power my first choice for a pellet is the JSB Exact Jumbo Heavy. At 18.13 grains it seems ideal for the power the BullMaster offers, plus it has a reputation for being one of the most accurate of all .22 caliber pellets. Ten of them went into a group that measures 0.536-inches between centers. Not only is this the tightest group of the test, it is also the roundest, telling us of the consistency of this pellet in the BullMaster.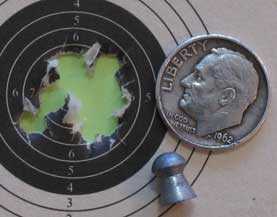 Ten JSB Exact Jumbo Heavy pellets went into a very round group at 25 yards that measures 0.536-inches between centers.
Bug Buster performance
I have to say that the Bug Buster 3-12 scope did its job in this test. The image is not as clear as I would like, but at 25 yards I can see the concentric circles of the bullseye good enough. And the reticle that I said was about medium I will now say is thicker than I told you. It made aiming easy. It's a great scope for this bullpup and for hunters — saving lots of weight and size, while delivering good performance. But it's probably not the scope for shooting small groups at long distances.
Summary
I now have three pellets to test at 50 yards. And I will continue to test the Bug Buster scope, as well. This is turning into a very pleasant and fun test!