by Tom Gaylord
Writing as B.B. Pelletier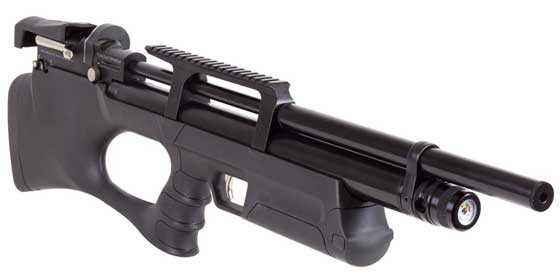 Kral Puncher Breaker bullpup with synthetic stock.
This report covers:
What happened?
The test
Sight in
JSB Exact Jumbo Heavy
Not a benchrest rifle
H&N Baracuda Match 4.50mm head
Crosman Premier heavy
Evaluation
Next
What happened?
We will start with an explanation of why I had to abandon this test until today. When I tried to scope the Kral Puncher Breaker all the shots landed quite low. At 12 feet they were 5 inches too low and even when I backed up to 19 meters they only rose an inch. I was planning to show you some new scope mounts with this rifle, but they will have to wait for another rifle that's not a bullpup. Scoping a bullpup can be a challenge if you're not used to it.
I searched through all my mounts and scopes, looking for a good match. The Kral rifles have Weaver/Picatinney bases, so 11mm airgun mounts won't work.
You will never guess where I found the best match. The Kral Puncher Pro was still set up from my test with it and I noticed that the scope was heavily shimmed, so it had the same problem.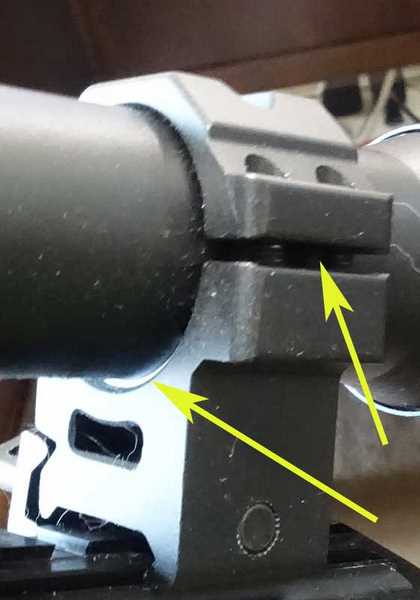 The rear scope mount on the Puncher Pro rifle was shimmed a lot, as you can see by the space between the top cap. You can even see the shims, themselves. As you will read, this scope swapped over well to the Puncher Breaker bullpup.
The test
Today I'm shooting off a sandbag rest at 25 yards. I have the power set just a little above the midpoint, which seems to give lots of shots with plenty of power. More about that at the end of the report.
Sight in
The Puncher Breaker that I'm testing today was almost perfectly sighted in when this scope and mount were attached. The scope came with the mounts and it's a UTG 8-32X56 SWAT scope. It's powerful and clear, but I think it's way too much scope for a compact bullpup like this. However, it does give the rifle the best chance to shine in the accuracy test!
It took only 7 shots to refine the sight-in. I sighted with the pellet I thought might be the most accurate, which was the JSB Exact Heavy that weighs 10.34 grains. I cheated a little and watched Tyler Patner's test of the same rifle in .22, and his best accuracy came with JSB pellets. Though this is a .177 I thought it might do best with JSB also.
I normally don't look at professional critiques of things before testing them because I want to be free from any bias. So I avoided everything in Tyler's report except the pellet choices he made.
JSB Exact Jumbo Heavy
The first target was 10 JSB Exact Heavys at 25 yards, rested. The group started extremely small and only grew slowly as I shot. Ten shots landed in a group that measures 0.494-inches between centers at 25 yards. That's pretty darn good!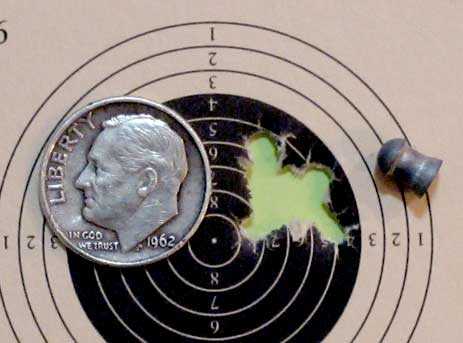 Ten JSB Exact Heavy pellets went into a group that measures 0.494-inches between centers at 25 yards.
Not a benchrest rifle
The Puncher Breaker is not really made to shoot well off a sandbag rest. It works, but the rifle is so short that it doesn't feel comfortable when rested that way. It does have a screw boss under the forearm for a bipod, and I may try that for the 50-yard test, although as short as this bullpup is, a bipod feels very uncomfortable. This is more of a handy offhand hunting rifle.
I was very pleased with the first group and just hoped the other pellets wouldn't open things up too much. You will note that the group is just to the right of the center dot (the 10-ring on this target). That is intentional from my sight in. I didn't want to hit the dot and destroy my aim point. Remember, I am shooting this with the scope set at 32 power. Once the rifle was sighted with the first pellet, though, I didn't change the scope settings.
H&N Baracuda Match 4.50mm head
Next up was the H&N Baracuda Match pellet with the 4.50mm head. This time 10 pellets went into 0.43-inches between centers. The group looks larger than the first group to me, but it doesn't measure that way. The final shot took out the 10-ring.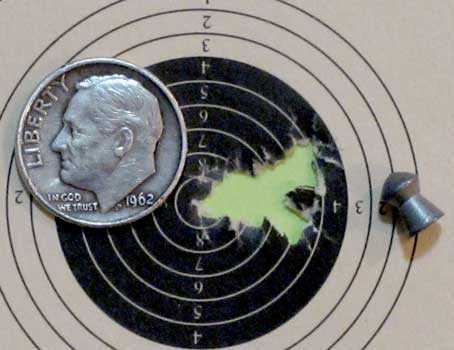 Ten H&N Baracuda Match pellets with 4.50mm heads went into 0.43-inches at 25 yards.
Now I thought I would try a pellet I haven't shot that much lately — Crosman's Premier 10.5-grain 'heavy" pellet. This one usually does well in more powerful PCPs, which this Puncher Breaker certainly is. Let's see how it does.
Crosman Premier heavy
Ten of the Premier heavys went into a group that measures 0.429-inches between centers. I shot away the 10-ring aim point on the second shot, so all the shots that followed were just guesses where the center of the target was. It looks like I guessed right, but with a 32 power scope at 25 yards that's easy to do.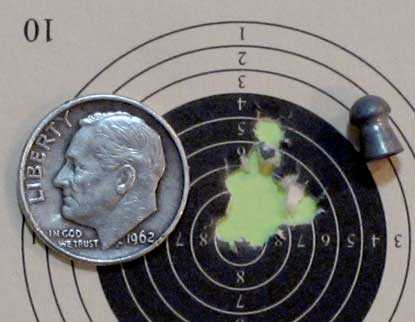 Ten Crosman Premier heavys made this 0.429-inch group at 25 yards. I shot the aim point away on the second shot, so all the rest were guesses.
After seeing how well I did by guessing at the aim point I wanted to see what would happen if I didn't have to guess. So I adjusted the scope 5 clicks to the right and shot a second group of the Premiers. This time 10 shots landed in a group that measures 0.504-inches between centers. That is the largest group of this test, so it looks like not having an aim point didn't hurt my accuracy at all.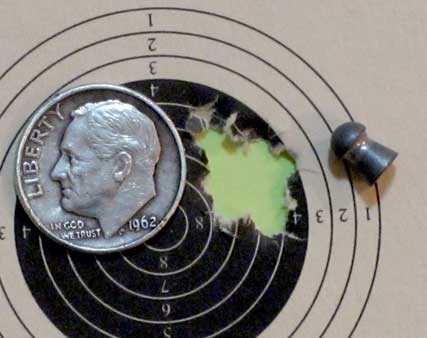 When I had an aim point for all 10 shots, I managed to shoot a group that measures 0.504-inches between centers.
Evaluation
This little Kral bullpup can shoot! These groups look more like they were shot at 10 meters (33 feet) than 25 yards (75 feet). The trigger is a little heavier than I prefer, but it doesn't seem to hurt the accuracy.
Also I want you to note how close to the same size all these groups are. The Puncher Breaker doesn't seem to care which pellet is shot — at least not at 25 yards.
I am going to have to back up to 50 yards to get a good assessment of the potential accuracy of this rifle. At this point it looks like most groups will be under one inch.
Finally I want you to know that I shot this entire test — that's about 60 shots in all — on a single fill. The power was set just higher than midpoint, and the onboard gauge reads about 130 bar (1885 psi) at the end. The groups might start growing at 50 yards at this pressure but the needle is still in the green. I think this would be an ideal rifle to guard the garden or bird feeder.
I will say that today the discharge noise didn't seem as loud as it did in Part 2. Maybe that's because I was concentrating on the target and not on the discharge.
Next up is the 50 yard test and I'm really looking forward to it! Remember what I said about this rifle? If it's accurate it may have to stay here!