by Tom Gaylord
Writing as B.B. Pelletier
Part 1
Part 2
Part 3
Part 4
Part 5
This report covers:
Traffic was down
Sig
Sig magazines
Hatsan
Crosman
Umarex USA
ASG
Conclusion
Today I will give you the final report on the 2018 SHOT Show. Did I save the best for last? That's for you to decide.
Traffic was down
Every SHOT Show is larger than the previous one, but not this year. I would estimate attendance was down by 10-20 thousand, based on how open the aisles were on the first 2 days. Some booth holders lamented about it, but all of the ones I talked to who actually write business at the show (take orders for the year) told me business was up. I think the tire-kickers stayed home and only the serious buyers came. Let's get started!
Sig
The new Sig breakbarrel is a landmark air rifle, but it wasn't all that I saw in their booth. The next exciting thing was the new Sig Super Target single stroke pneumatic target pistol! When I pumped it I was surprised by how easy it is! This may be a target air pistol that many women and older children can cock. That is a landmark achievement, because I had been holding out for the Daisy 499 to be made into a pistol for the same purpose. If a Daisy 747 single stroke pistol takes 20 lbs. to pump, this pistol takes 10 or less. I was told that the velocity is around the 300+ f.p.s. mark, which is in the Daisy ballpark. The trigger is very nice and I can't wait to test one!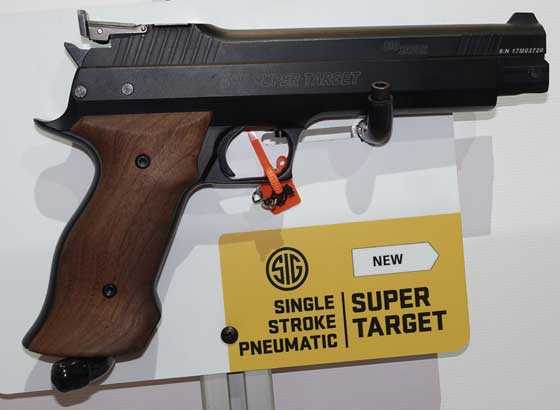 Sig Super Target single stroke pneumatic. The grip is modeled after the Sig P210.
Okay, Sig Sauer won the Army contract for the M17 pistol that replaces the M9. Things are all Christmas and My Little Pony at Sig — to say the least. I won't go into all the advantages the M17 offers over the M9, but the Army was right to pick it. And Sig is celebrating that fact with their offering of the P320MHS (Modular Handgun System) air pistol. It's a P320 that the M17 is based on and, as you can see, it comes apart like the firearm. Gonna have to test one of these, too.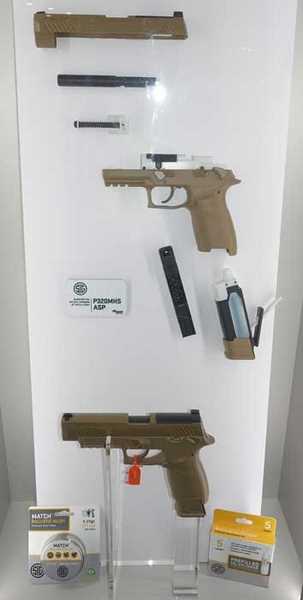 Sig P2320MHS is very similar to the Army's new M17 sidearm.
Now, Sig's Ed Schultz assured me there is such a thing as a Sig geek. He was referring to the new X-Five pistol the company has come out with. When I went to Gun Broker I saw that he was telling the truth — there ARE Sig geeks! I thought I was unique, with my unhealthy attraction to the incredibly pricy P210 pistol, but no — there are a host of geeks who favor different Sig handguns. And the X-Five is their latest fix!
The X-Five is a P226 that the Sig folks have customized for individual buyers who wanted many racegun features. Apparently they were doing so much of that business they decided to build the model from the ground up. And now there will be an X-Five pellet pistol with full blowback! My work is never done!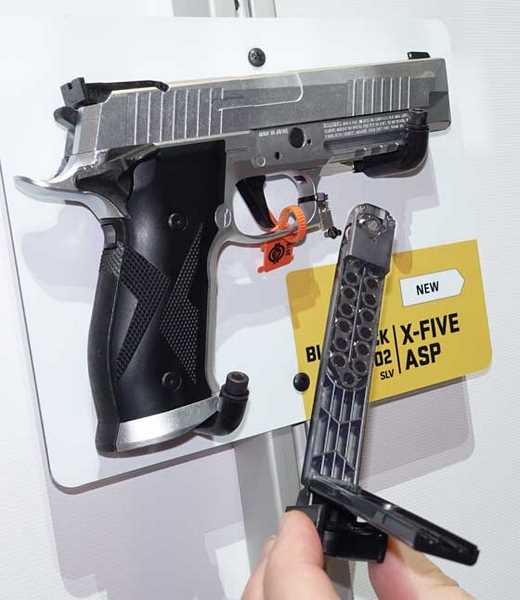 The new Sig X-Five will fill a lot of Sig lover's gun cases. Note the 20-round mag.
Sig magazines
Sig has changed their air pistol magazine from 30-shot to 20-shot to be more realistic. Several of their hi-cap firearms get that many shots on a mag, and they wanted to keep it the same for the airguns. Some people were surprised to discover that when the change was made last year, so I'm telling you now — expect 20 shots, not 30.
Hatsan
I overlooked that 1911 pistol from Hatsan, and I wanted to show it to you. Someone mentioned yesterday that it looks the same as the 1911 from ASG, and I have to agree. It's a nice pellet pistol at a good price, but the controls are mostly for show. That keeps the price down, so if you are just interested in shooting I imagine that's going to be important.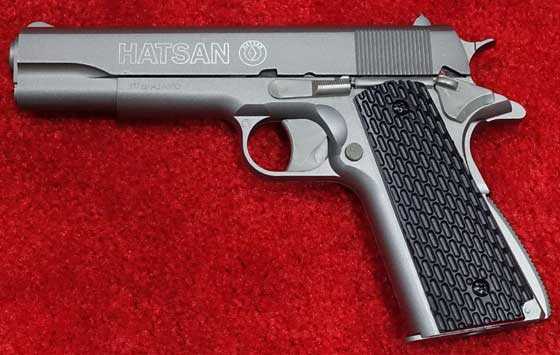 Hatsan's 1911 offers good value in a pellet gun.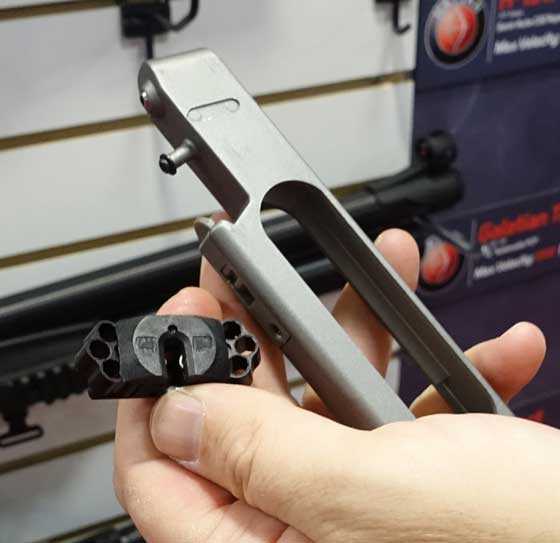 The mag has two circular clips that hold 6 per side, for a total of 12. When it's empty the entire rotating clip assembly comes out.
Crosman
Boy — am I surprised you let me get this far without reporting on the new DPMS SBR full auto subgun from Crosman! I was given specific instructions to ask whether this airgun that has blowback has a metal shell. Well, it doesn't. It is glass-impregnated Nylon — the sort of stuff they make firearms and other rugged things from.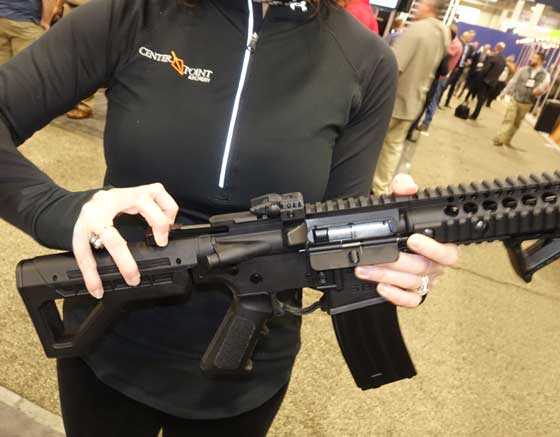 The DPMS Full Auto is a select-fire CO2 BB gun that has realistic features and even disassembles like an AR! The cyclic rate is 1,200 round per minute. Shades of the MG42!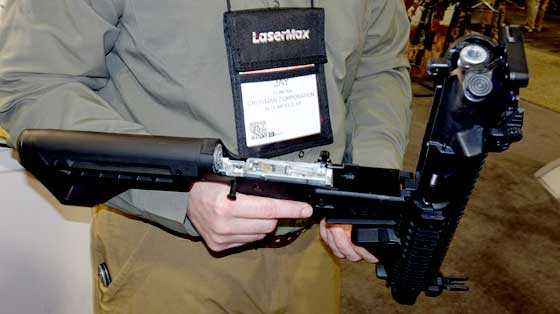 Jay from Crosman broke open the DPMS for me. It's cool, plus you can clear a jam.
The DPMS is select fire, so both full and semiautomatic. I'm going to have to try this one with the new Dust Devils!
Umarex USA
The Steel Strike from Umarex USA is a burst-fire fun BB gun. It features semiauto fire or 6-round bursts in full auto. Runs on two 12-gram CO2 cartridges in the stock. Has a 900-shot BB reservoir and looks like a lot of fast-action fun.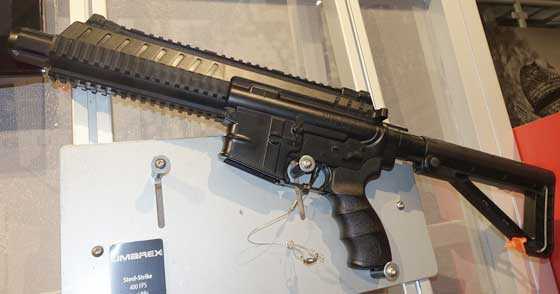 Umarex Steel Strike.
ASG
There was one more thing I saw at ASG, but it wasn't an airgun. It was an airsoft gun. The CZ Scorpion EVO 3A1 is a subgun that ASG has running on high pressure air. It's loaded with electronic technology that monitors the health of the gun and simulates real operations. I saw a cutaway in the ASG booth and was impressed.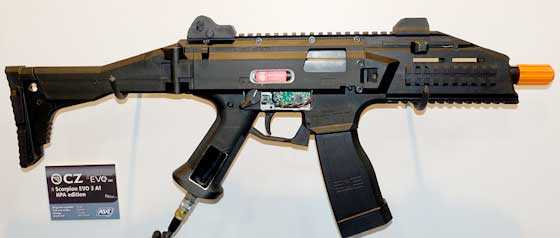 ASG/s CZ Scorpion EVO 3-A1 is a realistic subgun that is loaded with electronics and runs on high pressure air. It's airsoft, but the coolness quotient is tugging at me!
Conclusion
This year's SHOT Show was better organized and run than others I have attended. The lack of tire-kickers who take up the time of the booth workers certainly contributed to the success. As a result, I saw more of the show and still broke free to write my blogs and answer email.
This year will be a challenge for me to review all the exciting new products. I know — it's a tough job, but somebody has to do it. Oh, well!