by Tom Gaylord
Writing as B.B. Pelletier
This report covers:
Scoped
The test
Sight-in
JSB Exact Jumbo
Air Arms Diabolo Field
H&N Baracuda Match
Other pellets
Experience
What next?
Summary
Today we start our look at the accuracy of Gamo's Urban PCP. Fasten your seatbelts, guys, because today will be a bumpy ride!
Scoped
I mounted a 4-16X50 Leapers scope that is obsolete, and is unlike any scope they make today. But 4-16 power is the key.
Knowing the Urban's performance curve, I filled to 3000 psi and shot 20 shots before refilling. There are 25 available at this pressure, but I was shooting 10-shot groups, so 20 was the limit.
The test
I shot the Urban off a sandbag rest with the rear of the butt rested for extra stability. The range was 25 yards.
Sight-in
The first shot hit the target from 12 feet about 1.5 inches below the aim point, and centered on the target, so I moved back to 25 yards and resumed sight-in. In 5 shots the rifle was zeroed, and I sighted the first pellet a little high to preserve my aim point.
JSB Exact Jumbo
First up were 10 JSB Exact Jumbo pellets. I thought they might be great in this rifle. But the shots seemed to scatter, despite all that I tried to do to hold the rifle steady. In the end there were 10 pellets in a group measuring 0.683-inches between centers. That would be good for 50 yards, but not so great for 25 yards.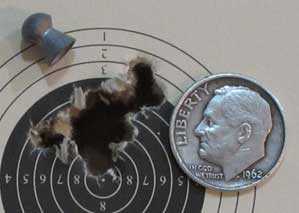 The first group of JSB Exact Jumbos was okay but not great. It measures 0.683 between centers for 10 shots at 25 yards.
Air Arms Diabolo Field
Next I tried 10 Air Arms Diabolo Field pellets, thinking they would be the ones to make this Urban shine. Ten went into 0.623-inches at 25 yards which is a little better, but not much. What was going on?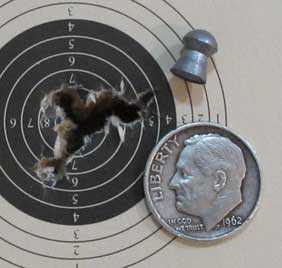 The second group was 10 Air Arms Field Diabolo pellets that was better, but not by much. It measures 0.623 between centers for 10 shots at 25 yards.
I would like to point out that I shot out the aim point this time. In fact, the first shot was a pinwheel that took out the 10- and 9-rings. I'm just saying that I managed to better without a precise place to aim.
H&N Baracuda Match
Maybe the Urban wants a heavier pellet? So H&N Baracuda Match pellets with 5.51mm heads were next. They hit the target almost 1.25 inches below the aim point and nearly the same distance to the left. They hit so close to the edge of the paper that I left the target taped to the cardboard backer for photography.
I really hoped this pellet would be the one I was looking for but the group measures 1.479-inches between centers, so I guess not. Also, this was the first group with significant fliers. What was happening?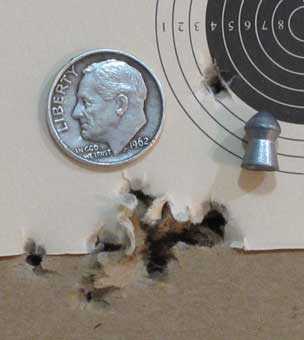 Ten H&N Baracuda Match pelletsmade this 1.479-inch group at 25 yards.
Other pellets
I had only planned on shooting three pellets in this test, but the best-laid plans of mice and men gang aft agley! So I looked around for others to try. The first that came to mind were Gamo Hunter pellets. I've never done well with these, but the Urban is a Gamo rifle, so if they are going to shine, this would be the place.
They were horrible! One missed the target trap altogether and I stopped shooting after 4 rounds. I was about to give you a lecture on non-premium pellets, but first I thought I'd try the old standby — Crosman Premiers. And, when they shot no better than the Gamo Hunters, I knew there was a problem. This Urban I'm testing isn't working right.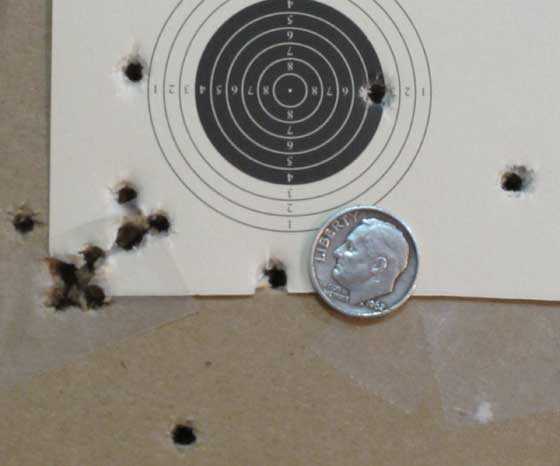 Three holes are Gamo Hunters and the rest are Crosman Premiers. When Premiers do this, something is wrong. Notice than several of the pellets wanted to go to the same place.
Experience
This is where experience pays off. The Premiers grouped tight when they weren't scattering. This was not a pellet issue — it was the gun!
My experience is whenever pellets start scattering this way out of a silenced gun, they are touching something on their way out — especially the last baffle. Sure enough, when I looked I could see where they had been hitting the baffle.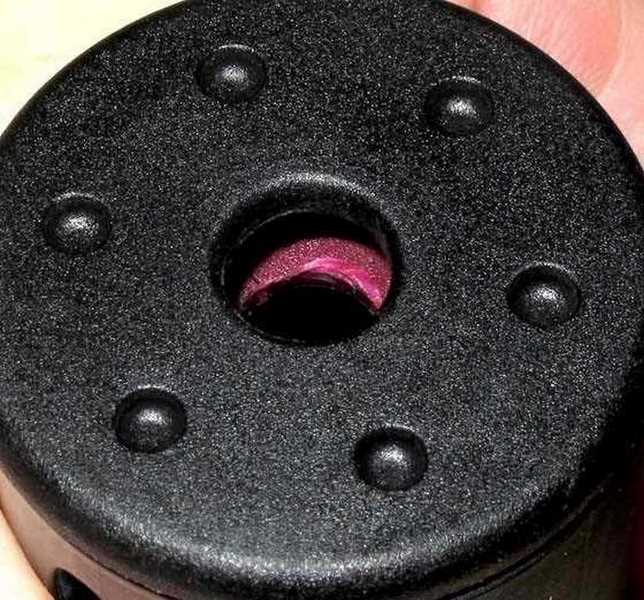 What next?
I do not plan on taking this Urban out to 50 yards the way it is now. I probably couldn't keep them all on the paper at that distance. This has to be corrected before anything else happens.
If this were my rifle I would drill out the last baffle, going through the muzzle. You have to go through the muzzle because the silencer seems to be permanently attached to the barrel. The end cap is pinned on and that might give better access to the baffles, but I think the silencer remains on the gun.
It's all moot, though, because I don't own the rifle. So I can't modify it in any way. I will ask Pyramyd Air what I should do.
Summary
I hope this isn't the end of the Urban test because I think it's a very nice air rifle. This one just has a problem. I don't think it's something that's common because I have heard a lot of good things about this rifle.