by Tom Gaylord
Writing as B.B. Pelletier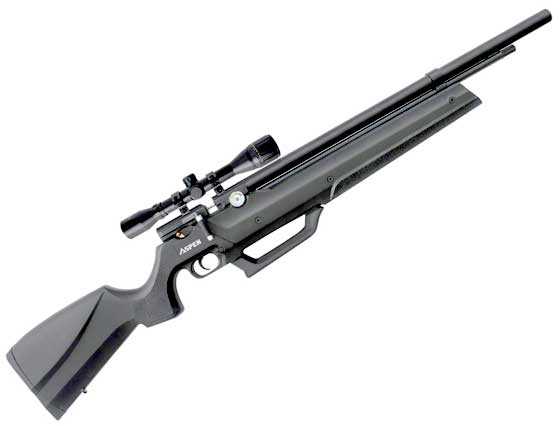 The Air Venturi Seneca Aspen precharged pneumatic air rifle.
This report covers:
Value-packed airgun!
Stock
Sidelever
Single shot and repeater
Sights
Filling
Overfill pressure release
Depressurization screw
No-fill
Safety
Power adjustor
Adjustable trigger
Features
Evaluation
I just received this airgun last week and I am bumping some other reviews out of the way to bring it to you today. This is the air rifle many of you have been waiting for — the Air Venturi Seneca Aspen PCP with a built-in pump! They won't be available from Pyramyd Air until early December, so we should see a pretty full test before you have to make the buy decision, to get it by Christmas.
Value-packed airgun!
The Aspen retails for $400, so it's not quite a price point PCP (PPP), but it has some features that few other airguns offer. Let's look at them now. For starters this is a PCP that has a pump built into the airgun! What that means is you can fill it from a tank or you can pump it up yourself. This is exactly what the easy-chair engineers have been designing in their dreams for years. Then FX came along with their Independence that does exactly that and everybody changed their tune to —"I would buy one, if only it wasn't $1,600!" Well, this one isn't.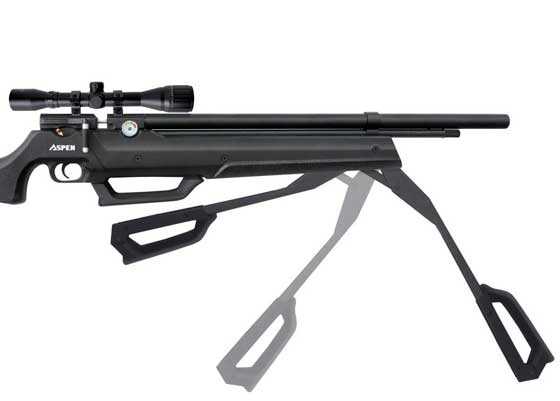 The pump handle extends this far when filling.
The Aspen is made in China and I know that several readers have been tracking it over the past two years. By now you know its strong points and weak points. But I don't. I'm going to test this sample rifle for you without reading all that's been written about it That should keep my perspective fresh.
I'm testing the .22 caliber model. It will also be available in .177. Given the power potential of up to 900 f.p.s. in .22 (no pellet weight is given) and the size of the rifle I think .22 is the way to go. With this powerplant you have the ideal survival airgun.
And now that I have mentioned it I should tell you that the first thing that struck me is the size and weight of this rifle. It's very large in all dimensions — like a Gen I Benjamin Marauder. It weighs 8 lbs. even, and the rifle I am testing has a synthetic stock, so that weight shouldn't vary by much from gun to gun. It's not a multi-pump that's been scaled up; it's a PCP with a built-in pump.
The overall length is 43.3 inches with a barrel length of just under 18-inches. The length of pull is 14 inches on the nose. The barrel is fully shrouded and I can tell you from some initial shooting that the rifle is quiet. How quiet I will tell you when we get to accuracy testing.
Some have commented on the stock, saying they dislike the pump handle hanging down below the line of the forearm. Funny thing about it, though — it's a perfect hand rest for shooting offhand!
Stock
The Aspen comes in a black synthetic stock. It is hollow and you can hear that if you thump it. Still, I don't think you want this rifle to weigh any more than it already does.
Normally you can't put a sling on a multi-pump because the lever gets in the way, but they put the sling swivel anchor up front on the side of the stock — so this one can have a sling. It looks like lefties can also swap the anchor to the other side, too!
Sidelever
The Aspen is a bolt action that uses a sidelever to cock the bolt. The cocking action is light and easy, so I don't want to hear any complaints about it.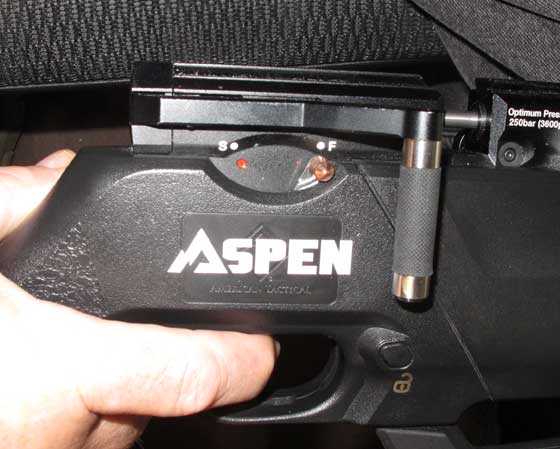 The sidelever stands proud of the receiver on the right side and is conveniently located for cocking. The button in front of the triggerguard locks and unlocks the pump  lever.
Single shot and repeater
The Aspen is both a single shot and a repeater. You get a single shot adaptor and two magazines for the rifle and a fill adaptor for the rifle that has a probe on one end and a male Foster fitting on the other. The magazines for both calibers hold 10 pellets.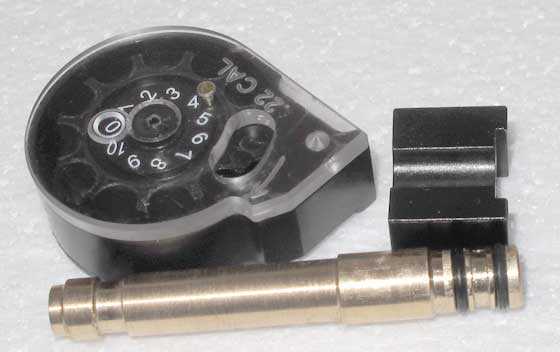 The magazine, single shot adaptor and fill probe.
Sights
The Aspen comes without sights, but it does have 11mm dovetail bases for both a front and rear sight. In other versions of the same gun there are fiberoptic open sights for these dovetails, but there are two things wrong with that. First, they are the fiberoptics that many shooters do not like. And second, most owners will scope their rifle anyway and remove these sights, so why put something on that's coming off?
When you order the Seneca you get a 4X32 scope and rings to go with it, so the sights aren't needed. I can't tell you about the scope because I am testing a sample rifle that they sent without a scope. Of course I will scope it and tell you what I use so you have a good idea of what to expect.
Filling
The Aspen fills to 250 bar (3,626 psi). The fill port is underneath the pump lever. Raise the pump lever for access. It has a rubber cap to protect the fill port from dirt, which is exactly what it should have. From one full fill you can expect to get up to 17 shots.
Filling all the way with the built-in three-stage pump requires 40-60 pump strokes. The Pyramyd Air description says you can get a high-power shot and refill for a second one with 5-6 more pumps. Or you can get almost 20 low-power shots on a fill with the pump. I am going to test everything for you so there will be no doubt. That will make the velocity test longer than normal.
Overfill pressure release
What is the worst thing a careless fill can do to a PCP? It can lock up the firing valve with too much pressure. That's called valve lock. The Seneca Aspen anticipated that and has an overfill pressure relief valve that opens to exhaust pressure when it gets too high. I haven't see one of these since I owned a Sharp Ace multi-pump that was restricted to 12 foot-pounds for the UK market.
Depressurization screw
The rifle also has a screw that depressurizes the gun's reservoir. This can save you time over shooting out the air.
No-fill
There is another place on the rifle that looks like a fill port. It's a small tube under the barrel. It has a screw cap to protect it from dirt, but it isn't for filling the airgun. It is a maintenance port that's not for the user.
Safety
The safety is a lever on the right side of the receiver. The positions are marked and obvious. But there is another button that looks like a crossbolt safety but is really for locking the pump handle when the rifle is used as a PCP. You can also use the pump handle to carry the rifle and this lock ensures that the handle stays put when doing that.
Power adjuster
The Aspen comes with two power levels — high and low. On the .22 caliber I'm testing the low is supposed to be 700 f.p.s. — again with no pellet weight given. That's fast enough for a lot of shooting, and it conserves air, so that is where I would leave the adjuster set. You can always switch it up when you need it. Just don't put the switch in the middle because it is not a rheostat. It's an on/off/on switch that has to be set right or you won't get anything.
I think I'll have to test the impact shift when going from low power to high. Usually it's serious enough to warrant adjusting the sights — especially at ranges beyond 10 meters.
Besides the power adjuster SWITCH, you can also tweak the velocity settings by adjusting the striker spring tension. The screw is accessed through a hole in the pistol grip below the back of the receiver. Turn in for more power. The manual tells you that after about 3,000 shots it may be necessary to turn the screw in one turn to maintain the factory power settings.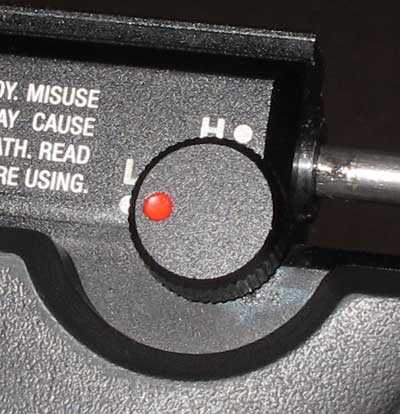 There are two choices for power.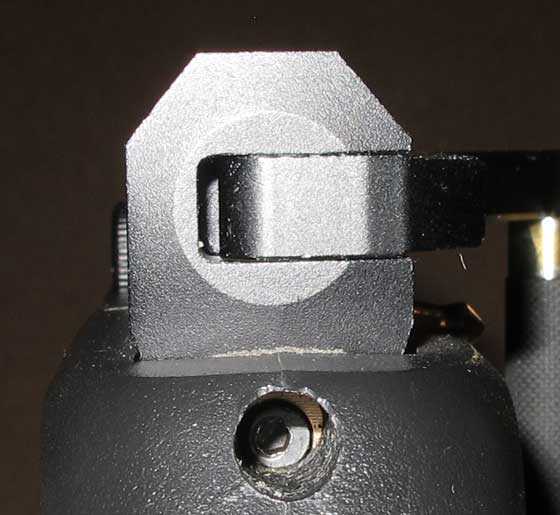 Besides the two-position power adjuster on the left side of the receiver, you can also tweak the striker spring through a hole in the top of the pistol grip.
Adjustable trigger
Yes, the trigger is adjustable. This one I'm testing is set up pretty well, but I will have to look at adjusting it. This one has no first stage and the trigger can be adjusted for the length of what I am assuming is the first stage (the manual calls it "travel"), the trigger pull weight and the sear contact. I want a first stage, so I'm going to see if I can get one through adjustments.
Features
This rifle has an amazing number of features. I'm going to list all of them for you.
Two power levels
Fill from either a tank or the onboard pump
Onboard pressure gauge (works for the onboard pump, too!)
Overfill pressure release
Depressurization screw
Adjustable trigger
Adjustable power
Sling swivel anchors
Pump lever lock provides carry handle
Shrouded barrel for quiet operation
Evaluation
I'm overwhelmed by everything I see on this rifle. It has obviously been designed by someone who knows what airgunners want and has worked very hard to give it to them. Sure, there are some things you might have done differently, but the Seneca Aspen has a whole lot going for it, right out of the box.
However, great is as great does. I still have to see the velocity, shot count, ease of use with the magazine and of course the accuracy. But I think we might be onto a good one here!