by Tom Gaylord
Writing as B.B. Pelletier
Part 1
Part 2
Part 3
Part 4
Part 5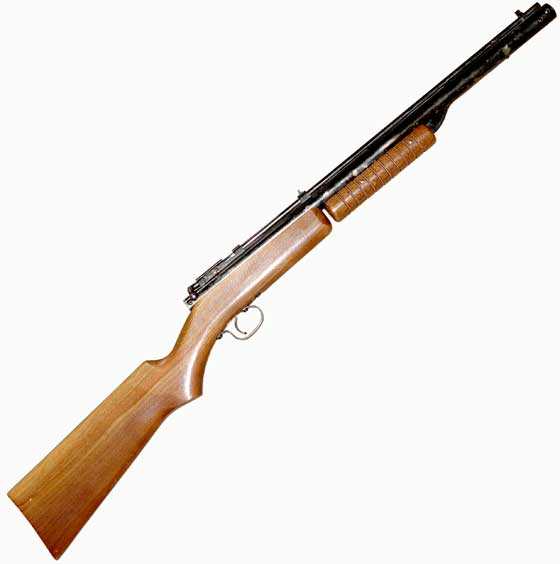 A Benjamin 310 multi-pump BB gun from 1952.
This report covers:
How to test?
RWS Hobby
H&N Baracuda Match
One pump
Another test
Fastest shot
Pellet tests coming
One final test
Summary
Today is our final day of looking at the velocity of the Benjamin 310 multi-pump BB gun. You will recall that the reason this has taken so long is because this gun is very flexible about the ammo it accepts. If it turns out to be accurate, this gun may well be an all-time best airgun to own — right up there with an FWB 124 and a Diana 27..
Today we will look at the velocity with pellets. Since the gun is smoothbore I don't expect it to be accurate past 10 meters, but I will reserve judgement until we test it. If I get nothing better than 2-inches at that distance, though, I won't be testing it at 25 yards. There are already enough holes in my walls and woodwork!
Multi-pumps are pneumatics and pneumatics handle heavier pellets quite well. Therefore I need to test a heavy pellet as well as a lighter one.
How to test?
To be honest I am so far outside my comfort zone with this gun that I have to read my own past results to figure a way to test it with pellets. Here are some things I have learned.
This gun tops out at 5 pumps. I have seen that repeated so many times that I can accept it as a given. So, with a light pellet and also with a heavy pellet I will test it with 2 to 5 pump strokes.
I know the air is not exhausted on the shot from even two pumps, so I will exhaust all the air after each test shot. I'm doing that just so we know for certain that the velocity we are seeing is only what is obtained from the pump strokes listed.
I will also test it with one pump and shot, followed by another pump and shot without exhausting the air. From past testing we know the velocity will increase to a certain point and then stabilize around that point. I think I will test this with the light pellet, only because I don't want to get a heavy pellet stuck in the barrel, though as I have said this gun is so simple that it's easy to clear.
One last thing we learned about this gun is that when the projectile fits the bore tight it becomes very efficient. So I will watch the fit of each pellet to the bore and comment on it as I go. That may provide some special insight.
That's all I can think of, so let's go!
RWS Hobby
The RWS Hobby pellet in .177 caliber weighs 7 grains, making it one of the lightest lead pellets around. I will start with it. This pellet loaded very easily, once the wadcutter head got past the ramp at the ends of the loading trough that leads into the breech. In spite of that, I know for a fact that Hobbys have large skirts. And, since .177 pellets are already larger than the 0.175-inch or even 0.171-0.173-inch balls and BBs the gun is made for, the Hobby fits the bore tight.
Pumps……..Velocity
2…………….473
3…………….546
4…………….627
5…………….640, 578, 395
Wow! I didn't expect this. The Hobby pellet is actually faster than any of the BBs and lead balls. Notice that the increase tapers off sharply after 4 pumps? I think 6 pumps is still too many for this gun as it is now set up.
Notice also that I kept shooting the gun after the first shot on 5 pumps. I didn't know why I wanted to know that, but in a little bit it will come into play.
H&N Baracuda Match
Now for the heavy pellet. I shot the 10.65-grain H&N Baracuda Match pellet with a 4.53mm head.
Pumps……..Velocity
2…………….395
3…………….480, 357
4…………….514,422
5…………….531, +1-530, +1-501, +1-471, +1-440
This is the start of my investigation into how to keep the velocity stable, shot to shot. After the shot on 5 pumps, I added one pump and shot again, then again and so on. As you can see, the velocity did decrease. But it gave me another idea that I will tell you about and test in a bit.
One pump
Now I move on to the one pump test. I pump the gun one time, shoot it, then don't exhaust the air but pump it again and shoot it and so on until the velocity stabilizes. As I said at the start I will do this with a light pellet — which means the Hobby. Here we go.
Pump……..Velocity
1……………305
+1…………..354
+1…………..378
+1…………..386
And then I did something stupid. I was distracted and failed to pump the gun before shooting the fifth time. That messed up the whole test, because the increase is cumulative. No way to start where I left off. Have to start over. And in doing that I saw a close match between the second test results and the first.
Pump……..Velocity
1……………306
+1…………..351
+1…………..382
+1…………..398
+1…………..399
+1…………..385
+1…………..406
+1…………..383
It seems the velocity stabilizes around 380-400 f.p.s. And, based on the tests we did before with BBs and lead balls, I will guess that if I started with 2 pumps and added one after every shot the velocity would drop to the same point. What the heck — let's do it.
Pump……..Velocity
2……………472
+1…………..466
+1…………..450
+1…………..450
+1…………..427
+1…………..412
+1…………..410
+1…………..399
+1…………..395
+1…………..396
+1…………..395
+1…………..395
+1…………..392
+1…………..393
That pretty much proves it. The velocity decreases to the same point that it increases. This give me a stable velocity for accuracy testing.
Another test
Now I will tell you about that other test I thought about earlier. It occurred to me after I was pumping 5 times, then pumping once after each shot, that the velocity might stabilize at 5 pumps if I pumped twice after each shot. Past testing has shown that 5 is the maximum number as far as velocity is concerned, so let's see if the gun will stay there by pumping twice after each shot. The next test will be shot with H&N Baracuda Match pellets having 4.53mm heads
Pumps……..Velocity
5…………..…540
+2………..…..540
+2………..…..541
+2………..…..541
+2………..…..545
+2………..…..532
+2………..…..539
+2………..…..543, 540, 471, 314
Okay, that was almost what I had hoped. As you can see, the velocity remained fairly constant for these 8 shots. What you can't see is that the pump force increased slowly as this string progressed. That's why I stopped after the eighth shot and fired off the rest of the charge without pumping. It's easy to see the gun was very full by this point. So this method works for a few shots, but not indefinitely. I may use it in the accuracy test.
Fastest shot
As a final test I decided to see what Sig Match Ballistic Alloy pelletswould do. Because they are so light (5.25 grains) we know they will be the fastest pellets, but they may also turn out to be accurate, so I want some velocity data to go with them.
I know most of you will not pay this much for a pellet to shoot in a smoothbore pump gun, but Sig Sauer has been kind enough to send me several tins of the pellets, so while I have them I'm using them. Florian Schwartz, the general manager of H&N, told me why they cost so much. They are made from pure tin that is extremely expensive
Pellet tests coming
I have a similar Sig target pellet made of lead that they just sent me, so that's going to spawn a special target pellet test, and they have sent me a couple different .22 caliber pellets that I plan testing for you soon. I also have those new H&N Baracuda FT pellets that Herr Schwartz gave me to test.
For now, though, let's get back to today's test. We are now looking at the lightweight Sig Match Ballistic Alloy pellet in the Benjamin 310.
Pumps……..Velocity
2…………….536
3…………….637
4…………….705
5…………….755, 637, 407
Wow! They sure are fast.
One final test
If these Sig pellets turn out to be accurate, will they stabilize in velocity like all the rest. I had to test it to see.
Pump……..Velocity
1……………364
+1…………..411
+1…………..417
+1…………..424
+1…………..424
+1…………..432
+1…………..429
They not only stabilized, they did so at a good velocity for 10-meter target shooting. If they prove accurate, I will have a good handle on them.
Summary
That's the velocity testing for the Benjamin 310. We now know quite a lot about this airgun and that will serve us well in the test yet to come.
Beyond those tests, though, there is one additional possibility for the 310. I could get a new striker spring for the gun and see how that changes its personality. There is certainly a boatload of baseline test data to compare to!