Crosman's Mark I Target pistol: Part 3
by Tom Gaylord
Writing as B.B. Pelletier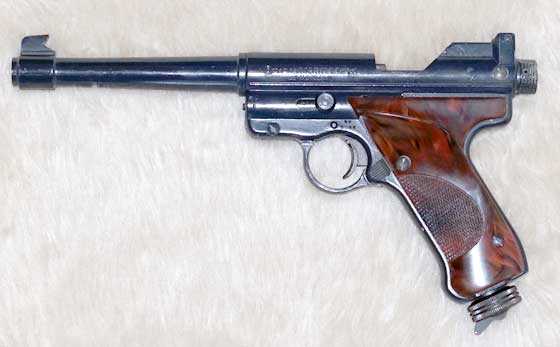 Crosman Mark I target pistol.
This report covers:
The test
Hobby pellets
Crosman Premiers
RWS Superpoint
Discussion
Summary
Today we look at the accuracy of the Crosman Mark I Target pistol. After adjusting the trigger in Part two, I feel confident it won't let me down.
The test
I put in a fresh 12-gram CO2 cartridge. We learned in Part 2 that there are around 45 full-power shots in a cartridge and I plan to shoot less than that in today's test. I will shoot a 5-shot group on high power and a second 5-shot group on low power with each pellet. That's 10 shots per pellet times 3 pellets is a total of 30 shots. The range is 10 meters and the gun is rested directly on a sandbag. Let's go.
Hobby pellets
The first group was shot with RWS Hobby pellets. The gun's power was set on high. Five Hobbys made a very vertical 0.733-inch group.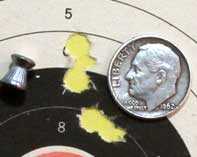 On high power the Mark I put 5 Hobbys into 0.733-inches at 10 meters. Not a bad group for an air pistol.
On low power, 5 of the same Hobby pellets went into 0.754-inches at the same 10 meters. This group isn't quite as vertical and the point of impact dropped 1.8 inches.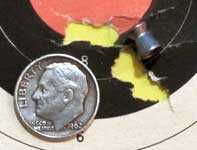 On low power the Mark I put 5 Hobbys into 0.754-inches at 10 meters.
Wadcutter pellets like Hobbys are easiest to see when they tear holes in target paper. Domes, however, can be more accurate. Let's try some.
Crosman Premiers
The next pellet I tried was the venerable Crosman Premier. When they came to market in the mid-'90s airgunners suddenly realized that their vintage Crosman pellet guns were a lot more accurate than they thought. The gun that surprised everyone the most was the 160 rifle that went from being a plinker to a real target rifle. But the Mark I and II pistols also benefitted. Let's see.
On high power the Mark I put 5 Premier pellets into a 0.442-inch group at 10 meters. It's the smallest group of the test and can be covered by a CR2032 button battery or by an American penny. That's some shootin' and it makes me quite proud of this old air pistol.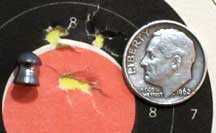 Five Crosman Premiers shot on high power went into 0.442-inches at 10 meters. That's the smallest group of the test.
On low power the Premier group dropped 2.4 inches and opened to 1.025-inches for 5 shots. Notice that both these groups are centered on the bull, where both Hobby groups were slightly right of center.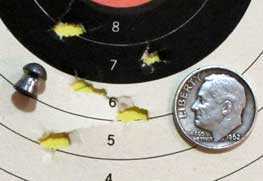 On low power the Premier pellets opened to this 1.025-inch group.
RWS Superpoint
The last pellet I tested was the RWS Superpoint. I had no idea how these would do because I don't think I have ever shot them in a Mark I before. Pointed pellets don't usually shoot accurately, although I have reported on some exceptions in the past. On high power 5 pellets went into 1.537-inches at 10 meters. It is the largest group of the test, so obviously Superpoints are not right for the Mark I Target.

On high power 5 RWS Superpoint pellets went into 1.537-inches at 10 meters. This is the largest group of the test.
I thought, after seeing this group, that the low power group would be even larger, but it wasn't. On low power the Mark I Target put 5 Superpoint pellets into a 1.23-inch group at 10 meters. This group is centered about 2.3 inches below the high-power group.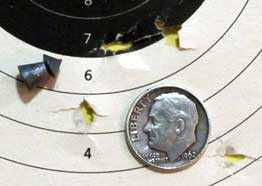 On low power the Mark I put 5 Superpoints into 1.23-inches at 10 meters.
Discussion
I am satisfied with the performance of the pistol. It's accurate — especially with Crosman Premiers. And the trigger is very sweet. This series makes me want to get a .177-caliber Mark II to go along with this one.
The power of the gun is fine and I'm getting a reasonable number of shots for the power that's available. This is an airgun I don't shoot all the time but I never want to get rid of it. It's nice to know I can shoot it when I want to.
Summary
The Crosman Mark I Target pistol surprised me with more power and a better trigger than I had expected. How nice to know this vintage airgun still has what it takes!
Postscript
I went to a good gun show last Saturday. It was the first show I have been to in a long time. I picked up a Crosman 1377 that I plan to test for you. I also bought an old rimfire Flobert rifle of some unknown caliber around .30. I don't know what I will do with it yet, but we shall see.
Tom Gaylord is known as The Godfather of Airguns™ and has been an airgunner for over a half-century, but it was the 
Beeman
 company in the 1970s that awoke a serious interest in airguns. Until then, all he knew were the inexpensive American airguns. Through the pages of the Beeman catalog, he learned about adult airguns for the first time. In 1994, Tom started
The Airgun Letter
 with his wife, Edith. This monthly newsletter was designed to bring serious reports about airguns to the American public. The newsletter and
Airgun Revue
, a sister magazine about collectible airguns, was published from 1994 until 2002, when Tom started
Airgun Illustrated
-- the first American newsstand magazine about airguns. Tom worked for three years as technical director at
AirForce Airguns
, the makers of the 
Talon, Condor, and Escape
 precharged air rifles. Today, he writes about airguns and firearms for various publications and websites. He also makes videos, and you'll find short clips embedded in some of his artices on Pyramyd Air's website. Tom is a consultant to Pyramyd Air and writes under the name of B.B. Pelletier.