by Tom Gaylord
Writing as B.B. Pelletier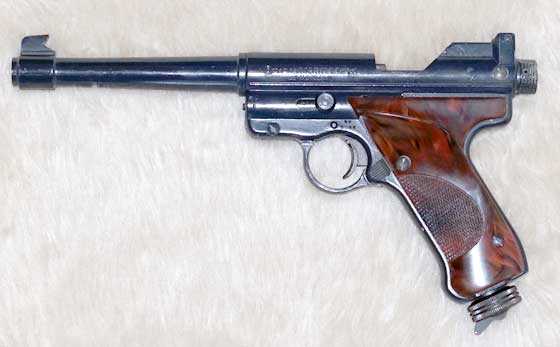 Crosman Mark I target pistol.
This report covers:
Loading the CO2 cartridge
O-ring material
Velocity
RWS Hobby
Air Arms Falcons
Crosman Premiers
Discussion
Shot count
Trigger pull
Summary
Today we look at the power of my Crosman Mark I Target pistol. This will be interesting because I don't remember ever doing it. I probably did, but without a report to read I can't remember.
Loading the CO2 cartridge
Usually on a CO2 pistol that stores the 12-gram CO2 cartridge in the grip, one of the grip panels comes off to remove and install the cartridge — the left one, more often than not. Not so with this pistol. Instead there is a large knurled cap at the bottom of the grip that is removed, and the cartridge inside slides out. If there is still significant gas in the gun, the pressure will force the o-ring in the cap to seal the cap tight and it may not rotate. Don't use pliers to force it! Shoot the gun until the gas is gone or almost gone.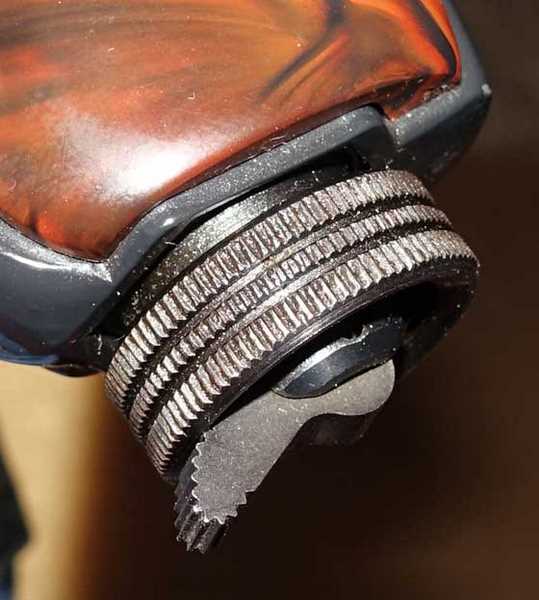 The cap with the lever for piercing is the most common on the Marks I and II.

Here is the cap out of the gun. The o-ring that looks brown now was cream-colored when it was installed. Years of contact with Pellgunoil have changed the color.
There is also a later second type of CO2 cap. Instead of the lever it has a large button that you press in to pierce the cartridge. Crosman recommended pressing it against something hard, like a table, and it was covered in rubber to both not slip and also not mar the table. As near as I can tell it came out in the mid-1980s and is the less common type of piercing system. I suppose collectors like to have guns with this cap to complete their collections, but if you shoot the lever is much better.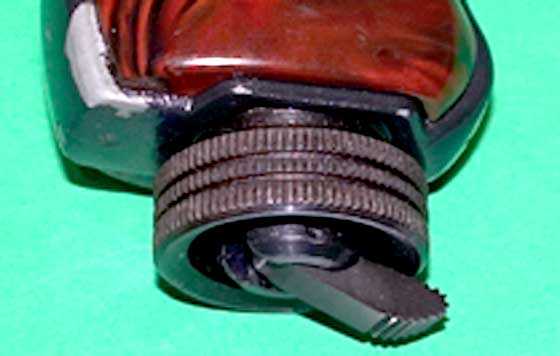 Here the lever has been rotated forward to pierce the CO2 cartridge.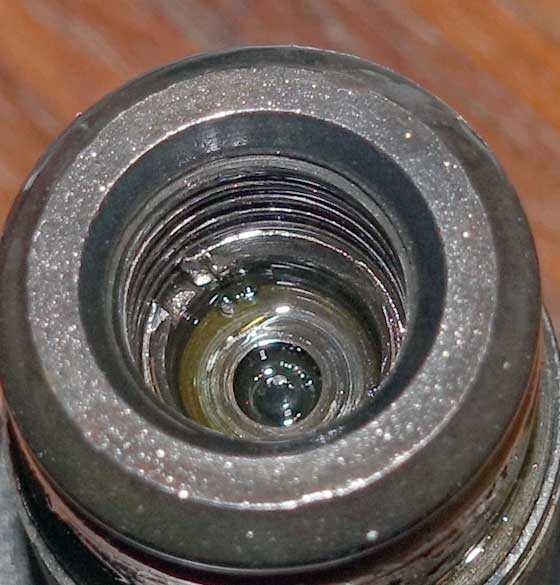 The piercing pin is inside the cap. The lever moves it down (up in this view) to pierce the cartridge.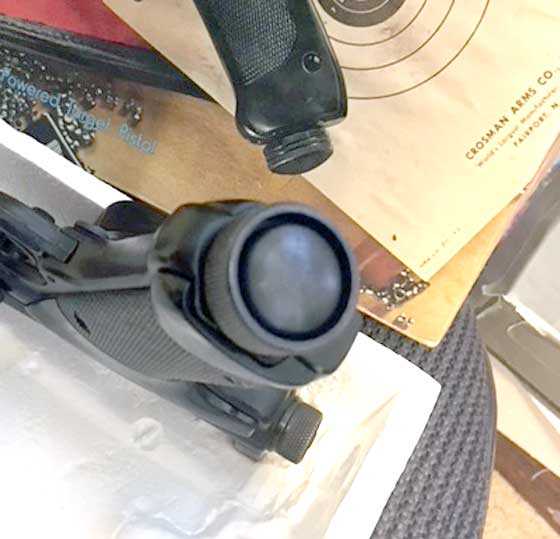 This button piercing system replaced the earlier lever system in the 1980s. It is less common than the lever and also a little harder to use. Photo provided by reader Halfstep.
I must confess that I thought the button piercing cap was older than the lever type, but reader Halfstep informed me that it was actually later. I researched it in several old catalogs and Shooter's Bibles and discovered he is right.
O-ring material
Now, learn something about the material of which o-rings are made. Sometimes the material is permeable, which means the gas can be absorbed into the material of the ring which then swells up and keeps pressure on the cap for hours after the gas inside the gun has been exhausted. This problem doesn't occur with modern o-rings because they are made from material that is impermeable to CO2. You don't run into this often today, but 40 years ago it was common. Nearly all those older guns have been resealed by now, so if there is still a problem it's because some owner used a hardware store o-ring made from gas-permeable material.
Velocity
I will test velocity on both high power and low power for the same pellets. I'm only going to shoot 5 rounds on each setting, because a gas gun shouldn't vary that much. And I will wait at least 10 seconds between every shot.
RWS Hobby
First up were RWS Hobby pellets. I expected them to be the fastest and they were. On high power they averaged 463 f.p.s. The low was 456 and the high was 466 f.p.s., so a spread of 10 f.p.s. At the average velocity the pellet generated 5.67 foot pounds at the muzzle.
On low power the Hobbys averaged 326 f.p.s. The spread went from a low of 312 to 333 f.p.s. That's a range of 21 f.p.s. At the average velocity with this power setting Hobbys generated 2.81 foot pounds at the muzzle.
Air Arms Falcons
Air Arms Falcon pellets averaged 453 f.p.s. on high power. The spread went from 452 to 456 f.p.s., so just 4 f.p.s. between the low and the high. At the average velocity this pellet generated 6.12 foot pounds at the muzzle.
On low power the Mark I shot Falcons at an average 313 f.p.s. The spread went from 306 to 316 f.p.s., so 10 f.p.s. difference. At the average velocity on this power setting this pellet generated 2.92 foot pounds at the muzzle.
Crosman Premiers
I'm shooting a Crosman classic air pistol, so of course I have to test it with Crosman Premier pellets. On high power they averaged 437 f.p.s. The low was 435 and the high was 441 f.p.s., so a spread of 6 f.p.s. At the average velocity the muzzle energy was 6.07 foot pounds.
On low power Premiers averaged 296 f.p.s. with a spread from 290 to 301 f.p.s., which is 11 f.p.s. At this average velocity the pellet generated 2.78 foot pounds of energy at the muzzle.
Discussion
The pistol is about where I expected it to be — low to mid-400s on high power with light- to medium-weight pellets. Now — what about the shot count?
Shot count
To this point I had fired the gun 30 times on one CO2 cartridge. Half of that was on high power and half was on low. That's 15 shots on high power and 15 on low. That might compute to about 20-22 shots on high power. So I went back to Hobby pellets and started shooting again. This time it was all on high power and all Hobbys. I will begin this test with shot number 31.
Shot………..Velocity
31…………….470
32…………….470
33…………….469
34…………….467
35…………….476
36…………….468
37…………….469
38…………….470
39…………….465
40…………….473
41…………….473
42…………….472
43…………….475
44…………….470
45…………….475
46…………….477
47…………….473
48…………….470
49…………….474
50…………….462 the liquid CO2 is gone
51…………….464
52…………….460
53…………….452
54…………….448
55…………….443
56…………….434
57…………….429
58…………….429
59…………….418
60…………….408
61…………….401
62…………….393
63…………….388
64…………….376
65…………….361
66…………….347 stopped
This string shows the performance of CO2 quite well. As long as some liquid CO2 remains inside the cartridge to evaporate into gas, the velocity remains in about the same place. The moment the liquid has all evaporated, the velocity starts dropping and never recovers. That's why we say CO2 is self-regulating. As long as it remains at a consistent ambient temperature, it acts like a pressure regulator.
So — how many shots do you get from a cartridge? That would depend on whether you are shooting on high power all the time, low power all the time or a combination of both power levels. Before conducting this test I would have guessed there were about 45 shots at consistent velocity on high power, which is about what we see here. Remember that 15 of the first 30 shots were on low power.
This pistol was resealed years ago by Rick Willnecker and it seems to be about where a new Mark I should be. Beyond that I can't say anything because other Mark Is have either gotten tired and may need a rebuild or they may have been souped up by a tuner.
I would also like to point out that there are several more shots on this cartridge than I shot. Looking at the rate at which the velocity is dropping I would guess around 10 or so. I don't like to shoot absolutely every possible shot from a gas gun because you run the risk of sticking a pellet in the bore. But the Marks I and II are single shots that are quite easy to clear.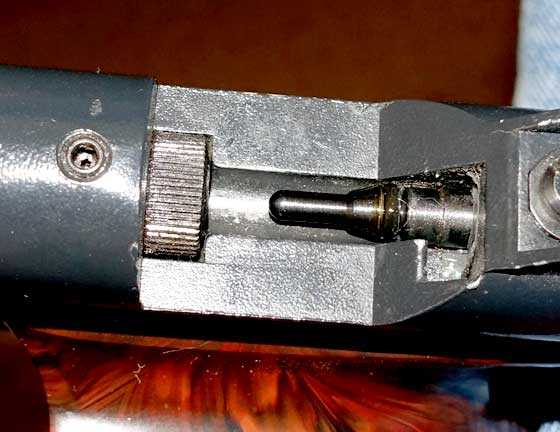 Looking down on the open breech we can see that it is easy to push out a stuck pellet with a rod inserted through the muzzle. Tuners will thin the pellet probe at the end of the bolt to make more room for gas to flow.
Trigger pull
I tested the gun the way it was set up, and when it is set on high power the trigger pull is 11 ounces for stage one and 4 lbs. 5 oz. at the break point of stage two. I thought stage two was breaking at two pounds, because this trigger is a crisp as a breaking glass rod.
On low power there is only a stage one and the trigger breaks at 1 lbs. 15 oz. the way the gun was set up. That's good, but I don't normally shoot on low power. I wanted to adjust the trigger to see if I could get the high power stage two let-off any lighter.
I screwed the Allen screw in (clockwise) and got a two-stage (high-power) let-off of 1 lb. 6 oz. It remained glass-crisp. The single stage (low power) pull went to 2 lbs. 3 oz. I can live with that all day!
Summary
Well, that is a good look at my Mark I that I believe is representative of most Crosman Marks. Next comes accuracy and I can't wait!