by Tom Gaylord
Writing as B.B. Pelletier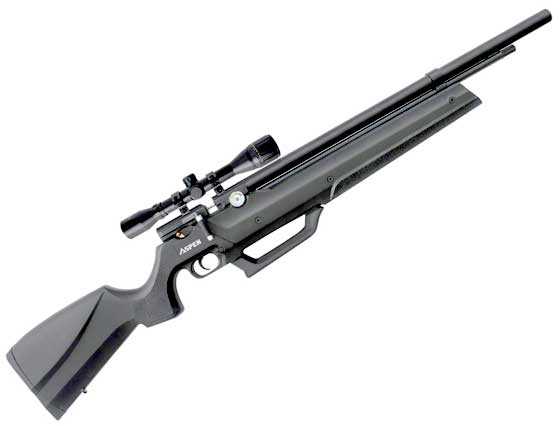 The Air Venturi Seneca Aspen precharged pneumatic air rifle.
This report covers:
Important links
Filling
Benjamin domes
Test 1
Discussion 1
Power
Back to 3600 psi
Test 2
Discussion 2
Power on low
Pumping effort
Trigger pull
Summary
Today we look at the performance of the new Air Venturi Seneca Aspen PCP. Before I get to that, though, I will remind you that in Part 1 of this report (the one on this .25-caliber Aspen) I showed the links to the first 5 reports on the .22-caliber Aspen. I'm not showing those links today because they will become too confusing. If you want to see them, click on the link to Part 1 of this report and they are all at the top of the report that comes up .
Important links
Those links are important to me because I am testing this .25-caliber rifle in the same way that I tested the .22. That test was ideal to discover the performance parameters of that rifle and it will do the same for this one. I expect to see differences today, but this test will tell us how the .25 performs, relative to the fill pressure. With that understood, I am ready to begin.
Filling
As I explained in the test of the .22, it's easier and more controllable to fill this rifle with the onboard hand pump than from a scuba tank. I will watch the onboard gauge as I pump. The rifle was sitting right at the 3,000 psi that I put in a week ago, so again, it does not leak. To take it to the 3,600 psi max fill took 25 pump strokes. That means each stroke puts in about 24 psi. In the .22 each stroke was putting in about 30 psi, so this one is a little different. This gun also pumps harder than the .22 which I attribute to a break-in that the .22 had and this one hasn't had. I will keep an eye on this as the test progresses.
I also found the pump head was relatively dry this morning before I started pumping, so I lubricated it with the silicone oil that was provided with the rifle. I had already lubricated the head in Part 1, so this came as a surprise. I will also keep my eye on the pump head as the test progresses.
Now that we are at 3,600 psi we are ready to start the test. Only a single pellet is needed for this, as we want all data to corollate. That's good because, unlike .22 caliber pellets, my supply of .25-caliber pellets is small. And .25 caliber pellets come fewer to a package, which exacerbates things.
Benjamin domes
I selected the .25 caliber Benjamin domes, because I had almost two full tins. This pellet doesn't have a name beyond Benjamin, but if I ran the company it would be called a Premier, because that's what it looks like.
Test 1
The first test was run with the power selector set on high. Remember, I'm starting with 3,600 psi in the gun — according to the built-in gauge.
Shot………Vel……….remaining pressure after the shot
1…………752 (report is loud — 4)
2…………764
3…………768
4…………765………………….3000 psi
5…………759
6…………762
7…………750………………….2600 psi
8…………746
9…………737
10………..727………………….2200 psi
11………..722 (report got louder — 4.5)
12………..707………………….2000 psi
13………..694
14………..683
15………..664………………….1600 psi
Discussion 1
We just learned a lot about this rifle. First, there is no real power curve. Fill it to 3,600 psi and you get 9 to 11 good shots with more-or-less steadily declining velocity. The distance at which you shoot determines the pressure at which you have to stop, because if you continue to shoot your groups will elongate as the pellets start dropping lower and lower.
Why doesn't this rifle perform like the .22 Aspen I tested late last year? That one reached optimum power at 2,000 psi when set on high power. The short version is the valve is not optimized for .25 caliber. It doesn't hold or pass enough air for the larger caliber. Like most of the PCPs from Korea, it just uses all the air that's available on every shot. The .22 rifle has a power curve that peaks at a much lower pressure, which means the valve has a performance envelope, rather than running wide open. This is neither bad nor good — it's just how the .25 caliber rifle performs.
Power
We don't have an average velocity for the first string of shots, but if I pick 760 f.p.s. arbitrarily, the 27.8-grain Benjamin pellet develops 35.66 foot-pounds at the muzzle. A heavier pellet will develop even more power, as this is a pneumatic, and pneumatics favor heavy pellets. That gives you a rough idea of the power you can expect. For comparison, the .22 developed just over 29 foot-pounds with a heavy pellet on high power.
Back to 3600 psi
Okay, it's time to test the rifle on low power. And remember, the two power settings are absolute on this rifle. There is no in-between. Before I can test it again I have to fill the reservoir back to 3600 psi.
It took 25 pump strokes to go from 1600 psi to 2300 psi. Another 25 pump strokes took the reservoir from 2300 psi to 3,000 psi. And another 25 pump strokes took it up to 3600 psi. That's 75 pump strokes to go from 1600 psi to 3600 psi, which is 2,000 psi of air. Or, looking at the string above, that's 75 pump strokes for 15 shots, which is 5 strokes per shot. This .25 caliber Aspen uses a lot of air per shot and is probably better-suited to filling from a tank than by the built-in pump — at least for shots fired on high power.
Test 2
Test 2 uses the same test conditions as Test 1, except the rifle is now set on low power.
Shot………Vel……….remaining pressure after the shot
1…………577 (report is quiet — 2)
2…………574
3…………574
4…………567………………….3300 psi
5…………565
6…………570
7…………564
8…………567………………….3000 psi
9…………561
10………..561
11………..559………………….2800 psi
12………..560
13………..552
14………..551
15………..548………………….2500 psi
16………..549
17………..545
18………..538
19………..531………………….2200 psi
20………..528
21………..522
22………..516
23………..509………………….1900 psi
24………..504
24………..493(still quiet)..…….1700 psi
Discussion 2
This string was more puzzling than the first. We see almost the same drop in velocity as the high-power string, only this one takes longer to unfold. I didn't expect that. I thought there would be a rise in velocity that would peak at some lower pressure, but instead the velocity just fell straight off like it did on high power. It just took longer to fall. You could argue that there are about 17 good shots when the rifle is set on low power, compared to the 9 to 11 on high.
Power on low
It's easier to pick a velocity from the low power sting. I'll take 565 f.p.s. At that velocity the .25-caliber Benjamin dome generates 19.71 foot pounds at the muzzle, which is respectable. The .22 rifle generated just over 18 foot-pounds on low power when shooting a heavy Kodiak pellet. That's close to the .25, but remember that the .25 is shooting a medium-weight pellet in today's test. A heavier pellet would gain another foot-pound at least.
Pumping effort
At the start of today's tests it felt like the pumping effort was greater for this rifle than it was for the .22, so I pumped the gun back to 3100 psi and then pumped 11 more times. That copied the test I did with the .22 rifle that took 30 pounds of effort. I then measured the effort required for pump number 11 at 33 pounds. However, as I pumped it this time, it felt like the pump was breaking in and getting both smoother and easier. I bet with a few hundred more strokes on it this pump will be the same as the other one.
Trigger pull
The trigger is a definite 2-stage affair as the rifle came from the box. Stage one is short and takes 6 oz. Stage 2 is reasonably crisp and breaks at 3 lbs. 1 oz. The .22 trigger was single stage and missing its return spring. It broke at 3 lbs. 3 oz.
I adjusted the trigger to break at 1 lb. 15 oz. There is a hint of creep in the second stage pull that signals reaching the break point. That makes this trigger very predictable. Stage one is now just a little looseness in the trigger blade, with no more adjustment possible, so I think that is also where the two-stage trigger went on the .22.
Summary
At this point I'm going to tell you that the Seneca in .25 should be treated like a PCP and not a multi-pump. Too much work is required to refill it after just a few shots have been fired. That gave me a great idea about how to test the .22 as a PCP, which has been one of the holdups.
Once again I will say that the Seneca seems like an ideal way to break into the world of precharged airguns. You may want to treat the .25 as more of a PCP and less of a multi-pump because of the amount of air it uses, but the same convenience of having the pump built in is still yours. I sure hope it's accurate!