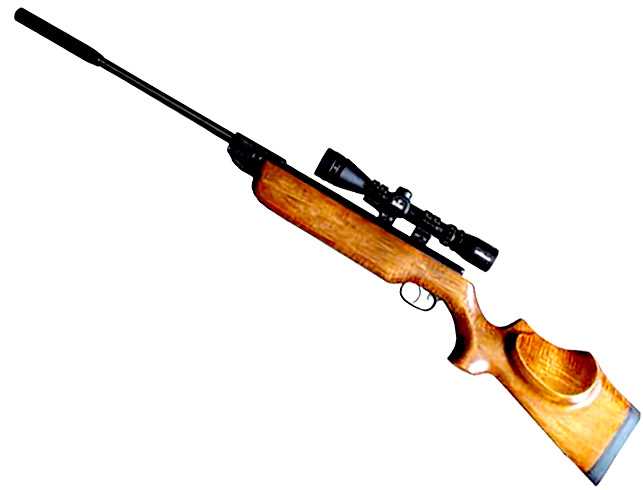 Beeman R8 Tyrolean.
This report covers:
History
Back to the present
The scope
Today's test
Group 1
Group 2
Group 3
Tightened the pivot bolt
Adjusted the scope
Group 4
Getting nowhere
Group 5
Adjusted the scope
Group 6
So, what?
Hold your horses!
Today I start a very special 2-day report. I have a lot to say and it will take two reports to get through all of it. I'm starting a series on a vintage breakbarrel air rifle — a Beeman R8 that's been customized.
History
This rifle was gifted to me in 2010 after I got home from a 3-1/2-month stay in two different hospitals. We didn't know if I would ever come home and when I did I was extremely weak. I was fed through a tube in my left arm for three months, during which I went from 314 lbs. (the first hospital punctured my diaphragm, so they filled me full of steroids that bulked me up) to 174 lbs — a journey in itself.
I returned home in June and on June 25 I started the report on this rifle. On July 2 I did a Part 2 velocity test and learned how wonderful this rifle is. It cocked with 25 lbs. effort and was as smooth as any spring-piston air rifle I own save the TX200 Mark III with the Tony Leach 22mm piston tune. Now, let's read a bit of that 2010 report.
The Beeman R8 was imported and sold by Beeman from 1983 through 1997. I had no idea it was that old or lasted so long until I looked it up in the new Blue Book of Airguns, 8th Edition. It was made only in .177 and produced 720 f.p.s. — presumably with lightweight pellets. I believe it was a kissing cousin of the Weihrauch HW50 of the day (that rifle is still being sold, but it's not the same gun as it was back then). The R8 had Beeman R1 styling, which meant checkering on the pistol grip, a stock that extended to the end of the base block and a sharp contour to the cheekpiece. At 7.1 lbs., it was a slightly bigger brother to the Beeman R7.
As you can see from the picture, my R8 isn't 100 percent stock. In fact, it was extensively re-worked. Besides the Tyrolean stock, which I'll address in a moment, the action has Maccari internals. It was tuned for smoothness but still has a powerful mainspring. The spring guide and top hat are custom, and the compression tube was burnished with moly for slickness. The piston seal is a Wasp.
The stock is Tyrolean but with an important difference. It's been thinned and canted to the left (which makes the cheekpiece cant slightly to the right) to align the shooter's eye with the scope. Often, the deeply cupped cheekpiece pushes your head to the left, making acquisition of the sight a chore, but this one comes up almost like an upland shotgun. That and the flat buttpad will help when benching the rifle. This rifle was created specifically for offhand mini-sniping.
Maccari supplied the shaped, high-grade, curly maple stock that was then reduced in thickness, sanded and stained with nitric acid to enhance the figure in the wood. Eight coats of Permalyn were applied, then sanded and waxed to give the luster you see here.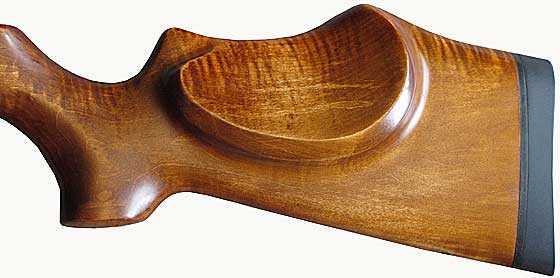 The Maccari-made R8 Tyrolean buttstock is a thing of beauty.
The butt was thinned to keep the shooter's face aligned with the scope. It's also canted to the left. The pistol grip has a palm swell on the right side.
Back to the present
So Pyramyd AIR has come out with this SubMOA Challenge and after Friday's report I thought I'd show you how hard it really is. I wanted to shoot a springer at 25 yards, so the centers of all five of my shots had to be less than a quarter-inch apart. That SubMOA card looks really large at the top of Friday's report. Let's now see how large it really is.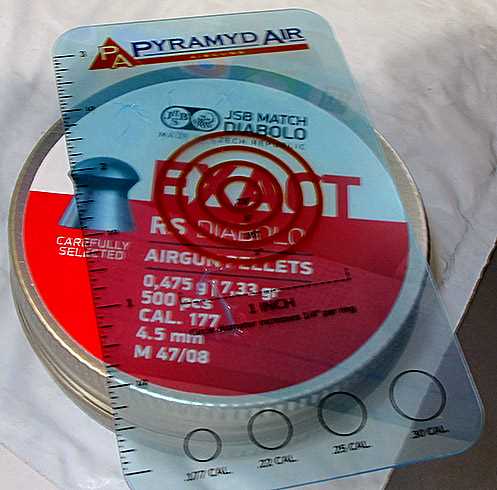 The SubMOA card isn't so large when you see it on top of a tin of pellets.
The scope
When I received this rifle it had a Burris Timberline 4.5-14X32 scope. Over the course of time I needed that scope for a couple other tests so it wasn't on the rifle anymore. I wanted to mount a Meopta MeoSport 3-15X50 on this rifle, but the Meopta bases for that scope have two crossbars and cannot be used with the UTG Weaver to 11mm adaptor, which is the only Weaver to 11mm adaptor I know of. Those Meopta scope mounts are peculiar to that one scope because they have the line on the ring that aligns with the line on the underside of the scope.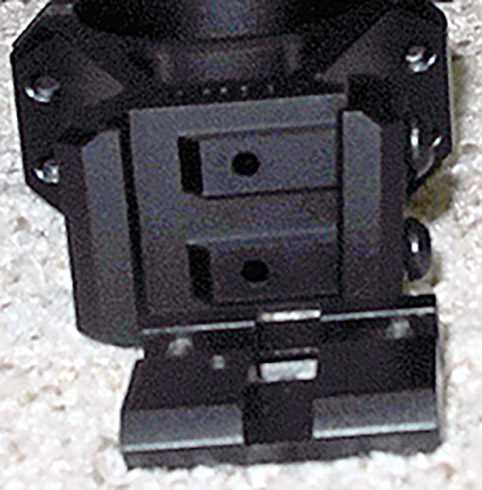 The base of the proprietary Meopta scope ring has two Picatinny crossbars while the UTG adaptor that converts it to 11mm has only one slot. The Meopta mounts cannot use this adaptor.
So I mounted a Hawke 4-14X42 Sidewinder scope on the rifle. I thought one 4.5-14 is like another 4.5-14. Right? However, I later realized that the Meopta scope mounts don't have to be used. Any 30mm scope rings will work. I'll come back to that.

The 3-15 Meopta MeoSport on top and the Hawke 4.5-14 below. The shorter Meopta gives a broader range of positioning options.
Back in 2010 this rifle was very accurate. It put five JSB Exact RS pellets into a 0.217-inch group at 25 yards.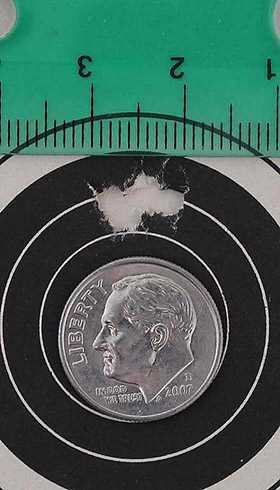 Back in 2010 the R8 Tyrolean put five JSB Exact RS pellets into this 0.217-inch group at 25 yards.
Yes, that is a sub minute of angle group. See how small it is next to the dime? That is what you have to do to enter the SubMOA Challenge. And if this rifle could do it then it should be able to do it today — right?
Today's test
Today I will shoot just one pellet — the .177-caliber JSB Exact RS that did so well in this rifle twelve years ago. And I will shoot five-shot groups because that is the requirement for the SubMOA Challenge.
Sight-in consisted of two shots at 12 feet, followed by a shot at 10 meters. Then I backed up to 25 yards and shot once more. I was in the bullseye, but not in the center so my aim point was preserved.
I rested the rifle directly on the sandbag with the entire forearm resting on the bag.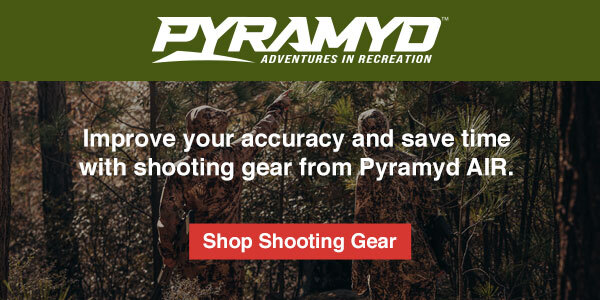 Group 1
The first group was five pellets in 0.308 inches, center-to-center, at 25 yards. It's a good group but not sub MOA.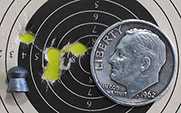 The first group of JSB RS pellets the R8 shot at 25 yards were five in 0.308-inches, center-to-center.
Group 2
The second group looked smaller to my eye but when I measured it, it was 0.33-inches between centers.

The second group measures 0.33-inches between centers at 25 yards. At the time it looked like the smallest group.
Remember — I'm only shooting JSB Exact RS pellets. After the second group I moved the forearm of the rifle forward in the sandbag (by bringing the sandbag back) until my shooting hand was lodged in the end of the bag.
Group 3
The third group measures 0.458-inches between centers. Ouch! There were no shots that were called as pulled.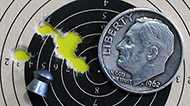 The R8 put five JSB RS pellets in 0.458-inches at 25 yards.
Tightened the pivot bolt
At this point I noticed that the barrel pivot bolt was so loose that the barrel would not remain in position after the rifle was cocked. That's too loose and can lead to inaccuracy, so I tightened it.
Adjusted the scope
I adjusted the scope down by 4 clicks before the next group. I also slid the sandbag forward to rest the forearm on just the tip.
Group 4
This time five JSB RS pellets went into 0.37-inches at 25 yards. So we're back to where we started.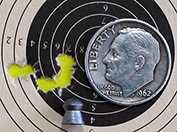 The R8 put five JSB RS pellets into a 0.37-inch group at 25 yards.
Getting nowhere
At this point in the test I realized I was getting nowhere. This rifle that had been a tackdriver twelve years ago was now just a good plinker. Are you starting to see how hard it is to shoot a quarter-inch group at 25 yards? What I thought was the best group thus far wasn't even close.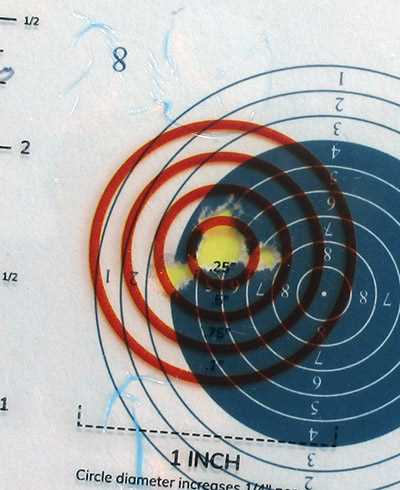 What I had thought was the best group so far wasn't close to a quarter inch — to say nothing of being even smaller.
I didn't change anything for the next group. I just hoped I would settle down and fly right.
Group 5
I have no explanation for this group. Like I said I changed nothing from the last group and yet I said, "HUH?" when I look at the target. Five shots went into 0.551-inches at 25 yards. I wish I could tell you it is the worst group of the test, but hold on. We're not there yet.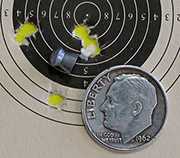 Five JSB pellets are in a very open 0.551-inch group at 25 yards.
Adjusted the scope
For the next group that is the last group I will show you today I adjusted the scope 6 clicks to the right. You know what they say about crazy people.
Group 6
In this last group, five JSB pellets went into 0.769-inches at 25 yards. The first three pellets are in 0.108-inches and then pellet four opens the group to 0.334-inches as it wanders over to the right. The last pellet opened the group to 0.769-inches.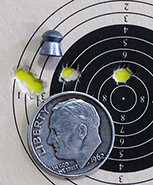 Five shots in 0.769-inches at 25 yards.
Ladies and gentlemen — I give you scope stiction! That is a classic example of that malady. And THAT, my friends, tells BB what's happening. He has shot too long and has lost his concentration AND this scope is adjusted too high and right to hold a group. At least that is my story.
I did shoot one more group but it was no better. I will shoot a second test tomorrow — with a different scope. This time BB will use the scope he wanted to test all along — the smaller Meopta MeoSport 3-15X50 shown in the photo above.
So, what?
As of the time that I am writing this on Saturday I have not mounted the other scope on the rifle. Will accuracy improve? I don't know. I am letting you all peek behind the curtain to watch me as I go through the same stuff I tell you to do.
Hold your horses!
Before you fly off on a tangent and try to solve the universe's problems let's consider that the first four groups I showed you are not that bad for 25 yards. They seem bad when compared to what I did back in 2010, but this is still an accurate air rifle. I'm just letting you look over my shoulder while I attempt to do something that is very difficult to do — shoot a quarter-inch group at 25 yards with a springer. Let's remember that!