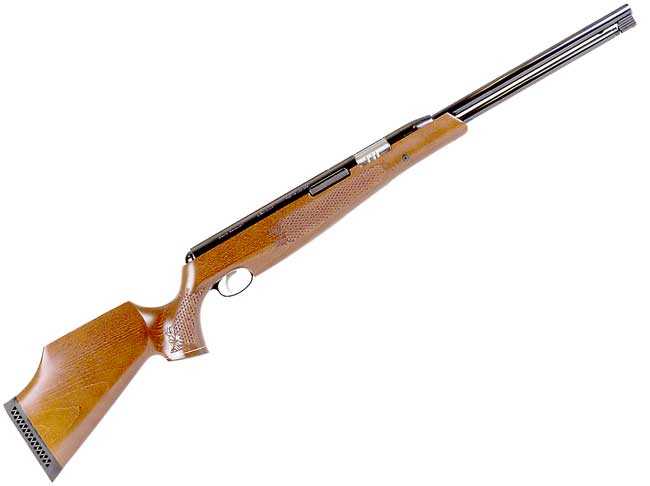 The TX200-MkIII is a legendary underlever spring-piston air rifle.
Part 1
Part 2
Part 3
Part 4
Part 5
Part 6
Part 7
This report covers:
The test
Oh, oh!
Bushing
JSB Exact 8.44-grain
RWS Superdomes
RWS Superpoint
Finish with the Air Arms 8.44-grain
Discussion
Summary
Today is pretty special. It's one day shy of the one year anniversary of the last time BB tested his TX200 Mark III that's been tuned with the Tony Leach kit! Today is a fun day — a BB day.
The test
Today I tested the TX200 Mark III with the Tony Leach kit installed (thank you, readers Gary S. and Bulldawg) once again from a sandbag rest at 25 yards. I shot 10-shot groups with each of four pellets. Two were pellets I knew were good and two were new.
You may not remember but my TX200 is now tuned to be almost recoilless. That's what Tony Leach's kit does. You decrease velocity (from 929 f.p.s. down to 767 f.p.s.) for this performance. The trigger is now adjusted to a 9.7 ounce pull.
There were no called pulls in any of today's tests. The rifle was extremely stable.
Oh, oh!
I was looking forward to this test as proof of the Tony Leach kit. Could it survive a year in the rifle without being fired?
When I tried to cock the rifle for the first shot, though, the cocking arm stopped in mid-stroke. The rifle wouldn't cock. Not even close. Something was wrong! Had the Leach kit failed in some miserable and irreparable way? Oh well, at least I would get a report from tearing the gun apart and making whatever repairs were necessary — if I could find the fault and if I didn't need parts I didn't have!
I took the rifle out to my workbench, popped off the Meopta scope (UTG — thank you for those PRO 30MM rings — the spring action of the clamping jaws in their bases made dismounting and remounting the scope a less-than-one-minute drill) and I disassembled the rifle to the point that the mainspring was out. And that's when I found it.
Bushing
The front bearing on the Tony Leach sliding compression chamber had risen proud of the TX spring tube and was stopping the chamber in mid-stroke. It's a split ring bearing that makes installation onto the sliding chamber possible and the open ends were out of the spring tube allowing for a slight expansion. I didn't need to disassemble the rifle at all or even to remove the scope, but I did.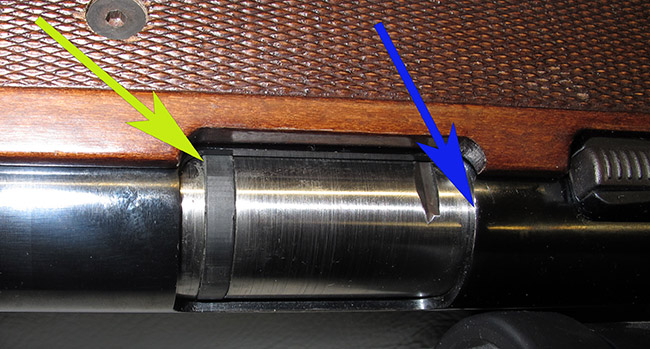 The bearing (yellow arrow) on the front of the Leach sliding compression chamber is split for installation and it rose up above the tolerance permitted by the TX spring tube ( blue arrow), stopping the chamber in mid-slide. Rotating the split so it was contained in the spring tube rather than being exposed, scrunched the bearing back to the correct size.
The entire problem, including disassembly and de-scoping then remounting the scope, took 20 minutes. The TX200 is a marvel of modularity and the UTG PRO mounts made the scope come off and go back on with ease. Because of that I got back to shooting for accuracy very quickly.
JSB Exact 8.44-grain
The first pellet I test for accuracy was the JSB Exact 8.44-grain dome. They did so well a year ago, putting 10 shots into a 25-yard group measuring 0.218-inches. But on this day I had already had my coffee and done several other things, so I wasn't as calm as I should have been for an accuracy test.
I had dismounted and remounted the scope, so I expected the zero to be off. But the TX is very stable and the PRO scope mounts are very precise, so I figured I'd only be off by a little — maybe 2 inches at 25 yards. The first shot landed 2.5-inches away from my aim point and in just two more shots I was back in the bull where I wanted to be.
This group should have been tight. There were no called pulls or defective pellets, but this time 10 pellets went into a 25-yard group measuring 0.436-inches between centers. Since the Meopta MeoPro Optika5 4-20X50 RD BDC3 scope is so clear I could almost see the pellets in flight. I did use the illuminated central dot to see the aim point.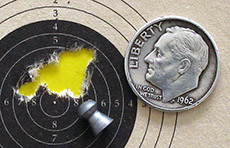 Ten JSB Exact 8.44-grain pellets made a 0.436-inch group between the two farthest centers at 25 yards.
On the other hand, realize that I am complaining about a 10-shot 25-yard group that most other spring rifles would praised for shooting! This rifle is legendary.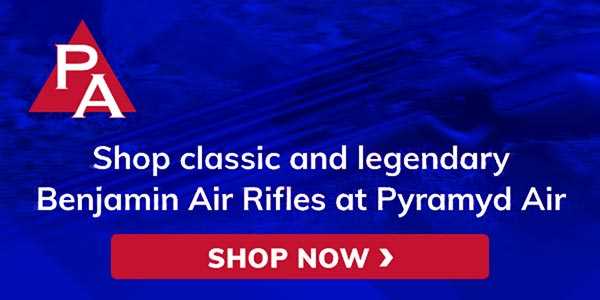 RWS Superdomes
The second pellet I tried was the first new pellet used with this Leach kit — an RWS Superdome. Ten of them went into 0.552-inches at 25 yards and, while that's not that bad for springers in general, for this rifle it is.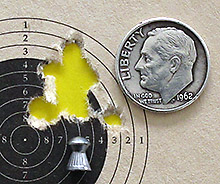 The TX 200 put 10 RWSW Superdome pellets into a 0.552-inch group at 25 yards.
RWS Superpoint
The next pellet I tried was the RWS Superpoint. Why? Because, like Superdomes, I have sometimes found that Superpoints are surprisingly accurate. Not in this rifle though. Ten Superpoints made a 1.041-inch group at 25 yards.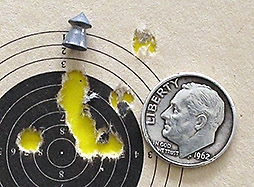 Ten RWS Superpoints made a 1.041-inch group at 25 yards. It's the largest group of the test.
Finish with the Air Arms 8.44-grain
The last pellet I shot was the 8.44-grain dome from Air Arms. These look like the JSB 8.44-grainers and they are even made by JSB, but in every test I have ever done they have performed differently, if ever-so-slightly. Maybe that's a mental bias of mine (it probably is) but maybe it's real; I don't know. In Part 7 ten pellets made a 0.28-inch group, but today they were the most accurate pellet. Ten went into 0.255-inches at 25 yards.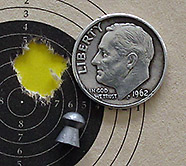 Air Arms 8.44-grain domes were the best in the TX200 today. Ten made a very round 0.28-inch group at 25 yards.
Discussion
I shot the TX200 Mark III today just because I wanted to. Also I did want to see how the Tony Leach kit stood up over time.
I tried two RWS pellets that turned out not to work well, but that's what these tests are for. You don't know what you don't know until you know; you know?
Will I come back to this rifle again? I want to. I'm just looking for a good reason.
Summary
The Air Arms TX 200 Mark III is hands-down the finest spring-piston air rifle in the world. I have turned it with an aftermarket kit that's altered its personality to become a smooth-shooting target rifle, though the standard TX doesn't have that far to go. Should I next install the factory parts and test it again?