Today reader Roamin Greco tells us about his sojourn with a Diana 24J. He will tell you that he thinks he is unworthy to write a guest blog. I will tell you that he isn't — those are the best kind!
If you'd like to write a guest post for this blog, please email me at blogger@pyramydair.com.
Take it away, Roamin Greco
Roamin Greco's Wrestling Match with a RWS Diana Model 24 J
|by Roamin Greco


RWS Diana model 24J.
This report covers:
First guest blog
Specifications—The Weigh-In
Condition and Initial Cleanup — Sizing up my Opponent
Trigger Troubles—Round 1 goes to Diana
Adjusting the Trigger—Round 2 goes to Roamin' Greco
The Final Round? Probably not, but everybody wins!
Post-match Wrap-Up
First guest blog
This is my first guest blog, so allow me to introduce myself by blatantly stealing a line from fellow reader, RidgeRunner: Hi, my user name is Roamin' Greco, and I'm addicted to airguns. Like some of you, and perhaps many of you, I had a multi-pump BB/pellet rifle as a kid. I learned to shoot with a Crosman 760 (when Crosman was a Coleman company).
Around age 12, I graduated to powder burners for hunting with Dad (shotguns for small game and centerfire rifles for deer) and a .22 rimfire for pest control and plinking. I had forgotten all about airguns until a couple of years ago, when I decided that an airgun was the best way to teach my kids about proper gun safety and handling. That rekindled my interest in airguns, and that interest has grown into a hobby, and now practically an obsession. Here I am writing a guest blog!
Of course, part of being an airgun addict is having a wishlist of airguns that one wants to shoot and experience that is much longer than one's budget for airgun purchases can handle. Currently, I'm interested in, among other things, vintage springers, especially the Winchester-branded Dianas from the late 1960s and early '70s, so I have been trolling around on the airgun classified ads and a few auction sites looking for deals. While there, I have noticed a lot of folks paying more than I think something is worth, but there have been a few who have walked away with extremely good bargains (usually while I was too busy at work). I started thinking that if I saw a great deal, I could buy an interesting airgun at a very low price, play around with it for a while, perhaps make a few simple repairs, polish it up a bit, and then sell it and at least cover my costs of the airgun, shipping, and taxes. That way, I would get the experience of that airgun essentially for free. Well, I recently lucked into an auction of 3 airguns in a single lot. One of those airguns turned out to be a model that I had never heard of before — an RWS Diana Model 24 J. I don't believe B.B. has ever reviewed that particular model [I haven't], and I have not been able to find much information about it. But now that I have one, I would like to tell you all about it.
Specifications—The Weigh-In
The RWS Diana Model 24 J is a classic, spring piston, break-barrel air rifle, in 0.177 caliber (4.5 mm). This one was manufactured in December of 1987. It is 37-1/8 inches (94.3 cm) long overall, with a 13-11/32 inch (33.9 cm) barrel and a 12-5/8 inch (32.1 cm) length of pull, measured from the center of the butt to the deepest part of the curve of the trigger. It weighs in at a svelte 5 pounds, 2.5 ounces (2.43 Kg). It has a removable, hooded front sight clamped to a dovetail that is parallel to the barrel. The front sight post within that hood comes to a triangular point.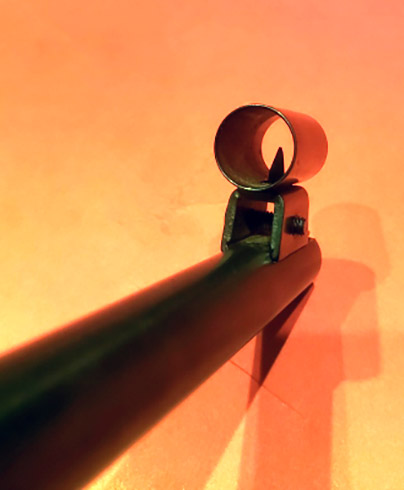 The front sight reminds me of a picket from a fence.
The rear sight is metal with a plate that can rotate to give you a choice of four rear sight notches. It is fully adjustable for windage and elevation.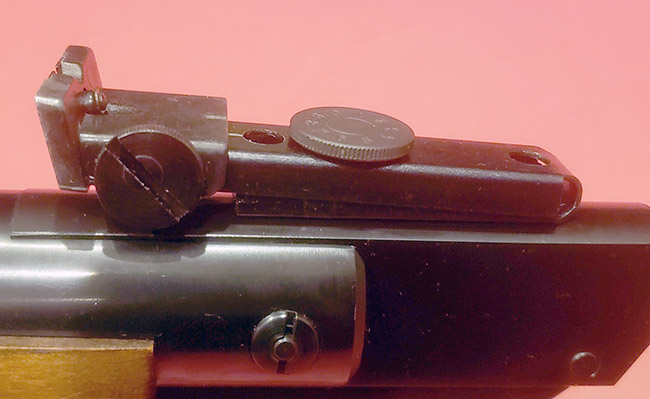 The rear sight is all metal, except for a few, hidden plastic parts. Even the windage and elevation knobs are metal!
The spring tube also sports a modern Diana scope rail with the characteristic Diana grooved top and the rear screw that sticks up, inviting the uninformed to use it as a scope stop pin. Just don't do it! Instead, research this blog on how to mount a scope on a Diana, and avoid shearing that screw head off. Interestingly, my gun does not have the famous Diana trademark: the image of the ancient Greek goddess of the hunt, Artemis (known to the Romans as Diana), dropping her bow and arrow in favor of an airgun. Instead, it simply has a large, circular RWS trademark stamped into the spring tube, along with the word DIANA and Model 24 with a J below it.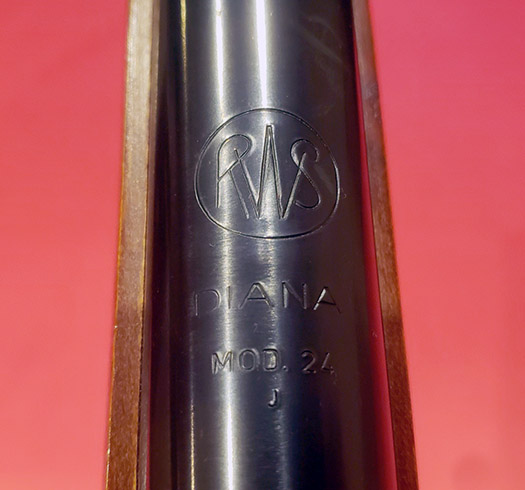 The famous Diana trademark is absent!
The stock is the traditional, dark brown hardwood, but I think a prior owner may have shortened it. The butt is not evenly perpendicular to the rest of the stock — it has a slight bevel making the left side a bit shorter than the right, and there are no characteristic grooves in the butt and no rubber buttons to hold the gun upright in the corner. The barrel is held in place with a ball bearing detent. The breech seal is a black synthetic O-ring, and I presume that the piston seal is also synthetic.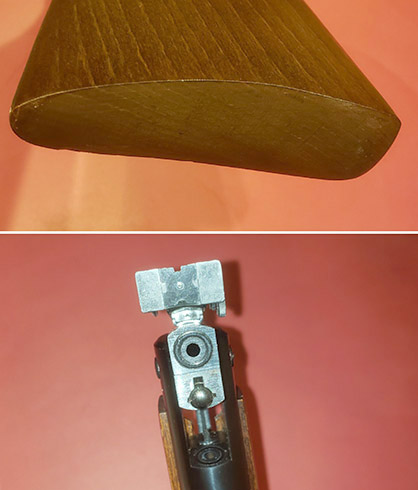 The suspiciously smooth buttstock and the breech, showing the breech seal and the ball bearing detent.
While I could not find much information on this specific model, I did find an exploded parts diagram online that had a handy inset showing the difference between the D model trigger, and some of the newer Diana triggers, including the T01 and the T02, T03, and T04 versions. This Model 24 J's trigger seems to be the same as the D trigger in the linked diagram. Therefore, I believe my Model 24 J has a ball bearing sear. The trigger is very adjustable with two adjustment screws. However, a word of caution: the trigger's adjustment screws do not behave like B.B. reported on his Diana Model 27. I will explain in more detail after the next section. If any of you have a Diana Model 24 D, I think that this J model would be identical except for its shorter barrel and stock. I would be interested to know if I am right.
Condition and Initial Cleanup — Sizing up my Opponent
Fortunately, the 24 J was in decent shape. There were only a few small areas of surface rust and quite a bit of grime. I took off the stock and gave all the exposed metal and wood a good rubdown with a rag sprayed with Ballistol. A relatively well-preserved gun emerged. I noticed the rear portion of the rear sight was flopping up and down a bit. An e-clip was missing from the tip of the windage adjustment screw, and a detent was missing from under the windage adjustment dial. It may also have a tension spring missing. I took apart the rear sight and found a shiny, silver-colored strip of metal that seemed to be the culprit of the floppiness. A bit of gentle bending with my small needle-nosed pliers increased the tension against the floppy rear section. I was able to locate a tiny e-clip for the windage screw, but I will need a small ball bearing or other part to act as a detent for the windage adjustment dial. In the end, I may need to get a replacement rear sight. If anyone out there has a Diana with a similar rear sight, I would love some close-up pictures of how it is put together underneath, especially what acts as a detent for the windage adjustment dial. Here is what this rear sight looks like: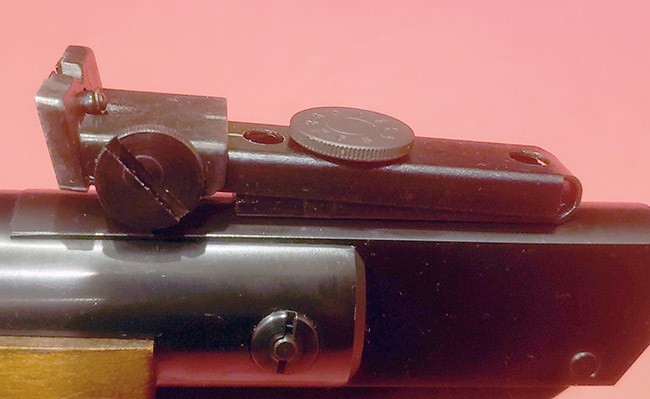 The rear sight.
I have not built myself a mainspring compressor (yet), so I didn't delve too far inside the gun. After removing the end cap, I did not see any corrosion or crud inside the mainspring cylinder, and I resisted the temptation to inject the mainspring with Tune-in-a-Tube until after taking a few test shots. I also don't have an easy way to measure the weight of the trigger pull (yet).
Trigger Troubles—Round 1 goes to Diana
Here is where I had to eat a slice of humble pie. Reading a sizable portion of the past installments of this blog and a few other airgun forum posts, apparently has not made me an airgun guru. It makes me just knowledgeable enough to be dangerous. I saw those two little trigger adjustment screws and immediately thought, "I read about this in B.B.'s blog on the Diana 27. I know what to do!" I loosened that front screw a few turns, crammed down the rear screw all the way and then loosened it back out two full turns, and then crammed down that front screw. I then prepared to cock the gun and experience my fabulous and expert trigger adjustment.
Except, the gun would not cock! Did I just break it? "Okay," I said to myself, "you got this! Just loosen the screws again and see what happens." I loosened the front and rear screws a good bit, and then I broke the barrel and pulled it down. Hooray! The gun cocked. Then I held the barrel securely with my left hand, flipped off the safety, and pulled the trigger, intending to ride the spring tension slowly back up and thus de-cock the rifle.
No dice! The plastic trigger would not budge. Now I really broke it, I thought. So I started munching on my humble pie, and mulled things over. Well, if I didn't know what to do, certainly my fellow airgun addicts and our fearless leader, the Great Enabler, will. Unfortunately, no one could come up with a manual for a Diana Model 24 J or 24 D. I noticed that this trigger is similar to the trigger in B.B.'s Diana Model 26 D, but that trigger was already adjusted so nicely, that B.B. never touched it. So, no shortcuts for Roamin' Greco. Well, what is the purpose of this blog if not to share my meager knowledge and give back to B.B. and this group who have given me so much enjoyment over the last couple of years? I got myself into this mess, I needed to get myself back out, and then report back to all of you.
[Editor's note: This is why this guest blog is important! I certainly don't know how to adjust the trigger on this model. I didn't even know this model existed. Diana doesn't have instructions on their website. This guest blog may be the best set of instructions in the world on how to adjust the Diana 24J trigger.]
Luckily, the Model 24 does not have a spring strong enough to induce nose-bleeds. This is a relatively mild-mannered rifle. Although dry-firing a spring-piston airgun is generally something to be avoided, I figured one or two dry fires would not be overly harmful, so after checking the barrel for obstructions and finding none, I slowly started tightening the trigger adjustment screws again. First the front screw and then the rear until I judged them to be about 4 or 5 turns away from all the way in. Now I grabbed the barrel, broke the action open until I felt tension against the main spring, flipped off the safety, and pulled the trigger.
Hooray! I was able to de-cock the rifle! Whew, what a relief! But now it was time to unravel the mysteries of those two trigger adjustment screws.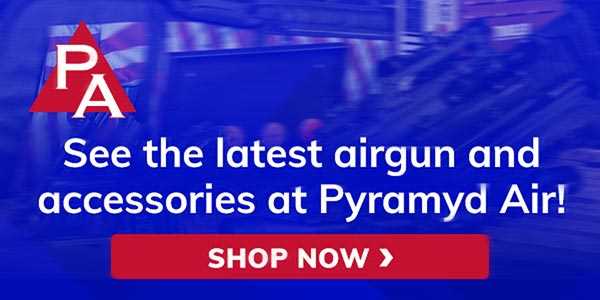 Adjusting the Trigger—Round 2 goes to Roamin' Greco
Here is another word of caution for you overly curious types out there: don't do this if you can't accept the risk of an accidental discharge, or if your walls are not covered with steel plates or boxes full of rubber mulch. I accept no responsibility for your actions. I'm just relating what I did. I am not recommending what you should or shouldn't do.
Guns of any sort are dangerous, and tinkering with a trigger could easily cause the gun to fire when you least expect it. With that disclaimer out of the way, please read on, to learn how I know about such surprises. You will also see that in some cases, the sear was tripped by pulling the trigger, even when the gun was on safe! I decided to get a notepad and record each turn of each screw, step by step, so I could retrace my steps back to a safe place if I needed to.
I started under the assumption that B.B.'s Diana 27 trigger adjustment procedure was still the correct method for this model, but that perhaps the procedure needed an extra turn or two, here or there. Assuming the front screw was a lock screw, I loosened the front screw a good bit, perhaps 5 turns out from all the way in. Then I screwed the rear screw all the way in. At this point, the rifle would not cock. After loosening the rear screw three whole turns, the rifle finally cocked. Looking for the exact spot where the rifle would not cock, I turned the rear screw in ¼ of a turn. The rifle cocked, but curiously, the safety was not engaging. Pulling the trigger, even with the safety on, still released the sear. Well, that was no good. So I loosened the rear screw one full turn. Now we we're cookin'! The rifle cocked, the safety engaged, and three firm raps of the butt of the rifle on a carpeted concrete basement floor did not cause the gun to fire, either with the safety on or off. Feeling very accomplished, I began screwing the front screw down to "lock" down the rear screw adjustment. After about two turns in….
POW! The gun fired! I had forgotten to de-cock the rifle after finally getting it to cock properly. I shudder to think if the barrel had been broken open and then snapped shut, bending the barrel, or worse, if there had been a pellet or other obstruction in the barrel. We now know with certainty that the front screw on a Diana spring-piston rifle with this D-type trigger is NOT a locking screw. Without tearing apart the entire trigger mechanism, I wondered whether that front screw was meant to partially move the trigger mechanism, perhaps a first stage adjustment, and whether the rear screw was meant to complete the movement and release the sear, perhaps a second stage adjustment. At least, that was my new working theory. If true, I needed to find a balance between the front and rear screw to get the trigger behavior that I liked. From the spot where the gun fired, it took 3-1/4 more turns to screw the front screw all the way in. At this point, the gun wouldn't cock anymore. Hey, maybe I was on to something.
I loosened the front screw 3-1/2 turns (1/4 turn more than the spot where it fired) and found I was able to cock the gun again. I pulled out my Pyramyd Air SubMOA Challenge Card. It is clear plastic, and it has a handy little ruler along the side, and it's flexible. I held that in my right palm while I grabbed the pistol grip and lined up the zero inches line with the back of the trigger blade. Then, holding the broken-open barrel with my left hand, I was able to pull the trigger, re-cock, flip off the safety with my thumb, and pull the trigger again a few times until I could come up with the following measurements: 1/32-inch (0.8 mm) first stage travel, 1/32-inch (0.8 mm) second stage travel, and 3/32-inch (2.4 mm) overtravel. Not great, but also not the worst trigger I have pulled. I proceeded to loosen the front screw three full turns, measuring at each full turn with no changes to the trigger pull. I was starting to wonder if the front screw did much at all, but then I decided to see what would happen if I gave the rear screw some attention.
I loosened the rear screw one full turn. How odd! The trigger pull suddenly felt like it was dragging through a very fine grit for 3/32-inch (2.4 mm) and then the sear suddenly released, with no second stage, and then another 3/32-inch (2.4 mm) of overtravel. Yuck!
Loosening the rear screw another full turn brought back 1/16-inch (1.6 mm) of first stage, 1/16-inch (1.6 mm) of gritty second stage, and 1/16-inch (1.6 mm) of overtravel. I noticed that the front and rear screws were about even. I wondered what would happen if the front screw was turned in further than the rear screw.
Tightening the front screw back in one full turn yielded a 3/32-inch (2.4 mm) first stage, 1/16-inch (1.6 mm) second stage, which was smooth again, and 1/32-inch (0.8 mm) of overtravel. I could live with that, but for the sake of your inquiring minds (and mine), I wanted to see if things would continue to improve.
I turned the front screw in another full turn and found the first stage became a long 1/8-inch (3.2 mm) with a 1/32-inch (0.8 mm) second stage, and with 1/32-inch (0.8 mm) of overtravel. This was getting very interesting. On the Diana 27, B.B. described the trigger pull as a long first stage and a short and crisp second stage. Could I mimic that and minimize the overtravel?
Turning the front screw in a half turn made the second stage disappear again. Phooey! The first stage traveled smoothy for 3/32-inch (2.4 mm) and then the sear released with very little effort and no warning, and then there was 1/16-inch (1.6 mm) of overtravel. That trigger release seemed awfully light to me, but rapping the butt of the rifle on the carpeted concrete floor did not cause the sear to slip. Another 1/2 turn in on the front screw shortened the first stage to a very light, smooth 1/16-inch (1.6 mm) pull to the sear release, and then 3/32-inch (2.4 mm) of overtravel. Again, no second stage. One last 1/2 turn in on the front screw and now the trigger broke with the safety on! No thanks!
I then unscrewed the rear screw 1/2 turn, but the trigger still broke with the safety on. I began unscrewing the front screw again, and as I did, the first stage grew from nothing to 1/8-inch (3.2mm) with no discernible second stage, and the overtravel shrank from 1/8-inch (3.2 mm) to 1/32-inch (0.8 mm). This was getting interesting again.
I then unscrewed the front screw a final 1/2 turn, and EUREKA! (A Greek word, meaning, "I found it") there you go. I had a 9/64-inch first stage (just over 1/8-inch or 3.6 mm), followed by a firm stop to begin the second stage, which was only 1/64-inch (0.4 mm) at a slightly higher effort, and virtually no discernible overtravel. That's about perfect for me.
For those who haven't been keeping score, that is a total of 6-1/4 turns out for the rear screw and 5 turns out for the front screw. I think my theory is sound. Hey, I'm smarter than I look! NOT!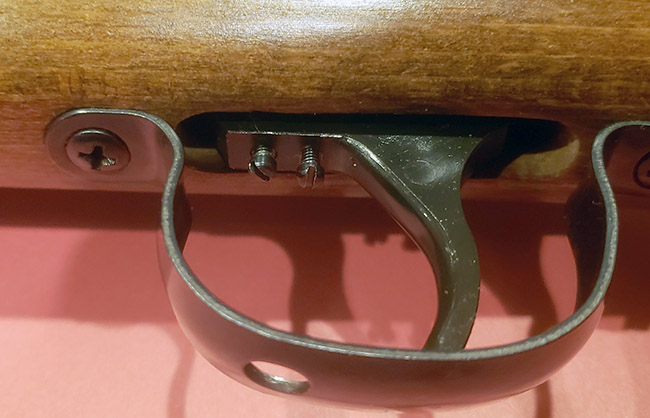 Here's where my trigger adjustments ended up. Note the trigger adjustment screws go through the trigger blade itself, unlike on the Diana 27.
The Final Round? Probably not, but everybody wins!
All that tinkering around with the trigger would pay off as you will soon see. Since the rear sight was off the gun and disassembled, waiting for me to locate the right size e-clip, I took the rear peep sight from my daughter's Beeman AR2078, which has more than enough clearance for that pesky little screw head that peeks up like Kilroy from the rear of the scope rail. I proceeded to shoot groups with a variety of pellets, and I am pleased to report that the Model 24 J proved to be not pellet picky, making satisfyingly round one-hole groups. She seemed to like the artillery hold best, with the gun's balancing point in my open palm, near the rear of the cocking slot, and the back of my hand on a sandbag.
Although I have not tried every possible hold, this one seemed to work well with a variety of pellets, so I stayed with it. Everything else was held very lightly with my right thumb up and away from the pistol grip. Here are the results from my 10-yard basement range, 10 shots per group (unless otherwise noted), in descending order of group size:
H&N Excite Plinking, 7.48 gr.: 0.6715" Center to Center (5 shots);
Air Arms Diabolo Field, 4.51 mm heads, 8.4 gr.: 0.4960" CTC;
H&N Match Green (lead-free alloy), 5.25 gr.: 0.4530" CTC;
JSB Match Diabolo Lightweights, 7.72 gr.: 0.4470" CTC;
H&N Sport, 8.18 gr.: 0.4250" CTC (9 shots into 0.3525" CTC);
Air Arms Diabolo Field, 4.52 mm heads, 8.4 gr.: 0.4170" CTC;
RWS Superdome, 8.3 gr.: 0.4120" CTC;
JSB Match Diabolo S100 Heavyweight, 8.26 gr.: 0.3910 CTC;
Air Arms Falcons, 7.33 gr.: 0.3865" CTC;
Predator GTO Wadcutter (lead-free alloy), 5.5 gr.: 0.3815" CTC;
JSB Exact Express Diabolo, 7.87 gr.: 03650" CTC;
RWS R10 Match Pistol, 7.0 gr.: 0.3555" CTC;
RWS R10 Match Rifle, 8.2 gr.: 0.3450" CTC;
Air Arms Diabolo Express, 7.87 gr.: 0.3430 CTC;
JSB Exact RS Diabolo, 7.33 gr.: 0.3280" CTC;
RWS Meisterkugeln Rifle, 8.2 gr., 4.50 mm heads: 0.3265" CTC;
H&N Excite Econ II, 7.4 gr.: 0.3030" CTC (I love it when the cheapies can beat out some of the more expensive pellets);
RWS Meisterkugeln Pistol, 7.0 gr., 4.49 mm heads: 0.3010" CTC;
SIG Match Pb, 7.71 gr.: 0.2900" CTC.
JSB SCHaK, 8.02 gr.: 0.2285" CTC.
If there are any other pellets you would like me to test, let me know. If I have them, I'll give them a try.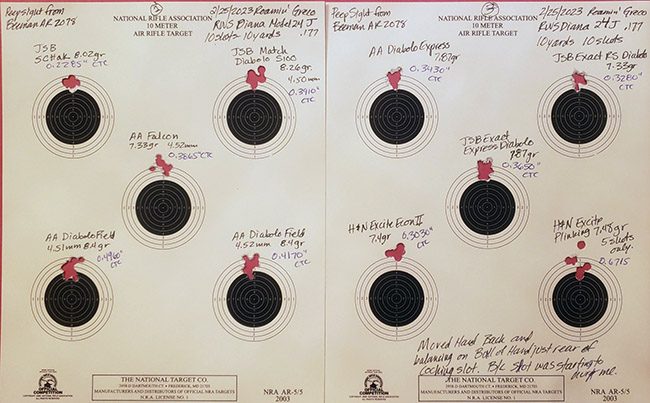 Here's a sample of a couple of my target sheets. This gun likes to shoot! And I'm happy to oblige.
Post-match Wrap-Up
For plinking, the stock sights are great, but for target shooting in the basement over the winter, this level of accuracy deserves an upgraded front sight with interchangeable inserts, like a rectangular post or aperture front sight, or a small scope, like a Bug Buster. Groups may get even smaller. In the meantime, I will strip off some black insulation from some 12-gauge household electrical wire, and slide a small piece over the triangle front sight. From behind the peep, that will look like a solid black rectangle about the width of the bullseye at 10 yards, mimicking a post sight. Another reader uses heat-shrink tubing for this purpose.
I plan on cleaning the barrel with J&B Non-embedding Bore Cleaning Compound and then re-testing some of the above pellets along with some other pellets in my inventory, perhaps some more domed pellets. I will also re-measure the trigger-pull stages to see if things are staying consistent.
The shot cycle is very calm and quiet, no buzz, just a pulse in my hands as the shot is fired. After several hundred shots, the peep sight did not move at all. I will simply lightly oil the mainspring and leave well enough alone. If it ain't broke…don't fix it.
This little rifle is certainly growing on me! Although the short barrel offers less leverage and probably makes it harder to cock than a standard size Model 24, it's not difficult. However, I'm not sure if this is the best gun for little kids because the increased cocking effort will soon tire them, and that's when they resort to unsafe gyrations to cock the gun. But for middle schoolers, it might be just right. Remember though, that I think this particular gun's stock looked as if it was cut down slightly, so it is hard to know for sure how much longer the original length of pull was. I found one entry in the Airgun Warriors forum that seemed to indicate that it would have the same length of pull as a vintage Diana 27, but with a better pistol grip that won't pinch your fingers against the back of the trigger guard. I would agree with the latter. The Model 24 J was comfortable to hold. My shooting sessions were long and enjoyable.
At the end of the day, the RWS Diana Model 24 J is not as refined as say, my Beeman R7 (HW 30S), but this Diana isn't as pellet picky, either. Overall, this Diana 24 J is a feisty contender who doesn't let her short stature keep her down.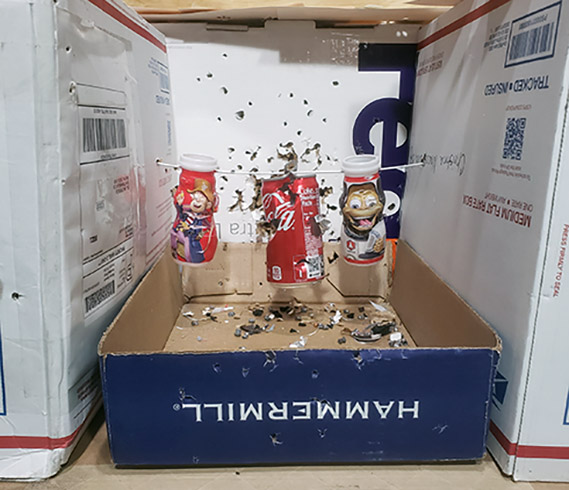 The Model 24 J makes for a devastating plinker!
Sorry for the long read, but thank you for letting me share this little beauty with you.