Item Description
HK-2279042-KIT [PY-3005-5820]
H&K 416 AEG Airsoft Rifle Kit, Black

Inclues Rifle, Safety Glasses and 5,000 BB's
Included:
Metal high-capacity magazine, gun sling, cleaning rod, manual, 650 mAH 7.2V NiMH battery, 9V 150mA battery charger (4 hrs charge time), safety glasses and 5,000 BB's.
This product is out of stock.
Estimated in-stock date 11-09-2020.
Place your order now for delivery priority!
Service Plans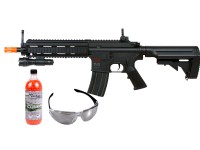 5.0
H&K 416 AEG Tactical Airsoft Rifle Kit, Black
10-for-$10 Test!
2-Year Service Contract - only $45.00
1-Year Service Contract - only $25.00