by Tom Gaylord, a.k.a. B.B. Pelletier
Benjamin Marauder .177-caliber air rifle: Part 1
Part 2
Secrets of loading the Benjamin Marauder magazine
Part 3
Part 4
Part 5
Part 6
Fixing a Marauder magazine
Part 7
Benjamin Marauder .25 caliber: Part 1
Benjamin Marauder .25 caliber: Part 2
Part 3
Part 4
Benjamin Marauder .22 repeater with synthetic stock: Part 1
Benjamin Marauder .22 repeater with synthetic stock: Part 2
Benjamin Marauder .22 repeater with synthetic stock: Part 3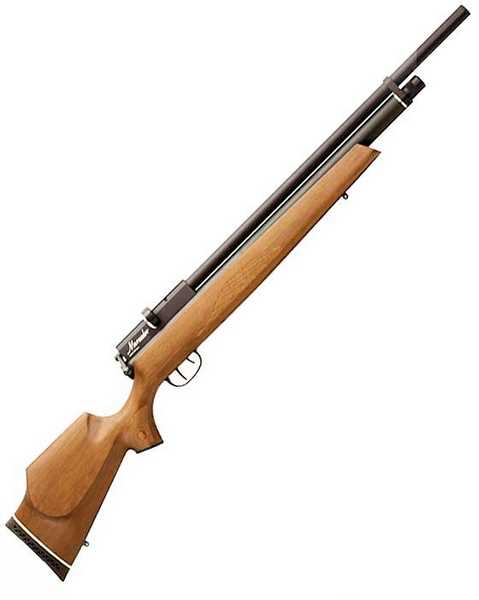 Benjamin Marauder .177.
Today, I'm doing an accuracy test of the .177-caliber Benjamin Marauder at 50 yards because I forgot to do it when we were looking at that rifle back in the summer of 2013. I'm inserting it in between the tests of the .22-caliber Benjamin Marauder with synthetic stock and will go back and make a notation in the original Part 6 of the .177 rifle test that alerts readers to this omission and links to this test. The next report after this will be the first accuracy test of the synthetic-stocked Marauder. I apologize for any confusion this has caused, but I didn't want to overlook this test.
First, let's focus on what we're doing today — the 50-yard accuracy test of the .177-caliber Benjamin Marauder. This test was conducted outdoors last week at my rifle range.
The day was cold with a light but swirling breeze that had to be waited out for every shot. I selected the two pellets that I knew to be the most accurate at 25 yards (see Part 6). That simplified things a lot since I already knew these were both good pellets. I could afford the extra time to wait for the wind to calm down before taking the shots.
The rifle was sighted for 25 yards from before; so unless the scope had been moved since August, I expected the pellets to be low and centered on the target. That's exactly where they landed, so the gun was ready to go.
Crosman Premier lites
The first group was shot with Crosman Premier lites — the most accurate pellet at 25 yards. The first group was very horizontal, indicating that I didn't do a good job of waiting out the wind. The problem was the variability of the wind. If there was wind where I was seated, there would be none at the target, or vice-versa. The wind was swirling on the range this day, which is the hardest kind of wind to predict.
The first 10 shots landed in a group measuring 2.051 inches between centers. You will note a lone hole on the left and the other 9 are closer to each other. Those 9 measure 1.218 inches between centers. I do feel the wind is the cause of this spread because this rifle has not shown any tendency to string horizontally before now.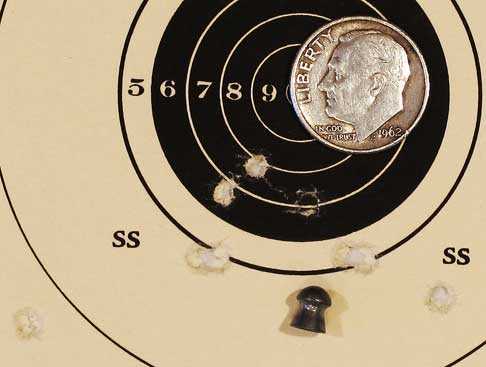 Ten Crosman Premier lites made this very horizontal group at 50 yards. The group measures 2.051 inches between centers, but 9 of the shots measure 1.218 inches between centers.
I felt I could certainly do better than that if I waited out the wind better. So, a second group was shot without adjusting the scope. This group measures 0.957 inches between centers, and is more like what I'd expected. You can see that it's still somewhat horizontal, however. I think the rifle is capable of even better groups under better conditions, but putting 10 shots into less than one inch at 50 yards is never to be sneezed at!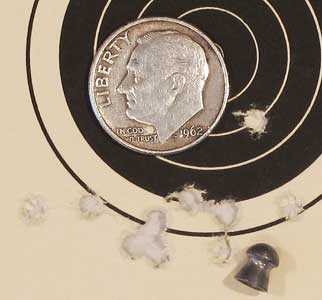 That's more like it! These 10 Premier lites made a much better group that measured 0.957 inches between centers. But the wind is still an influence because this group is also horizontal.
What about heavy pellets?
Okay, if the wind is a problem, won't heavier pellets solve it? It was worth a try. The most accurate heavy pellets in this rifle are the JSB Exact Monsters. They weigh 13.4 grains, which is edging into the middleweight sector for .22-caliber pellets.
Because of their weight, I expected these pellets to strike the target a lot lower than the Premier lites, and I wasn't disappointed. They landed 3 inches below the aim point, where the Premier lites were hitting about .75 inches low. Despite their weight, I still waited for the wind to die down between shots. Ten pellets went into a group measuring 1.434 inches between centers. Compare that to what the Premiers did. You can see that, even though they're much lighter, the Premiers are still better. But this group isn't as horizontal, so they do seem to buck the wind.

Ten JSB Exact Monsters made a 1.434-inch group at 50 yards. While it's not a terrible group, it isn't a great one, either. But it's less horizontal than either of the two Premier lite groups.
It seems that Premier lites are still the fairest in the land — at least of the pellets used in this test. Remember, these were selected from all the pellets tested at closer distances, so they're among the most accurate in this rifle.
Overall evaluation
The day was far from ideal for long-range shooting. But, still, it does represent what can be done with a .177 Benjamin Marauder under these conditions. This is the last time I'll review this .177 Marauder, but I believe you've seen enough to make a choice.
The Benjamin Marauder is a landmark air rifle that has forced the rest of the airgun world to sit up and take notice. It offers more solid features than the best European PCPs, but at a fraction of the cost.
by Tom Gaylord, a.k.a. B.B. Pelletier
Part 1
Part 2
Secrets of loading the Benjamin Marauder magazine
Part 3
Part 4
Part 5
Part 6
Fixing a Marauder magazine
Part 7
This report is an emotional one for me. The last time I tried to report on the .25-caliber Benjamin Marauder, I became very ill and it took me two years to complete the test. In fact, I never did complete the test myself because I was in the hospital part of the time. My buddy, Mac, drove from his home in Maryland to Texas to test airguns for me so he could bank a lot of data and pictures that allowed me to write my blogs from a hospital bed. Mac is now gone, and I'm starting all over again with this rifle.
I'm revisiting the .25-caliber Marauder because I never really got to test it properly the first time. Also because having tested the .177 Marauder, I felt this big gun needed to be reported at the same time. You see, Marauders are good sellers at Pyramyd Air, and several blog readers asked for this specific report.
There's one more reason for testing this particular Marauder. It's an entirely different rifle than the .177 we've been testing. Yes, all the controls work the same on both rifles and the external dimensions are the same, but a .25-caliber pellet changes the very nature of the rifle in the same way that a one-ton pickup truck differs from a compact truck from the same manufacturer. The .25 Marauder is a BIG air rifle! Big in terms of the magazine and the hole at the end of the barrel. So, this isn't the quiet little sniper rifle we've come to know. This is a hunting air rifle.
I linked to the recent tests of the .177 Marauder simply because I won't be covering all of the same ground here that I already covered there. This report will cover new ground.
The lauan stock
We are fortunate to have a test rifle with the much-maligned lauan wood stock. It may be made from lauan…I don't know, but I've read so many bad remarks about this stock that I was shocked to realize that this test rifle has one. Shocked because it isn't bad at all! It has a nice plain grain. It feels lighter than the beech stock on the earlier .177-caliber Marauder we've been looking at, and it's shaped just as nicely. The checkered areas have grown smaller on the new stock, but the cheekpiece still rolls to both sides of the butt, making this an almost fully ambidextrous rifle. Only the location of the bolt handle, which cannot be changed, favors right-handers over southpaws.
By the way, another name for lauan wood is Philippine mahogany. I've seen this wood used in furniture, and it doesn't receive such a bad rap. It's a hardwood, but it grows fast enough to be a renewable source of wood for many markets, including plywood products. I think the bad reputation comes from the fact that lauan is often used to skin low-quality hollow-core interior doors. People see that these doors can't stand up to outside environments, and they think it's because of the wood used in them. But lauan is not especially weak when used by itself.
I do find this wood to be thirstier than beech when I rubbed the stock down with Ballistol. So far, it's soaking into the pores quite fast, leaving a dry, matte surface behind.
The test rifle has no scope mounted, so I'm taking the opportunity to install a new UTG 6-24X56 AO Accushot SWAT scope that Leapers sent for me to test. I'll give you a separate report on the scope, so I'll just mention it for now. The scope comes with 30mm rings that have Weaver bases, and the Marauder scope rail is for 11mm bases; fortunately, I also have a set of UTG Weaver-to-11mm or 3/8″ dovetail adapters that allow Weaver rings to fit on 11mm rails, so these rings will fit.
Power and setup
I can tell you right now that this Marauder rifle is shooting in the 38-40 foot-pound region, so it's a proper thumper! I know that from the last set of tests Mac ran in 2010. But I plan to run the tests all over, just as if I never tested the gun at all. I probably won't tune the rifle to shoot with less power or at a lower maximum fill pressure because we've already seen how that goes in the test of the .177 Marauder. I do plan to adjust the trigger to be as nice as the one on the .177 rifle, but I doubt I'll say much about that because it's ground we've already covered.
The rifle is set up to work with slightly less than 3,000 psi right now, and I don't see changing that. I'll confirm what the max pressure is, and only if it's several hundred pounds below 3,000 will I make any adjustments.
Accuracy
The accuracy test is where I plan on spending most of my time. There are so few accurate .25-caliber pellets, so I'll do some comparison testing with several pellets at 25 yards. The best pellets from that test will make it to the 50-yard test. I'll modify my 25-yard test to include more pellets than I normally shoot because the world of .25-caliber pellets is so small that we really can't afford to overlook a possible good one.
.22 caliber Marauder
While I test the .25-caliber rifle, I'm awaiting the arrival of the new Marauder with synthetic stock. I hope to get one of those in .22 caliber, which will give me my first chance to test this rifle in that caliber, as well as testing the new configuration stock and the altered trigger.
The rifle
The rifle I'm now testing is 3 years old and was made in .25 caliber from the beginning. The magazine is therefore much thicker than one made for a .22-caliber or .177-caliber rifle. Instead of holding 10 pellets like the 2 smaller calibers, the .25 caliber magazine holds 8.
The rifle's remaining dimensions and specifications are the same as those of the smaller-caliber Marauders. The overall weight will vary with the density of the wood in the stock, but this new wood seems to be less dense than what was used in the past.
When I picked up the test rifle, I noticed that it's still holding a charge of air. The last time it was shot was in April 2012, so how's that for holding a charge?
So, sit back and relax. There's a lot more Marauder coming your way!
by Tom Gaylord, a.k.a. B.B. Pelletier
Part 1
Part 2
Secrets of loading the Benjamin Marauder magazine
Part 3
Part 4
Part 5
Part 6
Fixing a Marauder magazine
Today, we'll adjust the Benjamin Marauder PCP air rifle to accept a lower maximum fill pressure and still deliver about the same velocity as before. Before we get into the report, let's consider for a moment what we're about to do. As far as I know, the Marauder is the only PCP on the market that allows this kind of adjustment to be made. A great many PCPs have adjustable power, and indeed, the Marauder's adjustment process for power has been sharply criticized on the internet…mostly by people who don't appreciate how it works in conjunction with this other adjustment that's unique to this rifle.
Most other PCPs adjust their power by changing the tension on the striker spring. The Marauder does it by reducing the airflow through the transfer port. What you get from that is far more control over the adjustment, plus it allows for the other adjustment — the one we're about to do today. And the Marauder is the only PCP on the market with this facility. Criticizing how it works is akin to criticizing a thoroughbred horse because there's dirt stuck to one of its hooves! At least that's my opinion.
Why adjust the maximum fill pressure?
This is such a unique feature that a lot of readers who are not yet shooting precharged airguns must be asking why anyone would want to adjust the level of the fill pressure in a gun. Let me make a quick analogy, then I will explain it in detail. Imagine you own a sports car that operates on premium gasoline. There are a lot of cars like that, but your car is very special because it has a switch on the dashboard that allows you to adjust the engine to operate perfectly on low-octane gasoline. It won't go as far on a gallon, but it will go just as fast. That's the equivalent of what the Marauder gives you with this fill-pressure adjustment.
Anyone who uses a hand pump to fill their rifle will appreciate the ability to reduce the maximum fill pressure from 3,000 psi to something lower. Hand pumps become hard to operate somewhere above 2,000 psi. For me, it happens around 2,500 psi, but it's different for every person. If I can reduce the maximum fill pressure from 3,000 psi to 2,500 psi and still get a reasonable number of shots, I'm golden. Sure, I won't get quite as many good shots (remember that my definition of a good shot is one that stays within about a 30 f.p.s. band of velocity) at 2,500 psi as I would at 3,000 psi; but if I can still get a decent number, that's all I want.
Reason No. 2 for wanting this feature is the person who lives 25 miles away from the closest dive shop and only owns one 3,000 psi scuba tank. They'll get only one complete fill from a freshly filled scuba tank and then the rest of the fills will be less than full. But if they could lower their rifle's max fill to just 2,500 psi, imagine how many more full fills they'll get from the same scuba tank.
I'm conducting this test exclusively with Crosman Premier lite pellets, as I want a super-accurate pellet and this one has been proven in past testing. I also know that if this pellet goes around 955 f.p.s., it'll be most accurate.
Let's go!
I told you that I'd talked to Crosman and gotten some good advice about what I'm about to do. That advice follows. There are 2 separate adjustments we will be making today, and we may also have to adjust the airflow (power adjustment) like we did before. That's a possible 3 adjustments in all. The manual reads like you can make just one adjustment or the other and get what you want, but Crosman told me not to do it that way. I'll be adjusting both the striker spring tension and the length of the striker stroke. And, by the way, the Crosman manual uses the terms hammer and striker interchangeably, but I'll use just the term striker today since that's what it really is. A hammer is pivoted on an axle, while a striker travels in a straight line.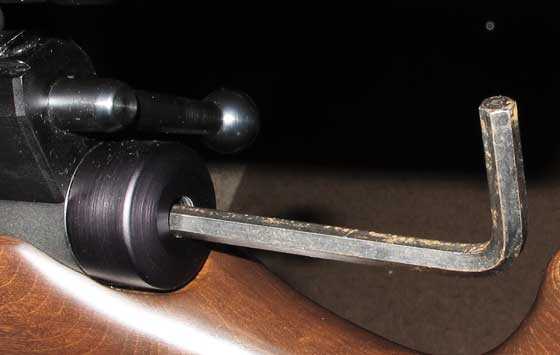 Both the striker spring tension adjustment and the striker stroke length adjustment are accessed through a hole at the back of the receiver. This 1/4-inch Allen wrench adjusts the striker spring tension (out, for less tension). This screw is hollow to allow a 1/8-inch Allen wrench to pass through to the striker stroke length adjustment screw (in, for a shorter striker stroke).
We know at the start of this procedure that the rifle accepts a fill pressure of 3,000 psi and gets about 32 good shots (within 30 f.p.s.) before needing a fresh fill. The average velocity is currently 955 f.p.s.
I want to adjust the gun to accept a maximum fill pressure of about 2,500 psi and keep roughly the same velocity. Then, I'll count the number of good shots I get with that fill pressure and we'll see if it's worth changing the gun this way.
Adjustment first
I turned the striker spring tension 2.5 turns out (taking tension off the striker spring), filled the rifle to 2,500 psi and started shooting.
Shot—Velocity
1—926
2—930
3—927
4—924
5—924
6—920
7—919
8—918
9—910
10—913
11—916
12—912
13—911
14—911
After these shots, I could tell the rifle wasn't going to shoot any faster, so I decided to adjust the power screw. That's the screw located on the right side of the receiver. I backed it out 1/3 turn, bringing the rifle back to the original power adjustment position, but that was back before I'd adjusted the striker spring tension. I knew the gun should get faster at this setting, but I hoped it wouldn't go all the way back to the 1,020 f.p.s. average it was initially.
Then, I filled the rifle to 2,500 psi and started testing it again.
1—989
2—991
3—994
4—993
5—991
This was a bit too fast, so I wanted to dial back some of the power. Instead of the power screw, I was now adjusting the striker spring tension and the striker stroke length.
Striker stroke turned in 1/4 turn (lowers velocity).
6—992
7—994
Striker stroke turned in 1/4 turn (lowers velocity).
8—993
9—988
Striker stroke turned in 1/4 turn (lowers velocity).
10—987
11—987
Striker stroke turned in 1/2 turn (lowers velocity)
12—984
13—982
Striker stroke turned in 1/2 turn (lowers velocity).
14—977
15—975
Striker stroke turned in 1/2 turn (lowers velocity).
16—966
17—975
Striker stroke turned in 1/4 turn (lowers velocity).
18—968
19—974
Striker stroke turned in 1/2 turn (lowers velocity).
20—958
21—958
22—971
23—967
24—970
Striker stroke turned in 1/2 turn (lowers velocity).
25—959
I'll stop here and discuss what happened. If you add up the adjustments to the striker stroke screw, you'll see I've adjusted it in 3-1/2 turns at this time. That makes the length of the striker stroke shorter, which allows the valve to open and close in a shorter amount of time. Less air gets out.
I'm pretty confident that the maximum fill pressure is now considerably lower than 3,000 psi. To test that, I filled the reservoir to 2,800 psi and started shooting.
Shot—Velocity
1—799
2—851
3—859
4—871
5—878
6—866
7—882
8—891
9—896
10—902
Okay, since the velocity is rising, it's obvious that 2,800 psi was too high a fill pressure. The rifle is probably now near the max fill pressure range we wanted. That's a guess that will have to be tested.
Shot—Velocity
11—900
12—895
13—914
14—917
15—922
16—923
17—931
18—934
19—919
20—932 (2,000 psi end pressure)
At this time, I stopped and refilled the gun to 2,500 psi. It was at 2,000 psi after shot No. 20, so I'm pretty sure the power's peaked at this point. I now adjust the striker spring tension in by 1/4 turn. That puts more tension on the spring, and the valve gets hit harder.
Shot—Velocity
1—901
2 904
That's not enough of a power increase. So I turned the striker spring tension in another 1/4 turn.
3—905
4—914
That's still way less velocity than I wanted to see. I backed out the striker stroke length screw 1/2 turn, making the striker stroke longer.
5—928
6—939
7—949 (first shot on the power curve)
Now the velocity appears to be up where I'd hoped to get it. I'll continue to shoot this string, not filling the gun since the last 2,500 psi fill.
8—956
9—950
10—956
11—961
12—962
13—960
14—967
15—960
16—959
17—965
18—965
19—963
20—964
21—964
22—964
23—960
24—958
25—958
26—958
27—954
28—953
29—952
30—949
31—949
32—950
33—946 (off the power curve)
34—936
There were 26 shots that ranged between 949 f.p.s. and 967 f.p.s. The total spread was 18 f.p.s. That's a lot tighter than the 30 f.p.s. I talked about at the beginning of this report, but the power seems to be dropping off pretty fast. But the question is: Are we at the target fill pressure yet?
To learn that, I filled the gun to 2,500 psi and shot the following:
Shot—Velocity
1—969
2—957
3—952
So 2,500 psi works fine. I then refilled the gun to 2,600 psi and shot the following:
Shot—Velocity
1—937
2—934
3—949
I have narrowed it down to the point that 2,500 psi is okay and 2,600 psi is a little too much. That's it for me. The rifle is where I wanted to get it.
I now have a rifle that gets an average velocity of 955-958 f.p.s. with Crosman Premier lites and gets 26 good shots on a 2,500 psi fill. If I fill to 2,500 psi and shoot just two full magazines, I know I'll get all my shots at the most accurate velocity this rifle is capable of producing with this pellet.
By adjusting the maximum fill pressure back to 2,500 psi, we lose 6 good shots (compared to the 32 good shots it got with a 3,000 psi fill) but are able to remain at exactly the same power level as before. If a person wanted to fill to a lower pressure, this seems like an effective way of doing it.
This entire procedure took me about 3 hours to complete, and I would say I was somewhat lucky — though I did some things that helped my luck by adjusting both the striker stroke and the striker spring tension instead of trying to do it all with just one or the other. I also turned up the power screw at one point because I could see the rifle needed a little more air to get up to the velocity I was seeking.
Will you be this lucky? You may be if you follow the procedure I've explained here. I can't guarantee that you'll be, but I do know the way I did it is the way Crosman recommends.
by Tom Gaylord, a.k.a. B.B. Pelletier
Part 1
Part 2
Secrets of loading the Benjamin Marauder magazine
Part 3
Part 4
Part 5
Today, I'm going to attempt to correct the accuracy problem I created in the last report, where I reduced the average velocity from 1015 f.p.s. to 886 f.p.s. in the Benjamin Marauder while testing with Crosman Premier 7.9-grain pellets. The best group at the higher speed was 10 shots in 0.285 inches, center to center, at 25 yards; but at the new lower velocity, the best group was only 0.397 inches between centers. I was hoping to get approximately the same group size — around 10 shots into 0.30 inches at 25 yards at the lower velocity. When that didn't happen, I had a decision to make. Should I continue with the other things I wanted to do, or should I fix this one first? I decided to do what I would have done had I not been testing the rifle for a blog, but just for myself. I decided to get the accuracy back on line.
Once again, I removed the barreled action from the stock and got access to the power adjustment screw on the right side of the receiver. To see where this is, read Part 4 of this report.
I turned the power screw another 1/3 turn counterclockwise, bringing the total adjustment to 2 full turns out from all the way in. Remember that when we began this test, I discovered that the power screw was adjusted 2-1/3 turns out, so we are now 1/3 turn shy of that.
Then, I fired 10 Crosman Premier lites. I was concerned that the first shots might not be up on the power curve because we found in Part 4 that the first 2 shots were below the desired speed when the rifle was filled to 3,000 psi. Here are the shots as they occurred:
Shot   Vel.
1……..955
2……..951
3……..955
4……..957
5……..960*
6……..955
7……..954
8……..955
9……..956
10……950**
*Fastest shot
**Slowest shot
Average velocity 955 f.p.s.
It seems like I hit the desired velocity on the first try. I locked the power screw and put the action back into the stock. I had now fired 10 shots on this fill; and from all the previous testing, I knew there were at least 20 more good shots available — and probably several more. I decided to shoot 2 groups of 10 shots each at 25 yards.
Group 1
The first group from 25 yards put 10 pellets into 0.268 inches. That's slightly smaller than the best group at the highest velocity. Of course, I didn't know that while I was shooting, so I continued to shoot group 2.

Ten Crosman Premier lites went into this 0.268-inch group at 25 yards. It's well-centered and just high enough to miss the aim point on the target.
Group 2
Group 2 is larger than group 1. It measures 0.327 inches between centers. In light of group 1, however, I feel this is not so bad. I had larger groups at the higher power, too.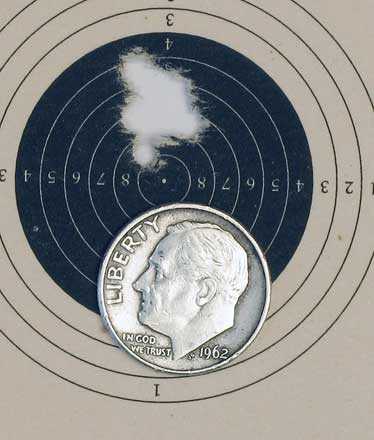 Ten Crosman Premier lites went into this 0.327-inch group at 25 yards. It's also well-centered and a little more vertical than the first group.
What if…
After shooting the second group, I thought about the reader comments I might get when I published this report. Comments like, "Why did you stop after group 2? Are you sure the rifle wouldn't continue to shoot good groups, even though after 30 shots it will probably fall off the power curve at some point?" So, I shot a third group just to see what would happen. Those 10 shots went into 0.416 inches.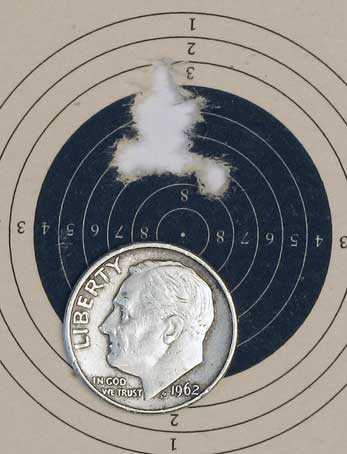 Ten Crosman Premier lites went into this 0.416-inch group at 25 yards. I feel fairly certain that some of these shots toward the end were off the optimum power curve.
At no time during this shooting were any shots called pulls. All shots went off with the crosshairs on the 10-ring (dot) of the target as they should have been. All pellets were straight from the box with no sorting of any kind. So this test was conducted exactly as I would shoot the rifle at any given time.
I now feel the gun is shooting as I want it to. The next step will be to adjust the fill pressure level so the rifle can be filled to a lower pressure and still operate at this velocity. I'll probably have to adjust the power screw again as I adjust the rest of the firing mechanism to keep the gun shooting at this velocity. The purpose of that exercise will be to see how many good shots are in a string at a lower fill pressure and to see if it's worthwhile to lower the fill pressure.
Shot counter
One last thing before I end this report. I haven't yet commented on the shot counter that's built into the Marauder magazine, but it's there and it really works well. I haven't ever used shot counters like this in the past because I've always found them clunky and difficult to see.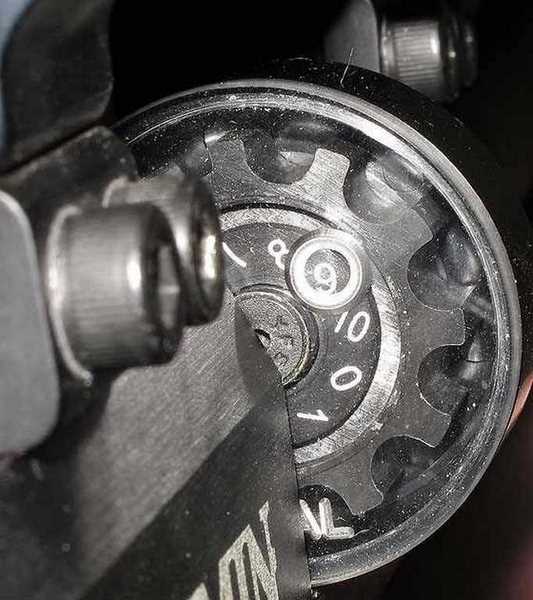 The shot counter is a circular window on the right side of the magazine — the side that sticks out away from the rifle. The number in the circle indicates the number of pellets that have been moved from the magazine into the breech of the barrel. It doesn't tell you if that shot has been fired yet, but you should know that.
by Tom Gaylord, a.k.a. B.B. Pelletier
Part 1
Part 2
Secrets of loading the Benjamin Marauder magazine
Part 3
Part 4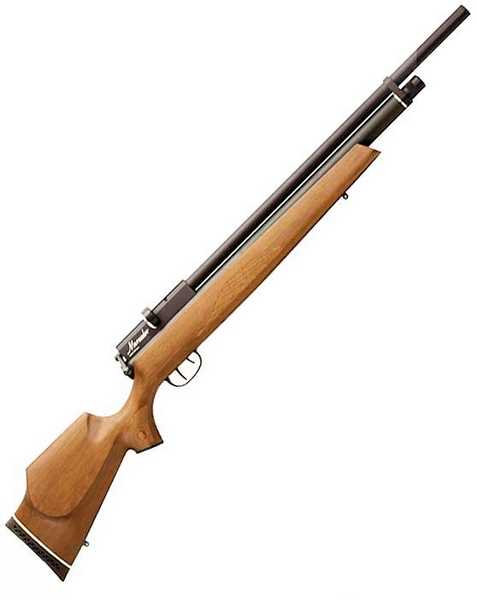 Benjamin Marauder
Before I begin today's report, I have some news about Leapers' scopes for blog reader Kevin. He wondered what the status was on the new Bug Buster scopes with the thinner reticle lines, so I asked Leapers for an update on that plus a couple other scopes that will be coming out soon. The new Bug Buster is apparently coming to market very soon. It's impossible to say for sure exactly when, but the next 60 days sounds about right. Leapers will be sending me a sample to test for you, so I'll do a report on it. But I also learned that they have several full-sized scopes that have parallax correction down to 5 yards. That's almost in the Bug Buster range. They're sending me some samples right now, and I'll report on them for you.
The scout scope with the 11-inch eye relief is due to hit the market some time in September. This is a scope for your pneumatics, like the Benjamin 392, but it'll also be ideal for Mosin Nagants and some lever-action centerfire rifles.
The bubble level scope is expected out around the Christmas holiday timeframe. This is the one I've been waiting for because it should be a long-range shooter's dream. I'll have more as I test the scopes they're sending. Now, to today's report.
This will be especially important to those who are new to precharged airguns and are trying to understand how to adjust their rifles for optimum performance. It should clear up some things for you about velocity, accuracy and tuning a PCP.
In the third report, I shot the Benjamin Marauder for accuracy at 25 yards. I shot 8 different premium pellets to see if 1 or 2 of them stood out. One did — the Crosman Premier 7.9-grain dome — also known as the Premier Lite. In case you aren't aware, I link the names of evey pellet (the first time it appears) in the report to the specific pellet used. So, when I say Crosman Premier Lite, I'm referring only to the Premiers that come packed in cardboard boxes. Premiers that come in tins may work well, too, but I didn't test them.
The Premier Lite stood apart from all the other pellets by making a 5-shot group that measured 0.139 inches between centers at 25 yards. And 10 Premiers went into 0.285 inches. The next closest pellet grouped 5 into 0.316 inches, which is more than twice as large as the 5-shot Premier target. So, today I shot only Premier Lites. After filling the rifle to 3,000 psi, I fired six shots to wake the valve up and exhaust some air to get on the power curve (the gun needed 2 shots before the velocity climbed up to the optimum range in the last test following power adjustment), then I shot 3 10-shot groups. The results were very informative!
Group 1
The first group measures 0.452 inches between centers. There are 2 shots that aren't in the main group. The third shot I fired strayed over to the left, where it stands apart from the main group. And the sixth shot fired went high. You can see it above the main group. All the other 8 shots went into a group measuring 0.183 inches between centers. There's a strong temptation to call these 2 shots as fliers, and they may well be fliers — but let's wait to see the other groups.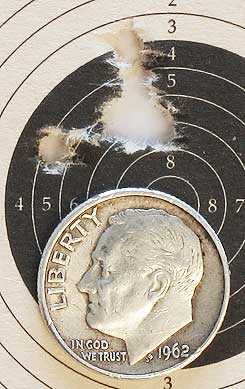 Ten Premiers at 25 yards went into 0.452 inches. Shot 3 went wide to the left, and shot 6 went high. The other 8 shots made a nice round group.
After this group, I adjusted the scope 2 clicks to the right and fired a second group. This one has no obvious stray shots, but the groups measure 0.397 inches between centers. When the power was set higher the best 10-shot group of Premiers measured 0.285 inches That's a big difference. Incidentally, in case you're wondering, the Centerpoint 8-32X56 AO scope I'm using does not stick after reticle adjustments. So, there's no need to bump the scope or shoot several shots before the adjustments take affect.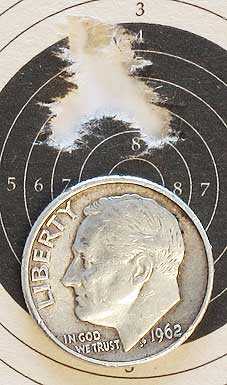 Ten Premier Lites in 0.397 inches at 25 yards. No obvious wide shots, but a group that's larger than what was shot on higher power. This is the best group of this test.
I then adjusted the scope 3 more clicks to the right, for a total of 5 since starting the session. Now, I fired 10 more shots. This time, the group measured 0.480 inches between centers — the largest group of this session. You can see 2 shots at the upper left of the group that are obviously not with the remaining 8 shots. The 8 shots that stayed together measure 0.181 inches between centers and are in a very round group.

Ten Premiers in 0.480 inches at 25 yards. Again, there are two wide shots to the upper left. The main group is nice and round — and small!
Analysis
What we have here are 3 groups — all shot on the power curve of the rifle that now averages about 886 f.p.s., rather than the former 1,015 f.p.s. I told you earlier that I thought a velocity of around 900 f.p.s., give or take, would be ideal for my purposes; and I thought it would give several more shots per fill. We did see those extra shots in Part 4. There were 45 good shots at the lower velocity compared to 31 good shots at the higher velocity.
If I'd been right about the lower velocity not making any difference in performance, everything would be fine. But from what I see here, everything is not fine. The 3 groups fired at the lower velocity were all much larger than the one 10-shot group shot at the higher velocity. And 2 of the 3 groups have 2 stray shots in them. They're not called fliers in the sense that I did anything to make them go astray. They just went where they went.
My thoughts are that the rifle doesn't shoot Crosman Premier Lites as well at 886 f.p.s. as it did at 1,015 f.p.s. I think I need to increase the velocity and see if I can get the groups to shrink again. I'm thinking 950 f.p.s., give or take. That way, I'll still get a few more shots than I was getting when the average was over 1,000 f.p.s., and hopefully the groups will shrink back to the 0.300-inch region for 10 shots.
Sanity check
Before you start commenting, take another look at that dime against these 3 groups. They aren't that bad! But we're now down in the minutia, looking for perfection. That's what I meant when I said this day was especially important to those who are trying to understand and tune their PCPs.
by Tom Gaylord, a.k.a. B.B. Pelletier
Part 1
Part 2
Part 3
Secrets of loading the Benjamin Marauder magazine
Today, we'll start learning how to tune the .177 Benjamin Marauder we're testing. An owner can do two things to his rifle. He can adjust the power (which is the velocity) and he can adjust the maximum fill pressure the reservoir will accept. The power adjustment is straightforward, and I'll get to it in a moment. The fill pressure is more obscure. Unless you have a good reason to adjust the maximum fill pressure, you should leave it set to 3,000 psi because that will give the greatest number of shots. I'll adjust the fill pressure in a future report. Right now, we're looking at just velocity.
The velocity is controlled by a screw that impedes the airflow through the transfer port. The screw enters the port from the underside and goes across the port, blocking a percentage of the air that's trying to flow through. Since the valve is open only for a short time, this blockage is effective. We'll see how effective today. First, though, we need to know where the rifle is now.
To get to the adjustment screw, the barreled action is removed from the stock. The adjustment screw is on the right side of the pressure tube, ahead of the trigger unit. There's a locking screw above the adjustment screw, and both are found deep inside a threaded hole.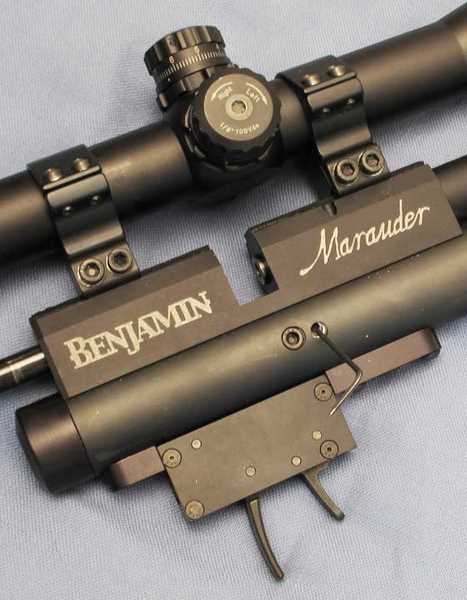 The power adjustment screw is located on the right side of the pressure tube ahead of the trigger.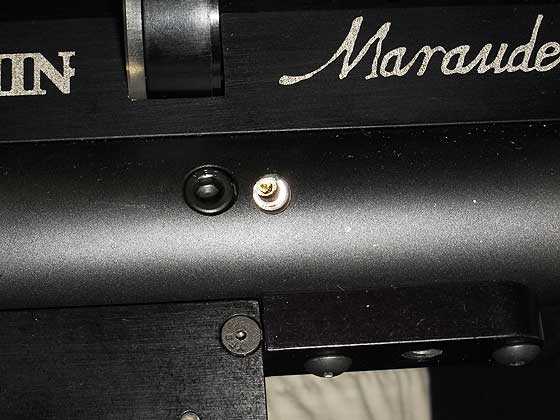 The power adjustment screw is deep inside a threaded hole — beneath a locking screw of the same size.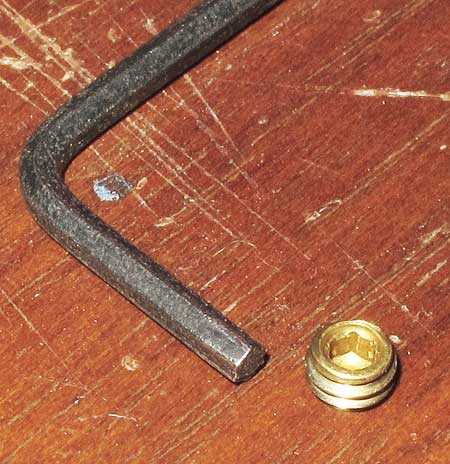 The locking screw is a small headless Allen screw.
I filled the rifle to 3,000 psi and started shooting Crosman Premier 7.9-grain pellets. We already know how accurate they are in this rifle, now let's see how many good shots I get from a fill.

When the carbon fiber tank gauge read 3,000 psi, this is what the Marauder gauge looked like. That's pretty close!
Shots   Shots
1-20     21-40
1014    1018
1014    1016
1020    1014
1018    1012
1019    1014
1020    1008
1026    1009
1021    1003
1026    1004
1023    1002
1028    1002
1028     997*
1029     993
1028     990
1028     991
1026     986
1027     986
1021     988
1025     981
1021     976
* Off the power curve at shot 32.
I rate this as 31 good shots because I'm accepting a 30 f.p.s. velocity spread. Since the high was 1029 f.p.s., the low would be 999 f.p.s. You can set this up any way you like, but you do see that the gun is definitely declining in velocity after the 31st shot. I would say the gun has 3 good magazines on a 3,000 psi fill with this setting.
Crosman advises in the owner's manual to turn the power adjustment screw all the way in (clockwise) until it stops and to record just how many turns it took. Then, you'll know where the gun was when you began; and if you ever want to return to that power, you can.
My rifle had 2-1/3 turns on the adjustment screw, as it was set. I left it all the way down, which is as restricted as it gets, and I filled the rifle to 3,000 once more. Next, I started firing the rifle and adjusting the screw after every 2 shots, while recording the velocity with the same Premier pellets.
Lowest power
424
424
Screw 1/3 turn out
525
527
Screw 2/3 turns out
655
657
1 turn out
776
779
1-1/3 turn out
871
856
1-2/3 turns out
891
896
895
897
895
That was where I wanted to be, so I stopped adjusting. I locking down the screw on the adjustment screw and put the barreled action back in the stock. Then, I filled to reservoir to 3,000 psi and started shooting another string.
Shots  Shots
1-25    26- 49
866     897
867     896
877*   892
870    891
874    890
877    889
886    892
887    888
886    884
881    887
880    881
887    883
884    878
884    879
891    877
889   876
892   876
890   874
890    870
893    870
898** 869
895    868***
898    866
897    865
897
* First good shot.
** Fastest shot
*** Last good shot
Using a velocity variation of 30 f.p.s., the same as for the first string, the fastest shot went 898 f.p.s., so the slowest acceptable shot went 868 f.p.s. There are a total of 45 good shots in this string by that criteria.
But notice that the first 2 shots were slightly below the acceptable range. That's because 3,000 psi doesn't work perfectly with this velocity. This is an example of how the fill pressure can also change with the velocity you select. So, the power screw adjustment shown in this report is not independent of the fill-pressure adjustments. It worked out so close this time that we can overlook the 2 slow shots at the beginning of the string; but if you try for a lower velocity average, that will probably change.
This test also gives a good sense of how the velocity average affects the total number of available shots. We went from 31 to 45 good shots by clipping a little more than 100 f.p.s. off the average velocity we would accept. And when you look at the average we're now getting, which is somewhere around 886 f.p.s., you see that we still have a lot of velocity for serious work such as hunting. The question becomes: Which would you rather have…3 magazines of shots per fill or 5?
Noise
As long as the velocity was down below 750 f.p.s., the rifle was incredibly quiet. After it got above that number, it didn't seem to change much between 750 and 1,000 f.p.s.
Summary
It was very straightforward to adjust the Marauder's power, as you can see. The stock does have to come off, but it isn't hard to do. Once you're done, it goes back on just as easily. This isn't a rifle that invites constant velocity adjustment. You set it and forget it, so the stock removal poses no real problem.
by B.B. Pelletier

Air Arms TX200 Mark III air rifle is impressive in its optional walnut stock.
I've reviewed this rifle before, but it's been a long time and many of you are asking about it again, plus I'm going to look at the Benjamin MAV 77 later this year, and I promised a comparison with this rifle. So, for those reasons, I decided that it's time to look at the Air Arms TX200 Mark III, again.
Some of you may know that Bill Sanders, the managing director of Air Arms, passed away recently. Bill was very uncharacteristically enthusiastic about all the guns he made. I say that because most principals in this industry are not shooters, nor do they own the guns they make. But Bill did, and he also knew how to use them. Maybe that's why, in the more than 20 years the TX has been around, the quality has only gone up.
History
The TX200 came about in the late 1980s as an improvement on the design of the HW77, which was considered the best spring rifle around at the time. The first model was simply called the TX200. But after several years, Air Arms added a ratcheting catch to hold the sliding compression chamber from slamming closed during loading. That rifle was called the Mark II. I bought one and competed with it in field target for a couple of years, until I switched over to a PCP. My rifle was tuned first by Jim Maccari and then by Ken Reeves so I could write about each of the tunes. In truth, the TX was pretty smooth right out of the box, but the Reeves tune did make it just a bit smoother.
When the TX200 Mark III came out, I bought one to test for The Airgun Letter. I found that rifle to be just as smooth as the Reeves-tuned Mark II, plus it had a shrouded 9-inch barrel, which made it very quiet, to boot. I didn't need two perfect guns, and the Mark II was sold. I still have the Mark III, which is the gun I'm testing for you here.
I recently had the opportunity to shoot a brand-new Mark III, and I see that the performance and looks of the gun are unchanged, except for better checkering on the new model. Instead of diamonds, they now have a fish-scale pattern that usually comes only on very costly guns.
Hump-backed look for high-tech design
When Beeman Precision Airguns started selling TX200 air rifles in the U.S., the first thing I noticed was that the rifle had a definite hump-backed profile. Why? Remember I said the barrel is 9 inches long? Guess what? All the science you have been reading about on this blog really works. And Air Arms applied it to its maximum in the TX200.
They put the center of the barrel in the center of the compression chamber, so the air transfer port aligns with the bore. That gives the most efficient airflow, but it also means the barrel, which is a smaller diameter than the spring tube, has to be mounted lower than the top of the spring tube. Hence, the hump-backed profile. Study the first photo, and you'll see what I mean. Look at the place where the barrel connects to the spring tube. On most other guns, they're level.
A 9-inch barrel prevents friction from slowing the pellet after it's accelerated to maximum velocity. A spring-piston gun develops maximum velocity in the first 6-9 inches of barrel. After that, the pellet is just coasting. The baffled shroud that houses the short barrel is much longer and gives the appearance of a bull barrel, hence the barrel length is often listed as longer than it really is.
Air Arms has used everything that's known about spring-piston guns to wring the maximum performance from a relatively short stroke and small piston bore. They do it without fanfare, but anyone who works on spring guns knows what they've done.
The rifle
The TX200 Mark III is an underlever spring-piston rifle that has a sliding compression chamber. The chamber slides back, giving access to the rear of the barrel for loading. Then it slides forward again, once the anti-beartrap latch is held down. The old Mark II has many stops in the ratchet, causing it to click loudly when cocked. Shooters objected to that noise. The Mark III has just three notches and is much quieter.
All metal parts, except the trigger and safety button, are highly polished and deeply blued, resulting in one of the finest finishes in the airgun world. The standard stock is beech, but the wood is shaped very sharply for either a right- or left-handed shooters. No compromise here. Fish-scale checkering roughens both grip panels and the forearm. The optional walnut stock is a good choice because it subtracts weight from the gun as well as adding interest. Blog reader Jerry got a walnut stock on his TX, and it looks very similar to the rifle pictured above.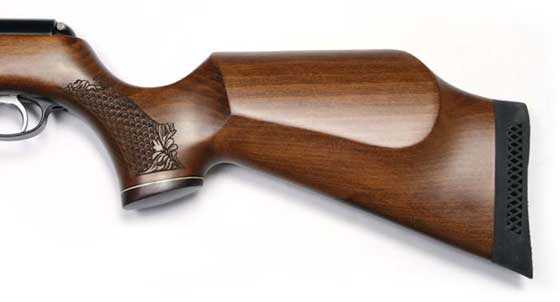 The stock is sharply profiled with crisp edges and a classic shape. The standard beech stock is shown.


The long lever, located behind the silver sliding compression chamber, is the beartrap release. After cocking, this lever is held down to close the sliding chamber, as the cocking lever returns to the stored position.
The trigger
The TX trigger is not just an improved Rekord, it's a new design that offers greater flexibility when adjusting, so you can get the pull weight and release down to a finer, lighter value than with a standard Rekord.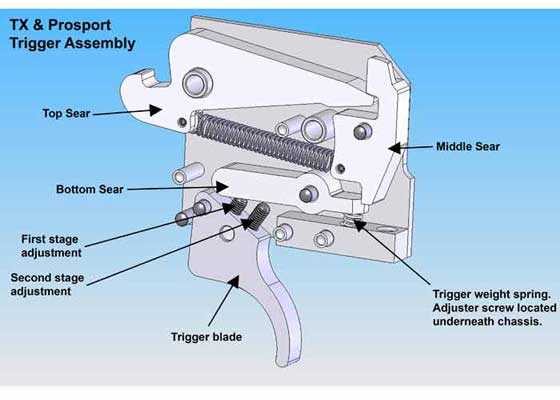 The TX trigger closely resembles the Rekord, but it's simpler and more adjustable. The larger parts are machined.
Years ago when Ivan Hancock was still building airguns, I bought one of his Mach II trigger, which are handmade copies of the TX trigger to replace the Rekord unit in my Beeman R1. That trigger cost half as much as the entire rifle, but it was very finely adjustable. The current trigger in my TX200 is the standard one that comes with the rifle, yet it's just as fine. When I report on its performance, I think you'll be surprised.
Several "truths" negated
The success of the TX200 reminds me of a friend who built engines for Formula Vee racing. Those cars look like Formula 1 racers, but they're much slower. However, this builder's engines were always in demand because they out-performed the others. Everybody was always looking for his "secret." The secret, of course, was that there was no secret! What he did was pay scrupulous attention to detail when building his engines. All parts were balanced to the last gram, and all tolerances and torque specifications were followed. The engines were what racers refer to as blueprinted, and that, alone, gave them their edge.
Well, you may think of a TX200 as an air rifle that's been blueprinted. The piston isn't wide and the stroke isn't long, yet the rifle develops remarkable velocity. The trigger appears dirt-simple, yet it can out-perform so-called "target" triggers in much more expensive guns. The mainspring isn't under much pre-tension, yet the rifle doesn't buzz when it shoots. Everything is just right.
Rolls Royce is the standard by which all cars are compared, and the TX200 is the standard for spring-piston air rifles. Even when the Whiscombe was being made, I used to say that the TX200 was its equal for accuracy.
It's heavy!
Yes, this air rifle is heavy. Especially the model with the beech stock. But for its purpose, which is field target first and hunting second, the weight is ideal because it promotes stability.
It's hard to cock!
It will seem hard to cock a TX if you're used to a smaller rifle like a Diana 27. But compared to the current magnums, the TX cocks easily. How it feels depends on your experience. I'll publish the cocking effort of mine in Part 2.
Accuracy
It has been several years since I shot my TX, so this is a chance to get behind the trigger, again. I expect to find a pellet that will give around 1/4- to 1/3-inch 10-shot groups at 25 yards. That's a tall order for any spring gun, but we shall see!