by B.B. Pelletier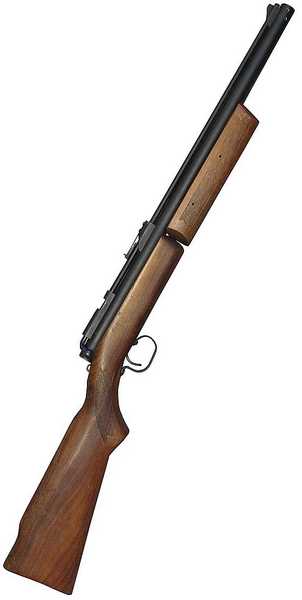 Benjamin's 347 multi-pump was sold between 1969 and 1992.
Let's shoot this old classic Benjamin multi-pump and find out just how accurate it can be. This is a test of a rifle you can't get anymore, but the Benjamin 397 is a very similar airgun, if you're interested.
Before we begin
I must first comment on the open sights; because after many trips to the range with the .22 rimfire target rifles I've been using for the CB cap test, I was shocked back to reality by the wide open notch in the rear sight blade on the 347. It isn't a precision sight in any respect, and the rear notch is about three times too wide for the front post. I had to guesstimate if the front post was centered in the rear notch, because it's too wide to know for sure.
Some readers might be inclined to mount a scope or a red dot sight on a rifle like this, but I'm not going to. It has always seemed to me that a rifle like this was meant to be shot with open sights, plus the mounting methods for optics on these multi-pumps leave something to be desired. The mounts can flex the barrel solder joint, eventually breaking it. There's no good repair when that happens.
I also want to comment on the trigger. Compared to a modern "lawyer" trigger, this one is downright decent. Oh, it isn't super-light, nor is it especially crisp, but it still breaks at less than 3 lbs., as we discovered in Part 1 of this report; and that's a trait I like in a sporting rifle. I wish all modern airgun triggers could be this nice.
I decided to shoot at 10 meters, partly because I didn't know what to expect from this rifle and partly because this is a sporting rifle, after all. It isn't supposed to be a 50-yard tackdriver.
This rifle does have one quirk. The pump link is loose at the pump handle; every time you pump the rifle, it shifts position with a click. That could easily be fixed with a new link and bushing.
Accuracy
The first shot was offhand from about 15 feet to establish that the pellet was going pretty close to the point of aim. It was, so I moved back to 10 meters, where I rested the rifle for the test.
The first pellet tested was the RWS Hobby wadcutter. The 347 is a .177-caliber rifle, and in that caliber the Hobby weighs just 7 grains. I decided to use five pumps per shot, which is enough to shoot even farther than I was for this test.
After the first test shot, I figured that the pellet would rise a bit at 10 meters, and it did. Since the rifle has no scope, I used binoculars to verify that the pellet was hitting the point of aim, which was a six o'clock hold on a 10-meter rifle bull.
The shots were landing slightly low and to the left, but they were within the bull, so I left the sights exactly where they'd been.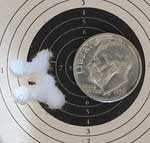 Though they landed a little left, these 10 RWS Hobby pellets went into a group that measures 0.458 inches.
Next up were Beeman Kodiaks. I've found over the years that these heavy pure-lead domes usually perform well in multi-pumps. They are one of my "go-to" choices. As before, the gun was pumped five times.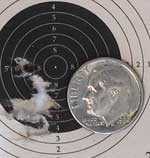 Ten Beeman Kodiak pellets went into this group, which measures 0.558 inches across. That's one-tenth larger than the group of Hobbys.
For some reason, this rifle didn't like the Kodiaks as much as I thought it would. They made a slightly larger group than the Hobbys, but I thought it would be just the other way around. This is still a good group, but it isn't as good as I expected.
The final pellet tested in the 347 was the Crosman Premier lite. Where the other two pellets had some resistance upon entering the breech, there was none with the Premier lite. It went in like it was made for the rifle…which it is, in a way.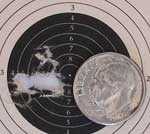 Finally, I got the performance I was looking for! Ten Crosman Premier lites made this 0.39-inch group. You can see that the dime will cover the group easily. This is the pellet for this rifle!
Because I'm shooting 10-shot groups, I don't have to keep shooting group after group when the results are good. Ten shots eliminates a lot of the randomness of a 5-shot group. To put it simply, it's far more difficult to shoot 10 shots and have all of them be right than it is to shoot just 5.
So, the 347 is a shooter, just as I thought it would be. It's right in there with all the other good-quality multi-pumps.
One other thing to note is that the points of impact for all three pellets were remarkably close. Hobbys being very light and Kodiaks being on the heavy end should have spread these points of impact more than you see; but this was shot at close range, and a pneumatic is less influenced by pellet weight than a springer. That's something for hunters to bear in mind.
The bottom line
A vintage multi-pump like this one has a lot going for it. It will have a much nicer trigger than contemporary models; and unless it's been abused, it should shoot just as well as a modern pneumatic. With all the aftermarket support that is available for rifles like these, you can be sure they will be doing their thing for decades to come.
Just remember to oil the pump piston head with Crosman Pellgunoil and to store the gun with a pump of air at all times.