by B.B. Pelletier
This is a long-term test of non-lead pellets that began nearly a year ago. There's a lot of pressure these days to abandon lead for projectiles and move to some other substance that's not as toxic. The problem is that there isn't any material as good as lead. Ammunition companies have been working on this project for decades, and they've yet to come up with a substance that can take the place of lead.
I don't want to get into the discussion of the evils of lead in this report, but suffice to say that a lot of what's being said about it is untrue. However, that's not my concern here. I just want to discuss the feasibility of using non-lead projectiles in airguns and hold it to that.
So, I did a little test that I want to talk about today. I tested both lead pellets and lead-free pellets in the same gun at the same distances.
For this test, I used the .22-caliber Hatsan 95 combo breakbarrel that we recently found to be reasonably accurate. I shot the rifle at 10 meters and again at 25 yards; and doing that proved quite revealing. The open sights of the rifle were used for this test.
The best of the best
For this test, I wanted to use the best pellets. For the lead-free pellet, I chose the .22-caliber Beeman ECO FTS. For the lead pellet, I actually tested four different pellets, but settled on just one; and strangely enough, it was the same best pellet that was best in the last test I did with the Hatsan 95.
Before you yell, "Bias!" I know I should test other lead-free pellets in this rifle; but there aren't that many to test. I do have some others, but in .177 caliber. So, I'll have to test them next.
Start at 10 meters
I began this test at 10 meters and tried two lead pellets that I knew to be good in the Hatsan 95. The first of those was the heavyweight Beeman Kodiak. When I last v\tested the Hatsan with these pellets in Part 3 of the Hatsan test, 10 shots at 10 meters gave a group measuring 1.073 inches, thought 8 of those shots made a much smaller group that measured 0.529 inches between centers. This time, 10 Kodiaks went into a group measuring 0.834 inches. That's in between the 8- and 10-shot groups made the last time.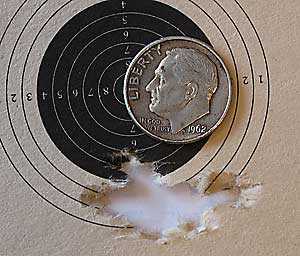 Ten Beeman Kodiak pellets made this 0.834-inch group at 10 meters. Shot with a Hatsan 95.
Next, I tried the best pellet from the last test with the Hatsan, which was the JSB Exact Jumbo that weighs 15.9 grains. Ten of those went into a group that measures 0.514 inches between centers. That compares favorably to a 0.648-inch group last time.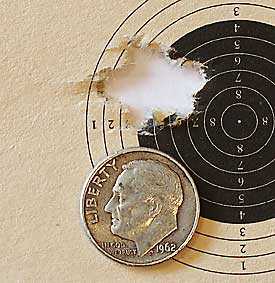 Ten 15.9-grain JSB Exact Jumbo domes made this 0.514-inch group at 10 meters. It's smaller, but in the same range as the last 10-meter group fired by the Hatsan 95, which was 0.648 inches.
The lead-free pellet
Next up was the Beeman ECO Field Target Special pellet, a 9.57-grain domed pellet that has no lead in it. Weighing less than 10 grains, this is extremely light for .22 caliber. So, the question is — Can it be accurate?
At 10 meters, this pellet turned in a 10-shot group that measures 0.704 inches between centers. That's smaller than the Kodiak group but larger than the JSB group. And it's a decent 10-meter group for an open-sighted air rifle of the power of the Hatsan 95.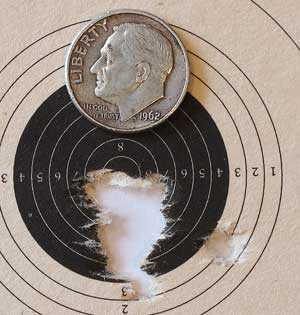 This is a great group of 10 Beeman ECO FTS pellets. But 10 meters doesn't tell much. We need to shoot farther to know if this pellet is accurate.
The real accuracy question
Here's the real question. Ten meters tells us very little about the real accuracy of any pellet. Almost anything can be accurate at 10 meters, but not for very much farther. Real accuracy is the ability to hold a group together at twice the distance and more. To see that, we needed to back up. That's what I did — backed up to 25 yards and shot again.
At this new distance, the lead-free pellet was again shot 10 times. The group it made this time measures 2.237 inches between centers. That's a huge group — even when using open sights.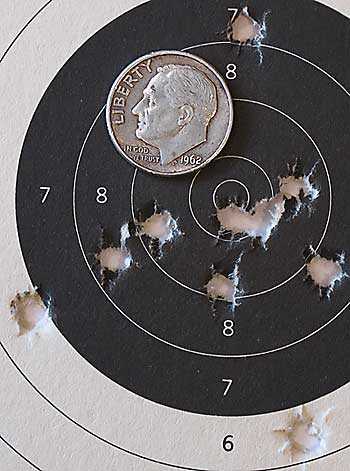 This is the group made by the Beeman ECO FTS pellets at 25 yards. Here we see the true nature of this lead-free pellet. It doesn't stay together by flies apart as the distance increases.
As a control, a group is shot with the JSB Exact Jumbos. We know from the last test of the Hatsan 95 that this pellet grouped ten shots in 1.882 inches. This time, 10 went into a group that measured 1.728 inches between centers. Not only is that very consistent with that last test, it's also significantly tighter than the group made by the lead-free pellets.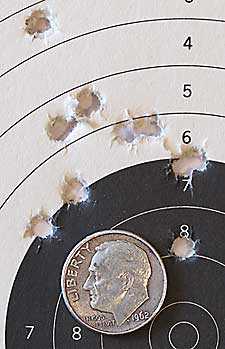 A 10-shot group measuring 1.728 inches was made by the JSB Exact domes at 25 yards.
Where does that leave us?
This test has many more cycles to run, but what it looks like at this point is lead-free pellets are not yet as accurate as lead pellets in the Hatsan 95. The first test done a year ago showed some surprising results, and there are many more tests yet to be conducted.
Here's my take on the lead-free pellet issue at this juncture. They're accurate enough for plinking, and in some guns they're even more accurate than that; but to-date, I've not seen a lead-free pellet that could do as well as a good lead pellet. Since they cost about the same as premium lead pellets, my advice for now is to continue to use lead if you can.
I believe the pellet makers are working hard to perfect lead-free pellets, because they seem to be in our future. This is a topic I will watch and continue to test as new pellets become available.