by B.B. Pelletier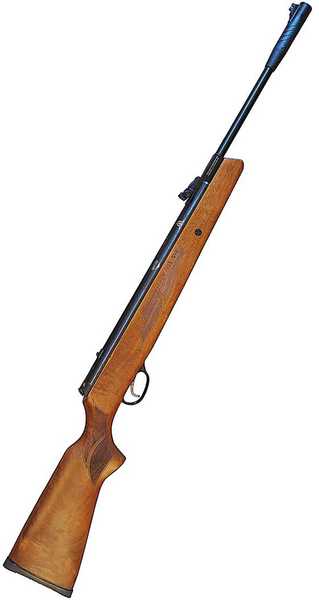 The test rifle was prettier than the photo Hatsan provided for the website.
There has been a lot of interest in the .22-caliber Hatsan 95 combo breakbarrel I've been testing! We have even had people emailing Pyramyd Air directly to ask when Part 3 was coming. Folks, they don't know any more than you do. If you want to know something about the blog, post your comment on the blog and I'll answer you here.
The Hatsan 95 represents a departure from the other Hatsan spring rifles I've tested so far. It's sized for a normal adult rather than for a giant, and it doesn't require the strength of Hercules to cock. I found during the velocity testing that the rifle seems to like heavier pellets, so I tested it with some for accuracy. I tested the rifle with open sights because they seem to be a reasonably set even though they're fiberoptic.
10-meter testing
Before testing the rifle at longer range, I first shot it at just 10 meters. Many of you say this is about as far as you can shoot an airgun in your homes, so today's test should be very revealing.
The sights
The sights are fiberoptic and they don't glow indoors. So, I used them as normal post-and-notch open sights. Unfortunately, the front bead is too large for the rear notch; but I did find it possible to see the top half of the front bead, and I could guesstimate where the bead was centered. It wasn't perfect, but it was the best I could do.
Forget looking for aftermarket sights for this air rifle. Air rifle sights these days are mostly proprietary, which means the guns they're on won't accept aftermarket sights from another manufacturer, unlike a lot of firearms. Since most shooters will use the scope that comes with this combo package, that presents no problem — but I included it because there are always a few people who want to use open sights.
Accuracy
First up was the Beeman Kodiak that did so well in the velocity test. They put 8 of 10 shots into a round group measuring 0.529 inches between centers, but two other shots opened that to 1.073 inches. I can chalk up those two shots to the imprecise sights, so this group looks promising.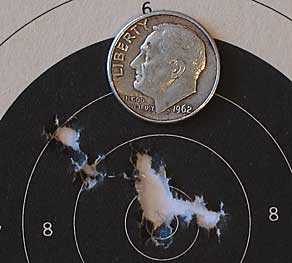 Eight of the ten Beeman Kodiak pellets made a 0.529-inch group at 10 meters. The last two shots opened it to 1.073 inches. While this looks good, don't forget that it's only 10 meters.
The firing behavior of the Kodiaks is so smooth that I think they have to be considered by anyone who buys a Hatsan 95. Not only do they generate more energy than lighter pellets, they also group well — at least at 10 meters.
Next up was the JSB Exact Jumbo that weighs 15.9 grains. It's usually a good performer when Kodiaks are, so I gave it a shot. It didn't disappoint.
At 10 meters, 10 JSB Exact pellets went into a group measuring 0.648 inches — besting the Kodiaks for 10 shots. However, as with the Kodiaks, I see a smaller group inside the main one on the left side. It's too difficult to measure, but you'll see it, too.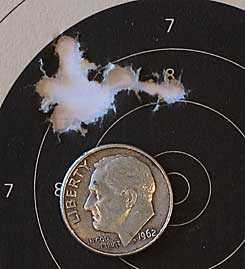 Ten JSB 15.9-grain domes made this 0.648-inch group. This looks promising.
The last pellet I tried was one I don't usually test, because I haven't found it to be very accurate. Others have, though, and I think they must all be shooting them in pneumatics rather than spring guns. The Predator pellet is a premium hollowpoint that has a cone-shaped tip inside the hollow point of the pellet head.
At 10 meters, 10 Predators grouped in 1.548 inches between centers, and the distribution was open enough to show that it was no accident. This pellet is not for the Hatsan 95 and was eliminated from further testing.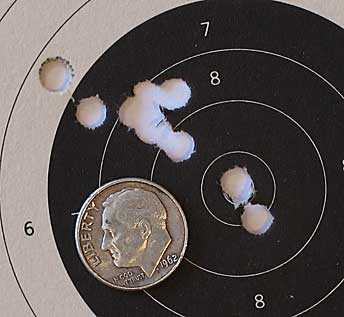 Predator hunting pellets are clearly not the pellet for the Hatsan 95. Compare this open 1.548-inch group to the two before it.
When you compare this group to the other two, you can see why I think this pellet isn't right for the Hatsan 95. A group like that at 10 meters is due to more than just imprecise sights!
Back to 25 yards
Now that I knew this Hatsan could shoot, it was time to back up to 25 yards and give it a go. This is where those sights would come into play; because at 25 yards, the bullseye I was aiming at was the same size as the front sight bead I could only see the top of.
I shot Beeman Kodiaks first, and 10 shots went into a group measuring 3.735 inches. That's hardly a good group, but you'll notice that just a single pellet opened up the group to that size. Nine pellets made a group that measures 1.613 inches. While hardly a good group for 25 yards indoors, this is where the front sight comes into question. I've shot 5-shot groups at 50 yards that measure a quarter-inch between centers with the best open sights, and I've shot 10-shot groups that measure three-quarters of an inch at the same distance with the same sights. Clearly, this group grew because the sights were not clear and not because the rifle is inaccurate.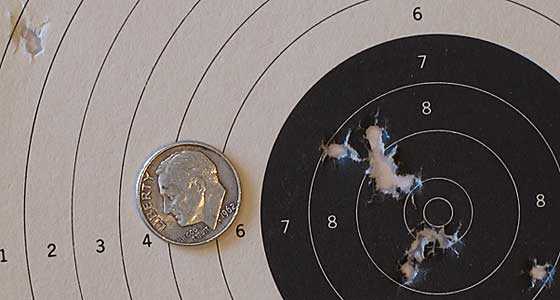 Kodiaks didn't do so well at 25 yards. Most are in the black, but that stray one out to the left was not a called flier. 3.735 inches between centers for this one.
Next up were the JSB Exacts. These had performed a little better at 10 meters, and I expected to see them out-group the Kodiaks at 25 yards, as well. And they did. Ten pellets went into a group measuring 1.882 inches. You can see the dispersion resulting from the fiberoptic sights, yet this pellet shows a tendency to stay together at this distance. Of course, this group is not acceptable, but it does give me hope that this rifle can shoot.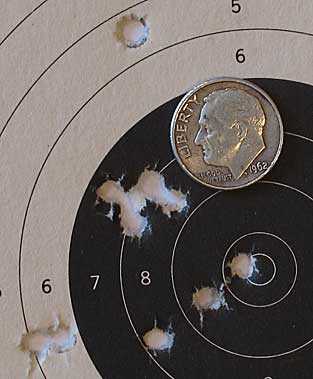 Ten JSB Exacts made this 1.882-inch group at 25 yards. It's not good, of course, but the sights are probably the main reason for that.
Where does this leave us?
I believe the Hatsan 95 can shoot, and this test shows that. Next, I'll mount the scope that came with the combo package and try that at 25 yards.
If you've been holding off buying a Hatsan 95 until you saw the results of my test, I would say the wait is over. This air rifle can shoot. It's a breakbarrel springer, so it needs the artillery hold, but it doesn't seem to be overly sensitive to the hold. It cocks easily enough for a hunting air rifle, and the firing cycle is smooth if you use heavier pellets.
The trigger is very nice, with just a little creep in stage two. I like the wide blade and the general shape of the blade on this gun.
Next, I'll test this rifle with the scope it comes with.