by Tom Gaylord, a.k.a. B.B. Pelletier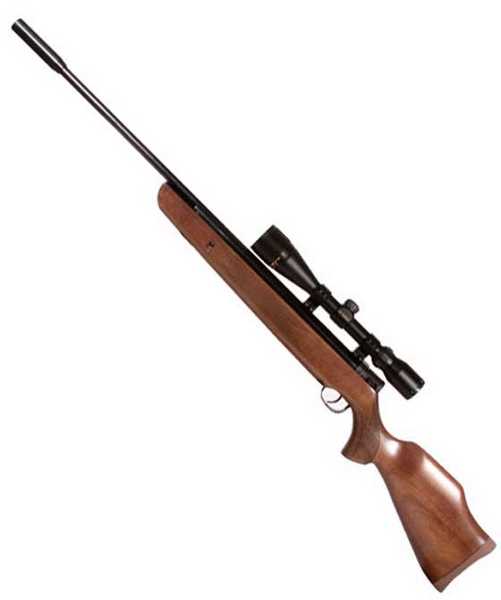 The new Tech Force M12 breakbarrel is a midrange springer from Air Venturi.
Today, we'll learn an important lesson in spring-gun management. This report was supposed to happen yesterday, but the rifle wasn't cooperating — and I had to spend an extra day testing it. I'll explain what haoppened and tell you what I did to fix it. It was simple, and the results are astounding. But, I'm getting ahead of myself.
As you know, I elected to test the .177-caliber Tech Force M12 4-12x40AO air rifle combo. I chose the package that came without the illuminated reticle but with the best scope.
I mounted the scope with no difficulties. The two-piece rings went on the rails easily and the rifle's end cap was used to block the rear ring from moving during shooting. I can tell you at this point that you have nothing to fear using the cap this way. The end cap holds the ring positively and doesn't seem to move.
Trouble in paradise!
But at 25 yards, I found I had difficulty shooting a group that was reasonable. The best I managed to do was 10 shots in an inch and a half, but I also had some that went two inches. It was discouraging, to say the least. I sat back and examined the groups to see what could be learned.
And one thing popped out. Each group of 10 was actually two very tight groups of pellets. There was enough dispersion that at first they just looked like a large group; but since I'd seen every shot go through the target and I remembered them going from one side to the other, I was able to see that there were actually two separate groups. And you know what that means, don't you?
Let's look at this from a different perspective. Let's say a new reader wrote a comment and complained about the lack of accuracy in his new rifle. We might have to go back and forth several times before he mentioned that there are really two smaller sub-groups in the one group he shoots. But that would be the key that triggers a response.
Many of you would advise this reader to remove the scope from his gun and shoot a group with open sights. That's what I would do. Only in the case of this rifle, there are no open sights. What do you do then?
There is a "secret." It really isn't a secret; but from experience, I've found that only a few people know about it.
The secret is this: When you get multiple groups like this, the problem is usually caused by a floating erector tube inside the scope, assuming that all the mounting screws are tight. And in this case, I checked them and all were tight. The stock screws were also tight. So the erector tube is the suspect. The thing that sets it up to move like that is when the scope is adjusted up too high or too far to the right, so the erector tube spring (the spring that pushes against both adjustment knobs) has relaxed to the point that the tube can move. It's a common fault when using a scope, and I've been seeing it more and more often with firearms, too.
What I would tell a new reader is to crank a LOT of down elevation (at least 60 clicks — more is better) into his scope and shoot a group. I don't care that the pellet is now striking the target low. What I care about is the size and shape of the group. That's exactly what I did. I cranked in 5 or 6 full rotations of down elevation into the scope.
10-meter testing
Because the rifle was now shooting very low, I decided to test the rifle at 10 meters just to keep the shots on the paper. I'm not going to tell you the pellets that were tried at 25 yards because what follows explains why they were not tested fairly.
The first pellet I tried in this experiment was the 10.3-grain JSB Exact dome. Inside of 3 shots, I knew I'd found the problem and was fixing it. The 10-shot group I got is not that small for just 10 meters, but it was relatively easy to shoot, meaning that I did not have to use more than the usual amount of artillery hold technique.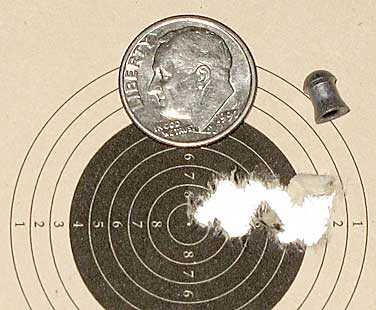 While this isn't exactly a splendid group, it was easy to shoot. Notice the fact that there are still two groups! This group of 10.3-grain JSB Exact dome measures 0.557 inches between centers.
Next, I tried Crosman Premier heavies, thinking that the rifle was going to lay them in no matter what it was fed. But not this time. When 4 shots gave me almost 1.5 inches, I stopped! Clearly, this 10.5-grain dome is not the pellet for the M12.
Then, I tried a pellet that has never worked in any test I've done. The Beeman Trophy pellets I have are so old that they come in the old-style Beeman tin. But, I thought, what the heck — this is just a test. Let's see what they can do. And, of course, they were stunning. Ten made a group that measures 0.458 inches, but 8 of those 10 shots made a 0.253-inch group that's very round and encouraging.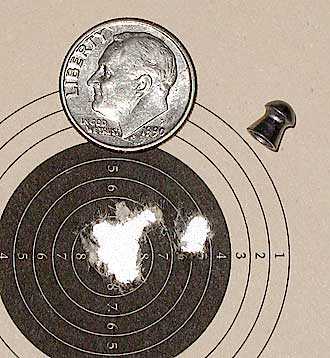 Ten shots are in 0.458 inches, but 8 are in 0.253 inches. This is a pellet to test at 25 yards.
Not only did the Trophy pellet make a nice round group, it also required very little special shooting technique. The gun felt like it was in the zone with this pellet.
The scope
I have to say this 4-12x40AO Tech Force scope that came with the rifle is a pretty nice optic for being included in a combo package. It focuses clearly and seems bright enough for general use. Once I found the problem, this scope performed as well as any scope would under similar circumstances. If you plan to purchase an M12, I would recommend getting it the way you see here.
Where are we with the Tech Force M12?
Obviously, I haven't finished the test of the M12. I still need to shoot the rifle at 25 yards to see how well it does. And I know the groups are going to be larger than what you see here. Before I do that, I need to mount this scope in a good drooper mount so I can get the gun shooting to the point of aim, again.
Today's report is a valuable lesson in what to do when you're having problems getting a scope to work. The diagnostic for this is when the rifle wants to shoot several groups that are each respectable; but when taken together, they're too large. In the situation I've shown here, we didn't know if the problem was the rifle, the scope or something else. By dialing in a lot of down elevation and sometimes some left elevation, we put tension on the erector tube springs, taking them out of the equation. If the gun then shoots well, as this M12 clearly did, then you know you have a droop problem that's easy to solve.