by Tom Gaylord, a.k.a. B.B. Pelletier
I don't know about the rest of you, but this blog is teaching me things. I'm learning a lot more things by doing all these little tests and experiments than I ever learned by reading about airguns. Of course, that's partly because there aren't that many good books around, but it's more because of the excellent discussions we have here. And more often than not, something really special comes from all this study.
Yesterday, I was finishing an article for my monthly column in Shotgun News when I happened to spot something interesting. I was writing about the Chinese KL-3B Fast Deer sidelever spring-piston air rifle and I showed two targets — one shot with RWS Hobby pellets at 10 meters and another shot with the same pellet at 25 yards. The 10-shot group at 10 meters measured 0.38 inches between centers, and the 10-shot group of the same pellet that was shot at 25 yards measured 1.918 inches. That was certainly a huge increase for just moving the target 14 yards farther! But it was more than that. I had seen something similar recently — something that really stuck in my mind.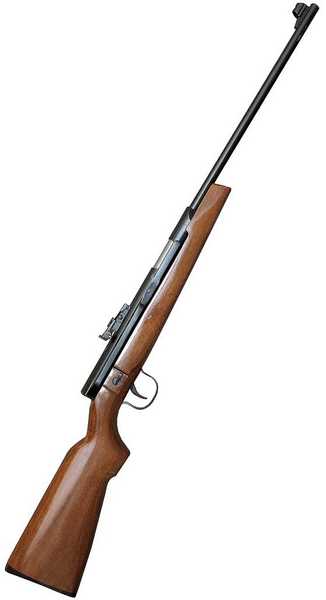 Fast Deer sidelever rifle has a quality look, but the accuracy falls off fast after 10 meters.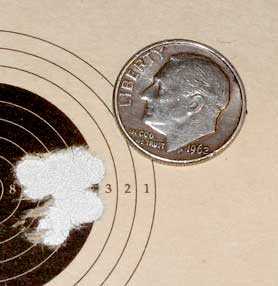 At 10 meters, the Fast Deer put 10 Hobbys into 0.38 inches.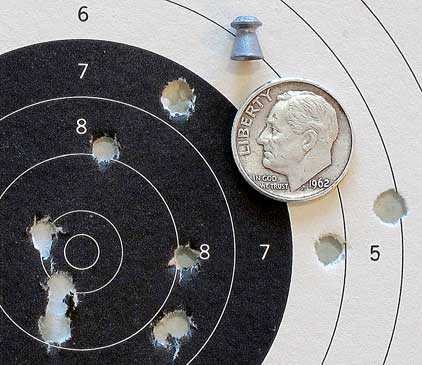 But at 25 yards, another 10 Hobbys went into 1.918 inches.
Then I wrote something in the column that jogged my memory. I said the Fast Deer was acting like it was a smoothbore because it shot great at 10 meters but lousy at 25 yards. That was just how the Diana model 25 smoothbore had shot when I tested it last year! And that's when it hit me. As I remembered it, it was performing EXACTLY like the Diana model 25 smoothbore!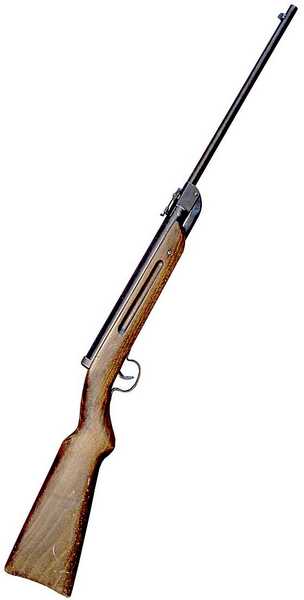 The 1940 Diana model 25 smoothbore performed exactly like the Fast Deer air rifle.
So I looked it up, and I was right. With JSB Exact RS pellets the Diana 25 put 10 into 0.337 inches at 10 meters, and at 25 yards it put the same JSB Exact RS pellets into 2.421 inches after I played with the seating to find the best place.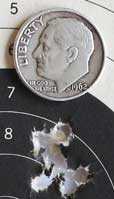 At 10 meters, the Diana 25 smoothbore put 10 JSB Exact RS pellets into 0.337 inches.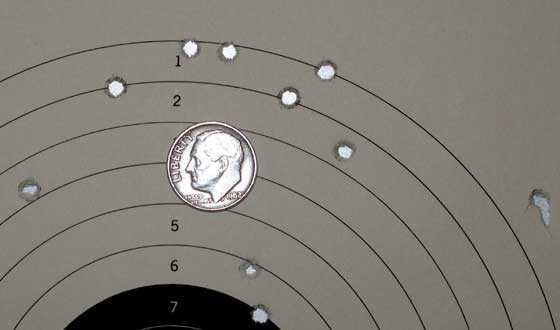 But at 25 yards, the best the Diana 25 could do with 10 JSB Exact RS pellets was 2.421 inches.
Ah-ha!
Learning has occurred! I now know that I'm getting the same results from a gun with a rifled bore as I got from one that is a smoothbore. Or, to put it another way, the rifled gun shoots like the pellets aren't being stabilized by the rifling. It shoots like a smoothbore.
Is the Fast Deer even rifled?
Then I wondered if the Fast Deer is really rifled. So, I ran 2 different pellets down the bore from muzzle to breech — have to go that way because the barrel is fixed. Both pellets (RWS Hobby and an old Tech Force Chinese pellet) showed good engraving around the bases of their skirts, but only one showed any contact with the pellet head. Unfortunately, the RWS Hobby that I'd used when testing the rifle did not have any marks on its head. Instead, it was the domed Tech Force pellet made years ago that had engraving. However, I never shot the Chinese pellet when testing the gun for accuracy. Pyramyd Air used to carry them, but they no longer do. The point is, they may solve the longer-range accuracy problem. If they don't, I will look around for another fat .177 pellet that will.
So what we have is a Part 6 test coming up for the Fast Deer rifle. I said I would scope it and shoot it at 25 yards for Part 6, but if it doesn't shoot accurately with open sights at 25 yards, that seems like a big waste of time.