by Tom Gaylord, a.k.a. B.B. Pelletier
Part 1
Part 2
Part 3
Part 4
Part 5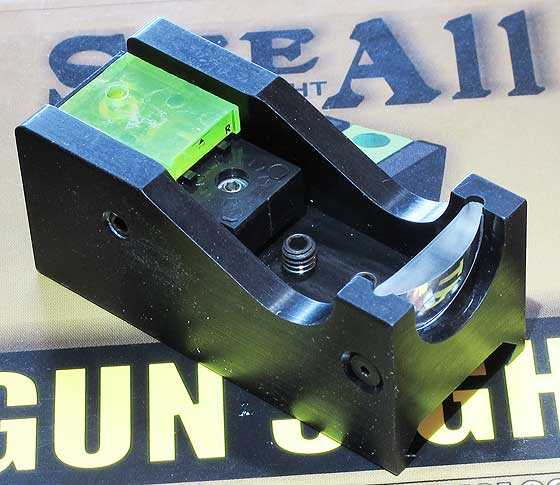 The See All Open Sight is revolutionary!
In the 9 years I've been writing this blog, I don't think this has ever happened before. Last Friday, I wrote about my failure to get the See All Open Sight to work on the Beeman P1 pistol. I tried for 2 straight days to get it sighted in and nothing worked.
That was Friday's report. Well, I went out to the rifle range on Friday, and my shooting buddy Otho met me there. He had one of his SKS rifles that had a scope mounted on it (on a Weaver base), and it was his plan to test the See All sight. Okay, I thought. Couldn't hurt.
It didn't hurt at all! After he shot the scoped rifle at 100 yards for the record, he removed the scope and installed the See All Open Sight. It took several shots to get it on paper at 50 yards, but then he shot a 5-shot group that measures 1.636 inches between centers! You may not be familiar with the accuracy of the SKS, but while it's an extremely reliable rifle that almost never fails to operate, it's only fair as far as accuracy is concerned. It's a good battle rifle — but it's certainly not a target rifle. Some individual rifles are more accurate than others, and this one happens to be Otho's best one; but a sub-2-inch group at 50 yards from an SKS is worth talking about. And he did it with the See All Open Sight!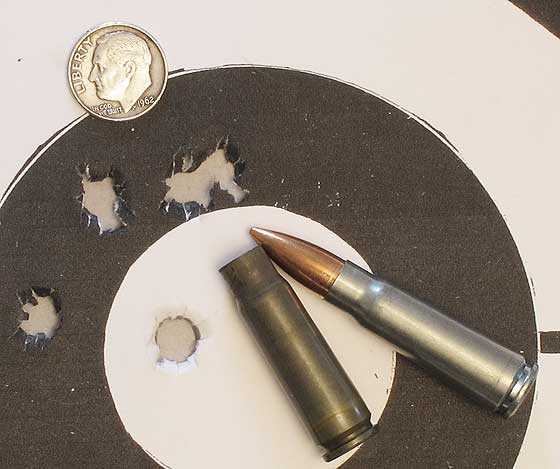 When we saw this 50-yard 5-shot group, we knew the See All sight worked! For an SKS, this is a great group.
When he was finished, we had to walk down to see the target because the cold wind was blowing so hard and our eyes were tearing so much that he couldn't see but one of the shots through his spotting scope. I was looking through binoculars and could see even less. When I saw the target close up, I asked him to shoot 10 more shots for me at 50 yards.
Otho's eyes
The reason I asked Otho to test the See All sight in the first place is because he has been battling failing eyes for several years. He can no longer use open sights like he once did, so scoped guns are about all he can shoot. The See All sight makes up for that and allows him to shoot like he used to 30 years ago. That's what the See All Open Sight is about — a sight that lets shooters mount an open sight on a gun that doesn't have one, or to use an open sight that can be seen with poor eyesight.
Wolf ammo
I guess I should also have told you that he did this with Wolf ammo, which isn't the most accurate by far. Wolf is steel-cased with a mild steel-jacketed bullet. They're reliable and aren't corrosive, but there are several brands that will outshoot it.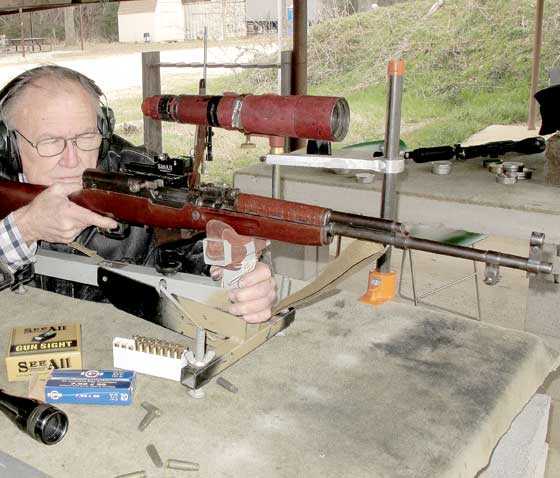 Otho was able to see the See All sight reticle clearly enough to shoot just as good as when the SKS was scoped!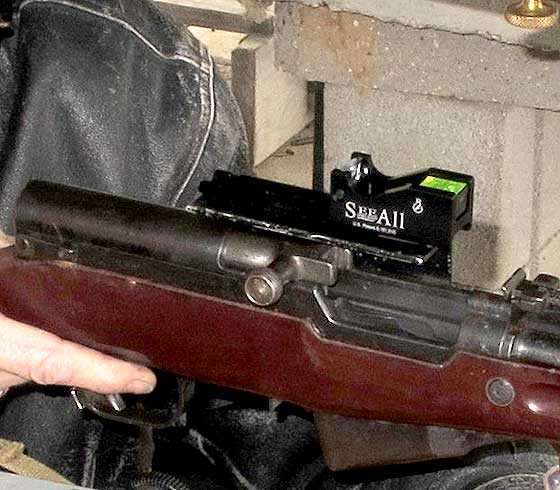 This SKS has a Weaver base attached to the left side of the receiver. The See All sight is clamped to it.
He then shot a 10-shot group at 50 yards with the SKS and the See All sight. This time he put 10 into 3.215 inches. While that's a lot closer to what most SKS rifles normally do at 50 yards, I would like to point out that Otho was able to do it without using a scope. That's significant because he couldn't see the open sights on the rifle on this day.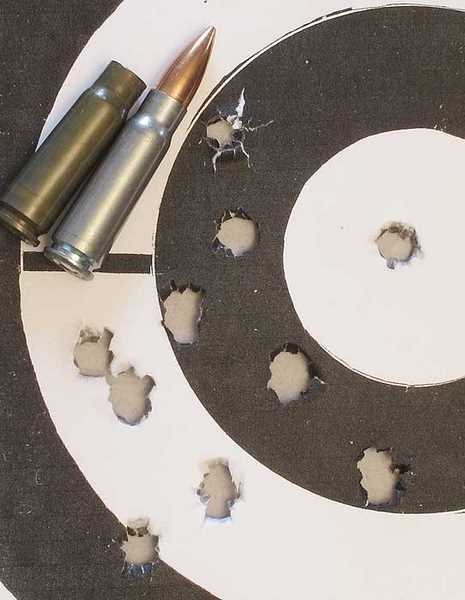 This is a good 10-shot group for an SKS at 50 yards. The rifle was shooting Wolf ammo (the dark empty case), which doesn't group as well as some other brands.
He commented that the See All sight was very fast to acquire. As breezy and cold as the day was, that was significant by itself. I was also shooting an open-sighted rifle that I'll report on in a few days, and I was unable to see my front sight until I put on my glasses to cut the wind.
100 yards
Now, Otho shifted to the 100-yard targets, where a few minutes earlier he'd shot a 10-shot group with the scoped rifle. That netted him 9 shots on paper in a group that measures approximately 5-3/8 inches between centers. The 10th shot wandered off the paper.
With the See All sight, he put 9 shots into approximately 5.50 inches. Three of these shots wandered off the paper, but we found the holes clearly on the backer board, just above the target paper. He measured the 9 shots with his pocket knife, which measures 5.50 inches when open. There was a tenth shot on the paper, but it landed about 3.50 inches below the other 9 shots. We know this 10-shot group really measures 9 inches at 100 yards; but since we don't know where the tenth shot from the scoped rifle landed, there's no way to make a direct comparison. Nine shots to 9 shots is the best comparison we can make.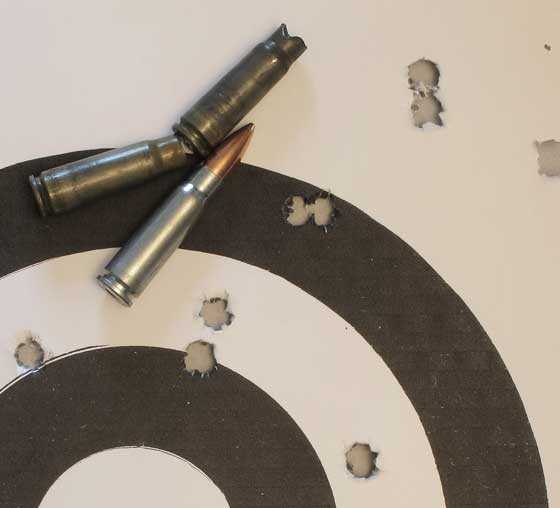 With the scoped rifle, 9 of 10 bullets hit the paper at 100 yards. This group measures 5-3/8 inches between centers.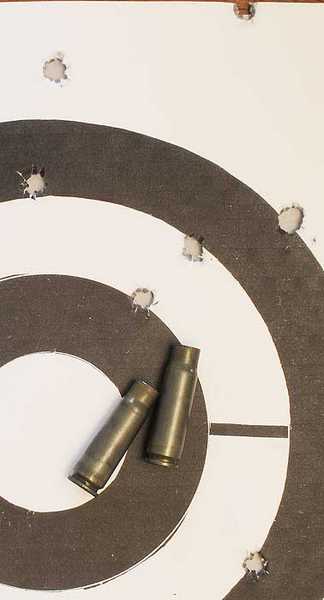 With the See All Open Sight at 100 yards, Otho was able to put 9 shots into 5.50 inches, c-t-c with the SKS. Six of those 9 are on this paper, and the other 3 landed on the backer just above the target. The tenth shot down below does open the group by a lot; but since the tenth shot from the scoped rifle was not found, we can't make a comparison.
Otho's assessment
After seeing the 100-yard group, Otho said he thinks the See All Open Sight is perfect for hunting. While it's not as good for target shooting, it's fast to acquire a target — especially one that's running. He's decided to leave the See All sight on his SKS instead of the scope, and he plans to hunt with it.
My evaluation
I'm so glad this happened because I was beginning to lose confidence. But Otho showed us the sight is good and works as intended.
I have an M1 Carbine that's chambered in 5.7mm Johnson Spitfire, and it currently has a Weaver base with a scope, as well. I also have a Remington 788 with a Weaver base. I think for my next test of the sight, I'll load up some ammo and try one of those 2 rifles with a scope and with the See All at 50 yards. They should work the same as Otho's SKS.
So, don't despair. There's at least one more test of this sight coming. For now, however, I have to say the See All Open Sight does what it's advertised to do.