by Tom Gaylord, a.k.a. B.B. Pelletier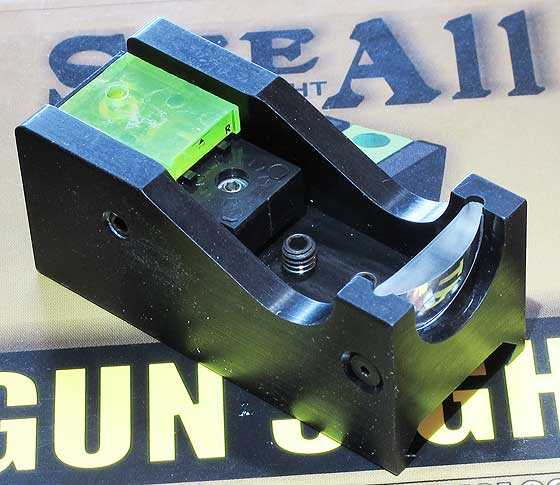 The See All Open Sight is revolutionary!
Today, I'm testing the See All Open Sight on the new TX200 Mark III that I've been testing for you. Because that rifle figures into today's test so much, I felt it was important that you be able to examine the rifle's accuracy in past tests — most importantly, the red dot sight test I just did in Part 13.
Part 1
Part 2
Part 3
Part 4
Part 5
Part 6
Part 7
Part 8
Part 9
Part 10
Part 11
Part 12
Part 13
I also want to mention that See All is aware of the difficulty in mounting their sight on a straight-line rifle like the M4. They even mention it in the frequently asked questions on their website. So, what happened the last time I tested this sight was my fault for not checking all the information.
Mounting the sight
The first step was to mount the See All sight to the TX200. Since the rifle has 11mm dovetails and the See All has Weaver-width dovetail jaws, I used a prototype Leapers base that converts 11mm to Weaver/Picatinny. For this test, I used the same scope stop pin that I showed in the last test with the dot sight. The pin popped out of the hole on the first shot, so the base had to be remounted and the pin locked down again. After that, the base remained tight and solid throughout the test.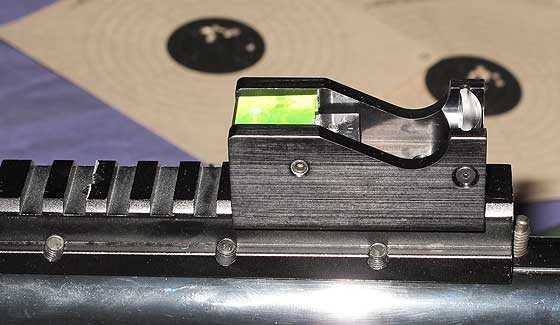 The See All Open Sight is mounted on a prototype Leapers 11mm-to-Picatinny base that has a built-in droop (correction for the barrel pointing downwards).
The base of the See All sight has no locking crosspins like those found on a Weaver or Picatinny sight. It has 2 vertical screws that bear down on the sight base and push the See All up so its jaws grab onto the dovetails of the base. Since the base I used has the crosspin slots for a Picatinny-type sight, I slid the See All until both locking screws were pushing down into the bottom of a slot, instead of on top of a locking ridge. I felt that would give a more secure attachment. But there were still some problems, as we shall see.
Sight-in
I sighted-in with H&N Baracuda Match pellets. They had tested well with the dot sight at 25 yards, and I felt they would be a good pellet for this test. But I had problems getting the pellet to go where I wanted. This is where I discovered that the See All sight behaves like a front sight and not like a rear sight. The sighting reticle must be moved in the direction opposite of where you want the pellet to go. The instructions included with the sight are very clear on this; of course, I wasn't reading them — yet! There's a marking on the right side of the sight that is supposed to tell you how to adjust the sight for windage, but I found it difficult to read.
I thought I'd solved the sighting problem and tried to shoot a first group, but the results were horrible. Pellets went everywhere! But within the first 5-inch, 10-shot group there were four holes together. Since I had seen the first hole through the spotting scope I knew the first 4 shots went to the same place, then the rest scattered everywhere. Pretty obvious what was wrong.
The sight was loose on the base! After tightening it down, I shot the first group for record. Ten Baracuda Match pellets went into 1.085 inches at 25 yards. It's an okay group for open sights and an average spring rifle, but it's horrible for a TX200.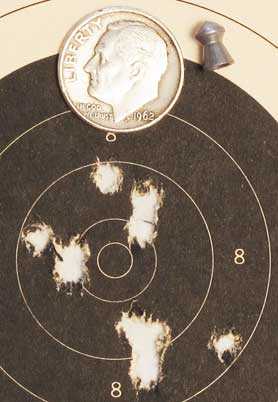 The first group of 10 Baracuda Match pellets isn't much of a group for just 25 yards from a TX200. It measures 1.085 inches between centers. The sight was loose again!
Then, I checked the screws and found the sight had loosened, again, during the ten shots it took to fire the first group! Now I knew what to do. Check the screws after every shot and tighten if necessary.
Crosman Premier heavys
I switched to Crosman Premier heavy pellets for the second group, fully intending to come back to Baracuda Match pellets at the end of the test. But this shooting was proving tiring, and I didn't want to jinx the other pellets by shooting them when I was tired. I checked the sight screws for tightness after each shot on this string.
Ten Premier heavys went into 0.978 inches at 25 yards. You can see a smaller group of 7 within the main group. It measures just 0.451 inches between centers. That tells me the See All Open Sight really works, but I was still getting used to it. The shots outside the main group are from my aiming errors, I believe.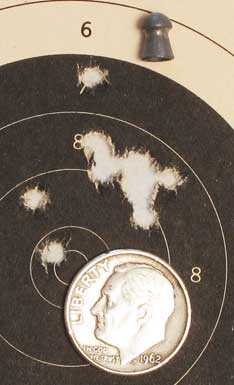 These 10 Premier heavys look a little better. The entire group is 0.978 inches between centers, but 7 of the pellets are bunched up pretty well in 0.451 inches!
I was learning to use the sight as things progressed. The space just above the reticle triangle is difficult to line up with a bullseye target — at least for me. But as things progressed, I discovered that I was aligning it faster and faster. I was learning to judge where the reticle was, even when I couldn't see the tip. That's no doubt what lead to those shots that are not inside the main group, and I think as I learn this sight more I will get better with it.
Crosman Premier lites
Next, I tried the 7.9-grain Crosman Premier lite pellet. By this time, I'd found it necessary to check the See All screws after only every 5 shots, and they were no longer loosening even then. Ten Premier lites went into a nice group that measures 0.686 inches between centers. It's a very round group, which indicates I'm learning the sight picture as I go. But the Premier lite was also very accurate in the test using the red dot sight.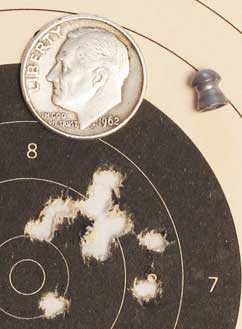 Now we're talking! Ten Premier lite pellets went into 0.686 inches, with 7 of them going into just 0.423 inches.
Baracuda Match
Now, it was time to return to the H&N Baracuda Match pellets and see what I could do. I was still checking the See All screws for tightness after every 5th shot, but they weren't loosening. This time, I managed to put 10 pellets into 1.259 inches; but as you can see, 9 of them went into 0.695 inches. It's clearly my fault the group is as large as it is. The See All Open Sight can make it much smaller, if used correctly.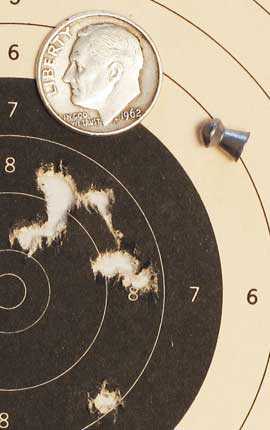 Ten H&N Baracuda Match pellets made this 1.295-inch group…which is horrible; but 9 pellets went into 0.695 inches, which isn't too bad. Still, this pellet doesn't compare with the Premier lites.
Conclusions so far
The See All sight does work as advertised. But you do need to read the instructions and follow them.
Small adjustments of the sight make very large changes in the impact point. Go very, very slow with your adjustments. And read the instructions to see which way to turn them. The markings for adjustment directions on the body of the sight are not very clear.
Plan on taking some time to get used to the sight. It does work, and I think it works well for people with poor eyesight; but it's unlike anything you've ever used. Although it's analogous to a dot sight, it works nothing like one in application.
I did find that I needed some light on the sight to see the reticle. I had the room lights on where I was shooting, which is something I never do with other open sights or scopes.
I think this sight may be better-suited to PCPs and CO2 guns than springers. But that's just my impression from this first test. I'll know more as the tests continue — which they will. I still think this sight is a significant new device.
My friend, Otho, is also testing a See All sight on some firearms for me. His eyesight is so bad that he hasn't been able to use open sights for several years, so we'll get a different perspective from him.