by Tom Gaylord, a.k.a. B.B. Pelletier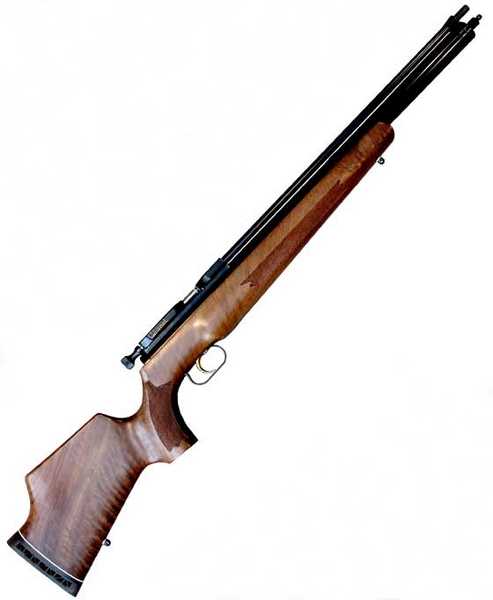 Air Arms Shamal is an attractive PCP. It was Air Arms' first precharged rifle.
This report covers:
• Accuracy at 25 yards
• Accuracy at 50 yards
• Pellets that didn't work
• An observation
• Next time
We'll begin looking at the accuracy of my .22-caliber Air Arms Shamal precharged pneumatic air rifle. We learned in Part 2 that this rifle wants to be filled to 2250 psi, rather than the 2600 psi that I remembered. Of course, the gauge on my carbon fiber tank is different than the gauge on the Shamal fill clamp that I no longer have, so some difference is to be expected. This is a good example of why a chronograph is so important when testing a PCP. If you don't understand why I say that, read Part 2, where I used the chronograph to determine the optimum fill pressure.
I knew from previous experience the Shamal likes 14.3-grain Crosman Premier domes, so they were the first pellet I started shooting; but I have to tell you that the testing was done backwards. I actually took the rifle out to the 50-yard rifle range a couple weeks ago and shot it at that distance first, because I was certain it would not disappoint. I'll show you those results at the end of this report, but first I'll show you what the rifle did yesterday at 25 yards.
Accuracy at 25 yards
The range was set up in my house, so there was zero wind. Knowing that Crosman Premiers are good in this rifle, I shot the first group with them. Ten Premiers made a group that measures 0.447 inches between centers. That's okay, but not great. I have spring guns that can do as well. I expected something closer to 0.30 inches from this rifle at 25 yards.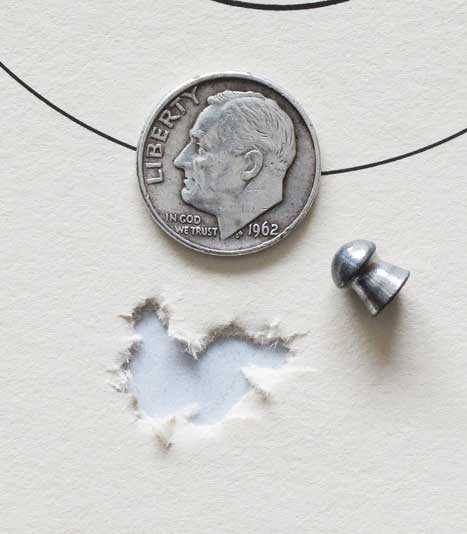 Ten Crosman Premiers made this 0.447-inch group at 25 yards.
Now, from the 50-yard test, there were a number of pellets that I already knew did not work well in the gun, so I tried some different .22-caliber pellets at 25 yards, hoping to find another good one. Alas, none of the pellets I tried were good! In a moment, I'll include them in a list of all the pellets I've tried.
Accuracy at 50 yards
As I said, 50 yards was the first distance at which I shot the rifle. The day started out calm but picked up as I shot. I also had the EscapeSS to test that day, so I didn't want the wind to get too strong. So, I shot only 4 different types of pellets besides the Premier.
Ten Premiers went into 1.254 inches, which was certainly larger than I expected. I shot the Premiers first, so the wind was calm as I shot.

Ten Crosman Premiers made this 1.254-inch group at 50 yards.
Pellets that didn't work
At 50 yards the following pellets failed to group well.
JSB Match Diabolo Exact Jumbo Monster pellets
JSB Match Diabolo Exact Jumbo RS pellets
JSB Match Exact Jumbo Diabolo pellets
Beeman Kodiak Extra Heavy pellets
At 25 yards I tried the following pellets that did not group well.
H&N Field Target Trophy pellets
RWS Superdome pellets
H&N Baracuda Hunter Extreme pellets
Eley Wasp 5.56mm pellets
An observation
The breech of this rifle is vary large. None of the pellets I've tried have had any resistance until the bolt pushed them past the air transfer port, which is why I tried the Eley Wasps. They're so large that I felt they might solve the accuracy problem, but they didn't. I think the barrel is fine, but the breech is somehow larger to accept more pellets.
Although I have only 2 groups to show you today, I did a lot of shooting with this rifle! The 50-yard groups I'm not showing were around 1.75 to 2 inches between centers. At 25 yards, I quit shooting as soon as I had a half-inch group or larger. That happened with each of the other pellets by the fourth shot.
I'm surprised that the Shamal isn't more accurate than this. I'm not going to leave it here.
Next time
I think the obvious thing to do now is clean the barrel with J-B Non-Embedding Bore Cleaning Compound. Since the design doesn't allow convenient cleaning from the breech, I'll have to clean through the muzzle.
I plan on returning to the 50-yard range to try the rifle once more. Do you see that the groups almost triple in size going from 25 to 50 yards? That sometimes happens. Many people, including me, think a gun that shoots an inch at 50 yards will shoot 2 inches at 100 yards, but it seldom works that way. Fifty yards is a much better range to test the accuracy of a rifle like the Shamal, which ought to be a fine long-range air rifle.