by Tom Gaylord, a.k.a. B.B. Pelletier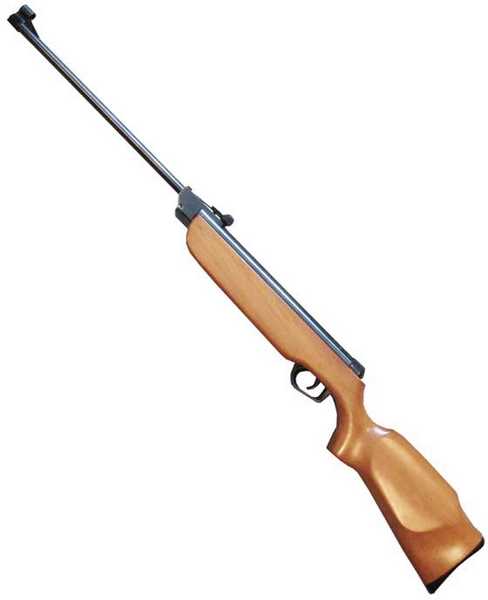 El Gamo 300 was a low-priced, quality breakbarrel from the 1960s and '70s.
I'm out of the office for the next couple days. Will the veteran readers please help the newer readers with their answers while I'm gone? As always, I'll see the blog early in the morning and, again, late at night. Thanks! On to today's report.
This report covers:
• A little more history of the 68-XP
• Velocity testing
• Breech seal
• Retesting velocity
• Cocking effort
• Trigger-pull
• How my life has changed
Today, I'll test the El Gamo 300 velocity. I see that many of you were surprised to learn these were made in both Spain and Brazil. Furthermore, a number of newer readers had missed the 6-part report on the El Gamo 68-XP and were surprised to see it referenced in Part 1 of this report. Here's a little more on that subject.
There was a repeating version of the 68-XP that had the same mechanism as the El Gamo Expomatic. It was a tube above the gun that fed pellets into the breech one at a time as the barrel was broken during cocking. It didn't work too well, and Air Rifle Headquarters refused to carry either repeater. They tested them and found that they jammed too easily. I've tested other air rifles that have a similar repeating system, and that was my experience, as well. That must mean that the repeating version of the 68-XP is very rare because few were ever sold.
Back to the 300. According to the ARH catalog, a broken-in 300 should shoot about 665 f.p.s., and one that's been accurized gets up to 680 f.p.s. They don't mention what pellet was used in testing to obtain these numbers; but given that it was the 1970s, we know it had to be a lead pellet. Lead-free pellets were not on the market at that time.
Velocity testing
The first pellet I tested was the 7.9-grain Crosman Premier. They averaged 503 f.p.s. for 10 shots. The velocity ranged from 490 f.p.s. to 511 f.p.s., so a 21 f.p.s. spread.
I thought that was low, so I tried 10 more that were deep-seated with the Air Venturi Pellet Pen and Seater. This time, the average rose to 506 f.p.s., which is hardly worth the effort. The spread went from 496 f.p.s. to 519 f.p.s., so the spread opened to 23 f.p.s. Deep-seating doesn't seem to be worth the time and effort with this rifle.
The next pellet I tested was the 7-grain RWS Hobby. These averaged 539 f.p.s. The Hobby was the lightweight lead speed demon of its day, so this rifle is not performing to spec. And yes, I did oil the leather piston seal before testing. The spread for Hobbys was from 524 to 547 f.p.s., so 23 f.p.s.
The final pellet I tested was the 7.33-grain Air Arms Falcon. They averaged 519 f.p.s. with a spread from 510 to 523 f.p.s. So the spread was only 13 f.p.s. Falcons fit the breech loosely, where the other two pellets fit snugly.
Breech seal
That puts today's test into perspective. I don't think my test rifle has been shot very much, if at all, because it doesn't have the bluing wear that's usually found on guns that have been used, and the bluing is original. I looked at the breech seal, which looked okay, but it's very difficult to tell by just looking. There was no puff of air to be felt at the breech, but sometimes that isn't conclusive, either.
While the seal looks like an o-ring, it's really a tall synthetic seal that's proprietary. When I removed it, I could see that nothing I could make would work as well, so I made a spacer to fit under it, raising it for a tighter fit.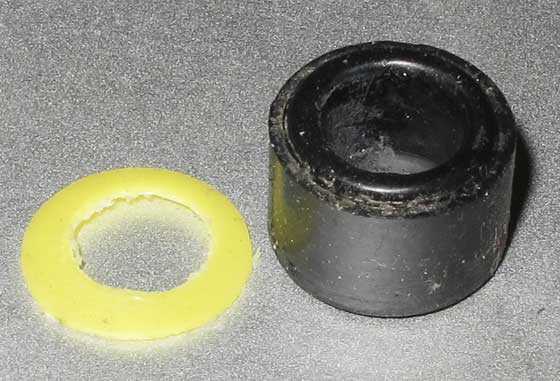 The breech seal (right) and the plastic shim I made to fit under it to raise it higher at the breech.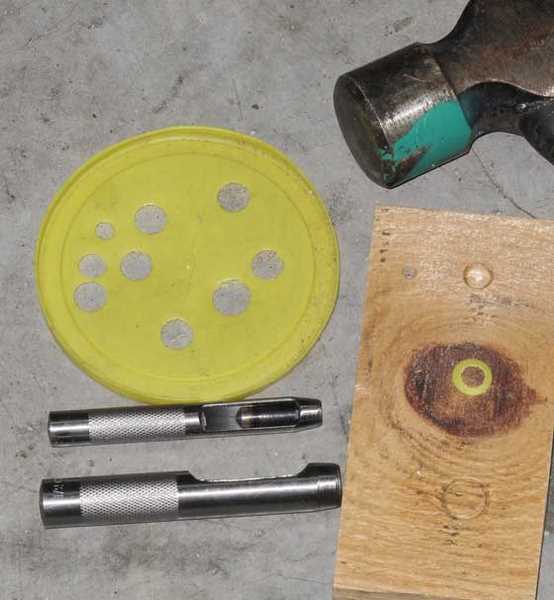 I made the breech seal spacer from a coffee can lid by using hole punches.
Re-testing velocity
The spacer did increase velocity a little. Premiers went from an average of 503 to an average 522 f.p.s., and the spread that had been 21 f.p.s. dropped to 15 f.p.s. Hobbys went from 539 to 568 f.p.s., and the spread went from 23 f.p.s down to 15 f.p.s. Falcons jumped from an average 519 f.p.s. to 553, and the spread that had been 13 f.p.s. dropped to 6 f.p.s.
While these are all improvements, I don't think they're large enough to warrant the work that was done. I would leave the rifle where it is; but now that the spacer is in place, I won't remove it.
Cocking effort
I measured the cocking effort on my bathroom scale. It topped out at 19 lbs., making the 300 a youth rifle by my criteria of a cocking effort of 20 lbs. or less. But the large size of the rifle means that it is for older kids or adults.
Trigger-pull
The trigger was releasing at 3 lbs., 2 oz., with the second stage being very creepy. I adjusted the one screw behind the trigger in both directions. Turned all the way in (clockwise), the first stage is removed entirely, and the pull remained where it was. Turned out as far as it will go, the first stage becomes light and stops positively at stage two. Stage two releases at 2 lbs., 14 oz., so a 4-oz. decrease from where it was.
The rifle is now ready for 10-meter accuracy testing. I may do something about the narrow rear sight notch so I can see some light around either side of the front post. If I do, I'll tell you and show you what I do.
How the blog changed my life
I initially published this section on the May 30, 2014, blog. I'm going to repeat it at least once a week during June and July so it doesn't get lost or forgotten.
From the comments many of you make, I believe the blog may have positively impacted your lives. I invite you to send me an email telling me about that impact.
Were you a firearms shooter who accidentally discovered airguns through this blog? If so, tell me how this blog has helped your understanding of airguns.
Were you already an airgunner, but you thought what you saw in the big box stores was all there was? If so, how has this blog helped you understand more about airguns?
I've gotten quite a few responses already, but I want to make sure you know that I'm not looking for "attaboys," pats on the back or personal recognition. I'm looking for real feedback on what you've learned so I can target my blogs to what you feel is important, what you'd like to know and what you're still unsure of. This blog is written for its readers, and I want to share your stories with others who may be where you were before you found this blog.
Pyramyd AIR has created a special temporary email address for this. I'll be the only person to get these emails, and we're not going to generate any lists from the addresses.
My plan is to publish one or more blog reports with the more interesting comments. If you want, I will use your real name or blog handle; but you can be anonymous, too. I won't use your name or handle unless you give me written permission to do so.
This email address will be live for only a few weeks. We have tens of thousands of readers worldwide. Even if you've never commented on the blog, you can email me your message if you like. If you're reading this blog after July 2014, email submissions will no longer be forwarded to me, and you may get an auto-reply email stating that or your email might bounce back to you.