by Tom Gaylord
Writing as B.B. Pelletier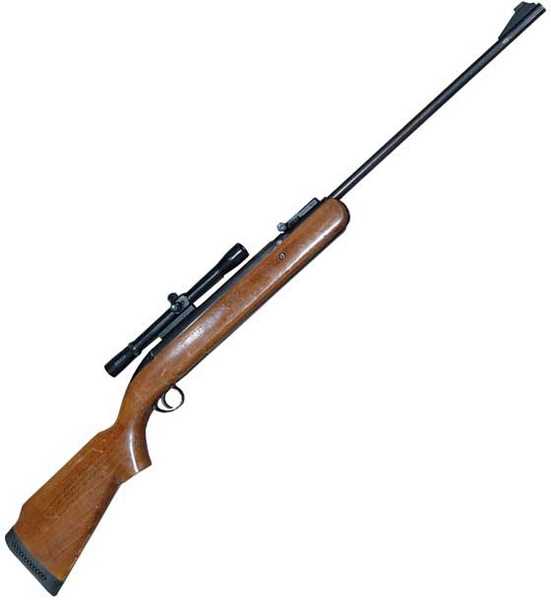 The BSA Airsporter Mark IV.
This report covers:
My mistake
RWS Hobby pellets
Eley Wasps
RWS Superpoints
Cocking effort
Trigger pull
Summary
Airsporter Mark IV? I thought this was a Mark I, B.B. What gives?
My mistake
Apparently B.B. Pelletier is the only person in the world who can't recognize BSA Airsporter variations. I read the serial number and compared it to the table and concluded this was a Mark I in .22 caliber. Their serial number begins with the letter G. Unfortunately, there is also a prefix GI in the list, which looks for all the world like the number one at the beginning of the serial number. Only it isn't. I know that now, after an embarrassing first report.
Actually, I'm pleased this happened, because it illustrates one of life's frustrating little problems — namely that BSA didn't give much thought to assigning their serial numbers, or to the positioning of the prefix letters or to their fonts. Let me show you what I saw.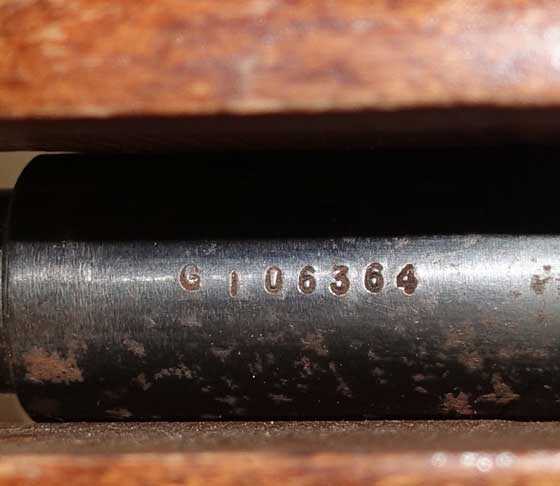 This is the serial number. It is supposed to read GI 06364. Does that look like the letter I after the G, or the number one? It's a san serif font (no crossbars on the ends of the letter), plus they spaced it away from the G prefix.
This serial number makes the rifle an Airsporter Mark IV, manufactured from 1969 to 1971. That's a more mundane rifle than the Mark I I thought it was, though it's still an Airsporter.
Today we are going to see how well it shoots. Reader Dom thinks I may have lucked out and gotten one that's very powerful. We'll know in a few minutes.
RWS Hobby pellets
I decided to begin with RWS Hobby pellets, because they are so light. Also, I have found the skirts of Hobbys to be wider than average pellets, so I thought they might work better in a taploader.
Hobbys averaged 512 f.p.s. The range went from a low of 488 f.p.s. to a high of 524 f.p.s. That's a span of 36 f.p.s., which is pretty broad. At the average velocity this 11.9-grain pellet produced 6.93 foot-pounds of energy at the muzzle. I think Hobbys may not be as good in this Airsporter as I envisioned.
Eley Wasps
Dom suggested trying Wasps in the Airsporter. They are certainly fat pellets. Ten Wasps averaged 535 f.p.s. with a range that went from 515 to 544 f.p.s. That's a span of 29 f.p.s. At the average velocity this 14.5-grain pellet produced 9.22 foot-pounds of energy at the muzzle, which I believe was Dom's prediction.
RWS Superpoints
The last pellet I tried was also a recommendation of Dom — the RWS Superpoint. He likes them for all taploaders because of their thin skirts that swell to seal the air behind the pellet. These 14.5-grain pellets averaged 487 f.p.s. with a range from 469 f.p.s. to a high of 500 f.p.s. That's a spread of 31 f.p.s. At the average velocity this pellet produced 7.64 foot-pounds of energy. That tells me that the RWS Hobbys are definitely not the pellet for this rifle, because even Superpoints did better.
Cocking effort
The underlever cocks with about 23 pounds of effort if you pull it through the stroke fast. If you go slow it gets sticky and spikes to 10 pounds heavier.
Trigger pull
The single-stage trigger breaks at 3 lbs. 15 oz, which is very close to 4 lbs. I has guessed it was 2 lbs. before I measured it. It is extremely crisp! There are two adjustment screws, but I like it so well where it is that I'm going to leave it.
Summary
Well, Dom, you can relax. I have an absolutely mundane BSA Airsporter. It's probably going to play the same in the accuracy test, too. We don't need the mirror to tell us that this Airsporter is not the fairest in the land.