by Tom Gaylord
Writing as B.B. Pelletier
This report covers:
Ft. Smith
Outdoors
Hey — chill out!
Ranch
The Hammer
The Gauntlet
FWB 124
Reality check
Ft. Smith
For the past several years I've gone to Ft. Smith, Arkansas every year to film the Round Table segments of "American Airgunner." We also film several This Old Airgun segments with just me and the host, Rossi Morreale. In the past this has been done in a studio and I have been able to work on the blog when I wasn't actually in the scene being filmed. This year was different.
Outdoors
We went to a large ranch nearby and filmed for two straight days. Because we were outside we could shoot at will, so there is a lot more shooting in these segments than we have done in the past. And the shooting allowed me to watch others shoot, which influenced the way I think about accuracy.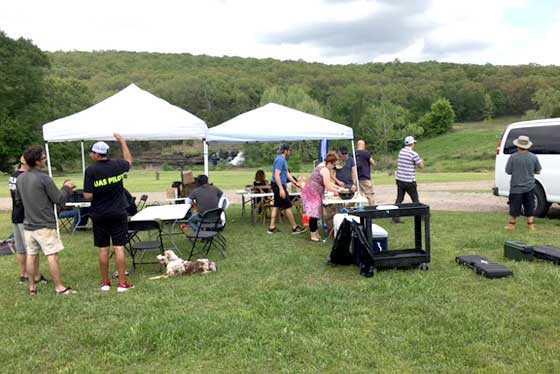 The American Airgunner crew was set up to support the filming both days. All equipment, ammo, guns and food was provided next to where we filmed.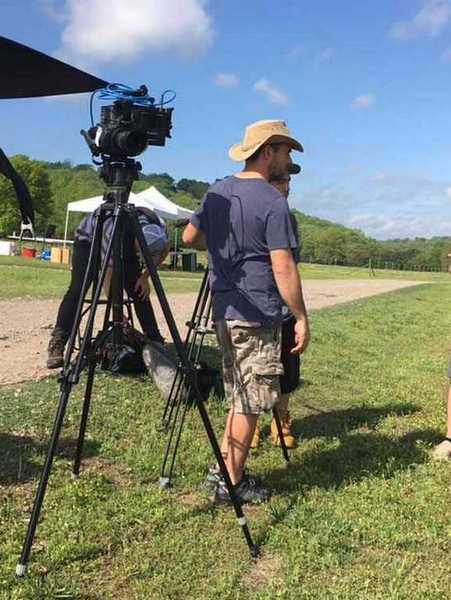 The production crew was fast and efficient. We rarely needed more than a single take, which allowed us to rip through the scheduled scenes.
Always in the past I have concentrated on the airgun being tested whenever I shot for accuracy. I wanted to get myself out of the picture, because you won't have me with you when you shoot. You are most interested in how the gun does — not how well I can shoot.
Hey — chill out!
The other guys on the set — Rossi, Joe Brancato, Jim Chapman and Tyler Patner, were more interested in general accuracy — as in the pellet obviously hitting inside a bullseye. We had Shoot-N-C targets set at 25, 50, 75 and 100 yards, and in several segments they were pleased with pellets that hit somewhere in a 4-inch pattern — even at 25 yards. Tyler Patner was the only other one who seemed as interested in shooting small groups as I was, but the others approached accuracy as a broad brush. And that's when it hit me — they were all having fun, while I was just being anal. Once I realized that, I relaxed and started having some fun.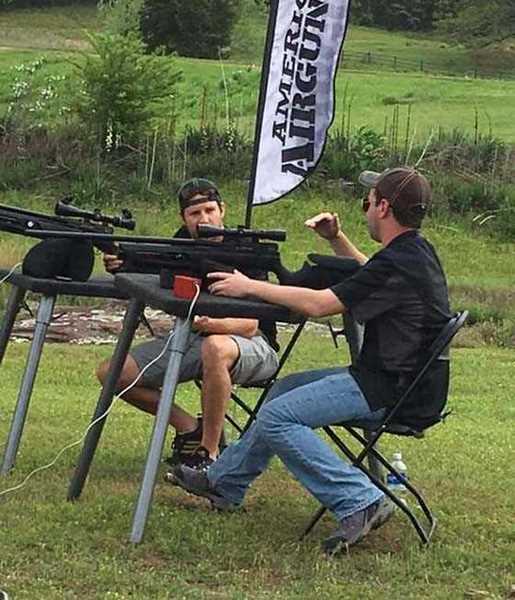 Rossi Morreale (left) and Tyler Patner compete with the Umarex Gauntlet.
Once I relaxed, the day went by fast. I was in most of the segments on both days, and it's a good thing, because there was no phone reception in the valley we were in. I couldn't have worked online if I had wanted to. So I enjoyed myself, instead.
Ranch
The ranch where we were is gorgeous! It's about a thousand acres that have been in the same family for generations and they have been good stewards. They created a lake several acres in size and stocked it with fish, and they moved the stream that feeds the lake to create a waterfall. Those who are on my Facebook page got to see that.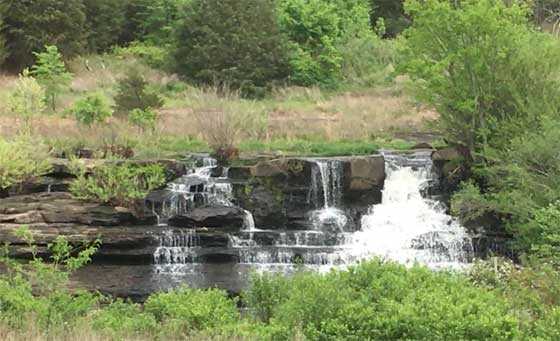 This still was extracted from the short film I posted on Facebook. The ranch owner built this waterfall and the lake that's  next to it!
The ranch has cattle, burros, horses and exotic game like bison, mountain goats and an odd donkey/zebra mix. They gave us a nice place to shoot and came to watch some of the filming. When you watch the 2017 season you'll see what I am talking about. Those who don't see the show on television can always go online to American Airgunner and watch there.
The Hammer
One exciting new airgun we got to see and shoot was the new Umarex Hammer big bore. This is the new .50 caliber big bore that's filled to 4,500 psi and regulated to 3,000 psi. You are supposed to get 3 shots at the same velocity from this rifle. I say "supposed" because we didn't get to test it that way. Our air tanks were below 4500 psi from 2 days of filming by the time we started looking at the Hammer, so we could not fill it full.
The rifle we shot was T2 — the second prototype. There is also a T3, but it wasn't available that day. And they plan to have at least one more prototype before freezing the design. I would show you the gun, but it's changing so fast it would not look like the final item. Go back to Part 6 of the SHOT Show 2017 to see what it sort of looks like.
Rossi Morreale did get a surprise, though. He got a "scope eyebrow" from the recoil when he shot the 510-grain bullet that's the largest we tested. Apparently all his time with smallbore PCPs has caused him to creep up close to the ocular bell of the scope, and when the Hammer fired, it hammered him! Shooters who shoot centerfire rifles are familiar with scope eyebrow (a cut above the eye from the sharp scope tube). It's like an M1 thumb, and marks a passage into the ranks of shooting. My point is, the Hammer recoils!
I saw it hit ballistic gel blocks and the results were impressive, but I won't spoil the show for anyone. I can tell you that I did see a 510-grain slug go out the muzzle at 738 f.p.s., which translates to 616.93 foot-pounds of muzzle energy. That was achieved with less than 3000 psi of air, so there is even more power available.
Steve Lamboy of Umarex told us they expect to start shipping guns in August. I think that is a very ambitious schedule, but we will wait and see.
The Gauntlet
Another airgun we got to see and test was the new Umarex Gauntlet. This one we shot for the entire filming session, and whenever there was a competition, it was the first rifle selected. There was one in .177 and one in .22. In both calibers the Gauntlets out-shot everything on the set — including some very expensive European PCPs I won't embarrass by mentioning. I do that because our tests were not controlled, so they were not fair to any gun, but I am very interested in testing this gun for you!


The Umarex Gauntlet promises to be a revolutionary PCP.
For those who don't know, the Gauntlet is a repeating PCP rifle that's regulated and has an adjustable cheekpiece. It gets a minimum of 60 shots on a fill because of the regulator. The power is decent and so is the trigger, but the accuracy seems superb! And the price of just $300 is unprecedented! It offers thousand-dollar features at a fraction of the price.
We began looking at the rifle in a Round Table discussion, but at the end of that both Rossi and Tyler shot groups at 50 yards that I would have been proud of. I'll tell you how popular it was. Every time we had a competition — and there were several of them — the 2 Gauntlets were always the first rifles selected. I actually never got to shoot one the whole 2 days we filmed. I plan to rectify that shortcoming when I get one to test! If what I saw on the set holds true in my tests, I might not send the gun back, either!
FWB 124
I told you I bought an FWB 124 at the Findlay airgun show this month. I bought it because the price was so good I couldn't pass it up! Before filming "American Airgunner" I had fired the rifle 2 times, just to see that it works. I took it for a This Old Airgun segment that we filmed, and afterward I kept it out to use as my "go-to" shooter. The Gauntlets were already spoken for and the other PCPs on the set had odd magazines that I didn't want to take the time to learn.
To my surprise, the FWB with open sights shot almost as well as the scoped Gauntlets — at least for a single shot at 50 yards! It couldn't compete in the Pyramyd Air Gunslynger competition that is timed, but for taking one aimed shot, it wasn't that bad! That told me I need to get started testing that rifle in the history section soon.
Reality check
This filming session of "American Airgunner" was good for me because it got me thinking like a shooter again. I'm still going to test airguns the way I always have, but I will keep in mind what most of you readers think about when you shoot.