Crosman's V-300 BB pistol: Part 3
by Tom Gaylord
Writing as B.B. Pelletier
This report covers:
Update on the 2017 Texas Airgun Show
Update on the V-300
The test
Crosman Copperhead BBs on high power
Air Venturi Steel BBs on high power
Air Venturi Steel BBs on low power
Crosman Copperhead BBs on low power
Summary
Update on the 2017 Texas Airgun Show
If you have plans to get a table at the 2017 Texas Airgun Show, you had better move fast! The inside of the hall is almost sold out! AirForce and Sun Optics have decided to move outside, to make more room inside for private dealers, but there is still not much room left. There will be room on the covered porch outside the hall, and there will be two large swamp-cooling fans to help with the heat so there is still some room left, but when that is filled the show will be sold out.
I expect to announce a major attraction soon who will draw many more firearms shooters. He is coming to film the show for his You Tube channel. Those who attended last year will tell you this show is jam-packed and there is a lot of money spent, so make your reservations today. For registration information, read their show flier. Now, let's get to the report.
Today we look at the accuracy potential of the Crosman V-300 BB pistol. Before we begin I want to remind you that this pistol was made in 1963-64, a time when BB guns were not expected to be accurate.
Update on the V-300
A reader found and read the V-300 manual on the Crosman website and discovered that the pistol has only two official power levels. Two clicks back on the cocking lever is for low power and three clicks is for high. The first click is just for safety and is not intended for shooting. That corresponds with my findings in Part 2. I had no intension of shooting the pistol on one click today.
The test
I shot the pistol from a rest at 5 meters. I was seated and the hand that held the gun was rested on a UTG Monopod. I shot 10 shots at each target and used a 6 o'clock hold on the bull.
Crosman Copperhead BBs on high power
First up were Crosman Copperhead BBs. I shot them on high power, which is three clicks back on the cocking lever. The BBs don't cut a sharp hole, which makes it difficult sometimes to know whether a hole has one or two shots in it. As close as I can tell, 6 Copperhead BBs hit the target paper. It might have been 7, because the hole on the left looks larger than the others, but it's not that clear.
Either 3 or 4 BBs missed the target paper altogether from 16 feet! What we see is a 3+ inch group. Who knows what we don't see?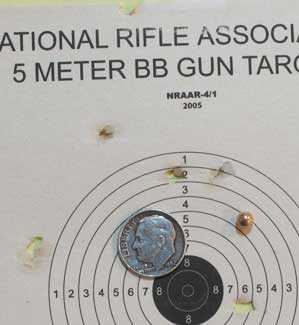 Either 6 or 7 Crosman Copperhead BBs hit this target on high power at 5 meters. The hole on the left may have 2 BBs in it. And there is a nick at the top of the paper that is a BB hole. These shots are about 3.25-inches apart.
Not an auspicious start! I wondered if this was due to the pistol or the BB. The next target would tell.
Air Venturi Steel BBs on high power
Next to be tried were Air Venturi Steel BBs. I shot them on high power, also. This time 9 BBs hit the target paper. These shots are about 3.5-inches apart, but there is that 10th shot that's nowhere to be seen. Another inauspicious result.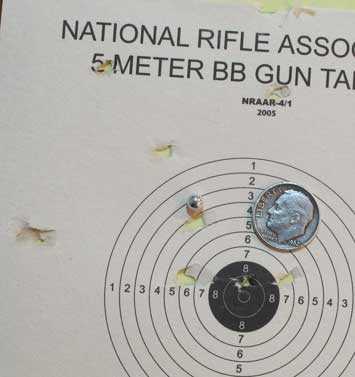 Nine Air Venturi Steel BBs hit this target paper. One has nicked the top again. These are about 3.5-inches apart at 5 meters.
This was hardly better. I wondered whether shooting on low power would help the situation, so that's what I tried next.
Air Venturi Steel BBs on low power
This time the BBs struck the target paper lower by a couple inches. And this time I think all 10 BBs hit the paper. Two of them must have gone through one hole, but they are clustered close enough together that I think I didn't miss the paper with a shot. This group is right at 3 inches between centers.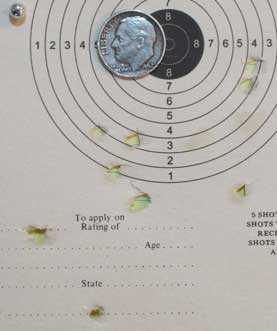 I think there are 10 Air Venturi Steel BBs in this group. It's right at 3-inches for 5 meters.
There was a marked difference in the low-powered shots. The discharge was quieter and the sound of the BB hitting the target and cardboard backer was louder. The reason for that will be apparent on the next target.
Crosman Copperhead BBs on low power
On low power Crosman Copperhead BBs didn't penetrate the cardboard backer all the time. Then just embedded in the cardboard with a solid "thwack!" When I went to retrieve the target I could see 3 BBs had not gone through, so, instead of just the target, I photographed the entire backer with the target still taped to it.
I think all 10 BBs hit the target this time, as well. If that's true, the group measures about 3 inches between centers.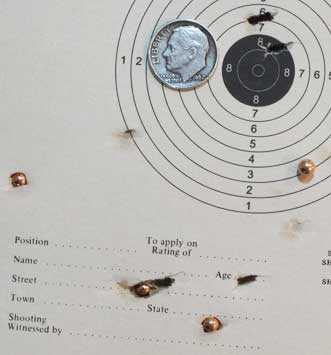 Maybe 10 Crosman BBs hit the target at 5 meters on low power. Three are still embedded in the backer board on the bottom. The shots measure about 3-inches between centers.
Summary
The Crosman V-300 air pistol was an interesting airgun to test. Not much has ever been written about this strange beast, so this report now constitutes a large part of the body of knowledge .
As BB pistols go, this one is certainly not that accurate. And the power of the test gun is below the rated velocity. Still, this is a BB pistol that few people ever get to see, so please enjoy these three reports.
Tom Gaylord is known as The Godfather of Airguns™ and has been an airgunner for over a half-century, but it was the 
Beeman
 company in the 1970s that awoke a serious interest in airguns. Until then, all he knew were the inexpensive American airguns. Through the pages of the Beeman catalog, he learned about adult airguns for the first time. In 1994, Tom started
The Airgun Letter
 with his wife, Edith. This monthly newsletter was designed to bring serious reports about airguns to the American public. The newsletter and
Airgun Revue
, a sister magazine about collectible airguns, was published from 1994 until 2002, when Tom started
Airgun Illustrated
-- the first American newsstand magazine about airguns. Tom worked for three years as technical director at
AirForce Airguns
, the makers of the 
Talon, Condor, and Escape
 precharged air rifles. Today, he writes about airguns and firearms for various publications and websites. He also makes videos, and you'll find short clips embedded in some of his artices on Pyramyd Air's website. Tom is a consultant to Pyramyd Air and writes under the name of B.B. Pelletier.