by Tom Gaylord
Writing as B.B. Pelletier
Part 1
Part 2
Part 3
Part 4
Part 5


The Diana RWS 34P is a classic breakbarrel spring-piston air rifle.
This report covers:
Drooper
Sight in
The groups
One last time
Different pellets
RWS Superdomes
BKL adjustable scope mount
Summary
Today I scope Geo791's Diana RWS 34P and shoot it for accuracy at 25 yards. We already know this rifle is accurate from the test with open sights. Today we discover how much it droops and whether enough correction is possible. Let's start with the scope mount.
Drooper
I suspected this rifle was a drooper just because it's a Diana 34. Most breakbarrels droop and all of the Diana 34s I have seen have had severe barrel droop. With some breakbarrels you can put shims under the rear of the scope to elevate it a little, but with this model shims usually don't work — the droop is too great. If you used enough shims to raise it as high as it needs to go, you would damage the scope tube. So, I start out with a scope mount that's made for a drooper. In this case I used the BKL 1-piece adjustable scope mount with 1-inch rings, because George has a scope with a one-inch tube. If this works I plan to send his rifle back to him with this mount installed, so all he has to do is mount his scope in the rings and sight in.
Sight in
Once the mount was installed I mounted an obsolete Centerpoint 3-9X40 AO scope that was reasonably close to George's Hawke 3-9X50 AO. His objective bell is larger, so I will leave extra room for it above the spring tube. When the scope is mounted in a drooped position (tilting down in front), the clearance of the objective bell over the spring tube decreases.
On my first several shots I discovered that George's 34 is an extreme drooper — similar to my own rifle that drops 21 inches in 20 yards. That answers reader GunFun1's question about the amount of droop. Like I predicted, droop was probably the cause of those wild shots George was getting. But allow me to show you what I mean, and you will see why shims alone will not work on this rifle.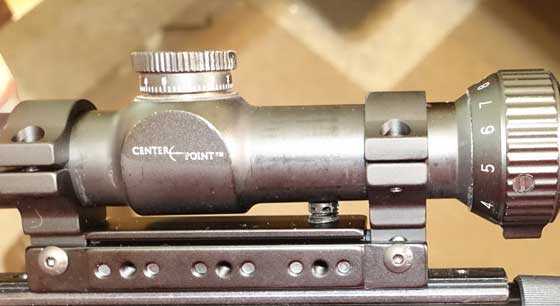 BKL's adjustable drooper mount saved the day. Look how high the rear ring (right) had to be raised to get the scope on the target! I will say more about this mount in a bit.
This sight-in took a long time because I was trying to zero the scope so the groups would show against a bull. I shot just the JSB Exact Jumbo Heavy pellets that did so well in Part 3. Why experiment when you already know the answer? Or, so I thought! As it turned out there was a surprise coming, but let's continue for now.
I shot over 30 pellets zeroing the scope and also refining the hold. I finally ended up with what I believe is the best hold for this rifle. The rifle lies on the palm of my off hand, which is my left hand. The heel of that hand just touches the front of the triggerguard and my left index finger is in the rear of the very long cocking slot. I can feel when the hold is right this way, so it's easy to hold the rifle the same every time, and that is the key to shooting a recoiling spring-piston air rifle. This is the technique that has to be learned for most recoling spring-piston air rifles, and especially for the Diana 34.
The groups
I had shot so many shots at the sight-in target that I had to put up a freash target to shoot the groups. The first group measured 0.993-inches and is vertical. It's well-centered but it seemed as if varying pressure against my shoulder was stringing the shots vertically.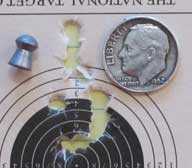 Ten shots at 25 yards went into this vertical 0.993-inch group.
I tried to get the pressure against my shoulder consistent for the next group of JSB Exact Jumbo Heavys. This time 10 went into 1.096-inches. This one is also vertical , but only because of a single shot. I wish I could remember which one it was or how I was holding the rifle, because the other 9 shots are in 0.717-inches! Was I onto something?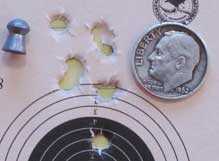 Ten shots at 25 yards went into this vertical 1.096-inch group, but 9 are in 0.717-inches.
Okay, what was I doing right and what was I doing wrong? If the pressure into the shoulder was the secret I would try to perfect it. I still held the rifle on the flat of my hand, touching the triggerguard in back and with my index finger in the cocking slot.
The next 10 shots gave me a very vertical 1.083-inch group. Aww, shucks!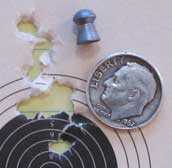 Ten shots at 25 yards went into this vertical 1.083-inch group. I'm trying too hard!
George, I hope you have noticed that all my groups are about the same size with no spurious fliers — fliers that land inches away. Your rifle is accurate, but I still wasn't doing something right. After this test was finished I re-read the last test with open sights, where I see the same sort of groups. But I hadn't done that at this point.
One last time
Okay, this wasn't working out. I was shooting good groups; they were just not great. I shot better with open sights than I'm shooting with a scope. The problem was, I was trying too hard. When it's this hard to shoot well you are either doing something wrong or else something other than you isn't right.
I shot one final group pf JSB Exact Jumbo Heavy pellets. Remember — I was shooting this pellet at the suggestion of a reader. They aren't the pellet I would have selected, but in the open sight test they seemed to work.
Last group. Okay, this one was working. Less pressure into the shoulder and the same off hand placement. The first 8 shots grouped very well, then shot 9 dropped low and blew the group open. Ten pellets are in 1.366-inches, with 9 of them in 0.856. That's frustrating!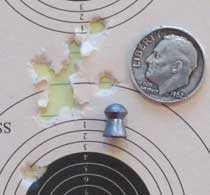 Ten shots at 25 yards went into 1.366-inches, with 9 in 0.856-inches. I'm going to try a different pellet.
Different pellets
I tried Air Arms Diabolo Field pellets simply because I had a tin on the shooting table. But after 5 shots and two different holds I knew these were not the pellet. They were hitting the target several inches apart.
RWS Superdomes
The last pellet I tried was the RWS Superdome. This is the pellet I would have selected to test a Diana 34 on my own. And, they turned out to be the right ones!
I continued to hold my off hand where it was, but this time no special shoulder pressure was needed. I also didn't waste any time settling in to shoot each pellet. These 10 were shots 76 through 85 in today's test and I was tired from all the concentration. But this time the pellets acted like they were guided by a laser. Ten went into a group that measures 0.70-inches between centers. Not only that, this group is round. This is the pellet George's Diana likes and I wouldn't try any other!
I did not adjust the scope for this pellet, so it hit the target about 2+ inches above the aim point, and in excellent alignment, left and right. I can always drop the scope's reticle!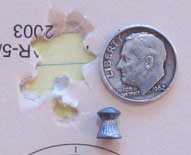 Ten RWS Superdomes at 25 yards went into 0.70-inches, in a very round group.This is the pellet for this rifle!
In retrospect, even through this is a .22 that I don't have a lot of experience with, I should have tried Superdomes before now. I knew they worked well in most Diana rifles. But at least I did try them and we now know this is the pellet for George's rifle.
George, your rifle isn't just accurate, it's one of the most accurate Diana 34s I have ever tested. I have tested so many Diana 34s over the years that I can't keep them all straight, but I know good when I see it. Your rifle is very good! Now you know what you have to do to shoot those pests.
Also, the Vortek tune is breaking in. I could feel the shot cycle smoothing out as the test progressed. It now feels dead calm.
BKL adjustable scope mount
A word about the BKL adjustable scope mount I used in this report. It's FANTASTIC! It elevates the rear of the scope with great precision, plus the design is bulletproof. Once all the screws are tightened down this mount isn't going anywhere! I'm sending George's rifle back to him with this mount attached. George, it's probably adjusted correctly for your scope. Don't worry about running your scope's elevation most of the way down to get on target. You only need to worry about it when it's run all the way up!
Summary
Well, that's it for this one. I have tested and evaluated George's rifle and we now know that it's accurate. The problem was caused by a combination of the wrong pellets, the scope's elevation set too high and George's shooting. I would blame the pellets and scope first.
This test has also wrung out a number of other products. We know that the Air Venturi Rail Lock mainspring compressor works like a champ on Diana breakbarrels, the Vortek Pro Guide 2 kit also does a wonderful job. And the BKL 1-piece adjustable scope mount with 1-inch rings is great for spring guns that have a large droop.
I am so pleased that things worked out this way, because for many years I have been recommending the Diana 34P as a reasonably priced pellet rifle for pest elimination and hunting. I recommended the .22 caliber, even though my own 34P is a .177. That's simply because .22 is a better caliber when you intend to hunt.
I plan to use this series to refer new airgunners to when they ask about air rifle models. Yes, all powerful breakbarrels require special shooting techniques, but that's universal. Most new shooters aren't going to try a PCP as their first rifle. If you are going to shoot a springer, the Diana 34P is the best one I can recommend for the price.